What is a New Hire Orientation Checklist?
New Hire Orientation Checklist is a process used in onboarding new employees into any organization. It is a comprehensive list of tasks and procedures that need to be completed in order to ensure that a new hire has the information and resources needed to be productive and successful in their new job.
This process typically includes activities such as providing necessary paperwork, familiarizing the new hire with the company's policies and procedures, scheduling initial training, and introducing the new hire to co-workers. By putting together a comprehensive checklist, organizations can ensure that they are providing a quality onboarding experience for their new hires.
What is the Purpose of a New Hire Orientation Checklist?
Introduce the new hire to the company, its culture, and the work that they will be doing.
Ensure the new hire is familiar with company policies and procedures.
Provide an overview of the new hire's job duties, roles and responsibilities.
Provide training on the use of safety equipment, office equipment, and job specific tools.
Explain the expectations of attendance and punctuality.
Discuss the rules of dress code and other company norms.
Looking for a New Hire Orientation Checklist template?
A good new hire orientation checklist template is critical for effective employee onboarding. The template ensures that all necessary information and tasks are covered during the orientation process, saving time and resources while helping new hires understand their roles and responsibilities.
Moreover, a well-designed orientation checklist can improve employee retention and engagement by providing a positive orientation experience and helping new hires integrate into the workplace more quickly.
Overall, a good new hire orientation checklist template is an essential tool for any organization looking to onboard new employees effectively, efficiently, and positively.
This onboarding template is a terrific tool for any business because it's not only simple to use but also polished.
You may quickly modify the template to match your unique demands and specifications because it is fully editable in Canva, Google Docs or Microsoft Word.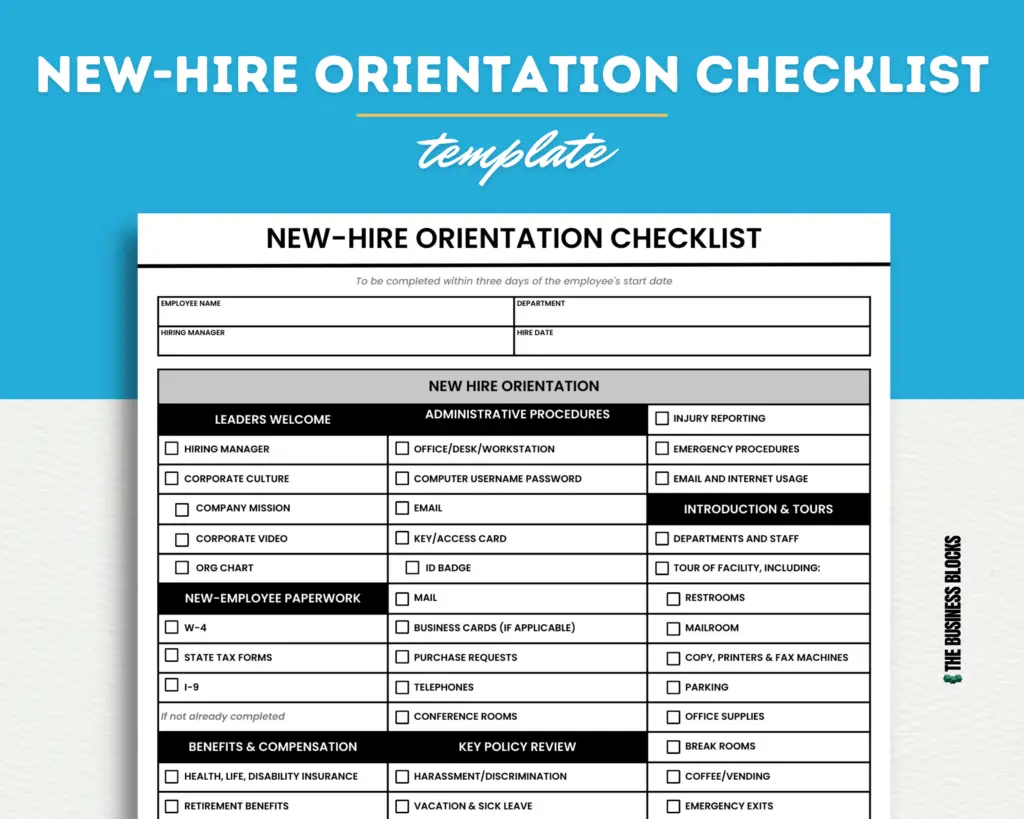 This checklist is included in the bundle pack, so if you decide to purchase (just choose the bundle)
WHAT'S INCLUDED?
Your Live Canva Document for Editing in 2 sizes US Letter (8.5″x11″) and A4 Size (8.27″ x 11.69″)
Two Editable Google Doc Templates (US Letter and A4 Size), convertible to:
Two Editable Microsoft Word Templates (US Letter and A4 Size), convertible to:
Two Printable Adobe PDF Templates (US Letter and A4 Size)
REQUIREMENTS
Google Account (for Google Docs templates)
Microsoft Word (2007 or greater) for Windows or MacOS
Canva Account (for Canva templates)
Adobe Acrobat Reader
OTHER INFORMATION
To alter or modify these templates, some familiarity with Canva, Google Docs, or Microsoft Word is required.
No printed materials or physical products will be provided to you; this is a digital product.
The Business Blocks owns the rights of its designs. You may use the template as often as you like, but you may not share it with anybody outside of your business. Please get in touch if you need assistance with repairing or amending.
There are no returns because of the nature of the product, but we'd be happy to work with you to resolve any problems.
---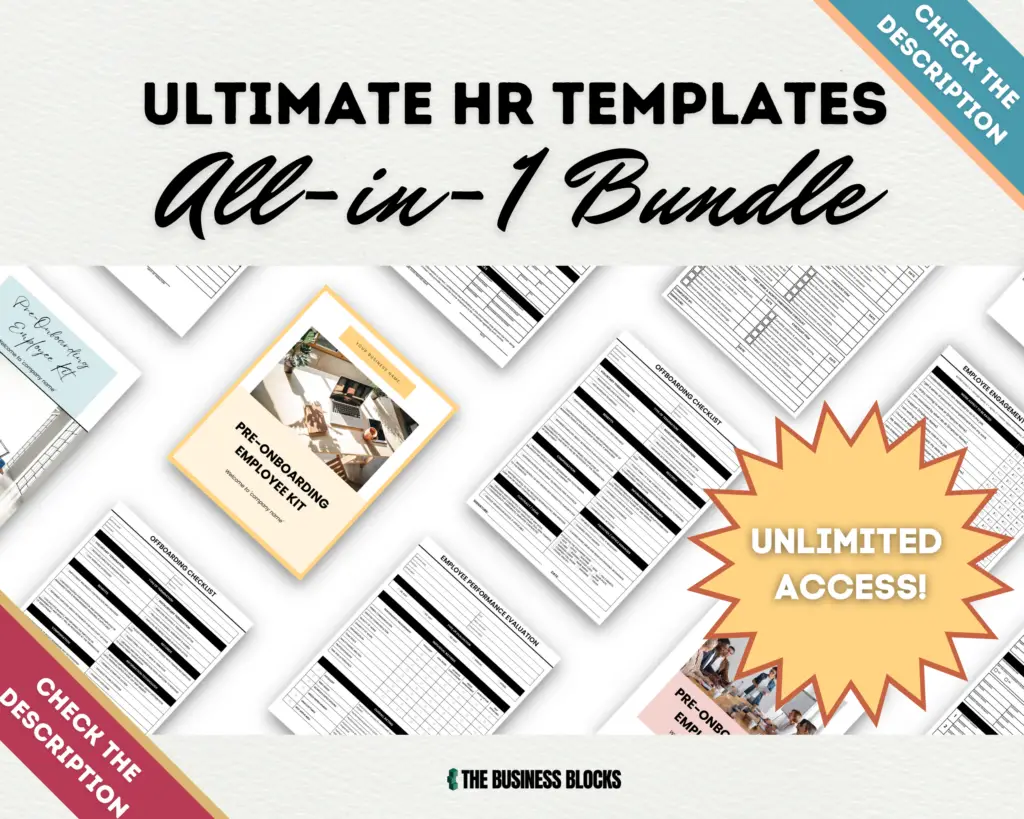 All-in-One HR Templates Bundle
With over 50 templates covering various aspects of HR, including recruitment, performance evaluation, employee benefits, and more, this All-in-One HR templates bundle provides everything needed to streamline HR operations and maintain compliance.
---
Why is a New Hire Orientation Checklist Important for Your Business?
A New Hire Orientation Checklist serves as a valuable tool in ensuring that all necessary steps are taken when bringing on a new employee. It clarifies expectations, sets clear procedures, and helps keep the onboarding process organized and efficient.
A New Hire Orientation Checklist also helps create a consistent process for new employees, ensuring they receive the same orientation regardless of the person who conducted it. Finally, having a New Hire Orientation Checklist helps businesses protect themselves against liability and ensure compliance with applicable laws and regulations.
It ensures all new hires receive the necessary training and information they need to start their new job successfully.
It helps the hiring manager and team develop an understanding of the new hire's skills, work style, and preferences.
It allows for better communication between the managers, HR, and the new hire.
It helps to standardize the onboarding process, which can lead to a better employee experience.
It ensures that all new hires understand the company values and culture.
It gives the new hire an opportunity to request any necessary accommodations under the Americans with Disabilities Act (ADA).
Let the new hire know how they can become involved in the company.
Involve them in company events, such as lunch with the CEO.
Keep in mind that it takes most people 2-3 months to fully adapt to a new work environment.
Wrap Up
In conclusion, creating an effective onboarding program for new hires is important for managers and HR as it helps to make sure that the new hire learns all the necessary information about their job and their place in the company.
It also helps to create a better employee experience for the new hire, as they can come in feeling welcomed, accepted and prepared to do their job well. By providing a smooth onboarding program and clear expectations, managers and HR can set their employees up for success while ensuring compliance with ADA regulations.