A good customer onboarding process validates that your customer made the right decision in choosing to work with you. It is regarded as the most crucial stage in establishing a relationship with customers and gaining their trust in your company and products.
Customer onboarding has a significant impact on whether customers stay with your company for a long time or leave quickly. If done correctly, you will be able to start your relationship with your customers off on the right foot. You will be able to introduce your products or services to them and they will continue to partner with you. However, if done incorrectly, customers may immediately leave, and they may wonder why they signed up with you in the first place.
What Is Customer Onboarding?
First, let us define customer onboarding.
Customer onboarding is the process of bringing in new customers and introducing them to your company's products and/or services. You can discuss how your plans/offerings benefit your customer and how they can get the most out of them here.
The most important step in working with customers after they sign up is customer onboarding. Customers may be a little lost at first and may not know much about your company, so take advantage of this time to impress them and make them feel valued. Aside from that, if your strategy includes the customer's goals, the customer onboarding process will most likely be successful, determining what they want to achieve and how you can assist them in achieving those objectives.
This will set the tone for your customers' future interactions with your company. The entire process may seem daunting, but don't worry because this guide will teach you everything you need to know about customer onboarding.
Top Reasons Why Companies Don't Get the Customer Onboarding Process Right
Most businesses today don't realize how important customer onboarding is, and as a result, they perform poorly.
Although customer dissatisfaction is normal when certain expectations are not met, a proper customer onboarding process can mask this. According to research, approximately 89% of new customers are frustrated during their onboarding with a company. 13% are considering switching to a competitor.
Why is this so?
There are numerous reasons why businesses fail to get the customer onboarding process right, and the following are some of the top reasons:
1. Giving false expectations
To increase sales, sales and marketing teams frequently over-market their products. Customers may enter into agreements assuming that what they have been told, such as that a new feature will be introduced soon, will be fully committed to them even if it was not originally planned for the next few years. Another issue is promising customers' growth in a matter of months without taking into account their background and circumstances.
Customers will have a lot of expectations as a result of this.
In this case, the customer may become frustrated because their expectations cannot be met ion time.
2. Requiring and giving too much information during onboarding
Onboarding usually begins with a lot of information gathering, with requests for too much information and documents happening all at once. Customers may be frustrated that they must go through the tedious process of identity and bank record checks.
Most businesses fail to balance the overwhelming request and information checks with the customer, as well as make the process more efficient.
Another issue is providing a large amount of information at once. If you purchased new appliances such as air fryers, coffee makers, and so on, you may have noticed this. Most of the time, customers learn about a product through trial and error rather than by reading the manual that comes with it. In reality, very few customers read through the manual.
This is because providing too much information in a document will not work. Studies suggest putting the onboarding manual in small effective materials that aim to inform the customer in only 3-6 minutes, which has been proven to be the most effective time span.
Customers must be introduced to one feature at a time when it comes to onboarding. Most businesses fail to do this, and as a result, their customer onboarding process fails in general.
3. Lack of customer support
This is one of the most important factors that customers consider. We are all aware that the onboarding process has so many layers that it requires the utmost customer care.
In general, customers have a lot of questions. It could be about services, required documents, and paperwork, or simply assistance with their concerns. There are numerous transactions that require assistance and guidance; imagine how the customers would have felt if their questions were not answered or their concerns were not addressed.
When a customer signs up with a company, they already have the expectation that they will receive the assistance they require when problems arise.
4. The onboarding process is not personalized
Every customer is unique, as are their intentions for signing up for your products and/or services. Despite the fact that the company may have a general customer onboarding process, it might not work for everyone. As the saying goes, "one size does not fit all."
Customizing the onboarding process allows you to meet the specific needs of your customers. You can do this by studying your new customers' demographics, industry, and other factors.
Making the onboarding process fit your customers' goals and vision will make them regard your process as insightful.
First Impressions Last
Building customer trust is essential for any business today. First impressions, as the saying goes, last. How can you expect customers to stick with you if your company lacks respect and trustworthiness?
Going above and beyond to provide quality customer service is one way to establish trust and ensure that your customer will continue to work with you in the future.
The primary goal of onboarding customers is to establish a relationship based on respect and honesty. This will undoubtedly earn you the customers' trust.
Most businesses attempt to gain customers' trust during the sales pitch, but it is far more important to build that trust during onboarding and even after.
Why is trust so important in this situation?
Miscommunications and issues can be easily resolved as trust is established between you and the customer, ensuring that they will become a consistent customer and, consequently, a consistent source of income.
According to a HubSpot study, the way people or customers interact with businesses has evolved dramatically over time. Business trust has eroded. This is linked to the rapid spread of misinformation and concerns about how customer data is used.
According to their findings, more than half of customers (55%) no longer trust the companies they used to buy from, 69 percent no longer trust product advertisements, and 71 percent no longer trust ads they've seen on social media networks.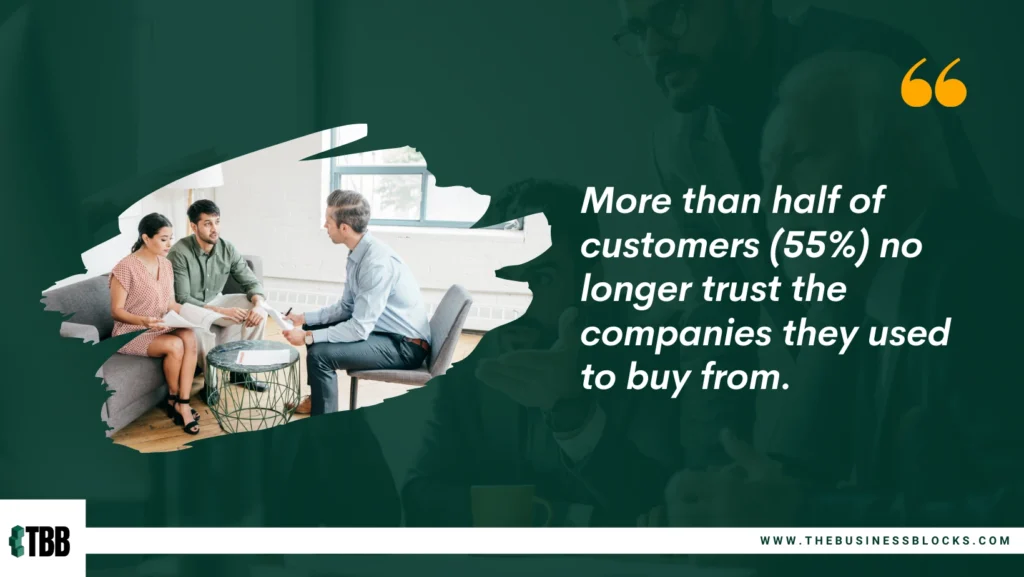 It is not a good statistic for businesses, but keep in mind that another HubSpot finding shows that happy customers are willing to support the businesses they enjoy. If there was excellent customer service, 90% of customers wanted to buy more, and a high percentage of customers (93%) were more likely to be repeat customers.
Here are some pointers on how to gain your customers' respect, confidence, and trust:
1. Be honest.
There is no shortcut to gaining your customers' trust; you must work for it and earn it. To show respect, meet them halfway. It could be a remote meeting or a face-to-face meeting, depending on the situation.
Be open and honest about your company's products and/or services, as well as what they can expect in return, pricing, and restrictions. Exaggerated claims should never be made. Just be honest.
2. Give great customer service.
Excellent customer service is critical to gaining the trust of customers. A framework is required not only to resolve common customer issues but also to listen to and resolve individual customer concerns that may be unique to each case.
The main goal of providing excellent customer service is to provide customers with services that are both effective and efficient. If they feel truly valued because your team goes above and beyond the expected services, you will undoubtedly retain them as customers and they may be able to recommend your company to others.
3. Secure Customer Data
Customers may be hesitant to provide the personal information required by your business due to rising data-privacy concerns. This is due to the risk of compromising their data. Inform customers about your best practices for ensuring the safety and security of customer data in accordance with data privacy and protection policies.
4. Share product reviews and testimonies
It is common for everyone to request references in order to determine whether the company with which they are doing business is trustworthy and has a good work ethic. Word-of-mouth recommendations are one way to gain trust, but sharing reviews and testimonies from current customers is also beneficial. Most people nowadays believe what a customer says about a company, so reviews are an important factor in customer decision-making.
Common Remote Onboarding Challenges
Customers experience an unhappy journey as a result of a poor customer onboarding process, leaving them frustrated. They may even tell others, resulting in negative consequences for your company.
Here are some common remote onboarding challenges you may face:
1. You won't know if the customer is having problems right away.
Because of the limited visibility, tracking the progress of a customer is difficult when the setup is remote. As a result, you will have difficulty identifying their problems and providing appropriate solutions.
2. A long onboarding process may be too tedious for them.
Most customers want to get the help and information they require quickly because they have a limited attention span or free time. If it takes longer and longer, and they aren't getting the information and support they require, they will most likely withdraw.
3. Uncertain goals
Who would want to try something new if there were no end goal in sight? In the first place, what is the main goal of onboarding? It is based on the customer's objectives when using your product or service. The onboarding process is intended to welcome customers to your brand and establish positive relationships with them, so it is critical to assist them in understanding your company and products, as well as how they can make the most of them.
Steps to Improve the Customer Onboarding Process
Here are the steps for your customer onboarding process, along with best practices, that will undoubtedly assist you in developing long-term relationships with your customers and preparing them for success.
Step 1: Sign-up
Assess your platform. Is it user-friendly for customers, and are the appropriate questions being asked? This will immediately tell your customers whether or not they want to continue using your products.
Best practices:
Make the sign-up process as quick and simple as possible.
If too much information is required, divide it across multiple pages rather than asking in a single shot.
Step 2: Welcome email
This will be your first contact with your customer following their registration. Add as little information as possible here. Welcome them and give them a clear next step. Make it clear in the welcome email where they can go for assistance.
Best practices:
Thank them for signing up for your product. Let them know how valuable they are.
Include resources that will help them, such as a product video and frequently asked questions.
Step 3: Setting up the account
Make sure that setting up the account is also simple and straightforward. If there is a lot of information required, ask for it gradually and let them know which ones are required and which are optional.
Best practices:
Give them a positive platform experience by keeping them engaged by awarding them prizes or recognizing them after they watch the product video or inviting friends to the platform.
Have a platform guide, such as pop-up instructions.
Step 4: Product setup
Customers may be familiar with the fundamentals of your products, but not all of them. Add training videos or modules to your platform to demonstrate your products. Ensure that this is as interactive as possible.
Best practices:
Allow for some product setup to be skipped.
Assure that live customer support is easily accessible to customers in case they require assistance.
Make it simple for them to pause and return to the product setup later.
Step 5: Follow-up
You should be able to keep your customers engaged with the product after they sign up and log in for the first time. Send out additional emails with helpful hints that will entice your customers to return.
Best practices:
Send short follow-up emails frequently.
Send follow-up emails with product reviews, such as customer testimonials.
Send follow-up emails with helpful tips and feature updates.
Step 6: Celebrate customer milestones
You might want to celebrate your customers' progress in using your product and get them one step closer to their goals. This will give them the impression that you are truly collaborating with them and are invested in their success.
Best practices:
Send in-app notifications about their recent accomplishments or progress.
Send a congratulatory email and let them know how much you appreciate them.
What Are the Strategic Benefits of Having a Good Customer Onboarding Process?
According to customer onboarding statistics of 2020, 86% of customers say they will likely remain loyal to a company that invests in onboarding content and educates them after they have purchased the product. And 63% believe that the onboarding process is critical.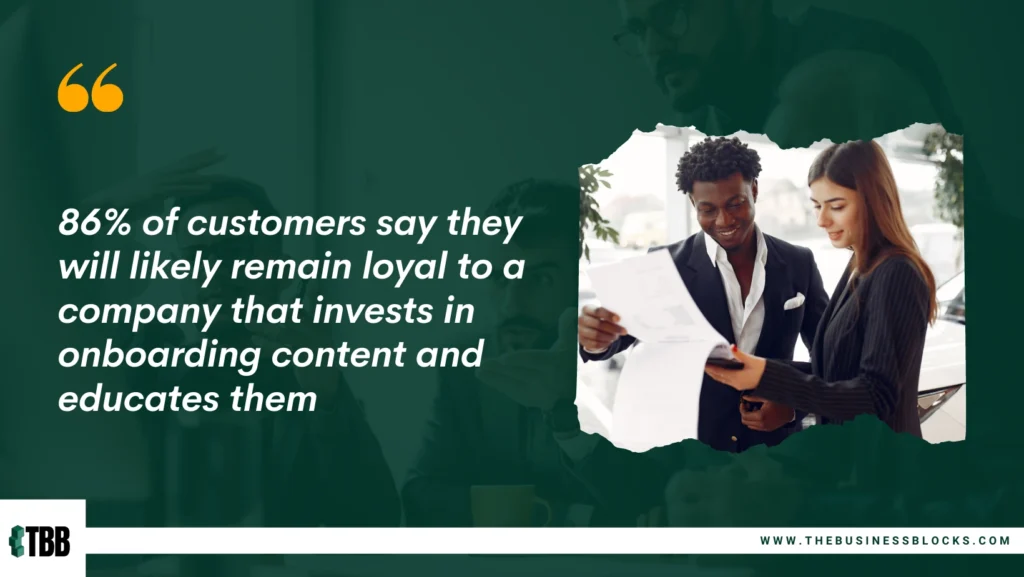 According to data, customers want an onboarding process that educates them and assists them in resolving issues as they arise.
Here are some of the advantages of having a good customer onboarding process:
1. Increases customer loyalty and converts them into repeat customers.
2. Improves revenue from existing customers.
3. Customers who are satisfied may refer their friends and family to the business, allowing it to grow faster.
4. Customer retention is improved, and the cost of acquiring new customers is reduced.
5. Reduced customer churn rate.
6. Reduced queries and issues.
Conclusion
There are numerous factors to consider when developing an effective customer onboarding process. What works for one company may not work for another due to different business objectives. So take your time and consider which steps are best for your business.
The customer onboarding process establishes the foundation for your business's relationship with its customers. A good onboarding process has been shown to increase customer retention. Customer onboarding may appear to be nothing more than assisting customers in becoming acquainted with your products, but it is much more than that. The customer onboarding process exists to help you prepare customers to achieve their goals with your product.
To ensure the success of your onboarding process, remember to set proper expectations for your customers, make them feel welcome, and support them along the way. If customers continue to use your products in the long run, you can say that your onboarding process was successful.