Have a closer look at what staffing software features you should be looking for, their benefits, and other essential information you need to know when looking for the best staffing software for your business.
In today's tech-savvy world, most companies and recruitment agencies use powerful and advanced staffing software to make their job easier. This software not only helps them in hiring the best employees for the job but also comes in handy in managing leads, sourcing passive candidates, training and developing existing employees, etc.
As a business owner, HR manager, or staffing agency owner, if you are still not using staffing software for your business operations you are missing out on something incredible. Using the right recruiting software offers a host of amazing benefits that can take your recruitment process to another level while helping you save a lot of time and effort.
In this article, we will have a close look at the major features, benefits, pros and cons, and useful tips related to staffing software.
So, whether you are looking for a new staffing software but need more clarity or you are still on the fence about investing in one, this article is for you!
By the end of this piece, you will have the answers to all your questions.
Let's dive in!
What features make staffing software effective in the recruitment process?
While there are a large number of different staffing software available out there, not all of them will be able to fulfill your requirements.
This is why knowing about the essential features of good staffing software is crucial. It helps you pick the right recruiting software that offers you the most value for your money.
Whether you are a new staffing agency, a small business owner, or a human resource manager, knowing about these must-have recruitment software features of staffing software is necessary for you.
1. Easy integrations
When you are investing in staffing software, make sure that it offers seamless integrations with other third-party applications and software. This enhances the functionality of the software and saves time.
Look for staffing software that offers integrations with at least the major applications like Gmail, Outlook, Calendar, etc. This will streamline the staffing and application process, introduce data consistency, and save a lot of time.
2. User-friendly interface
All HR managers and employers aren't tech wizards. And thus, choosing an incredibly complicated staffing software isn't ideal. After all, nobody wants recruiting software for which they will have to spend weeks simply learning its functionalities. It does nothing but waste your time and energy.
Unless you are a die-hard fan of complicated technology and love spending time with it, go for a user-friendly and easy-to-use staffing software. It should not be clunky, have an attractive interface, and should be easy to set up.
Ensure that the recruiting software you are choosing offers tons of customization options and is heavily automated so that you can save time.
3. Management of passive candidates
This is one of the most crucial recruitment software features that many employers ignore. When you are looking for new candidates for a job position in your company, you cannot only rely on inbound leads. You need to look for passive candidates and make a lucrative offer on job ads to them.
According to a LinkedIn report, almost 70% of the global job workforce is made up of passive candidates who are not looking for a new job actively. But they will be ready to switch if a company offers them an excellent opportunity or a lucrative offer.
Thus, you need to choose staffing software that helps you find, organize, and manage a pool of passive candidates. It should help you get in touch with them if or when the need arises.
4. Employee availability tracker
Another crucial feature that every staffing software must have is a robust employee availability tracker. After all, staffing isn't only related to finding and hiring people, right?
An employee availability tracker enables your employees to set their availability, leaves, shift hours, and more and ensure that everyone is on the same page.
Not only this, but employers can also allow potential candidates to access the recruiting software and set the hours when they are available for the interview.
It allows the recruiters to conduct the interview at that time and avoid any confusion.
5. E-signature facility
Since most of the work is being done remotely, having staffing software that offers an E-signature facility is a must, especially if you are hiring remote employees.
E-signature facility enables the candidates to sign the offer letter, contract agreement, and other forms securely electronically.
It removes the hassle of them looking for various e-signature applications for signing the documents.
6. In-app chat feature
Last, but not least, your staffing software should also have a user-friendly in-app chat feature to enable the candidates to be in touch with their employers.
An easy-to-use chat feature will help the candidates to ask their queries and clear their doubts with the HR or the hiring staff.
It will bring more clarity to them and ensure that they are not left to guesswork when it comes to the job descriptions of the jobs they are applying to.
The in-app chat feature also enables the employer to discuss certain important matters with the candidates immediately rather than depending on email (which can be quite time-consuming sometimes).
How does an organization benefit from an automated hiring process?
Have you finally decided to invest in good recruitment software to streamline and automate the recruiting process of your company? If yes, then kudos!
It is an excellent choice that will offer you more benefits than one.
For starters, it will help you filter the right candidates for the job without having to screen the applications manually.
In this section, we will go through some of the most amazing benefits of automated hiring that make investing in the best recruitment software worth it!
With the help of automated hiring, organizations can find their top talent from a large pool of applications from different job boards. A hiring software goes through hundreds of job applications and filters the most relevant ones automatically.

Automated hiring also improves employer-candidate relationships by automating communication through chatbots, and scheduling interviews and emails on time.

Automating time-intensive and tedious tasks frees up the time of the key personnel who can then use their skills and experience to focus on more important tasks.

With the help of automated hiring, organizations can screen more applications. This increases the chances of finding the perfect candidate for the job.
What are notable staffing and recruitment software functions?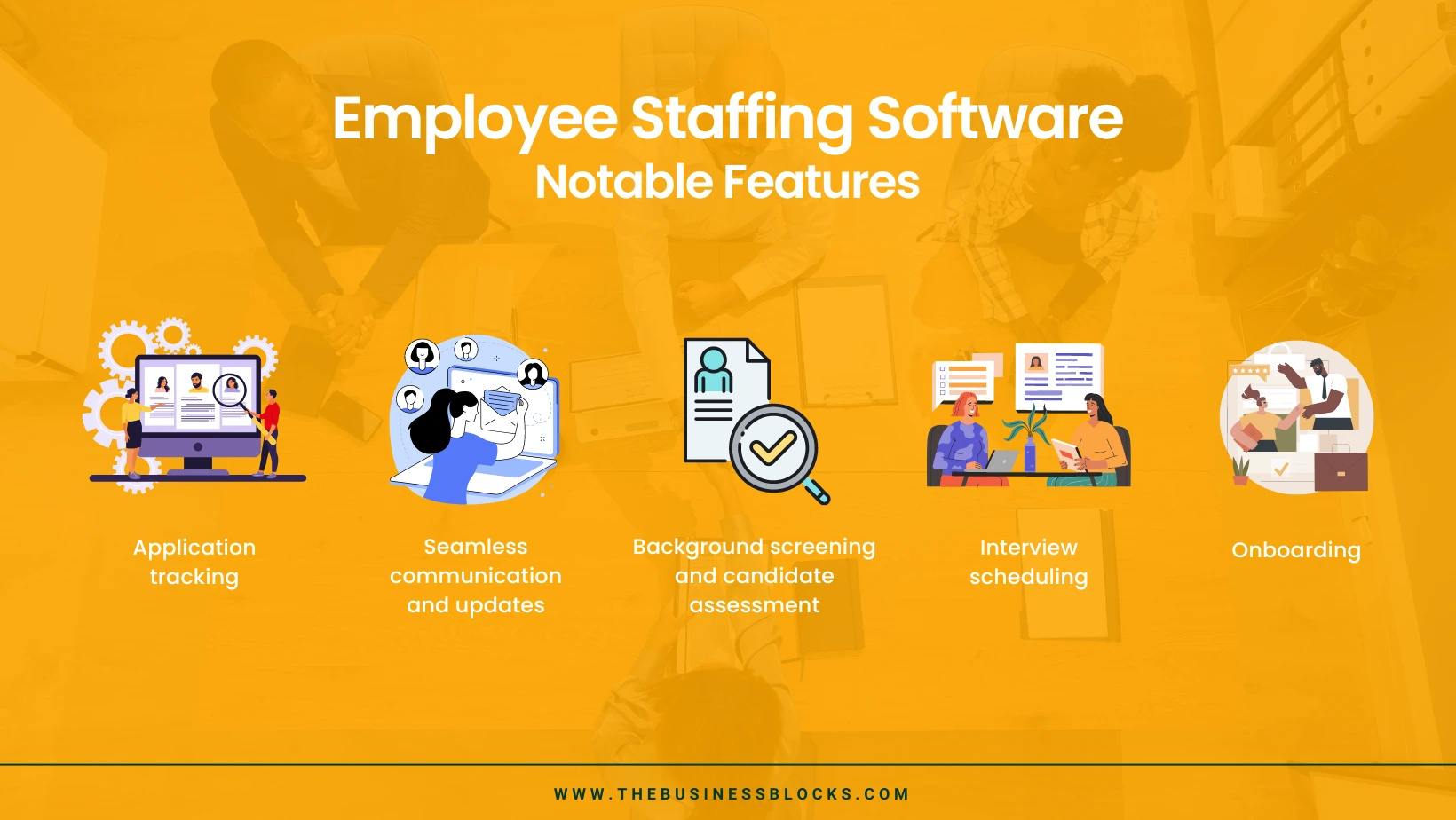 Recruitment software performs several important functions that help both employers and job-seekers. Let's have a look at some of the major ones:
1. Application tracking
The primary function of recruitment tracking is to enable you to track various applicants and their job applications. The software collects and consolidates candidate information based on their interest, skills, education, previous job experience, etc.
It also helps employers filter resumes and select the most qualified candidate for the job.
2. Seamless communication and updates
Good recruitment software also performs the function of your go-to tool for communication and sending real-time updates to candidates. The software sends immediate alerts and notifications to both candidates and helps improve communication with their employers by making it quicker.
For example, the recruiting software notifies the candidates about their interview date and time. This brings more transparency and ensures that candidates are not left confused.
3. Background screening and candidate assessment
Another critical function of recruitment software is to screen applications and evaluate candidates based on relevant questions, keywords, and more.
Effective resume screening and candidate assessment ensure employers can find the best candidate who is more likely to stay in the job for a while.
4. Interview scheduling
Online recruitment software is also used to schedule in-depth interviews based on the preferred dates and times of qualified candidates. Since everything is automated, it reduces the risk of double-appointment booking and offers a seamless interview process.
5. Onboarding
Recruitment software plays a significant role in employee onboarding too. They allow employers to create various important documents like contract agreements, offer letters, benefits enrollment, confidentiality agreements, etc., and send them to newly hired employees immediately. The employees can then read and sign them on the recruiting software itself.
Employers can also create various onboarding tasks and step-by-step guides to help employees understand their job role and the organization in a better way.
What are the benefits of staffing and recruiting software?
If you think that staffing software is beneficial only for recruitment agencies and organizations, you couldn't be further from the truth! The reality is that these recruiting software offer equal benefits to candidates and employees too.
Let's have a closer look at all the benefits offered by staffing software to both employers and employees.
Benefits of staffing software for employers and HR partners
Helps in finding better candidatesAutomated screening based on keywords and relevant questions helps HR managers and employers find the most suitable and skilled candidate for the job.

Better communication

software comes with in-app chat tools that help employers communicate with candidates and update them about all the important information.

Not only this, but the software also provides communication tools that can help in scheduling emails, using chatbots for answering common questions, etc. This also goes a long in improving their relationship with the candidates.

Tailored searchStaffing software comes with tools that can help in personalizing the candidate search process. By doing so, HR team managers can attract the right candidates who are more likely to stay in the job for the long term. This improves employee retention as well.

Saves timeThis is perhaps the most obvious benefit of staffing software is that it helps save a lot of your time.When most things are automated, employers can save their time to hire and find themselves with more time that they can dedicate to other parts of the hiring process and growing their business.
Benefits of staffing software for employees
Excellent self-service: Employees can access the staffing software and handle a lot of things on their own. They don't have to go through the lengthy process of making phone calls and sending emails that waste their time.

They can access the dashboard, analyze reports, mark their attendance and leaves, access development programs, and do a lot more on the software itself.

Easy communication: Another excellent benefit of staffing software for employees is that they can communicate effectively with the HR manager and their employers easily. The in-app chat feature allows the employees and candidates to get in touch with the right people in the company and ask their doubts and questions.

Quick onboarding: With the help of the E-signature feature, candidates and employees can quickly sign all necessary forms on the platform itself. This speeds up the onboarding process and helps the new employees get started with their jobs sooner by employee onboarding which makes the candidate experience much better.
Multiple advanced staffing software are available today. So, businesses and staffing agencies can choose the right one depending on their requirements and budgets.
Want to know more about the staffing software of 2022? If yes, then make sure to check out our article about the "Top 10 Staffing Software."
What are the Pros and Cons of using Staffing Software?
While staffing software performs several critical functions for staffing agencies and organizations, it's not all sunshine and rainbows with them. These software come with their own set of disadvantages too.
With this said, let's have a quick look at the major pros and cons of using staffing software:
Pros of Using Staffing Software
Employing staffing software in your hiring process helps save time and boost efficiency.

It also helps in finding the best candidates for the job. The automated resume filtering tool sorts through hundreds of applications and comes up with the most suitable candidates.

The software also keeps the candidates informed about all the important details related to the hiring process.

Finally, by using staffing software, employers and HR hiring managers can improve candidate experience and create a positive image of their company.
Cons of Using Staffing Software
The first and most common con of

staffing software is that it can be quite expensive in the long run. Small businesses make cuts in their budgets to accommodate the additional expenditure on

staffing software.

Not all staffing software offers good features and performance. Thus, if you are not careful in analyzing your requirements, you can end up with the wrong software for a few months. You will not only lose money but your efficiency will reduce as well.

Training your employees to use the staffing software in the right way can be a time-consuming task.
It is quite clear that staffing software comes with both pros and cons. Thus, as a user of this software, you will have to learn to find a balance and gauge these cons in such a way that you can make the most of this software.
What are some tips for hiring and recruiting people?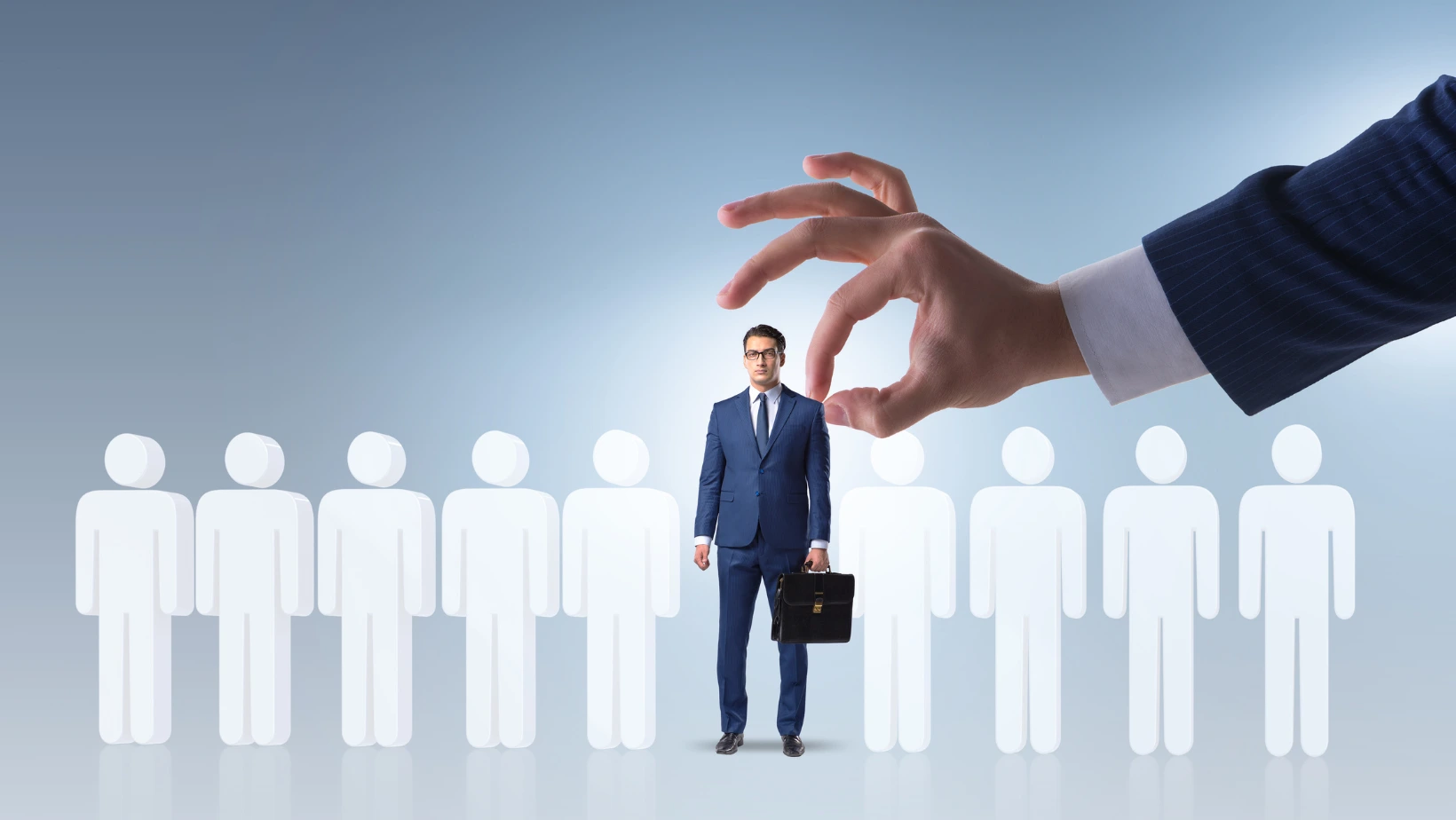 When hiring new employees for your company, make sure to consider the following business tips:
1. Have a clear and actionable recruitment strategy
When starting with your company's recruitment process, having a clear strategy is a must. It helps you define your ideal candidate and come up with the right way to find them.
Make sure to plan for the various recruiting components like which job boards to post the job opening, the kind of assessments you want to take, and who will handle the interviews.
Having a clear idea about how to do things will help you streamline your recruitment process and make it more effective.
Without a well-defined and actionable recruitment strategy, you will be flying blind.
2. Ask creative questions
Interviews are one of the most powerful ways to find the right employee for the job. You get a chance to talk to the candidates face-to-face, analyze their personality and temperament, and test their thing abilities.
Thus, as a recruiter, you should try to make the most of candidate interviews. You can do this by asking unique and creative questions. Most candidates prepare some general questions for their video interviews.
So, asking out-of-the-box questions is an excellent way to judge the candidate's thinking and decision-making skills.
3. Do a solid background check
When recruiters find an impressive candidate, they try to not waste any time in hiring them. After all, you don't come across talented and skilled candidates every day, right?
However, hiring a candidate in a hurry without doing a few rounds of solid background checks can be a mistake.
Instead of rushing the process, HR hiring managers should focus on checking the candidate's educational and professional background and confirm whatever they have told is indeed true. It is also important to check their criminal and credit history to ensure that the person you are about to hire is an upstanding citizen.
Background checks are one of the most critical parts of the hiring process. Make sure to not skip it!
The Wrap
So there you have it! That was everything you should know about staffing software, its benefits, features, and functions.
We hope you found this article helpful and that we were able to answer all your questions. Make sure to bookmark this piece and go through it when you are shopping for staffing software!