Effective recruitment is at the core of organizational success for any business. But hiring the right candidates in the post-pandemic era is no easy feat. Fortunately, several SaaS tools make the hiring process easier.
HR teams and recruitment agencies now heavily rely on staffing software to manage all hiring-related processes. These tools combine the features of applicant tracking systems, customer relationship management systems, job boards, and payroll management systems to offer an end-to-end hiring solution.
Let's learn more about staffing software and its functions, followed by a list of the ten best tools you can use today.
What is a Staffing Software?
Staffing software is any tool that helps HR teams and recruitment agencies screen, evaluate, hire, and onboard employees. These tools establish a systematic approach to hiring candidates and creating talent pools for companies.
Most modern staffing tools use AI-driven insights to source and screen candidates from different platforms. Moreover, these tools help establish several touchpoints with candidates to reduce drop-off rates and increase brand awareness.
Staffing tools use automation and AI-driven insights to ease the hiring process for companies and recruitment agencies.
How is Staffing Software Useful for HR?
Human resource teams use staffing software for the following purposes:
Sourcing candidates from different job boards and platforms.
Screening candidates based on skills and experience levels.
Managing a centralized dashboard with important information about each eligible candidate.
Building candidate profiles based on relevant skills and requirements.
Design application forms and career pages.
HR professionals working for recruitment firms use staffing tools to collaborate with hiring managers and manage client relationships. Several staffing tools also facilitate payroll management and compliance with data privacy laws like GDPR and CCPA. In other words, staffing tools address every aspect of the hiring process.
What are the top 10 Staffing Software available today? Click to view the quick list.
Manatal
Recruiterflow
TargetRecruit
JobDiva
Top Echelon
Avionté
Zoho Recruit
Bullhorn
hireEZ
CEIPAL
The Top 10 Staffing Software in Details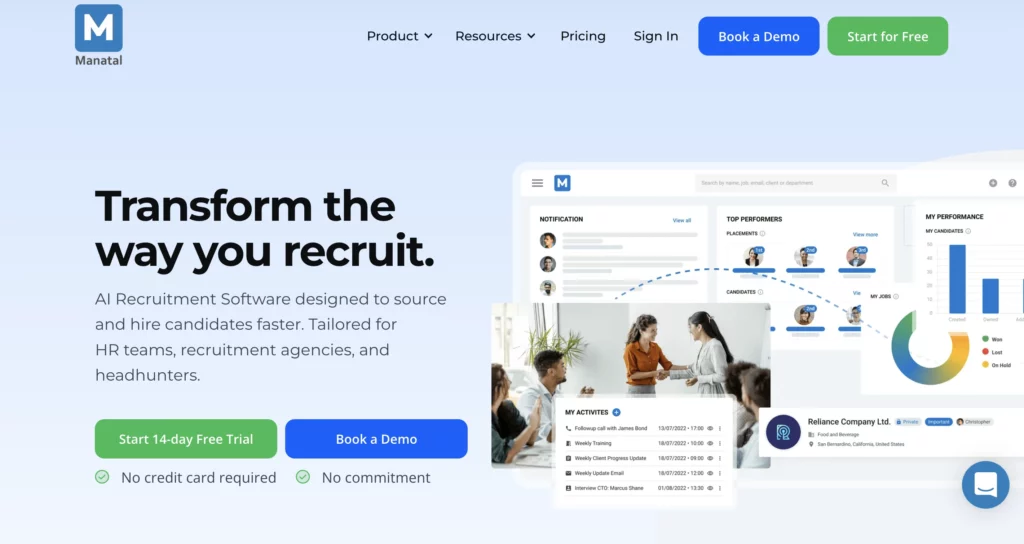 Manatal is an AI-drive staffing software best suited for HRs and recruitment agencies. It serves nine primary recruitment-related functions:
Sourcing candidates

Client management for recruitment agencies

Tracking

recruitment KPIs

AI-driven recommendations for ranking and sorting candidates

Applicant tracking system (ATS)

Build candidate profiles

Collaborate with hiring managers from multiple agencies or companies

Design custom application forms and career pages

Comply with data privacy policies like GDPR, CCPA, and PDPA
As we can see, Manatal is a comprehensive staffing software for both recruitment agencies and in-house HR teams. However, the tool is geared more toward the needs of large-scale recruitment agencies that work with multiple clients and thousands of candidates.
It's safe to say that Manatal is among the best staffing tools available. Usability, coupled with cutting-edge features, makes Manatal stand out.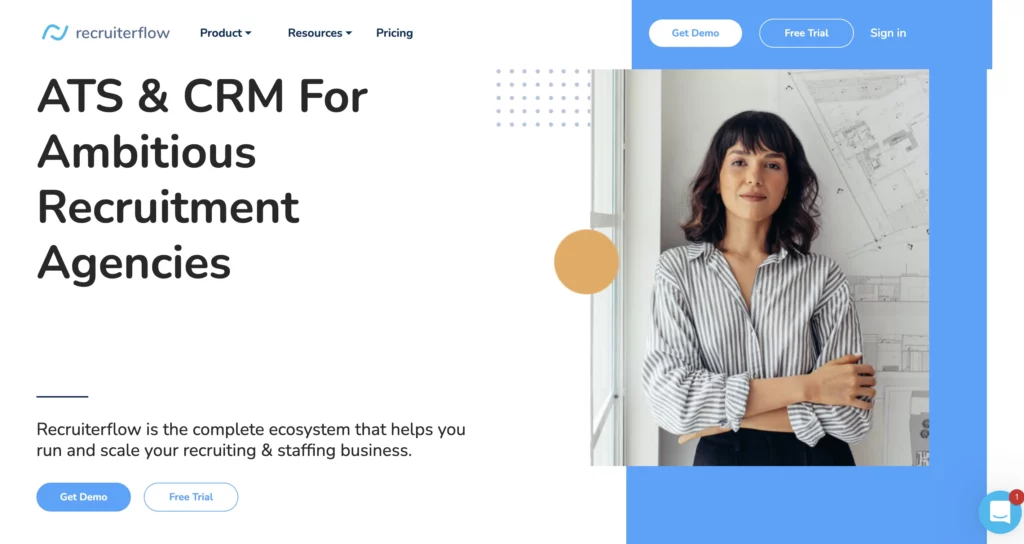 Recruiterflow is an established staffing tool with thousands of users worldwide. Unlike a few other tools on this list, Recruiterflow is purpose-built for staffing agencies. It can handle large-scale hiring projects with its user-friendly and intuitive features.
Recruiterflow has five primary tools for hiring agencies:
Applicant tracking system

Customer relationship management tool

Email sequence builder

Recruitment automation

KPI tracker and recruitment report creator
Recruiterflow eases every step of the recruitment process, from posting job openings to creating email sequences to publishing detailed reports. It also uses AI-powered resume parsing and sourcing and automates most repetitive data entry tasks for recruiters. These features make it an ideal staffing software for recruitment agencies.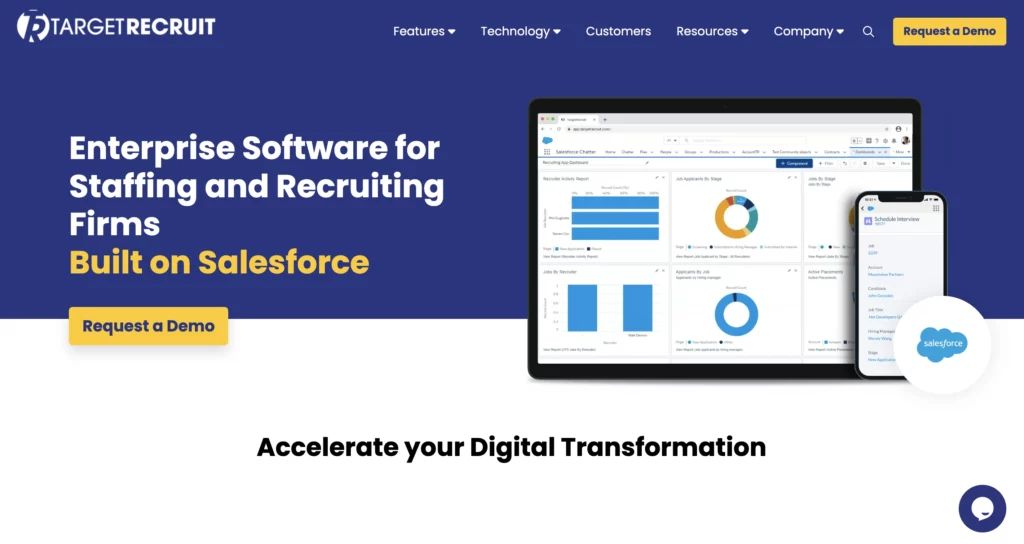 TargetRecruit is a staffing software built on Salesforce that aims to be a complete recruitment solution for staffing firms. Many staffing agencies prefer using TargetRecruit since it's built on Salesforce and supports many integrations. But beyond that, it's also a robust and feature-rich staffing tool with four key areas of operation:
Applicant tracking

Customer Relationship Management

Payroll and accounting

Data-driven reports and dashboards
TargetRecruit performs better than most staffing tools in supporting integrations. That makes it an ideal solution for recruitment agencies that don't want to overhaul all their systems. Apart from that, it's highly customizable and easy to use. There's no steep learning curve, and HR teams would already be familiar with most of its features and use cases. Overall, it's a great staffing software for any recruitment agency.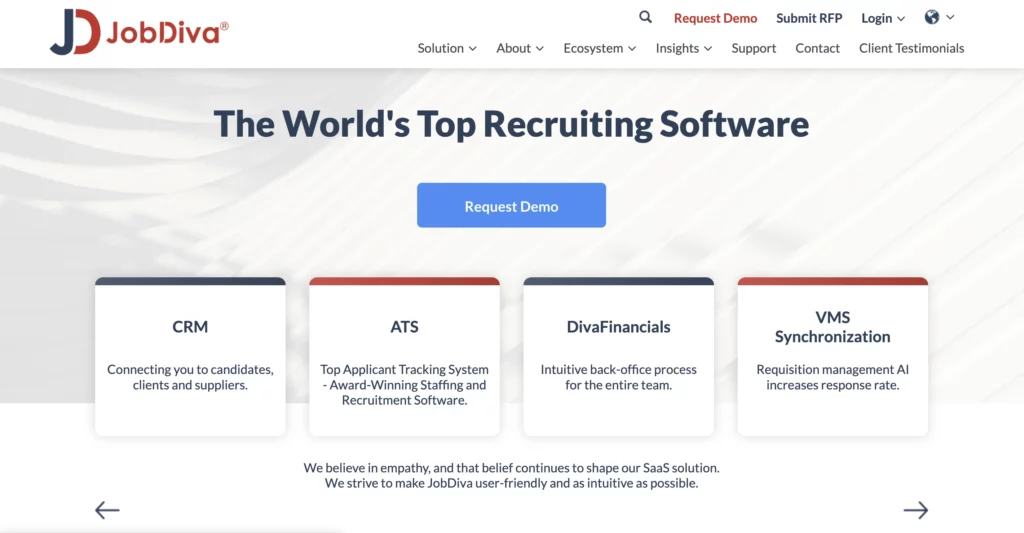 JobDiva is a leading staffing tool in 2022 that has bagged multiple awards from review platforms like G2 and TrustRadius. It does everything that you would expect from staffing software. JobDiva has several use cases, from sourcing candidates, nurturing relationships with them, and onboarding.
Since it's a plug-and-play software platform, recruitment agencies can easily access JobDive from any device at anytime. On top of that, JobDiva has a mobile application with a native texting solution to stay in touch with candidates 24/7.
JobDiva helps both businesses and recruitment agencies stand out from the crowd. With features like algorithmic resume matching and automated sequences, JobDiva is an all-in-one staffing solution for all HR teams.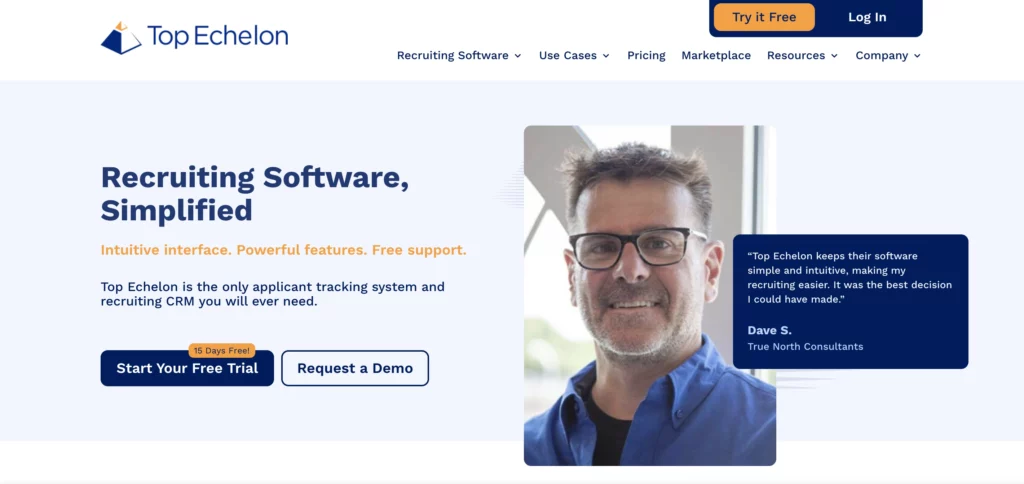 Unlike RecruiterFlow or JobDiva, Top Echelon is not designed for recruitment agencies only. Its straightforward and easy-to-use features are ideal for HR teams of all sizes. At the same time, recruitment agencies can use Top Echelon to manage clients and candidates.
Top Echelon has dedicated features for recruitment agencies, like custom pipelines, recruitment customer relationship management, and candidate sourcing. Top Echelon has functional tools for in-house HR teams, like a career page builder, applicant tracking system, and one-click job postings.
While Top Echelon is not the most feature-rich staffing tool, it effectively streamlines and accelerates the hiring process for both agencies and businesses.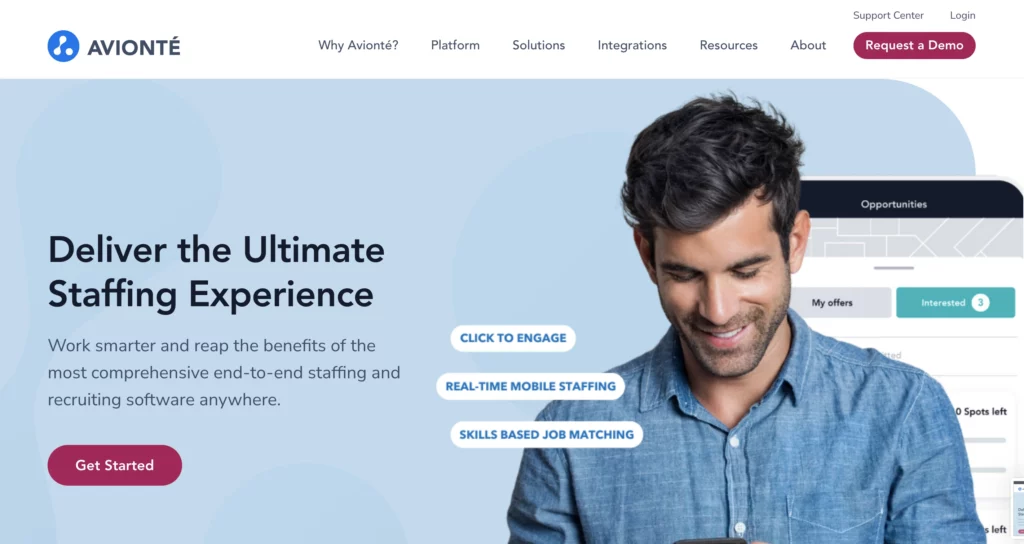 Avionté is an end-to-end staffing tool for recruitment agencies and companies. It's a complete recruitment ecosystem that takes care of everything from application to onboarding to payroll management. If you want a single tool for all recruitment-related functions, Avionté is a great pick.
Real-time payday information is a standout feature of Avionté. With this feature, your employees and recruits can see their payroll information, timecards, tax documents, and other payroll-related information.
The Avionté ecosystem is also accessible from smartphones, increasing candidates' response rate and reducing abandonment. Avionté's single system of record makes it easy for HR teams to stay on top of the latest developments. In-house HR teams and recruitment agencies can experience rapid growth with Avionté's functional and easy-to-use features.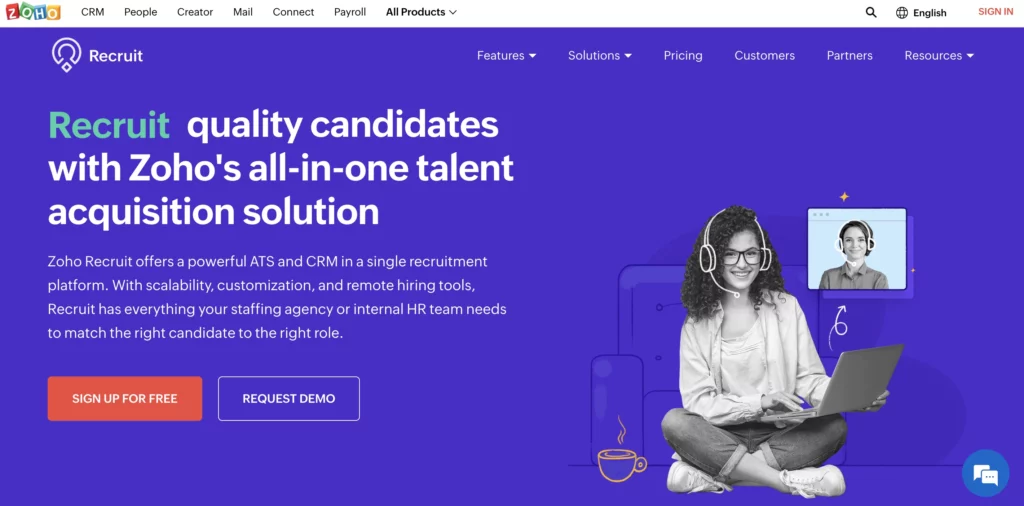 Zoho Recruit is an established name in the world of staffing software. Unlike some of the other staffing tools on this list, Zoho Recruit offers two separate features for internal hiring teams and recruitment agencies.
Zoho Recruit offers standard applicant tracking and customer relationship management systems for staffing agencies. Beyond that, it supports collaborative hiring with support for direct applications from Facebook and LinkedIn. Zoho Recruit also reduces candidate drop-off rates with custom and automated workflows for each hiring process step.
Internal hiring teams can use Zoho Recruit to build branded career pages, improve brand awareness, attract high-quality candidates, evaluate applicants, and manage talent pools. It also lets companies post directly to more than 50 job boards.
Zoho Recruit is a complete recruitment solution for businesses. While recruitment agencies may find a few features lacking, in-house hiring teams can see significant benefits in their hiring process with Zoho Recruit.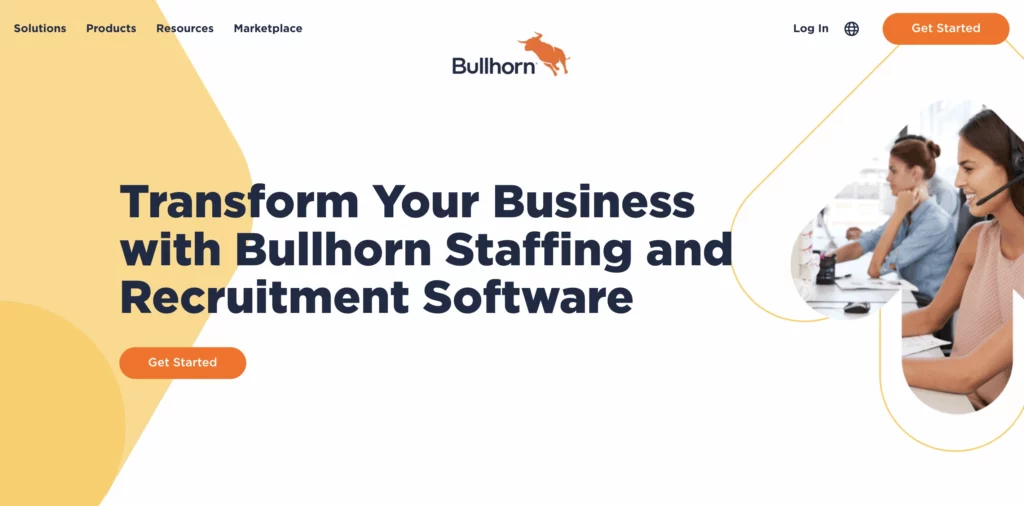 Bullhorn goes beyond tracking applicants and maintaining customer relationships to simplify tasks for recruitment agencies. Like JobDiva and RecruiterFlow, Bullhorn is designed for large-scale staffing agencies.
Automation in every step of the hiring process is the highlight of Bullhorn. From the first call to deployment, Bullhorn lets hiring agencies establish touchpoints with candidates at every stage. This ensures low drop-off rates and improved brand awareness.
Bullhorn also provides a central database for tracking every new development in the hiring process. It's the single source of information you will need to evaluate and inspect every recruitment data point. Bullhorn also provides a wide range of resources for hiring teams and offers customized sector-based solutions.
9. hire EZ
Outbound recruitment has picked up steam in the hiring circles due to its many advantages. Instead of waiting for the ideal candidate to knock, companies are now reaching ideal candidates from across the world. Staffing solutions like hiring EZ make outbound recruitment fast, feasible, and effective.
hireEZ gives recruitment agencies and HR teams access to more than 800 million profiles. It also intelligently scans these profiles to identify the best matches. From there, it provides a complete applicant tracking system for everything from interviewing to onboarding. Companies and agencies focused on outbound recruitment should consider using hire EZ.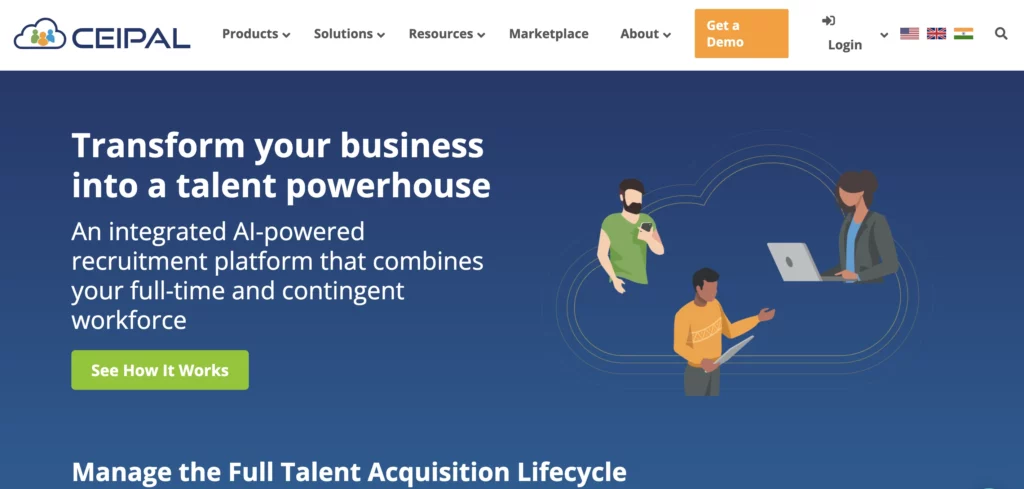 CEIPAL is a complete, end-to-end hiring solution for companies and agencies of all sizes. It heavily relies on AI-powered insights to identify the best matches. Diversity hiring is an important metric for most businesses in 2022. CEIPAL's AI-driven searches and reports eliminate bias and ensure regional and international regulations compliance.
Text and chatbot recruiting are two innovative features of CEIPAL that help HR teams establish better communication with candidates. AI-driven analytics, customized reports, and dashboards make CEIPAL a powerful yet easy-to-use staffing tool. While anyone can use CEIPAL for recruitment, staffing agencies will find many of its features particularly efficient.
Who are the Target Users of Staffing Software?
Recruitment agencies and HR teams primarily use staffing software. Since these tools specifically address hiring and recruitment, managers and C-suite executives often don't benefit from these tools. Unlike performance management tools, staffing software doesn't manage the performance of the workforce. As a result, these tools are restricted to HR departments.
Recruitment agencies are the biggest user base of staffing tools. These agencies manage thousands of applicants and dozens of clients at the same time. It'd be impossible for them to carry out operations without a centralized and automated workflow. Staffing tools are indispensable for any organization that manages job seekers at a large scale.
Notable Features of Staffing Software
The key features of staffing software are:
Applicant tracking system to keep every candidate updated about the progress of their application.
Customer relationship management system to keep clients updated about the progress of the hiring process.
AI-driven sorting and screening of candidates and creating individual candidate profiles.
Building and managing a talent pool.
Facilitating fast and efficient onboarding.
Centralized dashboard for information about each candidate.
Custom career page and application builder.
Creating email sequences.
Custom recruitment reports and insights.
Communicating with promising candidates.
Compliance with labor laws and data privacy regulations.
Other Software and Services Related to Staffing Software
Staffing software refers to any SaaS solution that makes the hiring process simpler and more efficient. Applicant tracking systems (ATS) and video interviewing tools are closely related to staffing software in this respect. Staffing tools also incorporate payroll management features and systems to provide a seamless experience to both recruiters and candidates.
What are the Benefits of Using Staffing Software for an Organization?
Staffing software has several benefits, and most revolve around making the hiring process more efficient and easier for HR teams. The first and most obvious benefit of staffing tools is speed. Manually screening hundreds (if not thousands) of CVs to sort and rank ideal candidates would take an enormous time. By automating this process, HR teams can save valuable time and money.
Staffing tools also establish multiple touchpoints with potential candidates. As a result, candidates don't lose interest in the company, and the drop-off rate reduces. Transparent hiring also promotes brand awareness and increases the chances of getting better applicants in the future.
Staffing software is indispensable for recruitment agencies. Unlike in-house HR teams, recruitment agencies have to coordinate with both the clients and the candidates. Staffing tools provide a simple and intuitive dashboard to establish communication with both parties and keep the hiring process moving.
The benefits of staffing software often go beyond hiring. For example, many staffing tools also incorporate payroll management for timely and accurate payments. These tools also generate detailed reports that help companies better understand the kind of candidates they are attracting.
The Wrap
If you're not using staffing software in 2022 as an HR professional, you are missing out on significant benefits. Employees are the backbone of any business. The success of an enterprise directly relies on the competence of its employees. Using staffing software ensures that you always find the perfect match for your requirements without spending time and money.