People who start their businesses are usually prepared to take challenges and improve themselves to overcome them. As specific problems are solved, others emerge, and this trend seems to be endless. Gathering a professional team that supports your vision and helps you expand your organization and conquer new markets is a foundation of long-lasting progress.
However, you and your employees shouldn't fix the same problems and repeat unnecessary tasks when they can automate certain processes using workflow software. More than a third of organizations already use some form of business process management system, which suggests that this trend will continue to grow. 
Depending on the size of your company and the industry in which it operates, you will find suitable workflow software to help you improve your business processes. Software of this kind will allow you to save time and resources and divert them to departments where they are needed. 
Workflow software is there to help you optimize your business processes and improve the efficiency of your enterprise from the ground up. 
1. Levity 
Levity will allow you to set up a framework for automatizing your processes within minutes. By utilizing AI, Levity's algorithm is constantly learning and improving. AI features can be used for auto-tagging items of specific categories, to classify email responses, and you can even use AI for HS code automation, allowing you to assign a unique number to every product.
Even though this description and appraisal of AI features might sound technical, you don't require coding skills to implement Levity successfully for your business.
Artificial intelligence isn't something that can fix all the problems your company experiences, but its utilization is helpful in various situations. Benefits of Levity are: 
AI-powered
Useful for different industries
Free version
Levity's plans might seem too expensive, but the number of actions and ever-improving AI model make up for the high price. 
2. Nintex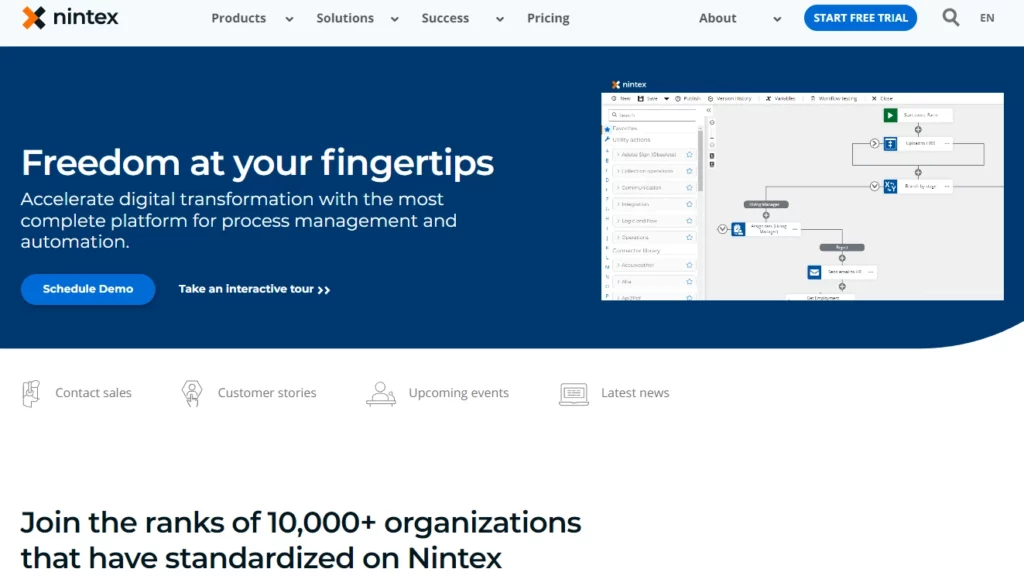 ll that talk about the importance of process optimization and saving time wouldn't make sense if these solutions weren't easy to use. Nintex is among the intuitive workflow management services that allow businesses to automatize their processes easily. 
Whether your company is doing business in information technology, accounting, retail, or in various other fields, Nintex will allow you to improve your processes with a drag-and-drop design that requires no coding. Benefits of Nintex include:
Third-party integrations
Interactive process mapping
Various management tools 
An off-putting thing regarding Nintex is its price. Smaller businesses might consider this service too expensive. 
3. Zapier
Since Zapier is a web-based solution, your employees can use this software on the go. The advantage of Zapier is that it combines a broad range of apps and features while maintaining a user-friendly dashboard. 
Zapier is there to smoothen out the processes that haven't delivered their best results. You can manipulate individual automation and tailor it according to your needs. Manually editing workflow automation is the recommended method at the beginning, as automating might cause problems that can grow exponentially in the future. 
You should use Zapier if you want: 
To integrate third-party business and productivity apps
User-friendly solution
Service that can execute multiple commands
Zapier's free plan won't be of much use for a company with more than a handful of employees. The free program will limit your "Zaps", which are individual automation, but this free plan will help you decide whether Zapier is a suitable choice for you. 
4. ProcessMaker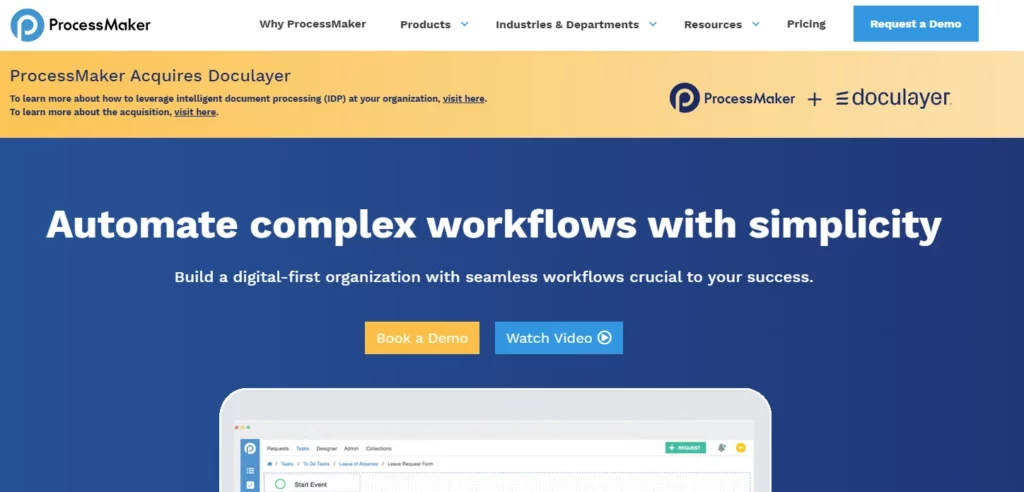 Even though other services mentioned on the list are easier to use, ProcessMaker is an open-source solution that allows users to see and edit their code. However, the use of this workflow tool requires no coding experience.
With ProcessMaker, users can create and visually edit diagrams of processes. Various third-party integrations using API significantly expand the capabilities of this service. 
Standard features of BPM, such as communication between team members and activity monitoring, are also included. 
ProcessMaker isn't the most popular BPM on the internet, but it has advantages like:
Being open-source
Feature-rich
Document scanning features
For larger teams, ProcessMaker doesn't scale well as it is licensed on a per-user basis, but it is worth it if your company has the required budget. Mastering this solution will require some time and effort, and it might slow down certain operations at the moment. 
5.  Kissflow
Whether you prefer structured or unstructured workflows, Kissflow will fulfill your requirements. This workflow management tool will allow you to customize and prioritize and delegate tasks to employees. The advantages of Kissflow are recognized by large companies in various industries, such as PepsiCo, Domino's, Uber, and many others. 
Workflow management tools aren't always paired with cloud services, but Kissflow is. Integrations with commonly used services such as Gmail, Google Calendar, and others make it perfect for straightforward communication between departments.
Kissflow can build project boards and has a variety of reporting features that will allow you to create detailed reports of certain aspects of your business. The advantages of Kissflow are:
Many features
Cloud integration
No-code
This service has pricing plans for small businesses and corporations and custom plans for enterprises. Plans are calculated per user, but there is a minimum for each one of these plans. 
Benefits of workflow software
Well, it would be enough to say, "Workflow software boosts profit," to inspire someone to research it and try out one. However, workflow software has much more benefits than simply increasing revenue. 
Minimizes the risk of an error 
By automating specific processes, you can minimize the risk of human errors. These processes might be considered insignificant, but automatizing them will allow your employees to concentrate on other, more challenging tasks. Even if your employees review the effectiveness of the process in the end, it is still a better solution than letting workers waste time on them. 
You must be careful about the importance of the tasks that you automize, as certain processes certainly need to be done manually and inspected. 
Improves the experience of your customers 
By improving your company's internal processes, you will also improve how your company is seen from the outside. The experience of your customers depends on how your employees and its services interact with them.
This software will allow you to speed up the processes and deliver the results to your customers much faster. For example, if your company operates in food delivery, your customers will receive food faster, but the benefits of workflow optimization can be seen in much more complicated environments. 
With software lowering the chances of human error, you will have much fewer unsatisfied customers in the long run. 
Improves the experience of your employees
The key to satisfied employees is understanding their needs and helping them improve their roles. Through this software, you will be able to achieve that and much more. HR processes will be much more effective, and they will boost employee engagement. 
Business process optimization starts even before an employee is hired. Software of this category can help you create job posts and screen, interview applicants, and onboard employees, but also track a variety of metrics at the workplace.
A feature like a project board will allow the employees to track their responsibilities and tasks in real time and coordinate with other co-workers. As many solutions offer some form of team communication, this process will be very straightforward. 
A feature that some software from the list possesses, which is business activity tracking, will allow you to have an insight into how effectively your employees spend their time at work. 
How to choose the software in this category 
In the world of workflow tools, there isn't a one-size-fits-all solution, as each company is a unique case. However, the majority of software on the list shares some of the basic features, and none of them require coding experience or skills. But each tool has a particular feature that others don't. For example, Levity offers unique AI tools, separating itself from the competition.
Other services offer unique reporting and integration features, which aren't always necessary. If you have a considerable budget to spend on a BPM/workflow management tool, it's best to do research on your business processes, find the ones that aren't as efficient, and then select software from the list. 
Consider the cost of certain tools from the list scale with the number of users using them or the number of processes automatized. As your company develops, your expenses on these tools might also continue to grow.