The success of your business depends on how you perceive the onboarding journey. If you ask why onboarding is important, you've missed the point.
Starting a new job can be exciting but also nerve-wracking for a new employee. Your new employees are excited to blend in and fit smoothly into your system.
However, many employers fail to take advantage of this key employee-employer touchpoint, resulting in an undesirable state of affairs within the organization later.
A Gallup survey found that only 12% of employees think their organization did a fantastic job onboarding them. Also, new employees tend to leave their jobs after some time.
The same survey revealed that one leaves the organization after eighteen months with every two new employees.  
Also, an ineffective onboarding process translates into significant losses to the company. Filling a vacant position costs over 50% of that position's salary.
It also takes time to recruit and perform background checks for prospective applicants. All these are attending menace that uses resources while the company lags in productivity due to the vacancy.  
On the other hand, an effective onboarding process results in higher employee engagement, increased productivity, and better employee retention.  
According to studies, organizations that enhance their onboarding processes cut their turnover rates in half and improve productivity by 60%.  
This post gives you the basics for improving your onboarding process and turning it into a journey-like experience rather than the old and fixed system of paperwork, product training, and knowledge.  
Giving an engaging boarding experience to your new hires not only encourages colleague interactions. It also makes new hires more productive and engaged from day one and will also result in successful customer onboarding.  
A study by the Wynhurst Group found that implementing a more effective orientation program for new employees makes them more likely to remain in their organizations for more than three years.  
Dual Process 
You can think of the onboarding process as a two-part process – from the cultural and logistical standpoint. Paperwork and product training are essential to the process, but this is only half of it.
Most employers and managers fail to see the social and human aspects of the process.  
Here, we discuss the difference between the traditional system and the new approach called Employee Onboarding Journey. The basic difference is that the old system is principle-based, while the new approach has a more personal touch and involves the human element more. 
What is an employee onboarding process? 
Employee onboarding is an essential process every new hire should undergo and the most effective weapon companies use to combat employee churn. The process ensures that employees know their new position's responsibilities.  
Employee onboarding is also where employees get to know the mission and vision of the company and meet coworkers for the first time. It is also the most effective way companies establish a lasting bond with new hires.  
With your onboarding process, you make each new hire fill out paperwork and set up their email. You also give them access to your software and office equipment. Above all, the process involves the introduction of new hires to key team members.  
The employee onboarding management jargon was created in the 1970s. Tagged as organizational socialization back then, it aimed to make new hires become more effective members and insiders of organizations.  
Tactics used in onboarding include formal meetings, printed materials, computer-based orientations, and formal meetings. Research shows that these socialization tactics result in favorable outcomes, including better performance, higher job satisfaction, and higher organizational loyalty and commitment.  
These positive outcomes are important for organizations looking to maintain a competitive advantage in an industry where the workforce is increasingly mobile and globalized.  
The current talent market is competitive and tight. To compensate, your new-hire acquisition team is working hard to assess and close top talents for your company. When talent acquisition has been done and the baton is turned over to the next phase, the onboarding team extends the new-hire experience into the employee experience.
The handover is crucial to engaging and retaining talent.  
The problem with the traditional approach is that it does very little to set up new hires for success or retention. Employees who have negative onboarding experiences are more likely to start looking for opportunities for a position elsewhere within the year after getting hired.  
When the entire process is done with careful attention to detail and plenty of interactive discussions, onboarding can make the beginning of a new hire much more comfortable.  
When done poorly, the process may be damaging to the opportunities of developing a long-term relationship with new employees, such as when it only involves a revolving series of videos or speeches by VIPs with little to no actual interaction.  
For 21 Simple Ways To Get It Right, check out our employee onboarding article here. 
Employee Onboarding System vs. Employee Onboarding Journey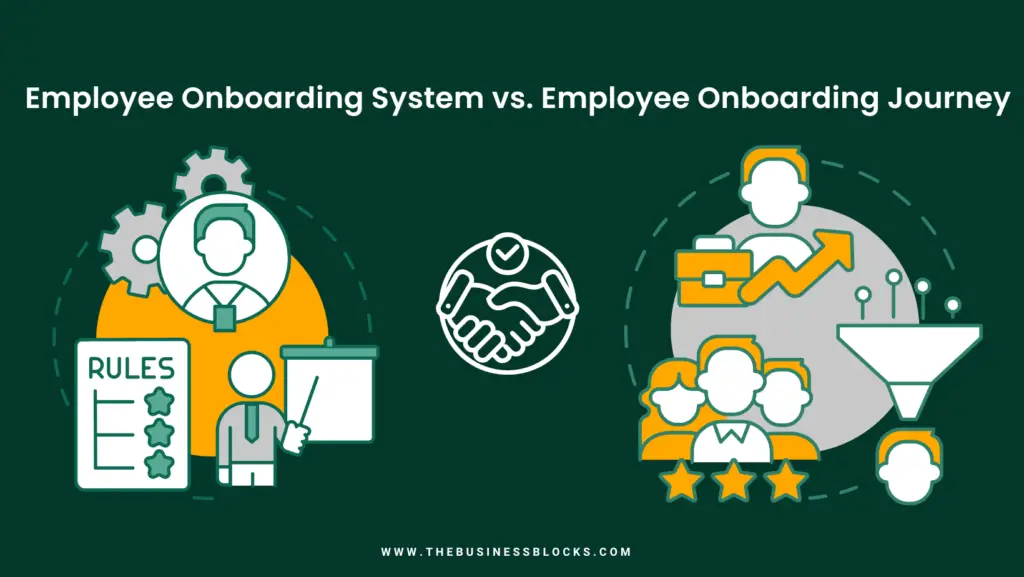 Employee onboarding is often mistaken for an exercise about payroll and tax information, benefits, and employee handbooks. While these things have their rightful place in the process, they are not the heart and soul of it.  
Your goal in the onboarding process extends far beyond that. Your ultimate goal is to bring your new hires into the fold through a smooth transition strong enough to create in them the passion for the job and the desire to innovate.  
With such an approach, your new hires will easily feel included, welcomed, and committed to their department's and your organization's goals. Anything less than this means a disservice to not only the new employee but to the company as well.  
Ensure your HR personnel and staff understand that they must advocate investing their efforts for successful onboarding processes.  
Automating the process
So, how is the traditional approach different, and how can it be improved?  
The old way of hiring and training starts when the company announces that they have hired a new employee and will send him an offer letter.  
To illustrate, applicant Tom then receives an offer letter via email. Sometimes, applicants receive good old-paper-based communication complete with a welcome packet.  
A few days later, Tom comes to his office and starts Day 1. HR asks him to do some paperwork and wait for hours or days to receive access to the IT software and logins.  
Vexed with the onboarding process, Tom finally started working after many days of waiting. However, his fervor for the job when he first got in has been lost due to the long wait. The long, grueling process got its victim again, and the company was joined by another disenchanted guy who felt unwelcome in the onboarding process. 
There are ways to improve the process, and nowadays, many companies are using automation tools, and here is what it looks like for those automating their onboarding process.
Tom receives an offer letter generated and sent to him via email. The difference is that it already contains the login details of the onboarding portals.  
Tom logs in to the portal, where he sees everything he needs to know. Along with the welcome packet, he gets access to important info, including:  
Job Responsibilities 
Details of his manager, supervisor, etc. 
HR contact details 
Company Policies 
Travel information 
Tom submits the required personal information to the company at his own pace. He attaches documents and electronic signatures as required. Surely, Tom feels excited and ready to go.  
HR then moves to input Tom's details with just one click of the button and sends a notification to several departments, including Cafeteria, Payroll, and IT. These departments receive Tom's details, including: 
Address information 
Joining date 
Photograph 
Dependent details, etc. 
Each department accomplishes related work, such as benefits, emails, access cards, computer setup, etc. Tom can now view all the details he has entered and is welcomed as a new employee of the company.  
On Day 1, Tom meets his manager and discusses his three-month training. He can view the details of other employees and set up a meeting with them to know how he can best contribute to the organization.  
An automated onboarding process allows Tom and all new hires to be productive from day 1. Structured onboarding processes help new hires become more productive and engaged immediately.  
Onboarding is a journey.
Almost all organizations today have an onboarding program. However, not many employees can call their onboarding great. If that is the case in your company, the result is that you are losing the best people under your supervision before they even get started.  
There is more to onboarding than telling new hires where they will sit or their organizational function. It is about culture and social connection.  
It is also about making the process easier and less stressful for them and delivering on the brand promise you bragged about before they were hired.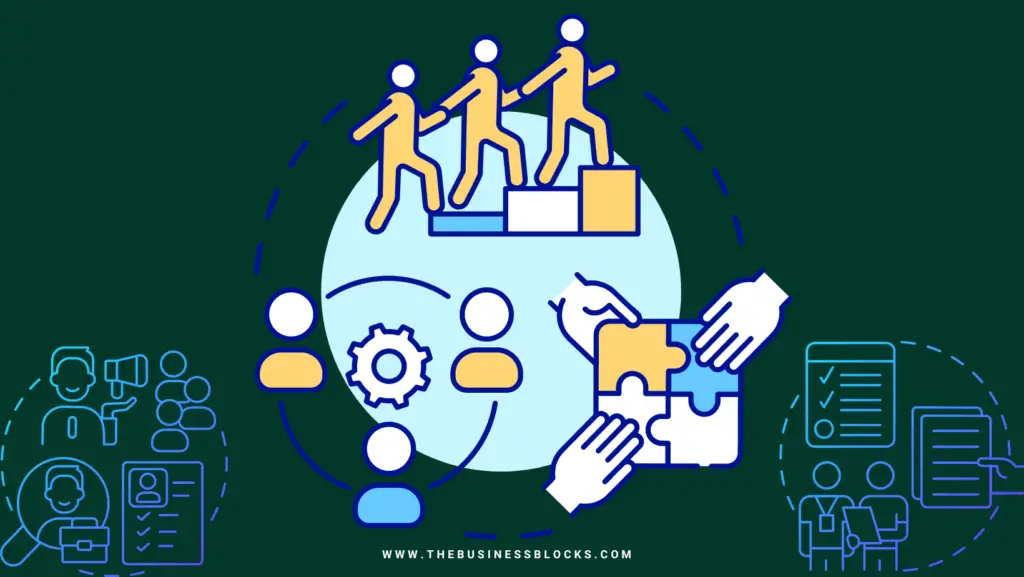 You must recognize the value of creating an onboarding journey rather than sticking to the old, unproductive way of orienting new hires. Effective onboarding programs that make employees' roles clear focus on one's talents and skills, and build relationships lead to:  
Higher performance 
Higher job satisfaction 
Better organizational commitment  
Lower turnover 
Less stress 
Five questions to address early on
There are five questions that new employees ask. When these questions are addressed right from the start, it can make the employee onboarding journey successful and set them up for success. Gallup has identified these new-hire questions that need to be addressed right away: 
What is my role in the organization?
What do people in this organization believe in?  
Who are my partners? 
What strengths do I have? 
What will be my future working in this company? 
Investing resources into discovering your employees' strengths effectively shows that you care about them and want to build a strong relationship with them.  
Suggestions for improving your onboarding system
Here are some suggestions for an effective employee onboarding journey:  
Prepare colleagues for new employees – Before the new employee starts working, all team members should be informed of the welcoming process.  
Have the working stations for new employees ready – Their working stations should be ready with all the essential tools: emails, contact lists, computers, etc.  
Make introductions – Schedule appointments of new employees with key personnel. Key people should be ready to share their experiences working in your company.  
Conduct plenty of training – Allow for flexible training time. Instructions should cover company rules, processes, and expectations. 
You can find out more about improving your employee onboarding strategy.
Top reasons why companies don't get the onboarding process right
Remember that an effective onboarding journey for new employees is about integration and usefulness. Give them a stack of procedures and policies, place them in a quiet, vacant room, and tell them to read them all.  
Right off the bat, you set the stage for a dismal new-hire experience. Those written words have no application context unless these new people see themselves in action. It is potentially a futile exercise and a waste of talent.  
According to a study by ServiceNow, around a quarter of employees say they receive no clear onboarding, with some even saying they have a truly bad experience.  
Around 10% of participants in the ServiceNow study said that they forgot it was their first day on the job entirely. In addition, the report revealed that 20% believed they were not fully onboarded after three or four months on the job.
Like many programs and initiatives, the traditional onboarding process does not achieve a favorable result.  
Here are common mistakes you should correct if your onboarding process does not seem to deliver the desired result:  
There is a mismatch between onboarding and reality. 
Lack of employee engagement and sense of recognition and belonging (Do not leave your new employees to have lunch alone.) 
There is no compelling business case for your onboarding program.  
Ignoring diversity in needs, accountability, and metrics 
DIY Mentality – No one in the company is responsible for onboarding.  
Focusing only on employee benefits 
Information overload at a very fast pace 
Wrong expectations – Thinking that employees can perform independently without giving them sufficient time to build a basic level of functional mastery.  
Assuming unwritten rules and policies are self-evident.  
Delaying explanations regarding how new employees can contribute to the organization. 
One of the best things you can do for new employees is to give them work right from the beginning.
Pair them up with an established employee who can put them to work. New employees need to work and want to know how they can be useful.  
Perhaps the most important thing for new employees is knowing how to fit into the group. Drag them to lunch with some of the group. You can even pay for their lunch, as some might be broken.  
Integrate your new hires into the group with talks about funny incidents, things that went wrong, how they handled problems, and how their superiors work.  
First impressions last
While you are not announcing it with a trumpet blast, you evaluate your new hires from the start, checking how best they can fit in and if they meet your expectations.  
From their side, these people are also assessing you, and they can make up their minds pretty fast in developing their first impression of you and your company.  
That said, the first impression they make of you speaks volumes of your culture in the company you run and could very well be the most important factor why or why not they will decide to stay with you.  
You must build and keep respect, trust, and confidence in them. Make sure that they feel comfortable right from Day 1.  
For one, it is easy to overlook the personal touch that comes with the power of reassuring a nervous new hire. You can send a welcome email with key information and include paperwork they can work on in advance.  
Then on their first day, you can assign a knowledgeable and friendly established employee to give them a tour and introduce them to coworkers throughout your organization.  
To go the extra mile, put a small plant on their desk to make them feel extra special and at home in a place that may still be strange.  
Build trust
Trust is essential in the workplace. Without it, your new employees will feel unmotivated and become unproductive. In a study, employees in high-trust companies report 74% less stress, exhibit 50% higher productivity, and experience 40% less burnout. 
If you exhibit trust in your new employees, you are telling them you have confidence in their integrity and ability. If you show distrust in them, you are telling them the opposite. You are suspicious about their integrity and agenda.  
Build respect
Demonstrate respect for your new employees. Whether it is by way of greeting or cleaning up after yourself when using the office kitchen, there are many ways by which you can show respect for them. 
Other ways of showing respect in the workplace include: 
Treating everyone with kindness, politeness, and courtesy.  
Encouraging coworkers to share their ideas and actively listening to them.  
Being aware of your body language and demeanor during interactions with them.  
Showing equal treatment despite the differences in race, religion, position, etc.  
Including all of your employees in lunches, meetings, and after-work gatherings.  
Build confidence
Here are confidence-building strategies you can employ with your new hires:  
Recognize strengths and weaknesses – Be objective in telling them about their skills and the areas where they need to improve. Your honest insights can help them in learning to trust in their capabilities.  
Assign stretch tasks – Give your new hires challenging tasks incrementally. By providing constructive feedback, you can help them build their skills and learn new ones.  
Help your employees through mistakes – Even the slightest error can be discouraging. That is why you must guide them in realizing and analyzing their inaccuracies and oversights. 
Celebrate success – An outstanding performance can come far and in between, but when your team exhibits a respectable performance, be the first to raise the hat and seize the moment. Acknowledge and thank everyone for their contribution.  
All of these apply to all types of onboarding processes. The rules are the same, Whether it is remote, in-person, or corporate onboarding.  
For new remote employees, it is best to foster a sense of belongingness because these people are more likely to be stricken by the impostor syndrome, where they feel isolated and do not know where to turn for questions and feedback.  
You need to combat this sense of loneliness in your remote workers. Encourage collaboration among new employees to grow and learn together. Designate mentors to whom your employees can go with their questions.  
Steps to Improve Your Onboarding Process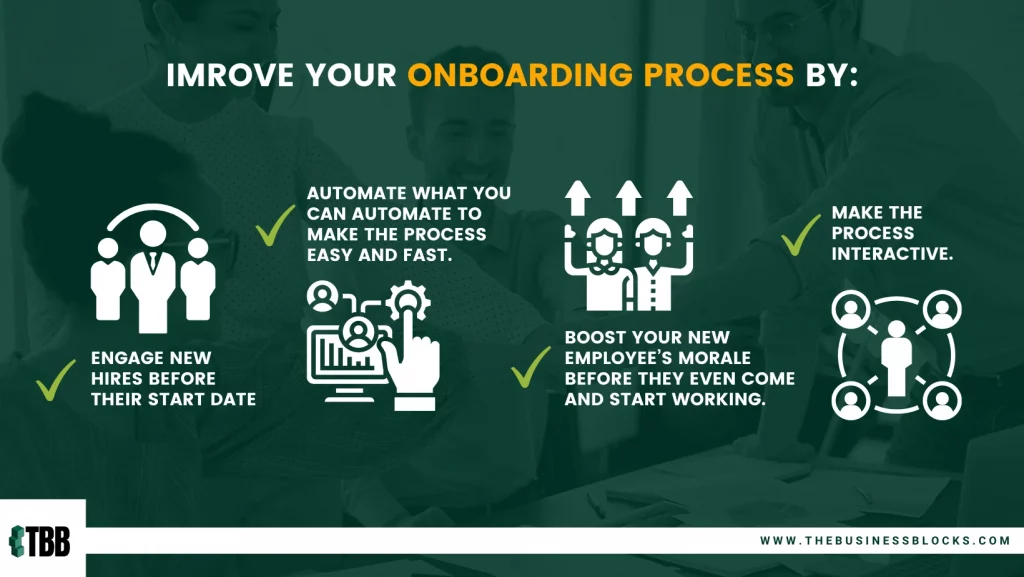 As your new hires learn the fundamentals of their new position, you have that unique opportunity to make a meaningful first impression with them.
How you onboard them can spell out the difference between an engaged and productive workforce versus a state of affairs where one goes through the costly process of high employee turnover.  
Here are some of the steps to follow to improve your onboarding process:  
Engage new hires before their start date. 
The goal here is to make new hires feel welcome and valued instantly. Send a welcome email with all the helpful information that can help them set themselves ready for work.  
That can include seemingly trivial matters, such as what to wear and where to park. Anything that can make their first day feel less overwhelming can be included in your welcome email.
Automate what you can automate to make the process easy and fast. 
Automating parts of the process can alleviate the burden that your new hires might be experiencing. Automate forms, training, and orientation.  
Remember: No one wants to come on their big day to fill out forms and listen to long explanations. This can be done at their home in their free time.  
When they finally set foot in your workplace for the first time, all they have to focus on is the integration process and discovering how best they can contribute.  
Boost your new employee's morale before they even come and start working. 
A small welcome ritual can go a long way and has the added benefit of lightening the pressure of the mystery surrounding their first day. Smartsheet, a work collaboration software and solutions provider, has a personalized approach.  
Smartsheet welcomes its new employees by sending them a gift a week before Day 1. The goal is to remind their new hires that the company is excited for them and give them a peek into its culture.  
The welcome gift, called "box full of happiness, arrives with a Smartsheet swag, a mug, chocolate, and a personalized note from everyone from the interview team.  
This small ritual has the effect of boosting employee morale right from the start.  
Make the process interactive. 
Consider the onboarding process as an opportunity for fun and interactions. Try the newest trend hitting HR nowadays. It's called gamification.  
Two companies that use this strategy are Rackspace and Bazaarvoice. Rackspace inducts its new hires through games, skits, music, costumes, and a limbo bar. On the other hand, Bazaarvoice makes their recruits spend their first week on the job scavenger hunting, through which they learn industry jargon and the company's culture.   
The strategy applies to online orientation, which you can use to replace dull and dry online quizzes and exams. You can gamify modules on industry basics, corporate history, and culture.  
Gamification strategies have an overall positive impact as they can capture retain and entertain a learner's attention. Organizations with gamified onboarding processes experience a 36% improvement in turnover and a 48% boost in engagement.  
Strategic benefits of having an employee onboarding journey
Besides the lower new hire turnover, increased productivity, better employee engagement, and strengthened company culture, an effective employee onboarding journey brings more benefits, including:  
Recruits are brought on board by a friendly group of people.  
New employees know where to ask questions when they get stuck.  
New employees can identify pain points in support processes, product marketing, and promotion.  
An effective onboarding process saves time and simplifies procedures.  
In addition, an effective onboarding process also allows for aligning expectations for both managers and employees. Your onboarding team needs to ensure that your new joiners feel occupied in their first weeks on the job to make them feel relevant and useful right away.  
A two- or three-week plan should align the expectations for a new employee's role and set them on track with what needs to be accomplished.  
Conclusion
One of the ways you can improve your onboarding process is by promoting your company's culture to your new hires. This allows them to align their values with your organization and set the groundwork for future engagement.  
But the real winner in crafting a great employee onboarding experience is communication. Ensure your new hires know exactly where to position themselves on their first day.  
Demonstrate the role they will take in your company, rather than just providing a one-page job description document and asking them if they have questions after silently reading it for ten minutes. Give time to discuss what is expected of them and take the time to listen to any concerns they have.