Workforce management refers to the coordination and management of your people resources; the employees who are employed by and work for a company or an organization.
An organization's workforce is normally made up of a group of people from diverse backgrounds who would be contributing their skills and experiences to the goals of the company. 
They are the employees who work together performing specific functions that aid the company in achieving its goals. In a nutshell, the workforce can also refer to the entire resources employed in a particular industry.
Here are three key statistics as to why you should utilize a workforce management solution.
Productivity: Using workforce management software can increase overall productivity by automating tasks, reducing manual errors, and streamlining communication. This can lead to increased output and a more efficient workforce.

Attendance and punctuality: The software can help in tracking the attendance, punctuality, and absence of employees, enabling managers to identify patterns, and take action to improve attendance and punctuality.

Labor Costs: By optimizing scheduling and automating time-keeping, workforce management software can help to reduce labor costs by reducing over-scheduling, overtime, and other inefficiencies.
You can check out our other important statistics here.
Why is workforce management important?
Employees are extremely essential to an organization. Without human resources, a company would fail to function and will not be able to achieve its goals.
The workforce, after all, is the driving force behind the success and wins of a company.  The personnel plays a crucial role in helping the company to scale up, thrive, and develop.
Employees are tasked with the day-to-day tasks and activities that are needed for operations. With their skills, knowledge, and expertise, the workforce of an organization can help the company innovate and stay ahead of the game.
More than the practical contributions that employees give to a company, the workforce is also what gives the company its identity and culture, and this is just as important as the other reasons.
The employees, given the chance to flourish in a supportive and conducive work environment, can help to create a positive and amiable company culture and a pleasant work environment. 
This in turn can boost morale, improve workforce productivity, and increase efficiency, affecting the entire workplace. helping them build and maintain relationships with colleagues, customers, and other stakeholders.
Employees are an indispensable component of any burgeoning company.  When you ensure employee safety, treat them well, and value them for their contributions, the long-term success of the organization can be assured.
What is workforce management?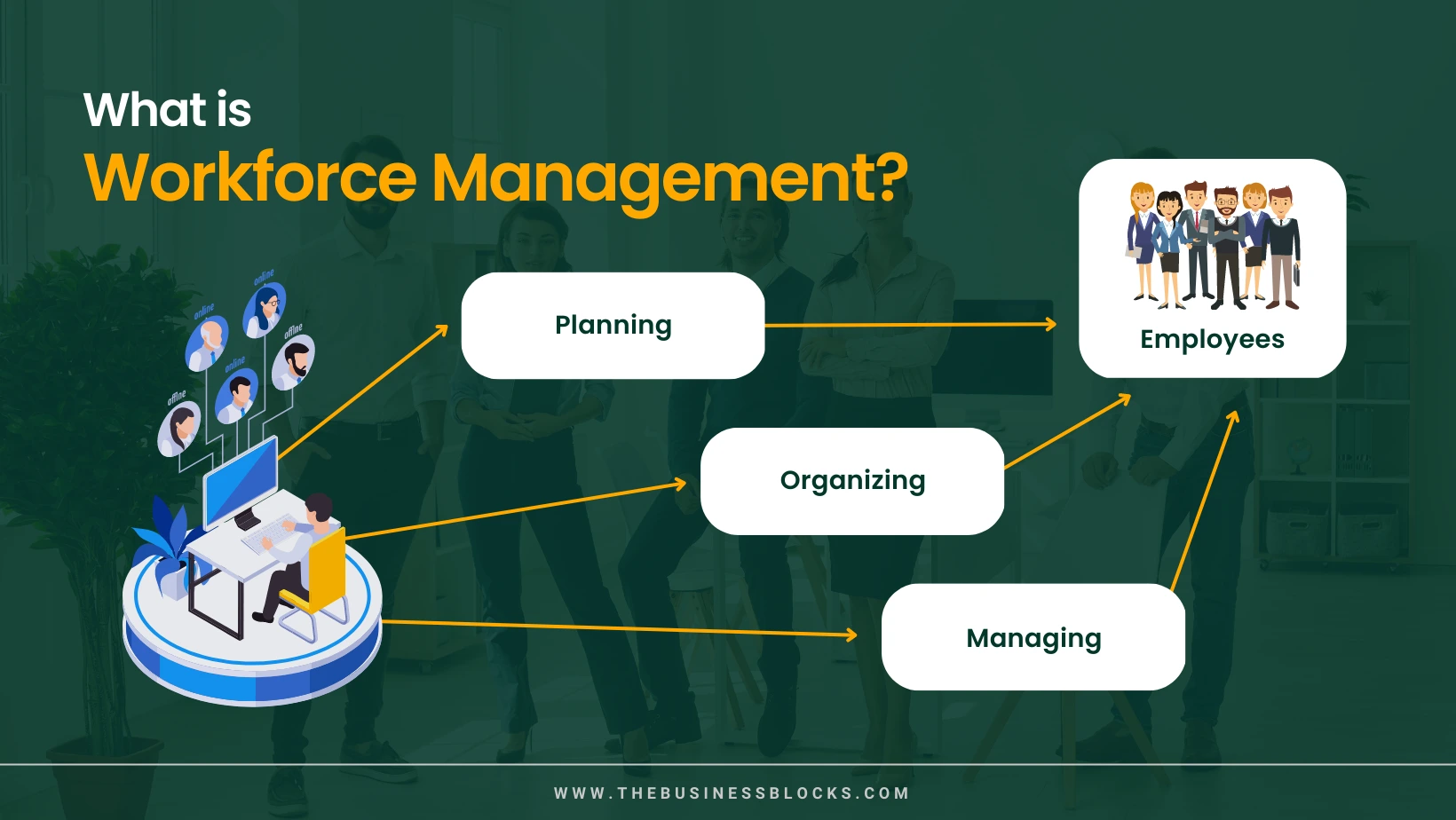 Workforce management is the term that is used to define the process of planning, organizing, and managing an organization's employees to help the organization achieve its goals and mission.
This domain typically comprises activities such as staffing, recruiting, employee onboarding, employee scheduling, training, performance management, and employee relations.
Why is workforce management integral to a company's success?
It is very essential because it is primarily concerned with the care of an organization's most important resource: the employees. 
With this, organizations can efficiently and effectively maximize the utilization of their human resources thereby improving productivity and overall performance.
Workforce management is a traditional process that aids in optimizing performance and competency for an organization concerning its human resources.
This normally includes all the activities needed to maintain an effective and productive workforce and may cover domains such as human resource management, performance appraisal, training, and workshops, as well as data analytics on employee data.
What
As the way businesses are run has evolved the processes involved with managing employees have metamorphosed, Workforce management has been transformed from the conventional approach which is constrained to staff scheduling systems and shift and time management. 
This entire process has shifted to a form that we know today that is more shaped by the demands of the modern workplace with an emphasis on efficiency and productivity.
It also covers workload forecasting and capacity planning, most of the time involving employees in the process of determining effort requirements and schedule management.
The main goal of workforce management WFM is to ensure that more streamlined processes are in place to determine the amount of work that is required for a specific time bounded by identified plans and tasks; based on these metrics, personnel could then be plotted and scheduled, and the tasks and milestones can then be easily tracked and identified.
What is workforce management software?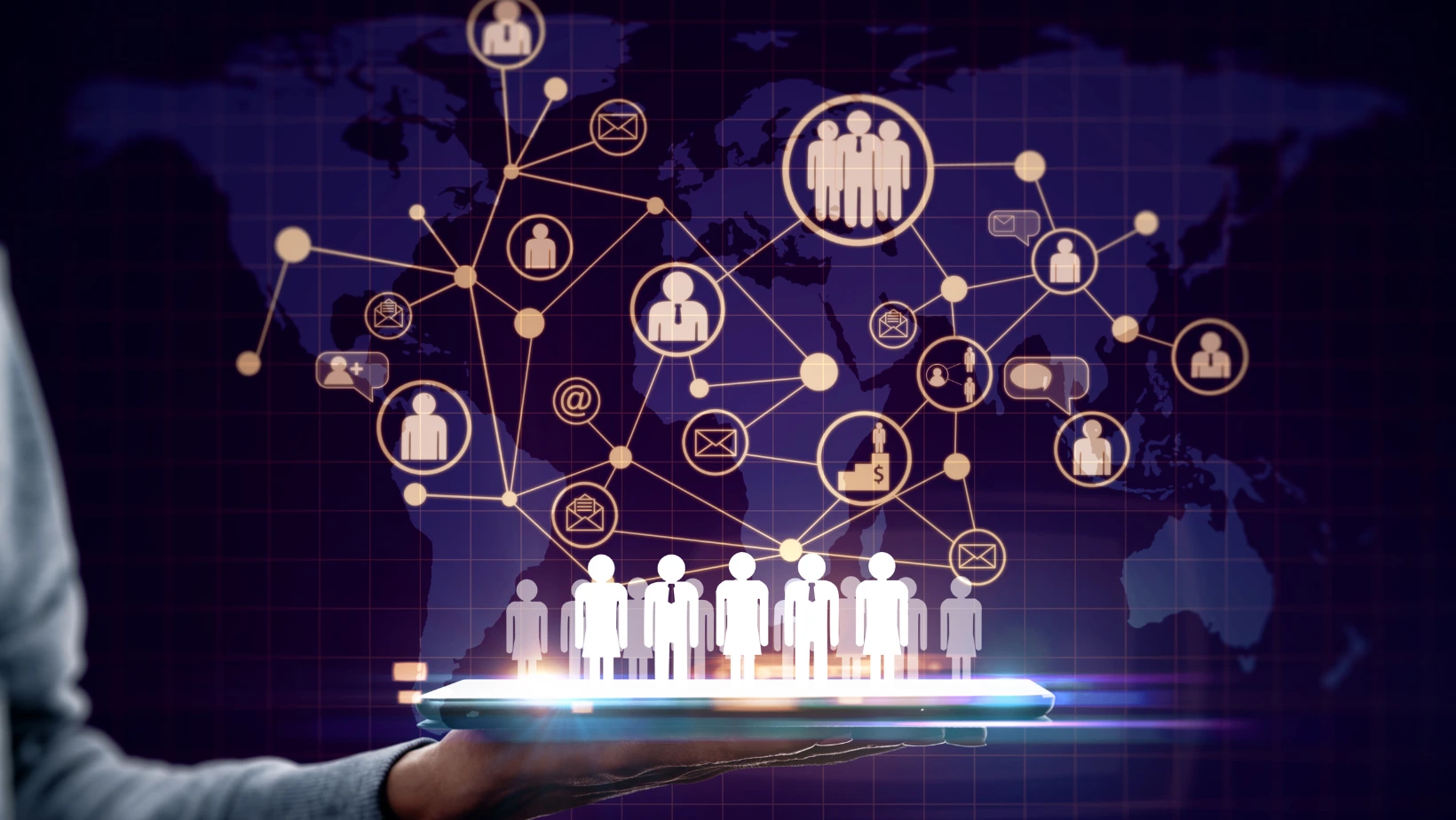 Workforce management platforms are tools that are used by organizations to directly manage and optimize their employee work plans and allocation.
A software solution under the workforce management domain can be used for employee attendance and time tracking, shift and work schedules management; ultimately, these utilities enable companies to estimate the needed number of resources given metrics such as tasks, milestones, and projects.
By eliminating the need for manual and tedious scheduling, WFM software can aid businesses in reducing labor expenses and saving time, money, and effort.
How can WFM software be integrated into your business?
Workforce management software can be implemented and deployed onsite, hosted by a vendor, or implemented via the cloud; the latter makes it possible to access these platforms through mobile devices. Fortunately, workforce management has come a long way in terms of how attendance and time are being tracked. 
With the software and technology that we have at present for demand-oriented workforce administration, managers can easily forecast and implement staff schedules.
In addition to this,  workforce management solutions could aid businesses in conforming to applicable laws and policies that affect employees, including monitoring individual contracts of employees. 
This is also useful in implementing and enforcing strategies that promote work-life balance for employees.
How can a business decide what features are important? Staff Scheduling
One of the most important features that a WFM software should provide is staff scheduling.  Platforms provide analytics on staff demand against needs based on an organization's historical data. The usual bases for forecasting are sales figures, orders, and customer volume or project tasks and milestones. 
These metrics are used by wfm tools to help in determining and creating schedules.  From the forecasted figures, organizations can then allocate employees to address and meet the demands and needs of a project, a set of tasks, or the day-to-day operations of a business.
To ensure that staff and resource forecasting, allocation, and deployment are possible, all necessary metrics and factors essential to the nature of the operations of a company should be fed into the workforce management WFM tool.
Such as staffing requirements, peak loads, staff availabilities, holidays, skill sets and expertise portfolio, labor policies and regulations including wage and individual contract details; during the forecasting and planning activities, all of these will come into play. 
Considering all these components could be hard if there is no system or process in place.  A 360 view of management and HR personnel is essential, as well as input and support from employees for a company to come up with an optimal work schedule or work plan.
An all-inclusive workforce management solution covers activities and tasks such as forecasting and budgeting, staff scheduling, employee time and attendance tracking, performance appraisal, compliance, payroll and benefits administration, and paid time off management.  Benefits administration can be considered a subset of this type of software.
WFM Feature: Budgeting and Forecasting
Forecasting and budgeting of resources entails identifying and determining the number of staff resources as well as the required skill set for specific tasks, particular projects, or a predetermined season or time of the year.
It also involves calculating the employees that the company can afford. Workforce management wfm platforms enable companies to budget, assess, and estimate the optimal employee headcount, and staff deployment strategy and balance workload depending on the need. 
WFM Feature: Staff Scheduling system
Staff scheduling is another essential facet of workforce management especially if automated staffing practices are available.  Companies can utilize scheduling using known business variables as parameters like planned leaves, employee availability, ongoing projects, and staff workload.
The use of workforce management systems has helped eliminate the obsolete, inefficient, and time-consuming manual staffing processes that often left companies with staff and resource issues.
WFM Feature: time tracking and attendance management
Most workforce management platforms also provide time tracking and attendance management; these provide important data that may provide attendance patterns that may help forecast demand changes and help mitigate planned and unplanned employee leaves, eliminating inaccuracies and errors in payroll and resolving tardiness and absenteeism issues.
Such platforms provide organizations with more insight on employee engagement and performance gauging providing enough importance and focus on factors that influence and enhance employee empowerment and productivity.
Being able to discern and having awareness of how each staff member performs may let employers plan on how to identify and reward employees who perform above and beyond their duties and responsibilities.
WFM Feature: compliance management
Compliance management is one of the aspects that is common for both workforce management and benefits administration; just like what has been mentioned in benefits management, it is an expensive and complicated domain.
The risks of not having a system in place to verify and manage compliance could potentially lead to penalties, legislation issues, and violations of by-laws, regulations, and sanctions from labor governing agencies. Compliance requires acquiring and tracking certifications as well as preparing for certain compliance-specific roles.
Workforce management wfm platforms help enhance and improve experience with payroll and benefits administration.  Data analytics and reports make payroll processing and management easier and more efficient.
Workforce management, along with payroll and benefits administration, enables several salary payment options.
When it comes to vacation and leave planning, these platforms provide the necessary tools to design and implement processes that may enable companies to track and manage schedules like leave and time-off requests including approval rules and processes.
Automation of paid time off and time tracking can be utilized by organizations to make it easy for employees to schedule and file their leave requests, for managers to manage and perform approvals, and for management to analyze and determine time off patterns and requirements, and attendance data.
Visit our post on The Top Workforce Management Software to learn more about products that could aid organizations in achieving productivity and efficiency.  We have chosen the top and most popular software for this particular sphere.
How can these platforms help provide workforce management solutions?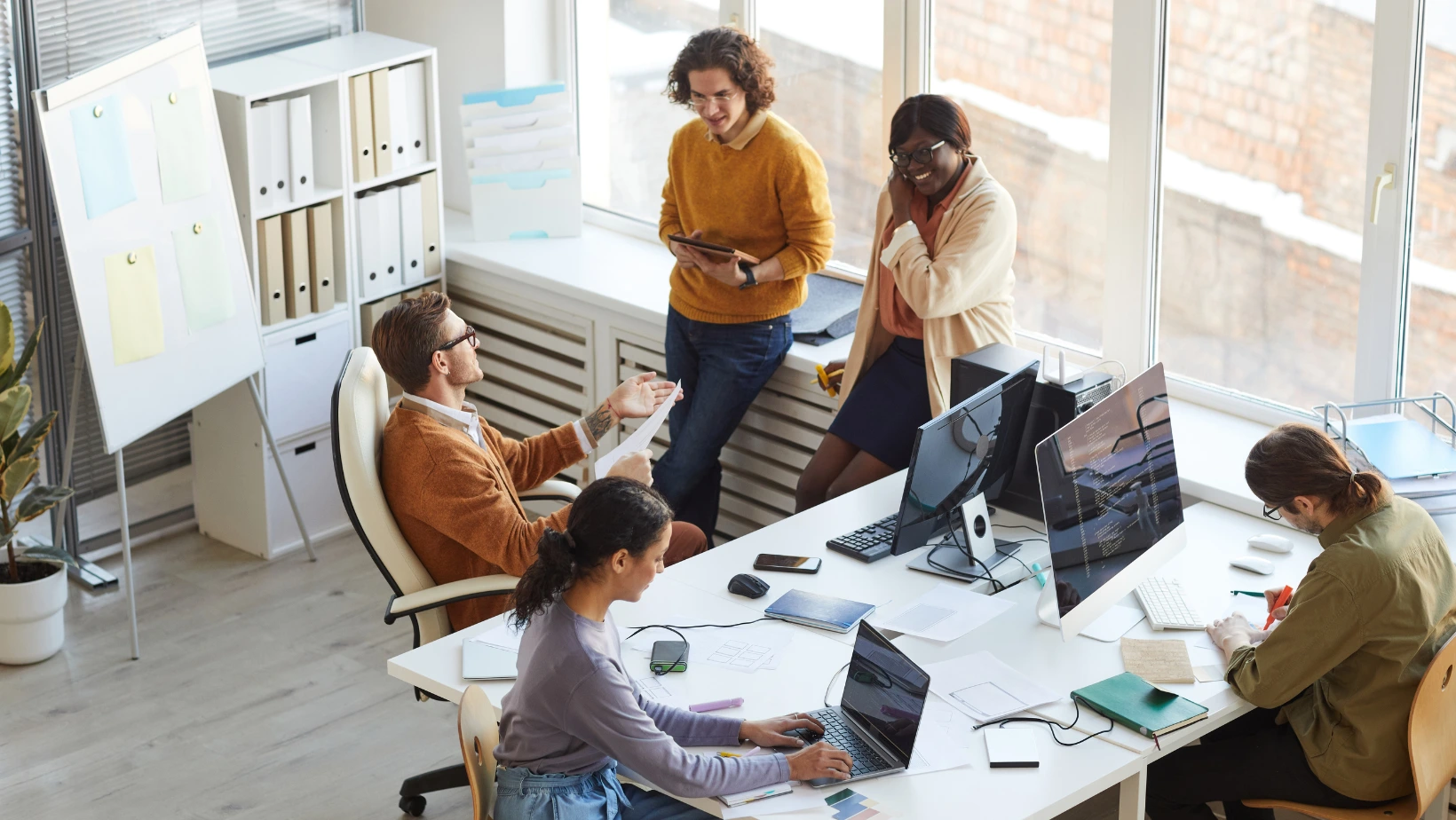 Organizations can utilize workforce management platforms to review payroll.  Proper analysis of the cost of effort and resources can provide companies with the correct insight in determining the true cost for payroll purposes.
In addition to this, organizations may also determine if there are any disparities between the forecasted demand and actual efforts, along with factors such as leaves.
Scheduled paid time off as well as unplanned and sudden absences may also affect the schedule and plans of the company.
Overestimating and underestimating will affect the company and team members negatively and workforce management platforms can help teams come up with the optimal basis for determining resource allocation needed for tasks and projects,
All the data that can be perused from these platforms can be used to formulate strategies that may help the company.  For instance, it might be beneficial for a company to consider and hire part-timers or contractual employees to fill job openings and available positions.
Information may also be used to come up with offers and strategies that may attract resources that could help companies ensure that tasks and projects will be finished on time.  For example, there might be employees who prefer fixed or part-time schedules and may even be willing to work on a flexible work schedule. 
Workforce management platforms therefore allow the scheduling team to use them to fill in gaps without committing to an excess of hours.
WFM platforms and tools provide the workforce management solution in ensuring that an organization will be able to address staff scheduling needs and issues; these applications can be implemented as stand-alone independent workforce management solutions or part of an existing and integrated HR suite. 
What is the role of workforce management software in a remote work environment?
Because of the COVID-19 pandemic, a lot has changed in terms of workplace arrangements.  For a time, employees had no choice but to work remotely from home due to lockdowns and other uncertainties because of the pandemic. 
Now that things are slowly going back to a new state of normalcy, employees have embraced the remote set-up. 
According to a study that was done by LinkedIn this year, 2022, 97.6% of workers who have experienced working from home would like to retain this privilege. This is a call to organizations to consider having this option for their workforce.
The way things are being done before the pandemic may no longer be preferred today by employees. Organizations as well as employees have to adapt and acclimate to new ways of working. 
Companies need to consider how a workforce management solution or platforms could help the organization and the workforce weather through the changes. Managers are also tasked with the onerous task of changing the way tasks are managed and employee performance is appraised as businesses adopt a hybrid or fully remote model of work arrangement.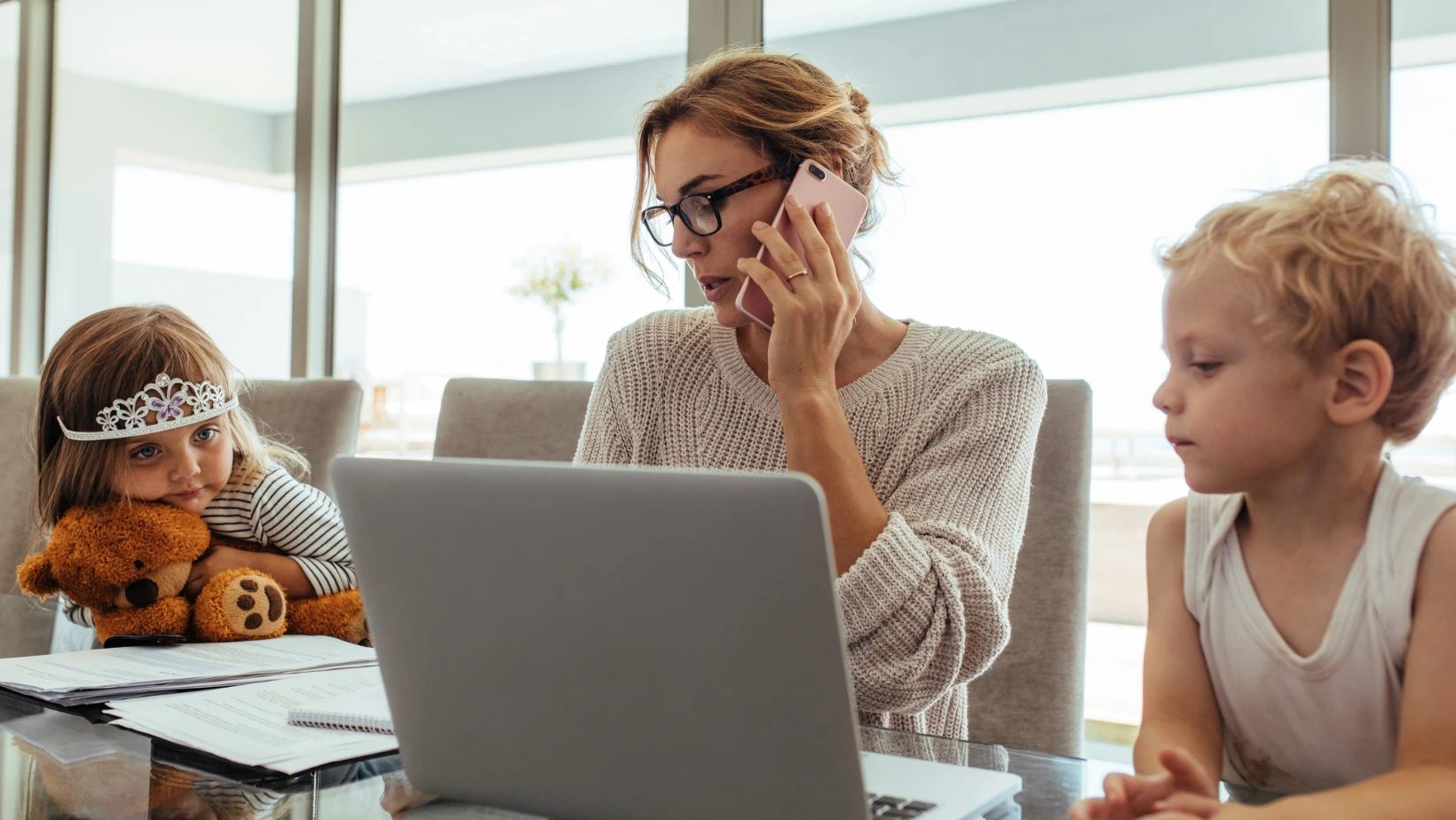 Implementing a remote work setup has its advantages and disadvantages.  One of the challenges of doing things remotely is a greater need for the employees to be engaged in individual-focused work as well as participate in remote meetings or virtual stand-up discussions. 
Another hurdle that is prevalent at present is the implementation of a hybrid work set-up.  Whatever the work setup or arrangement may be, digital platforms can help businesses manage and monitor employee activity. These applications provide increased productivity and analytics with features that can maximize productivity through good employee management.
With an efficient and skillful WFM system, organizations can foster and maintain a functional and productive work environment, without adding burden to the organization's HR department. 
Why should organizations utilize this software as part of their workforce management solution?
Workforce management platforms help organizations obtain insights into important metrics such as the employee headcount, list of tasks and projects, and the necessary resource allocation needed to complete the estimated efforts and reach identified milestones. These tools can also be used to track, measure, and enhance employees' performance.
The gains and benefits of using a workforce management system that helps organizations streamline their processes and achieve optimal labor planning, as well as provide a cost-effective workforce by reducing operational costs while maximizing time and effort. 
With the use of these platforms, businesses will have the leverage to implement an improved and efficient payroll process with the help of automated processes.  Employers can also obtain statistics and data on employee engagement, performance, and attendance. 
Using this information, they will be in a better position to implement plans that could elevate the employee experience and improve productivity and engagement through training, coaching, and other activities that could maximize performance. 
This data may also help guide management in determining if there is a need to implement or adapt changes such as remote or hybrid work setups.
 The streamlining and automation of processes relating to employees can improve operations, eliminate issues with employee services, and increase the accessibility of workforce-related functions and data, thereby leading to an increase in employee productivity.  This will also have a positive effect on management and HR partners.
As for long-term effects, it can be assured that organizations can avoid compliance violations.  Operational agility can also be guaranteed if companies can easily allocate staff resources, identify issues with staff allocation, and address any staff shortage or issues. 
Finally, overall improved morale can be ascertained since conflicts can easily be resolved or mitigated.  There will be better transparency and awareness of the capacity and capabilities of all stakeholders.
In summary, the following components should be considered and covered by workforce management strategy and tools: recruitment and hiring, which ensures that the business is capable of increasing the workforce if necessary with the applicants that are right for the identified positions; measurement of performance, key process indicators and possible issues between staff supply and demand; monitoring of employee tasks, activities, and performance; regular communication and interaction to ensure that all stakeholders are aligned with the workforce plans and strategies; reward and remuneration to retain employees' engagement, and discipline through training and enforcement of company policies.
An effective employee management tool is a useful platform that empowers many business owners in streamlining HR tasks and managing employees. It is beneficial in optimizing the processes and can be utilized in automating administrative tasks.
Other HR features that can be addressed by such platforms are employee onboarding, payroll and payments, and appraisal of performance, among others.
These platforms, along with other platforms, can be utilized to improve the overall performance of the company by ensuring that staff are given the proper tools to help them with their day-to-day functions and privileges. 
FAQs
What are workforce management tools?
Workforce management tools are utilities that businesses can use to ensure that they have the proper number of staff resources for all the company's needs and milestones.  
What are the types of workforce management?
There are traditionally two types of workforce management platforms.  The first is strategic.  This first type is meant to address system-wide risks and can be used to formulate strategies for day-to-day operations. 
Bulk of the strategic planning is being done at the senior management level.  The second type is operational. This subset focuses on day-to-day operational issues.  This is more concerned with ensuring that the members of an organization would be able to function properly. 
Usual products that belong to the workforce management domain are meant to address payroll processing, compliance, resource planning and management, time off tracking and attendance management and reports and analytics.
What are the 5 key elements of workforce planning?
The following elements comprise the key components for workforce planning:
Identification of strategy plan and goals

Analysis of existing workforce and staff resources

Designing and development of plan

Implementation of plans and changes

Controlling, monitoring and adjustment
What are the 6 stages of workforce planning?
According to the National Institutes of Health, the following six stages may be followed in order to come up with an effective and optimal workforce plan:
Strategic Direction
This step involves formulating the strategic direction of a company's  workforce using a plan with the goal of understanding key mission goals and organizational objectives.
Supply Analysis
This step is concerned with identifying the capacity and capabilities given the company's current workforce including projected changes.
Demand Analysis
This step is done by determining the demand that will affect the workforce of a company considering operations, tasks, projects and milestones. 
Gap Analysis
This step compares the supply and the demand that usually entails identifying if there are issues wherein the supply will not be able to satisfy the demand.
Solution Implementation
This step involves plans on how to mitigate and resolve the issues identified during gap analysis.
Monitoring Progress
Finally, with this stage, companies will monitor the performance of the organization after applying the workforce management solution that was formulated in order to address staff resource issues.