Time is the most valuable resource for any person, organization, or business. Unfortunately, many companies fail to make the best use of time. Sometimes it's due to disengaged employees and poor task allocation.
Like Employee Recognition Software, Time-tracking tools are one of the most effective ways to optimize time allocation, motivate employees, and boost workplace productivity. HR departments and managers widely use time tracking tools to measure employee performance and time going into particular projects.
Today we'll review everything you need to know about time-tracking software and the ten best tools you can use.
What is a Time Tracking Software?
As the term suggests, time-tracking tools track how much time an employee or team spends on a specific project. These tools also track how much time is wasted or underutilized. With the help of this data, managers can make better decisions regarding work allocation, productivity, and employee performance.
Time-tracking tools typically track the time an employee spends on a specific task and whether the employee is drifting away into unproductive tasks during work hours. Modern time-tracking tools have several additional features that further promote employee workplace productivity.
How is Time Tracking Software Useful for HR?
HR departments are often responsible for managing workforce productivity and leaves/absences. Time-tracking tools make these tasks easier for HR teams by automatically recording the work hours employees put into specific projects. At the same time, most time-tracking tools also come with attendance and leave management systems to make invoicing and billing more efficient.
Some forms of time-tracking are controversial – screenshot capturing, for example. However, time-tracking is a necessary and useful function that every company and organization must undertake to see performance improvement. Time-tracking tools greatly benefit HR teams that want actionable insights into productivity loss and develop ways to prevent it.
What is the top 10 Time Tracking Software available today? Click to view the quick list.
Teramind
Insightful
Clockly
Securtime
Jibble
Elorus
DeskTime
WorkComposer
Clockify
Toggl
Keep on reading to see what's special about each software.
The Top 10 Time Tracking Software in Details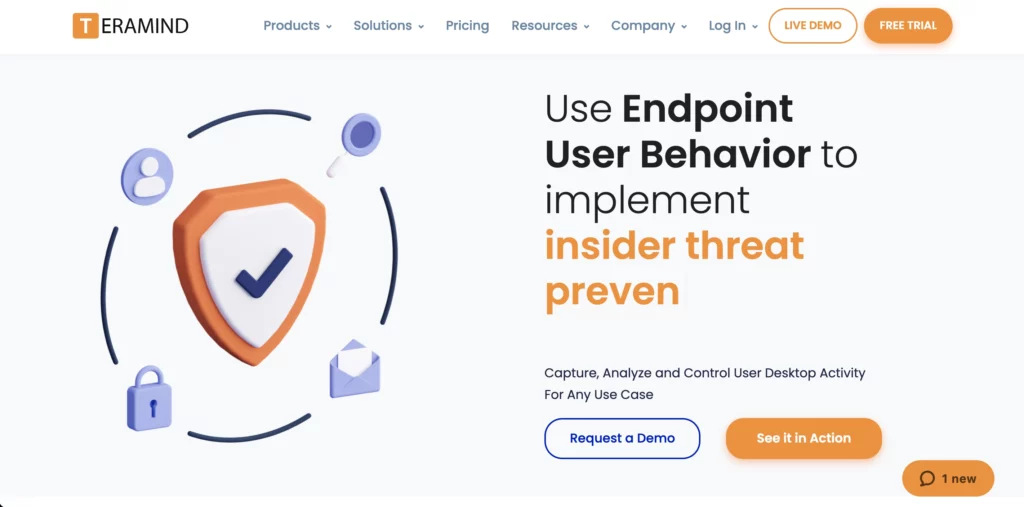 Teramind has a complete suite of tools for workforce management that includes everything from compliance to third-party risk management. The Teramind Workforce Productivity & Employee Productivity Tracker is one of its tools that facilitates time and productivity tracking.
However, Teramind Workforce Productivity & Employee Productivity Tracker is much more than a basic employee time tracker software. It allows you to capture granular details and custom KPIs that reflect a complete picture of employee productivity. You can make any action a KPI and get detailed reports on it. For example, Teramind can help you check specific emails sent, buttons clicked, or apps opened.
Teramind is a great time-tracking tool for identifying high- and low-performance departments and employees. It helps companies take action against unacceptable performance, boost performance in necessary areas, and access detailed and customized reports.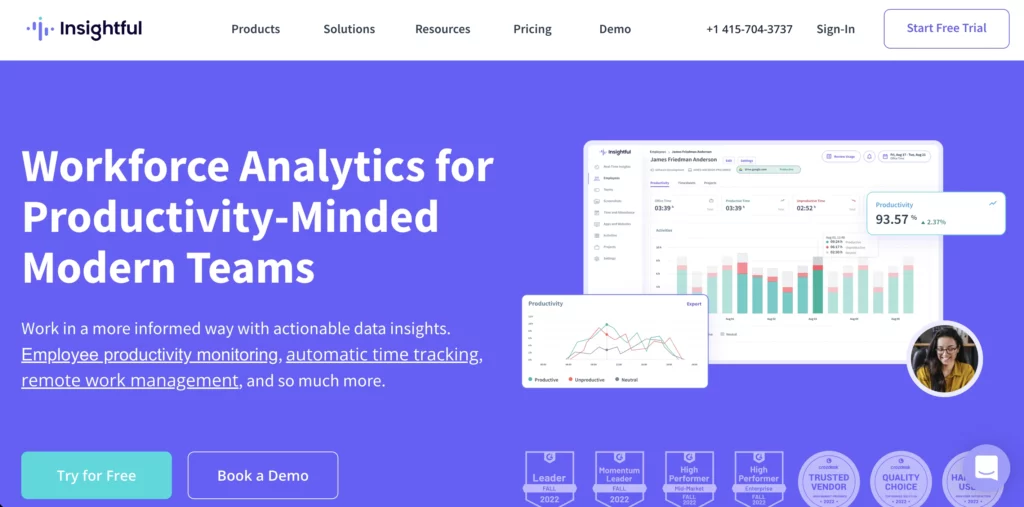 Insightful is a leading time-tracking software used by more than 100,000 users worldwide. It's a simple and intuitive time-tracking tool that gives businesses more control over their productivity and individual employee performance.
The key features of Insightful are real-time monitoring, productivity tracking, and budgeting. It also has features like capturing employee screenshots and project-specific time tracking. You can assign apps and websites with tags like 'productive,' 'unproductive,' and 'neutral.' Insightful also provides detailed reports on individual employee performance, departmental performance, and the company's productivity.
To ensure transparency, clients and employees can also access raw data from Insightful. Despite its simple and intuitive features, Insightful is a complete time-tracking solution for all businesses.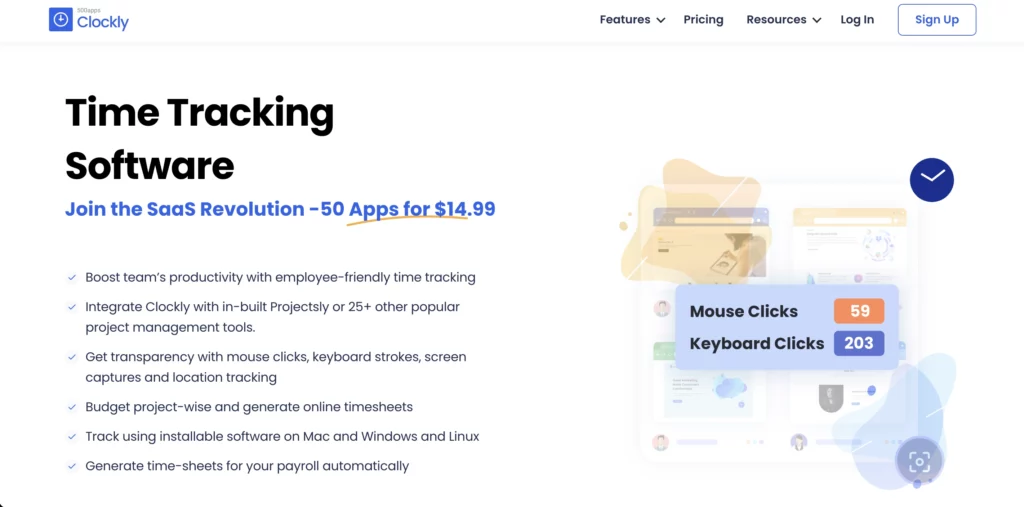 Clockly from 500apps is one of the 50 productivity tools offered in the suite. It's perfect for companies that are already using tools from 500 apps. However, any organization or business can use Clockly to boost employee productivity and track time across projects.
Clockly integrates with several project management tools like Asana, Trello, Projects, or HRSprout. It provides a simple dashboard to see every employee's performance and productivity across specific projects.
Tracking the project value is a challenge for many service-based businesses. Clockly helps us overcome this by automatically tracking project budgets, working hours, and employee earnings.
Clockly produces online timesheets for centralized daily, weekly, or monthly monitoring of working hours. It also creates time-tracking reports that reflect the performance of teams and individuals.
Overall, Clockly is a streamlined time-tracking tool with several functional features.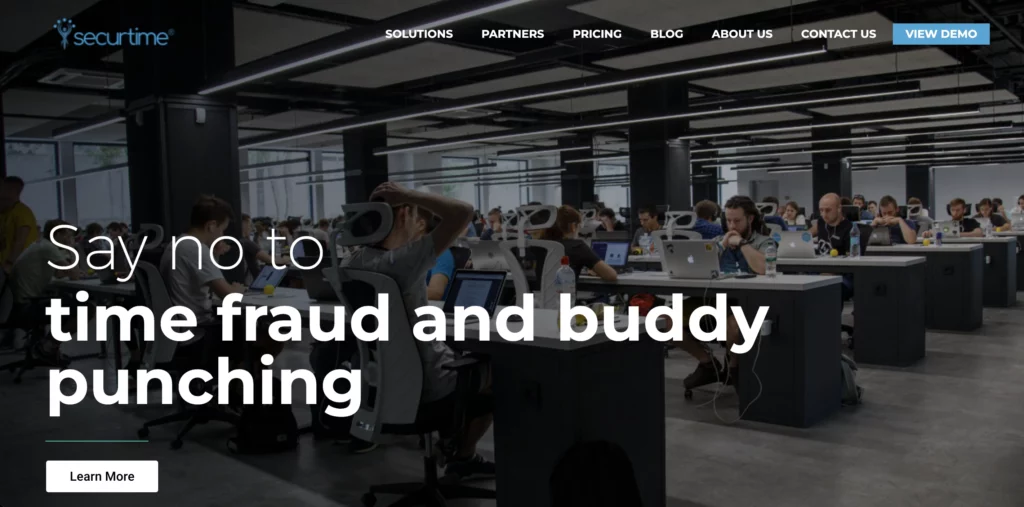 Security is much more than just a time-tracking tool. It's a complete cloud-based attendance, workforce, and time management tool for businesses of all sizes. It's perfect for organizations with a hybrid workforce where employees log in from different places.
Time-tracking is only one of the many features of Security. It's primarily a payroll and workforce management tool focusing on recording the performance of individual employees and teams. Security is also useful for on-premise attendance recording using contactless methods like face recognition.
If you want a workforce management tool that'll also record working hours and other payroll-related metrics, Securtime is a good choice.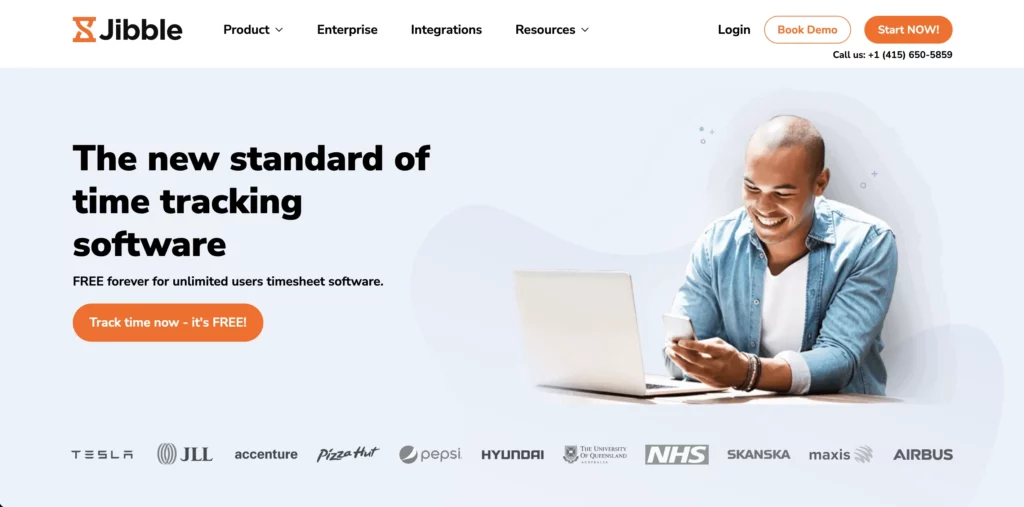 Jibble is a 100% free time-tracking software that leading companies like Pepsi and Hyundai use. Simple, fast, and intuitive – these words best describe the capabilities of Jibble. Though it's not the most feature-rich time-tracking software, Jibble can do everything you'd expect from a time-tracking tool.
Jibble is a timesheet software that provides a single, unified dashboard to view and evaluate employee performance and work hours. It uses mobile time tracking for remote employees who can record attendance with a selfie. You can also create shared kiosks for specific teams. Companies that use Slack or Microsoft Teams can import and track data from these two apps directly in Jibble.
Jibble also offers additional features like leave management, absence management, and approval timesheets. You can access detailed reports and insights from Jibble. In short, Jibble does everything that a standard time tracking tool is supposed to do, and most importantly, it's free.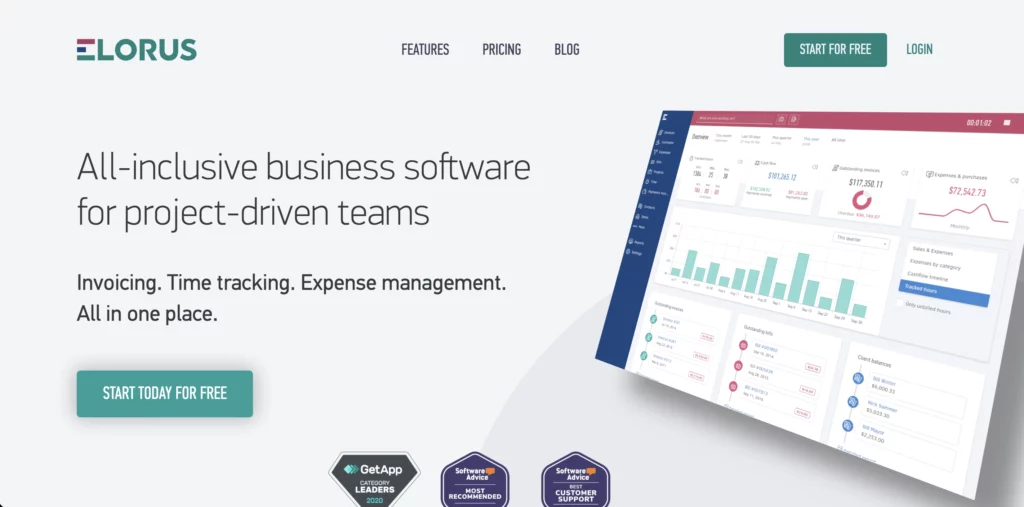 Elorus is a simple time-tracking, invoicing, and expense-management tool for small agencies and freelancers. While it may not be the best pick for large-scale enterprises, it's the perfect solution for solopreneurs and budding agencies who want to improve productivity.
Invoice generation and management is the first use case of Elorus. It helps create branded invoices and manages recurring invoices with reminders and notifications. The time-tracking feature integrates with the invoice generation system to create automated invoices based on how long you or your employees have worked. It also registers weekly timesheets and generates reports on overall performance and productivity.
Elorus is also an expense management tool that helps you understand where you spend money and keeps you on track with payments. To sum up, Elorus is a powerful tool for small businesses, agencies, and freelancers who want a simple time, expense, and invoice management solution.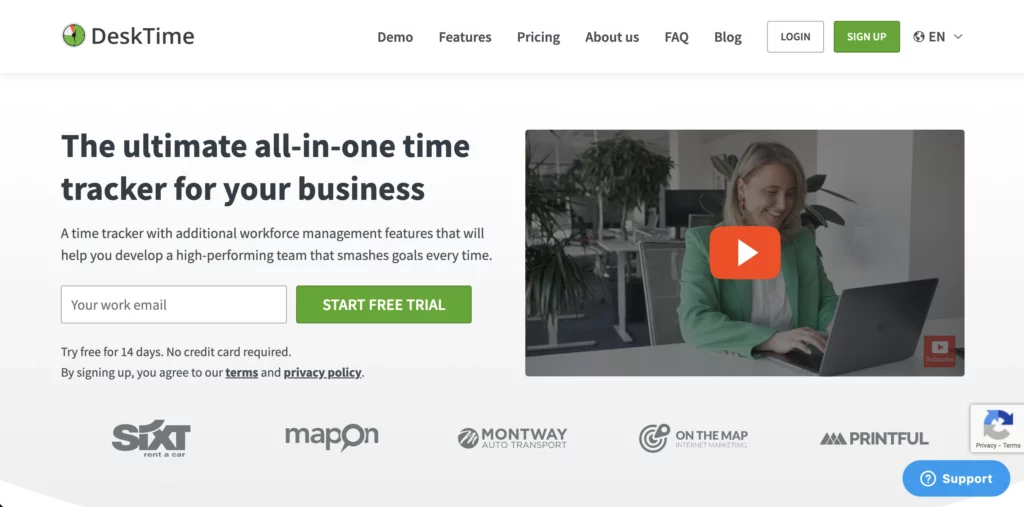 DeskTime is a well-known time-tracking software, but it's much more than a timesheet generation tool. The highlight of DeskTime is its scalability. From small businesses to large enterprises, anyone can improve productivity with DeskTime.
Apart from being a time-tracking tool, DeskTime is also a project management software. You can use it to estimate project costs, generate invoices, assign hourly rates, and manage expenses. It also acts as a leave and absence management system that gives you better control over your workforce. Most importantly, DeskTime also has a Private Time feature that employees can use to take care of their responsibilities during work hours.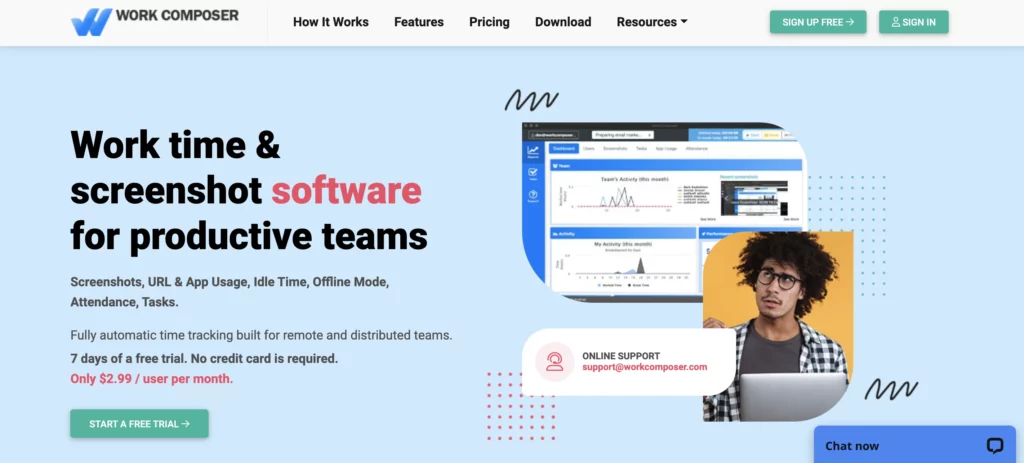 Compared to other tools, WorkComposer is a much more streamlined time-tracking software. It has five primary use cases: work time tracking, screenshot recording, URL and app usage monitoring, attendance tracking, and task management.
If you want a simple time and attendance management tool, WorkComposer is a great option. It doesn't confuse users with many features and functionalities and focuses only on the necessary tools. A simple pricing plan and useful features make WorkComposer a functional time-tracking tool for any enterprise.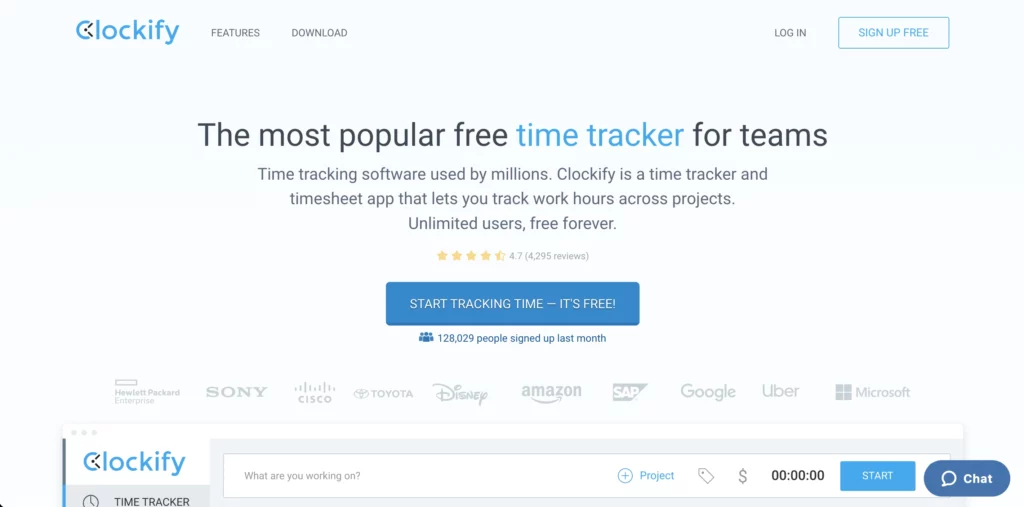 Clockify is a free time tracking software that supports unlimited users. Clockify is a timesheet management tool and doesn't offer additional workforce management features. It automatically tracks working hours and enters data in a weekly timesheet. You can also use the calendar view to block out and manage time visually. Apart from activity tracking, it also records information about apps and websites users access.
Clockify also provides detailed performance reports and has an invoice and leave management system. It's a minimalistic time-tracking software ideal for all large businesses, small agencies, solopreneurs, and freelancers.
Toggl positions itself as an anti-surveillance time-tracking solution custom-built for teams. There are five primary use cases of Toggl: time tracking, billing and invoicing, project budgeting, reporting, and payroll management. As you can see, Toggl offers the same features as most time-tracking tools but emphasizes anti-surveillance and employee privacy. Features like screen recording, location tracking, keystroke tracking, webcam monitoring, etc., are absent in Toggl.
Toggl takes an ethical stand against micromanagement and focuses on time management instead. If this aligns with your business vision and motto, it's the perfect time-tracking solution for your employees.
Who are the Target Users of Time Tracking Software?
Time-tracking tools are primarily targeted toward managers and HR professionals. However, anyone who wants to monitor the performance of their workforce can use them. For example, an educational institute can use a time-tracking tool to monitor where and how students spend their time.
In 2022, remote and hybrid teams will be the most avid users of time-tracking tools. Lack of communication and supervision in remote teams can often lead to productivity loss. Time-tracking tools overcome this challenge by remotely monitoring employee performance and creating real-time reports.
Notable Features of Time Tracking Software
Time-tracking tools are streamlined by definition. They have one core purpose – creating timesheets for each employee and team. However, SaaS-based time-tracking tools are capable of much more than that. They often double up as absence and leave management tools and incorporate billing and invoicing features.
Attendance tracking, website, app usage, working hours tracking, etc., are some of the most common features of time-tracking tools. These tools also provide a central dashboard to monitor each employee's performance. Billing features are also present in some time-tracking tools, and they are particularly useful in sectors where payment is charged per hour.
Other Software and Services Related to Time Tracking
Time-tracking tools are unique because no other category of SaaS tools specifically addresses working hours tracking. However, features like attendance and absence management are native to several SaaS tools for HRs and managers. Regarding billing and invoicing, time-tracking tools are also related to payroll management systems.
Benefits of Using Time Tracking Software for an Organization
The benefits of using time-tracking tools are self-explanatory. These tools give organizations a better grasp of where they spend the most time. By extension, companies can evaluate the overall performance of individual employees and teams by monitoring how many productive hours they spend and how much time they waste.
Time-tracking tools come with different features, but they all have one thing in common – timesheets. Timesheets are daily, weekly, or monthly reports on how much time each employee spends on a specific project and how much time is wasted. Timesheets are one of the easiest ways to track and evaluate workforce productivity.
However, improving productivity isn't the only motivation behind using time-tracking tools. Keeping a record of work hours dedicated to specific projects is essential for service-based businesses, agencies, and freelancers since invoices in these sectors are often hour-based.
But, there are two main benefits of using time-tracking tools. First, they help improve productivity by identifying utilized and underutilized working hours. Second, they enable accurate and automated invoices and attendance and leave management.
The Wrap
Are you looking for ways to supercharge the productivity of your workforce? Or do you want a more reliable invoicing solution for your agency? No matter what your goal is, time-tracking software can help you get there. We hope this guide introduces you to some of the best time-tracking tools that you can use for more streamlined performance and increased productivity.