What is an Employee Application Form?
An Employee Application Form Template is a document that is used by employers to collect information from potential employee applicants. This template includes basic personal information, questions about the applicant's work history and qualifications, as well as additional questions that help the employer determine if the applicant is the best fit for the position.
The Employee Application Form Template is a great way to quickly and easily obtain the necessary information from potential employees, helping the employer make an informed decision about their hiring process.
An Employee Application Form Template is a standardized form that employers use to assess potential new hires.
The template typically includes questions about the candidate's work history, experience and qualifications.
It is used to gain an overview of the applicants and to make sure that they are suited for the job.
The template may also include instructions for submitting the application, contact information for references, and a statement of the applicant's rights.
Looking for an Employee Application Form template?
A good employee application form template is crucial for organizations looking to hire the right candidates. The template ensures that all applicants provide the necessary information, making it easier for recruiters to compare and evaluate candidates objectively. It also helps organizations comply with legal requirements and avoid discrimination.
Moreover, a well-designed application form template can streamline the recruitment process, saving time and resources while making the process more efficient. Additionally, a consistent application form template can help organizations build a positive employer brand by providing a professional, easy-to-use application process that reflects their values and culture.
This onboarding template is a terrific tool for any business because it's not only simple to use but also polished.
You may quickly modify the template to match your unique demands and specifications because it is fully editable in Canva, Google Docs or Microsoft Word.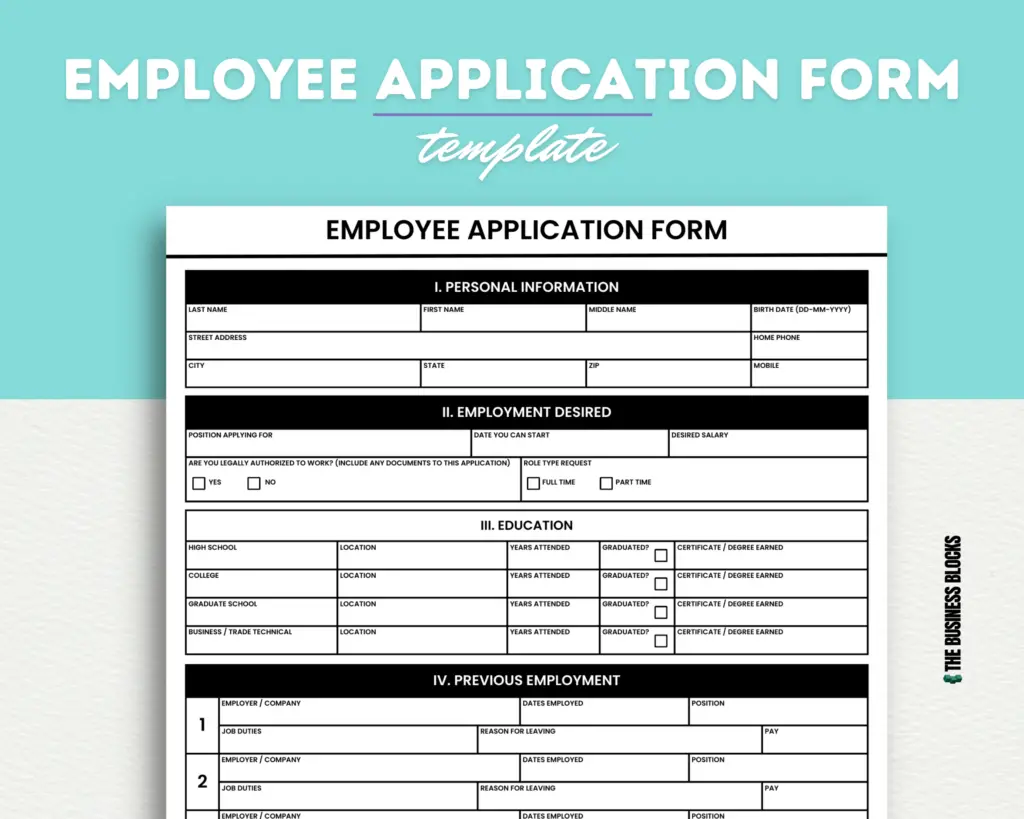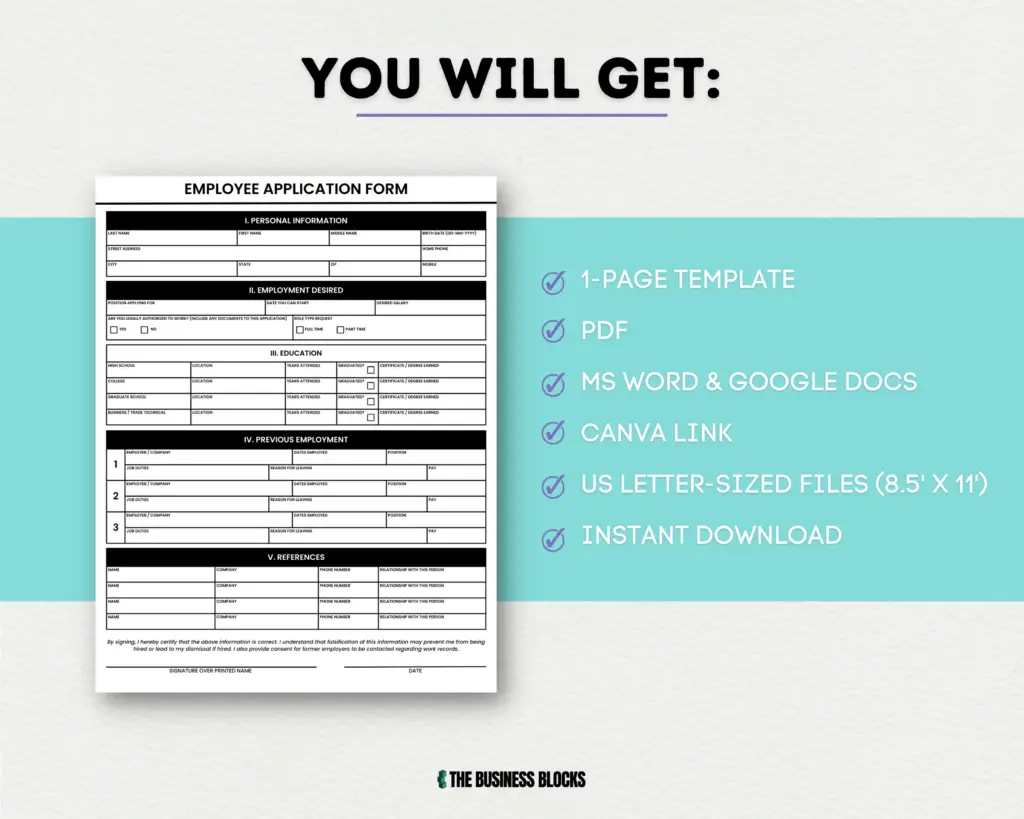 This checklist is included in the bundle pack, so if you decide to purchase (just choose the bundle)
WHAT'S INCLUDED?
Your Live Canva Document for Editing in 2 sizes US Letter (8.5″x11″) and A4 Size (8.27″ x 11.69″)
Two Editable Google Doc Templates (US Letter and A4 Size), convertible to:
Two Editable Microsoft Word Templates (US Letter and A4 Size), convertible to:
Two Printable Adobe PDF Templates (US Letter and A4 Size)
REQUIREMENTS
Google Account (for Google Docs templates)
Microsoft Word (2007 or greater) for Windows or MacOS
Canva Account (for Canva templates)
Adobe Acrobat Reader
OTHER INFORMATION
To alter or modify these templates, some familiarity with Canva, Google Docs, or Microsoft Word is required.
No printed materials or physical products will be provided to you; this is a digital product.
The Business Blocks owns the rights of its designs. You may use the template as often as you like, but you may not share it with anybody outside of your business. Please get in touch if you need assistance with repairing or amending.
There are no returns because of the nature of the product, but we'd be happy to work with you to resolve any problems.
---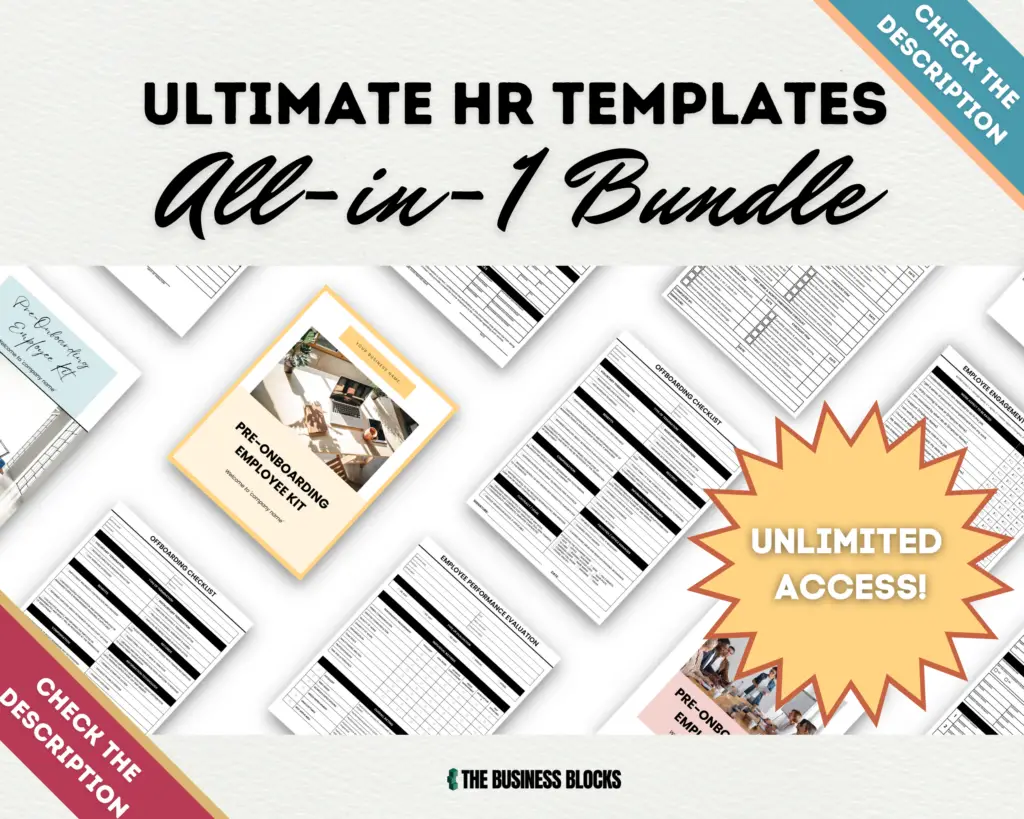 All-in-One HR Templates Bundle
With over 50 templates covering various aspects of HR, including recruitment, performance evaluation, employee benefits, and more, this All-in-One HR templates bundle provides everything needed to streamline HR operations and maintain compliance.
---
Why is Employee Application Form Important for Your Business?
An Employee Application Form is a document that helps to collect important personal and professional information from an applicant. It provides employers with the ability to quickly assess how qualified an individual is for a job, as well as gain a better understanding of the applicant's work history, educational background, and other relevant details.
Furthermore, it serves to ensure that the employee meets legal criteria and satisfies potential liability issues by providing legal proof of the employees' authorisation to work for the business. Ultimately, it helps to create a consistent and secure hiring process that is essential for any business.
Employee Application Forms provide a comprehensive view of job applicants—including skills, qualifications, experience, education and any other relevant information.
It helps you select the best candidate for the position, based on their qualifications, as well as their ability to meet the expectations of the role.
It gives you an opportunity to ensure that all applicants have the same opportunity in your recruitment process, regardless of their background, gender, race, or any other protected characteristic.
It helps you gather the information you need to evaluate potential applicants, thereby reducing bias.
Wrap Up
In conclusion, the information included on employee application forms should be tailored to the specific position you are hiring for. However, some general information should remain consistent on all forms, including name, contact details, work history, desired salary and any qualifications that may be relevant. Ensuring that the form contains all of this information will reduce time-consuming back and forth with candidates as well as make for a more efficient hiring process.