What are digital forms?
Digital forms are a great way for businesses to collect information from customers. They can be filled out on a computer or phone, and the data can be automatically saved to a database or spreadsheet. This makes it easy to keep track of customer information and create reports.
Digital forms help businesses save time and money, and make it easier to keep track of important information. They can also be used to survey customers about their experiences with your business. This can help companies to identify areas where they can improve their services.
Reasons to go from paperless to digital data gathering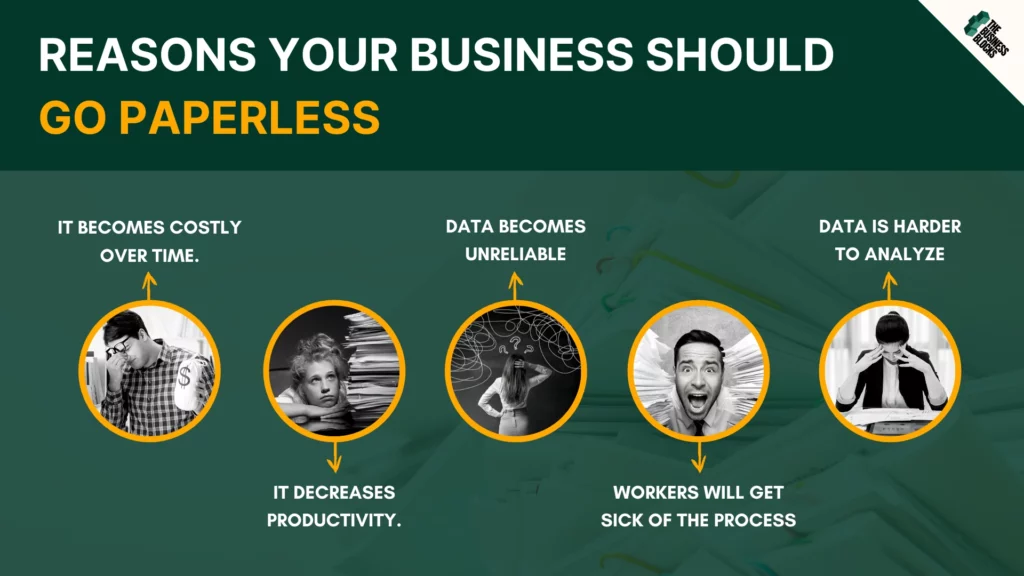 It becomes costly over time – Yes, the price of paper is generally cheap but over time, a paper-based method of data gathering gets costly. A simulation study conducted by the National Center for Biotechnology Information showed that paper-based studies will be 49-62% pricier than digital means when used for the same period.
It decreases productivity – Writing something manually takes time, so it affects your productivity. A task may take a few seconds to finish but if you lump all the manual tasks together, you will be shocked by the lost hours devoted to non-productive tasks.
Data becomes unreliable – Manual recording can be taxing. It's easier said than done! During the first few times, manual data gathering may still be consistent but over time, data gatherers tend to get complacent and gather data in batches. Over time, the data is gathered in longer gaps of time, making the data unreliable.  
Workers will get sick of the process – During the first time, they might enjoy the data gathering process. However, in the long run, they will see the whole thing as tedious. Why should workers continually engage in a tedious task when a machine could do this?
Data is harder to analyze – Since the data gathered is not well-organized, it's strenuous to make an in-depth analysis. For example, if you are a beverage company and you are requiring from all the branches a monthly report of the company's defective products, how are you going to handle it? 
Top Digital Form Platforms
To simplify data gathering, companies invest in IT to make the collection process efficient and accurate. Below are some of the software that businesses have adopted to survive in the digital ecosystem:
Microsoft Forms
Microsoft has been with us for a very long time now and they have developed this software to streamline data collection through surveys, polls, and quizzes. All collected responses can be analyzed with its build-in analytics and exported to Excel for further analysis. The interface is incredibly beginner-friendly.
Once data has been collected, you can simply integrate them with other applications like Microsoft Outlook, Teams, and other Microsoft 365 programs.
Click here to view our full Microsft Forms review.
Airtable
Traditionally, we use a spreadsheet to collect and organize data. Airtable enhances the custom form process by using databases. 
So what's the difference between them? Both have grid lines, tabs, rows, and columns. Unlike spreadsheets, databases are more powerful because they contain relational data.
Yes, we still use spreadsheets because they are indispensable tools for calculation. However, when we are dealing with a large amount of information, it's wise to opt for a database. Airtable offers you both!
Click here to view our full Airtable review.
Jotform
With more than 10 million users worldwide, Jotform specializes in creating online and digital forms through simple drag-and-drop techniques or choosing from pre-defined templates. Even with its free account, you can already do a lot of customization.
You can simply make fillable PDF forms and have the results emailed to you directly! It is phone-compatible and can integrate with over 100 software platforms.
Click here to view our full Jotform review.
Formstack Forms
Used in over 112 countries, Consider FormStack as a one-stop-shop in seamlessly creating surveys and custom forms, data gathering, and eSignature collection. Why manually send information to people when you can automate that for greater efficiency?
With Formstack, you can automate tasks like sending information to prospects, collecting information from existing customers, and sending instructions.
Click here to view our full Formstack Forms review.
Survey Monkey
It's impossible to use survey tools and not hear about this brand. Founded in 1999, SurveyMonkey is considered one of the world's most popular survey tools.
The software boasts of its super user-friendly interface that is packed with hundreds of templates and features that simplify the whole survey process. Compared to other survey tools, SurveyMonkey has more powerful data and analysis tools. 
Once data has been gathered, the software gives you the ability to create dynamic charts and export them according to your desired format.
Click here to view our full Survey Monkey review.
Typeform
Typeform is known for its flexibility in creating surveys and forms. What makes this software unique is that it seeks to make the collection process a comfortable and relational experience. 
If you want to create surveys and questionnaires that show one question at a time, then Typeform can do it. With over 100 templates in different themes similar to Canva, if you've used it. Just pick a theme, modify it according to your needs, and you're good to go!
It is a web-based platform so you can create surveys online and the good part? You don't need to put codes. Typeform is fully encrypted you can be confident that your data will be secure.
Click here to view our full Typeform review.
Peakon
Trusted by leading global brands, Peakon gives employees the chance to speak their hearts. By giving employees a chance to provide their feedback, you can look up these insights in Peakon's heatmap to gain a fresher perspective and make decisions out of them.
Making surveys can be effortless because it's user-friendly and straightforward. Peakon gives the employees an interactive experience while maintaining the utmost confidentiality. 
Click here to view our full Peakon review.
Mentimeter
You might have heard of this term in virtual training or seminars when the speaker asks you to answer a poll or question. Mentimeter it is! 
Make your presentations alive and interactive using Mentimeter's flexible tools.  The software is particularly effective in classroom discussion or educational training. 
From young students to veteran employees, Mentimeter is easily lovable because it makes data gathering an interactive experience.
Click here to view our full Mentimeter review.
---
More reading resources on digital forms for you to check:
⮕ How to Create Digital Forms for Your HR Team
⮕ How to Create Digital Forms for your Management Team
⮕ How to Create Digital Forms for Your Procurement Team
⮕ How to Create Digital Forms for Your Finance Team
⮕ How to Create Digital Forms for Your Operations Team