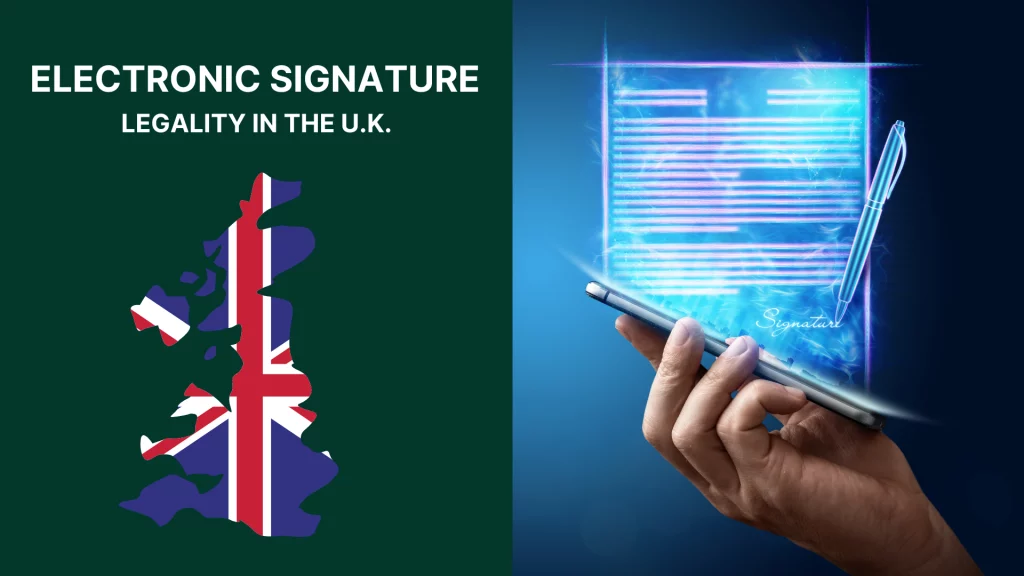 The use of E-signature and digital signatures has seen a huge rise in adoption since the COVID-19 pandemic hit in 2020, and many still wonder, are digital signatures legal in the UK. According to a survey of 1,000 UK business professionals by DocuSign (one of the leading e-signature platforms), they are becoming more popular year on year.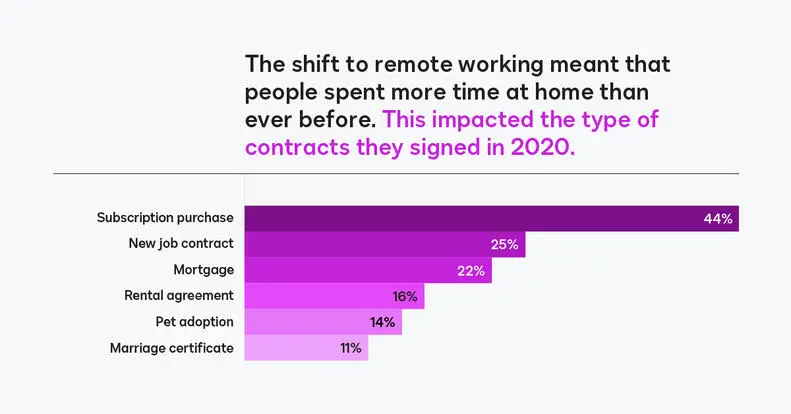 Over 55% of the respondents suggested they have responded to signing agreements digitally via their laptop or desktop and 23% through mobile. This includes personal and business situations.
Not only are e-signatures becoming more popular they are obviously legal and have been since the year 2000. We have broken down below all the details you require to understand the history and interaction between the UK and Europe as there are common overlaps.
Are E-Signatures legal in the UK?
Digital signatures and e-signatures are legally accepted in the UK which includes England, Scotland, Wales, and Northern Ireland. They have been legally recognized since the year 2002 when the Electronic Communications Act 2000 came into practice. Their use across business processes and personal use is becoming more popular year on year.
Ireland which is not part of the United Kingdom passed the law in the year 2000 just after the EU Directive in 1999, but still 2 years earlier than the UK.
What is the Electronic Communications Act?
The Electronic Communications Act 2000 is an Act that has provisions to regulate cryptographic or encryption services in the UK which is the main supporting technology for electronic signatures. The Act also confirms the legal status of electronic signatures.
The Act is broken down into three sections:
Part 1: Cryptography Service Providers and Provisions
Part 2: Facilitation of electronic commerce, and data storage including signatures, seals, time stamps, documents, and information regarding registered delivery services and related certificates.
Part 3: Miscellaneous and Supplemental – This includes modifications, appeals, escrow requirements, and general interpretation comments about the Act.
However, some provisions entail not allowing its use in certain situations.
E-signature Legislation and Requirements for the UK
The UK follows different Acts in relation to the signing with digital signatures.
For example, it follows Regulation (EU. # 910/2014) when it comes to identifying trusted legal e-transactions. These specifications refer to the eIDAS (electronic IDentification, Authentication, and trust Services) which is an EU regulation on electronic identification and trust services for electronic transactions in the European Single Market.
The eiDAS accepts and recognizes three types of e-signatures: simple (SES), advanced (AES), and qualified (QES) and the Regulation defines electronic signatures as "data in electronic form which is attached to or logically associated with other data in electronic form and which is used by the signatory to sign.
We have included the three types below with some examples:
What are the three types of eIDAS e-signatures?
1. Simple (SES)
Any form of electronic signature that does not meet the standards set out for an advanced or qualified electronic signature.
Scan wet-ink signatures, paste a JPG or PDF signature into a document, using a touchscreen to write a name/signature electronically.
2. Advanced (AES)
Must meet specific requirements relating to signatory identity verification and document security.
Using a web-based secure platform to electronically sign documents, which after signing are automatically secured so that they cannot be altered.
3. Qualified (QES)
Must meet the advanced electronic signature requirements and also be backed by a certificate issued by a trust service provider that is on the EU Trusted List.
AES + Using the specialized services of the trust service provider.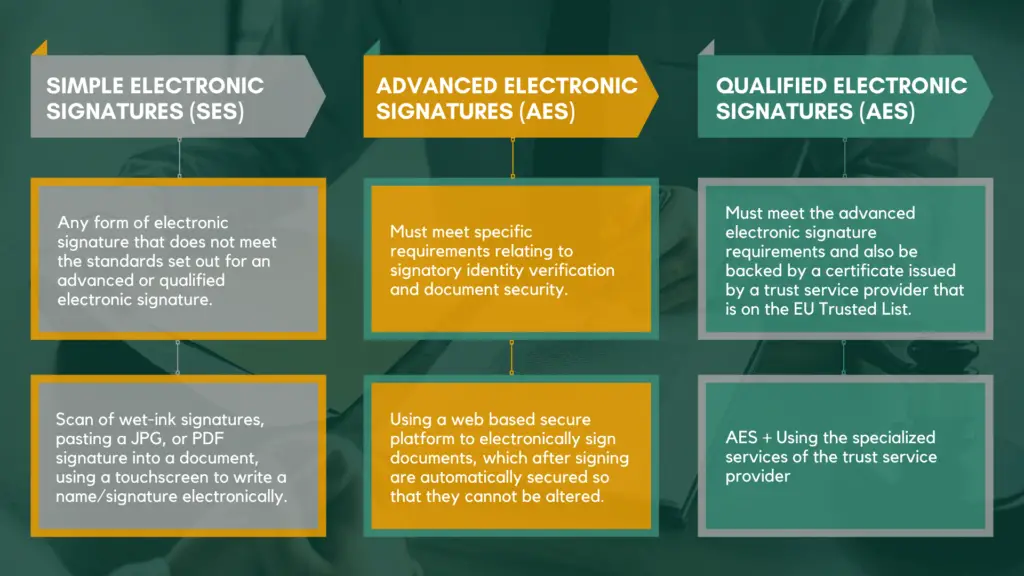 Although the QES is equal in status as a handwritten signature, it is not required to be the means of signing any UK documents. The eiDAS is the general governing rule in the UK.
It also follows some implementing regulations specific to the UK: 2016 Electronic Identification & Trust Services for Electronic Transactions Regulations (SI # 696).
These contain amendments applied to the Electronic Communications Act 2000. Part II Section 7 of this act declares e-signatures as permissible in giving evidence.
The above may have also been taken from the Law Commission's Electronic Execution of Documents No. 386, September 2019.
The law states that e-signatures can be used to sign a legal document, even a deed of the signatory shows the intention of committing and authenticating the contract.
Any other formal specifications should be met.
What E-Signatures Are Not Accepted in the UK?
Not everything can be accepted as an electronic signature, however.  The J Pereira Fernandes SA vs Mehta in 2006 has put automated use to the fore.
The court had determined that anything that was automatically generated by an application does not show a signatory's intention. Therefore, the "signature" that may result is not admissible.
Meanwhile, the liberal look at electronic signatures was emphasized in the Kathryn Bassano vs Alfred Toft case in 2014. The conclusion was that an e-signature could be used for a regulated agreement.
While e-signatures are liberally accepted in various instances, it is not used for just about every legal transaction or signature execution. There may also be cases wherein electronic signatures are used, but there is a need for the physical presence of witnesses.
These documents include land registries, deeds, leases that extend over three years, customs, family law documents, revenue, and corporate accounts. Some required stamps must be placed on corporate account documents.
Summary
Are E-Signatures legal in the UK? Yes, the Electronic Communications Act 2000 came into practice in the year 2000 and two years later electronic signatures were legally accepted in the UK in 2002. This includes England, Scotland, Wales, and Northern Ireland, and the UK follows the EU regulation (eiDAS) which accepts and recognizes three types of e-signatures: simple (SES), advanced (AES), and qualified (QES).
In summary, the UK considers digital signatures legal and has accepted them since the year 2002. It is even liberal in accepting various types of electronic signatures for different documents.
However, the courts are always looking for the signatories' intent in signing. If this intent cannot be proven, as with applications sending email addresses and anything else automatically, the e-signature is not accepted.
There are also some instances in which digital signatures are not considered at all. It includes the list of cases referred to above, the one that provides for wills.
Furthermore, a self-regulatory body tScheme serves to provide certifications to trusted services. If in doubt, refer to the UK list. Consult a lawyer for other instances that seem to remain in the grey area.
---
Featured Platforms: PandaDoc, Formstack Sign, DocuSign, HelloSign