We all have those dreaded, monotonous tasks that we can't stand doing but need to get done. Luckily, artificial intelligence is a new tool that can help make them a little easier. An A.I. platform can automate many tedious and time-consuming tasks, so we can focus on the things we enjoy.
Set up some filters and rules and let the machine take care of them. You'll be able to breeze through your inbox in no time! In this article, let's look at one such product that will help you breeze through your tasks.
Let's Dive in…
What is Bitskout?
Bitskout is a workflow management software platform that helps users to increase their productivity and efficiency by automating manual tasks. The A.I. platform does this by implementing plugin tools that automate various processes, such as reading and typing information from invoices or extracting data from handwritten documents.
The user interface is easy to use – select an action, load a couple of examples, and choose where you want the information displayed. You can also improve your current processes by making them faster, easier and more efficient. Add plugins to your tools via our native integrations or Zapier, so you can focus on what matters most.
This can help to free up users' time to focus on more important tasks, ultimately leading to increased productivity. In addition, this A.I. platform is constantly learning and improving its algorithms, which will only become more effective over time. As such, Bitskout is an essential tool for anyone looking to streamline their workflow and increase their productivity.
How does Bitskout work?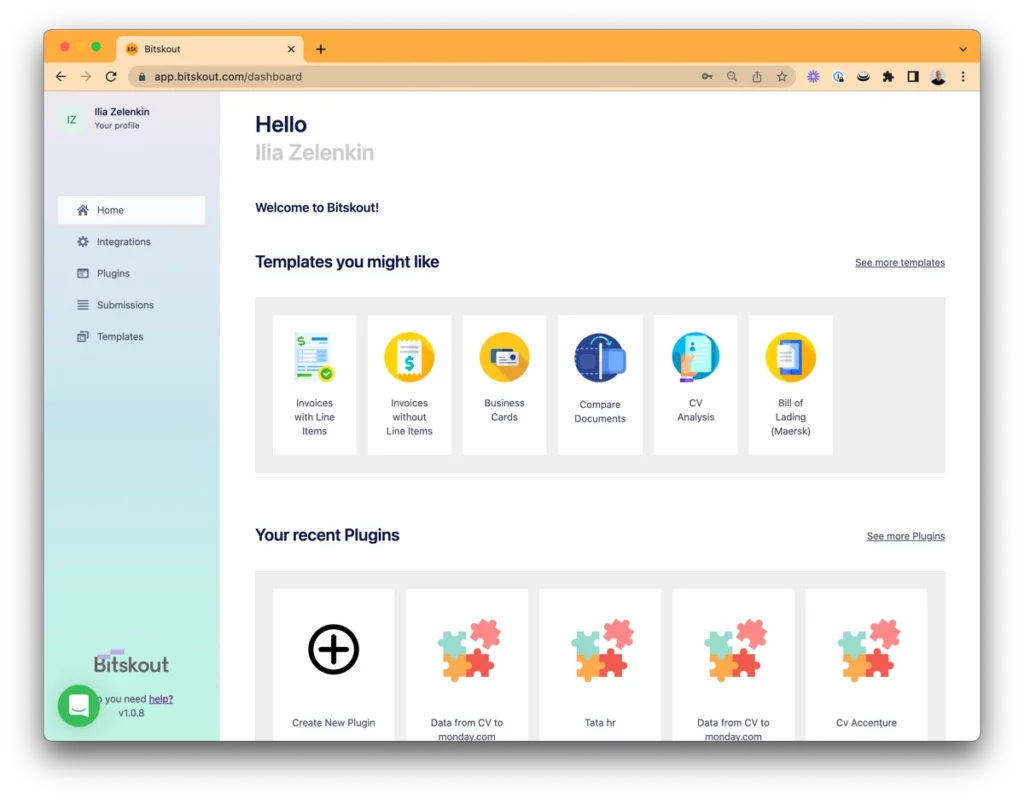 Bitskout is a no-code A.I. platform that helps you to create smart plugins powered by A.I. Smart plugins powered by A.I. can be set up and added to tools of choice in minutes with the help of a simple UI–no coding or training needed.
You can use Bitskout to create your website, blog, or online store plugins. Bitskout also allows you to integrate your plugins with third-party applications.
Bitskout's Integrations with other platforms
You can connect any app with Bitscout and build your workflow. Here is a list of integrations with other platforms you can expect.
Mailchimp
Google Forms
Discord
Hubspot CRM
Twitter
Shopify
Stripe
WordPress
Twilio
Pipedrive CRM
SalesForce
Google Analytics
Survey 123
Bitly
Zoho CRM
Xero
Asana
Send Grid
And many more!
What can you do with the integration?
Here's how you can set up integrations with Asana as an example:
With Bitskout, you can supercharge your productivity by making Asana the centerpiece for collecting data from emails and documents, analyzing pictures and videos. By adding an artificial intelligence layer, you can reduce manual data entry and remove unnecessary tools to streamline your work process.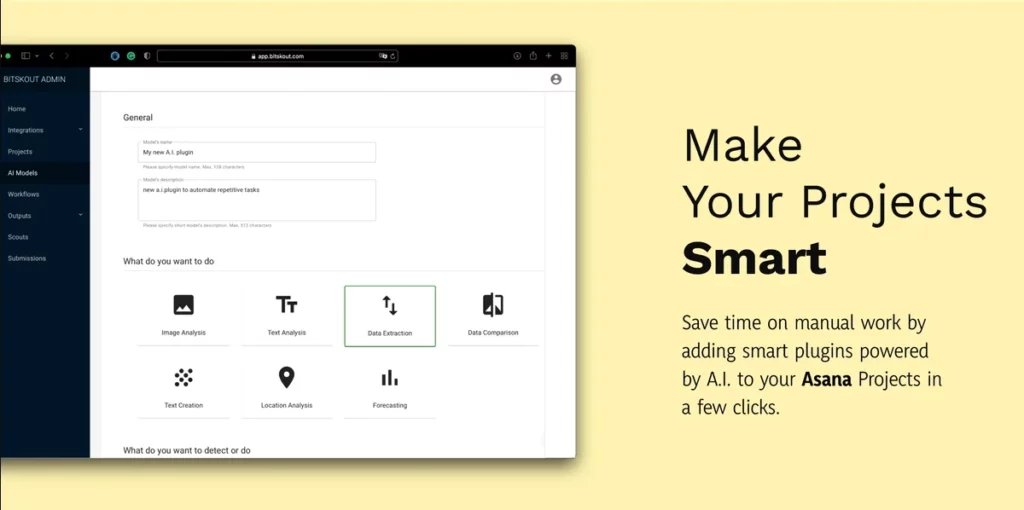 In Asana:
Open your Asama Account and choose the project you want to work on to go ahead with the integration.
Now, click on the "Customize" button.
Now, go to the apps, choose "+Add app" and select Bitskout.
Now, all you have to do is follow the instructions displayed on the screen.
In Bitskout:
Open your Bitskout account
Choose Asana
To add the project to your Bitskout account, simply import it.
Automate your workflow for maximum efficiency
Lastly, use Bitskout's workflow in Asana by adding it as a rule.
That's it; you're in for now!
Pros and Cons of using Bitskout
Pros:
This software has a clean interface, notifications, and user/team management. It integrates well with other Atlassian software, particularly Jira in our case.
It is possible to work with documents that have a structure and extract data from your tools.
Increased productivity and efficiency – By automating the workflow process, Bitskout helps your team move faster and be more organized.
Easier collaboration – With a centralized platform for managing tasks and projects, teams can easily collaborate and communicate.
Better tracking of progress – Knowing exactly what stage a task is in and who is working on it allows you to better track project progress.
Increased accountability – Everyone on the team knows what is expected of them and is held accountable for their actions.
Higher morale – The improved communication and organization that comes with using Bitskout leads to a more positive work environment.
Cons:
It is crucial to remember that Bitskout meets other tools, such as the SaaS cloud tool. In other words, if you do not have access to Asana or Jira, then it is difficult to ascertain whether Bitskout would be a good fit.
If you don't write code or manage no more than 100, 000 documents per month, this tool is perfect for you.
Although a forecasting feature is being finalized, Bitskout A.I.'s analytics cannot compete with other serious analytic tools currently on the market.
Who is Bitskout for?
If you find yourself doing the same thing repeatedly, it's time to consider Bitskout. Bitskout is perfect for any company that wants to automate its repetitive tasks. It can help remove your staff's burden by automating those mundane tasks.
As a result, your employees can focus on more creative and productive work. In addition, Bitskout can help to improve efficiency and accuracy in your workplace. So if you're looking for a way to increase productivity and efficiency, look no further than Bitskout.
How much does Bitskout cost?
The pricing of Bitskout is divided into three tiers: solo plan, team plan, and enterprise plan.
Solo Plan
Starts at 59 Euro per month.
Includes 100 plugin runs
It's an individual account
You can use up to 5 active plugins
Team Plan
Starts at 199 Euro per month.
Includes 500 plugin runs.
Up to 5 Bitskout admins can have access.
Up to 50 active plugins can be used.
It supports 3rd party models.
Enterprise plan
For enterprise plan option pricing, you need to contact the team.
It has more than 10000 plugin runs.
It has unlimited Bitskout admins.
It has unlimited active plugins.
Conclusion
Overall, Bitskout is a great tool for increasing productivity and efficiency in the workplace. If you want a platform to help automate manual tasks, we recommend giving Bitskout a try.