Learn about how digital forms are beneficial for your procurement team.
What is a procurement team?
A procurement team is a group of professionals who work together to ensure that the company is able to meet the needs of its clients and employees by acquiring and procuring goods and services at the best prices. The team handles issues such as the bids and quotes submitted, negotiated price, and supplier finalization, as well as those of managing the delivery, storage, and monitoring of goods and services. The team also manages and monitors the company's payments and repayment schedule with suppliers and vendors.
What does a procurement team do?
Sourcing
Negotiation
Contracting
Monitoring of supplier's performance
Compliance with business protocols
Leveraging technology to help in procurement functions
Collaboration with Other Departments
Forecasting the Procurement Trends
Effective Monitoring of the Procurement Team
Competitor Analysis
How can digital forms help a procurement team?
Digital forms make it easier for procurement professionals to refresh skills, create reusable templates, and store records that need to be periodically refreshed or updated. Using a digital form can reduce errors by ensuring that the correct, mandatory fields are always filled in the correct place. Filling out a digital form will also speed up data entry and help avoid mistakes.
Procurement or purchasing is essential in many businesses. The team from this department shoulders complicated tasks. Digital forms can help a lot in easing the burden of monitoring and collaborating with the team regarding various practices.
If you manage a procurement team, you will find it handy to use digital forms. Here are some samples of the forms you will likely need to boost the productivity of your team:
Confidentiality Agreement
Equipment Loan Agreement
Vendor Performance Evaluation Form
Procurement Card Forms
Automated Purchase Requisition Form
---
Digital Form Platform Reviews
To simplify data gathering, companies invest in IT to make the collection process efficient and accurate. Below are some of the software that businesses have adopted to survive in the digital ecosystem:
Microsoft Forms
Microsoft has been with us for a very long time now and they have developed this software to streamline data collection through surveys, polls, and quizzes.
Click here to view our full Microsft Forms review.
Airtable
Traditionally, we use a spreadsheet to collect and organize data. Airtable enhances the custom form process by using databases. 
Click here to view our full Airtable review.
Jotform
With more than 10 million users worldwide, Jotform specializes in creating online and digital forms through simple drag-and-drop techniques or choosing from pre-defined templates. Even with its free account, you can already do a lot of customization.
Click here to view our full Jotform review.
Formstack Forms
Used in over 112 countries, Consider FormStack as a one-stop-shop in seamlessly creating surveys and custom forms, data gathering, and eSignature collection. Why manually send information to people when you can automate that for greater efficiency?
Click here to view our full Formstack Forms review.
Survey Monkey
It's impossible to use survey tools and not hear about this brand. Founded in 1999, SurveyMonkey is considered one of the world's most popular survey tools.
Click here to view our full Survey Monkey review.
Typeform
Typeform is known for its flexibility in creating surveys and forms. What makes this software unique is that it seeks to make the collection process a comfortable and relational experience. 
Click here to view our full Typeform review.
---
For this tutorial, you will learn how to use the app called Kissflow in creating an Automated Purchase Requisition Form. This document helps you easily monitor what you need to purchase and crucial details about the goods or services your department has availed.
Traditionally, this kind of form is done by an employee by hand or manually typing in a device. Once done, they have it submitted and checked by their immediate superiors for approval. After that, the paper documents are handed to the finance department to state if they can proceed with the project.
Using digital documents for this process makes everything faster and easier. The employee responsible for editing the form can collaborate with the bosses, finance team, and stakeholders to make changes as required. The template can also be saved and used for similar digital documentation of other purchases.
Here are the steps to make the digital document using Kissflow:
1. Download the Kissflow app, install it, and use its readily available templates. You will find its visual work builder user-friendly and easy to use. The app allows you to design your purchase request requirement outline using workflows, online forms, coding, and more.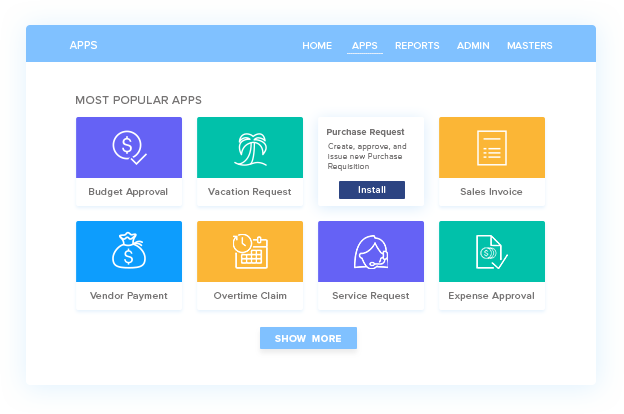 2. Use the app to open the template for your initial purchase requisition form. Customize the form by adding or using more minor fields. You can add more details to make the form automated and easy to use. You can also choose and tweak settings, such as connecting fields to a master database, defining exceptions, inserting formulas, and choosing conditional access.
After editing, the form can automatically gather the name of the requester, add lines to avoid errors, and collect details about the date of the request, manager, and department.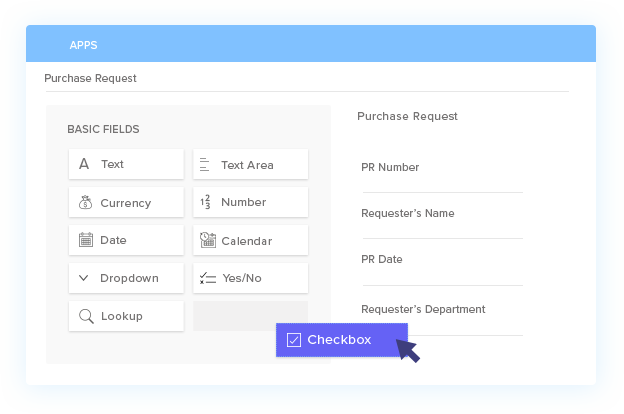 3. Access the app's workflow builder with its drag and drop function. You can input your purchasing process' unique workflow. It is similar to how you will write your thoughts on paper if you are doing this manually. You can choose to add other details, such as enforcing rules, defining the process flow, setting permissions, adding stakeholders, and many more.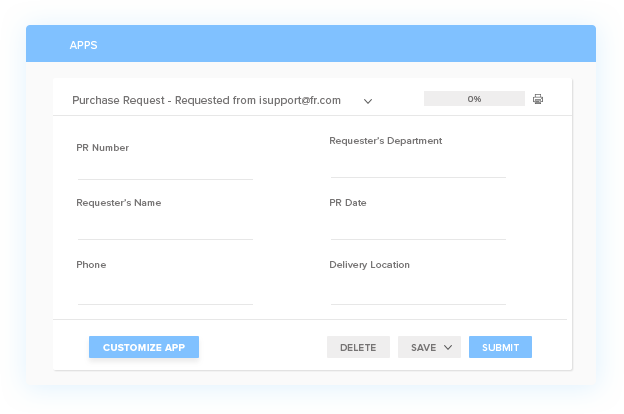 4. Invite the stakeholders to use the app by publishing the form you've created. You can easily collaborate with other parties involved once the app is live. The good thing is that you can still edit or add more details on the fly even at this stage.

Why is it necessary for your procurement team to use an automated purchase requisition form template?
The Kissflow app provides an all-in-one venue to make forms and collaborate with the people involved in the project. It makes the workflow more efficient and fast. The app eliminates time lag while ensuring compliance.
By using an automated purchase requisition form template, you will benefit from the process in the following ways:
You will easily monitor the purchasing process.
Legal compliance and policies are ensured all the time.
You will get real-time updates on the purchase requisitions
It improves the accuracy of the process
Reduces time than when doing things manually
It's eco-friendly since you are not using paper and everything is online.
Both the app and the form help in making the process faster and hassle-free for the approver and requester. As long as the system is strong and contains all the necessary details, it can efficiently handle the workflow – analysis, spending management, creation of PO, rejection or approval, and sending of requests.
It is ideal that your purchase requisitioning system has the following features:
1. Interactive dashboard
This will give your team and other people involved user-specific and realtime updates of the status and workflow.
2. Pre-built templates
You can use and reuse the templates as needed to make all forms used by the procurement team uniform and familiar.
3. Centralized storage
The best thing about using Kissflow is that you will store information on a cloud database. This way, you don't have to worry about your work getting corrupted or your computer's storage collapsing all of a sudden. This makes it easier to attain improved security, more flexibility, and users' quick access to the database.
4. Self-service of employees
Your team can access, send requests, and fill out forms by using their accounts in logging in on the cloud database.
5. Easy connection with other teams
Once the form is up and running, you can connect and integrate it to the other concerned departments, including the management, HR, and other procurement teams.
6. Drag and drop design
This feature makes the wizard easy to use. You will find it handy even when you aren't too techie when it comes to this stuff.
---
More about Digital Forms:
*Top 5 Reasons to Go Paperless and Gather Data Digitally*
*How Custom Forms Can Help You*
---
Got a question? Ask us here.