You don't have to be a techie to be able to create an online form. You only have to choose an online form builder that is easy to modify and customize, intuitive, simple, and user-friendly.
Here's a list of the best platforms where you can create an online form for free:
Google Forms
Microsoft Forms
Wufoo
Typeform
Jotform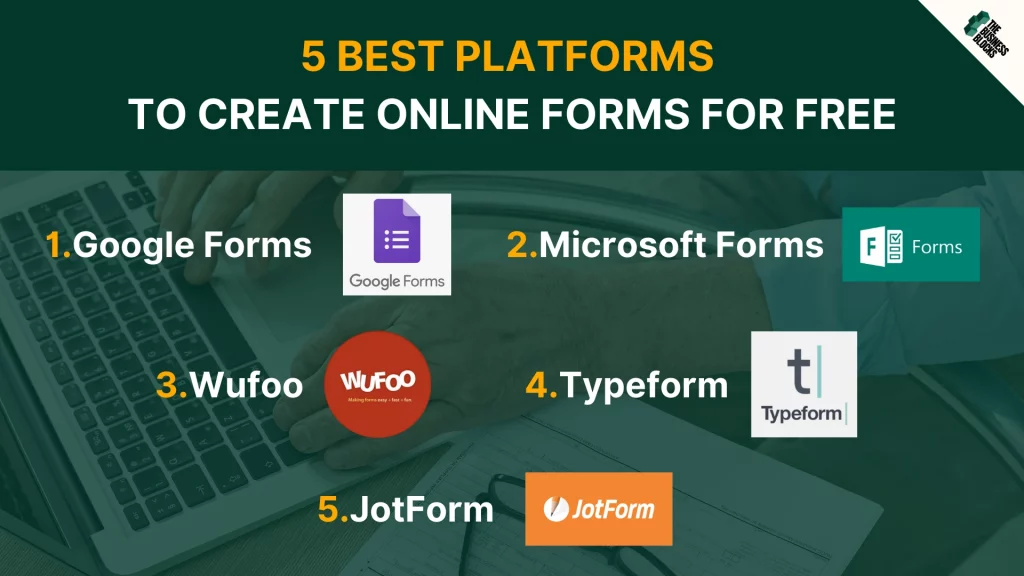 1. How to create free online form with Google Forms?
Accessible via its website
Free but you will need a Google account
Signing up for a Google account is easy if you still don't have one. You will use the account to access Google Forms free of charge. The editor used in the platform is relatively faster than many other online form sites and apps.
It is less hassle since it allows you to reuse questions you've placed in other forms, if necessary, without retyping everything. You can also perform advanced analysis whenever you want since the results are automatically saved to a Google Sheets spreadsheet.
The platform contains all the basic fields, except that you can't accept payments. You will have a variety of options, including file uploads, drop-down menus, multiple-choice selections, checkboxes, text boxes for long or short answers, and many more. It allows you to add videos and images, and tag questions as required or optional.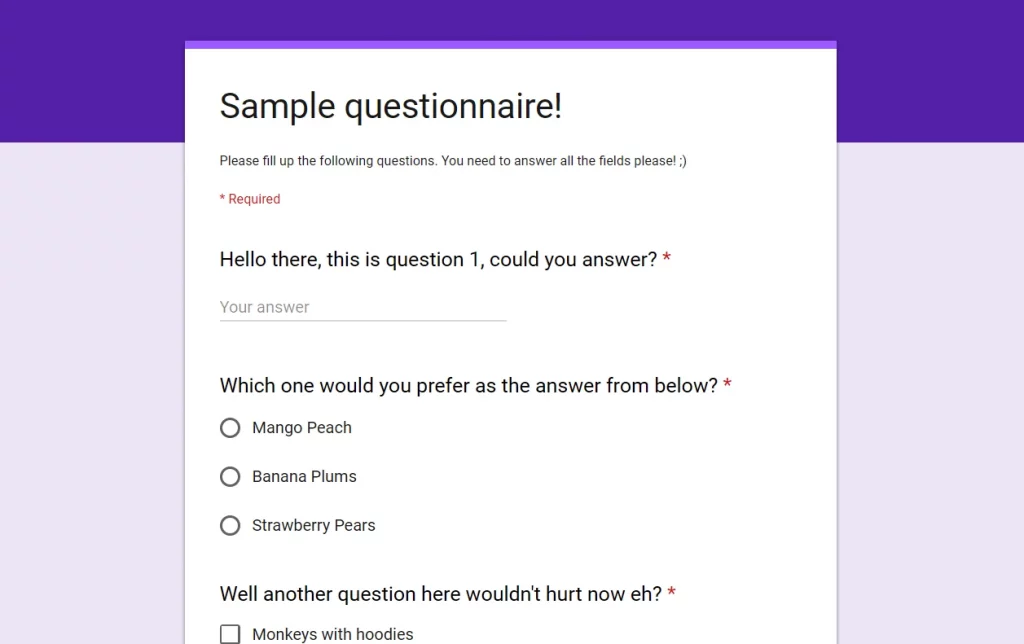 You can make a form with a similar style like a quiz questionnaire that will sum up the score based on the answers. It gives you the option to simple conditional logic that will filter the questions seen by the respondent based on their responses.
Click here to learn more about Google Forms.
2. How to create free online form with Microsoft Forms?
Accessible via its website
Free but you will need a Microsoft account
Preferred by users who prefer using Excel than Google Sheets
Microsoft Forms works basically the same way as Google Forms but it is integrated with Excel that gives it more data analysis functionality. To add questions in the form, simply add it, set the answer format, and type the questions and options for the responses.
Unlike Google Forms, it doesn't allow respondents to upload files and other types of responses. However, Microsoft Forms has unique features for the responses, including the Net Promoter Score.
Once done with the form, you can choose to embed it on your site or at Sway, or you can send the direct link to the forms to your targeted respondents.
You can use the Microsoft Forms site in reviewing the responses or open them in an Excel spreadsheet to study and for better analysis.
Click here to see our full Microsoft Forms review.
3. How to create free online form with Wufoo?
Free for one user with access to unlimited reports and up to 5 forms
Lowest plan (Starter) is at $19 per month that includes maximum fields, 1GB uploads, and 10 forms.
This platform provides a quick creation of reports with graphics without a spreadsheet. It's part of one of the earliest known web applications, SurveyMonkey, which dates back to 1999. This may explain the site's dated look, but don't be deceived by it. Despite being a little behind in terms of aesthetics, it gives users maximum customization.
With Wufoo, you'd be able to make unique-looking forms, far from the similar forms you can make through Microsoft Forms and Google Forms. Wufoo allows you to build customized themes with your preferred colors, fonts, and backgrounds, display response options in several columns, and adjust the alignment of form fields and text on the page.
Premium plan users are eligible of creating logic and branching that will redirect respondents to the suited questions depending on their previous responses. With a premium plan, you can also add a field intended for a DocuSign to gather signatures and add payment fields to link the forms to your permitted payment gateway.
Another good thing about Wufoo is its user-friendly report generator. This is actually one of the easiest to use among many similar platforms.
You only need to input all necessary details, tweak the style and settings, and the site will automatically create your graphical report.
It also has Zapier integrations that allow you to send data where you want once the results are in. The data include anything from a database, your to-do-list, and other information you deem necessary
Click here to learn more about Wufoo.
4. How to create free online form with Typeform?
Has a web interface
Monthly free usage includes 100 responses, 10 questions for every form, and 3 free forms
Essential plan is priced at $35 for each month, which includes unlimited fields and surveys, 1000 responses, payment fields, and logic jumps.
The platform is commended for its conversational data collection feature. The forms veer away from the conventional long types and instead, show one question at a time with the remaining questions blurred. This makes the respondents' process of submitting forms intimate and conversational.
They can choose to have a multiple-choice selection by tapping their designated keyboard keys, go over a dropdown menu option and move on to the next field by pressing Enter.
It is possible to complete a form using a keyboard, although, this is not applicable to all types of forms. This is also recommended to those who want to make forms that will look good even when using a mobile device.
The site's oversized button comes in handy when using a touchscreen device. After your respondents are done answering – you can send their responses to other apps you prefer through the Zapier integrations of Typeform.
Click here to see our full Typeform review.
5. How to create free online form with JotForm?
Can be accessed through web, android, and iOS
Five forms free but with the platform's branding
Bronze plan is prices $24 per month, including 25 forms without the platform's branding.
This platform allows you to customize your form according to how you want it to look. Even when you're using the free option, the site will allow you to collect signatures and accept payments. This provides a better customization feature than Wufoo, Microsoft Forms, or Google Forms.
Another good feature of JotForm is the above 10,000 form templates you can choose from its library. It has templates for different applications and contacts forms, including market research surveys, registration forms for new patients, job applications, and many more.
You can opt to use the uploaded templates, start from scratch, build multiple or single-page forms or forms with separate pages for each question.
You can then edit or build your form, add your logo, use your many options when it comes to form fields, and use widgets, such as progress bar, validate emails, collect signatures, and many more.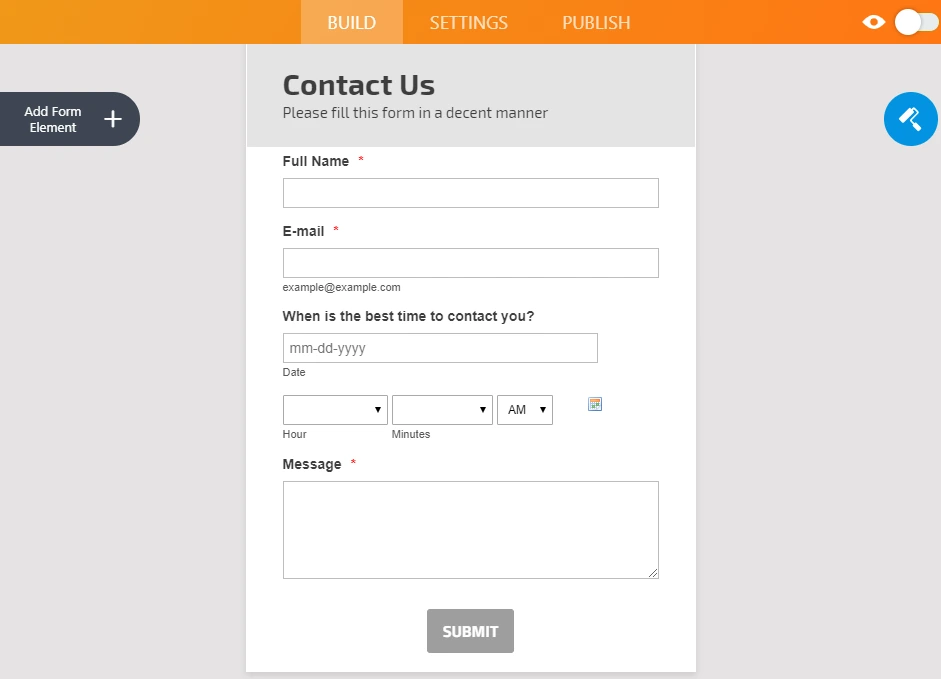 To create visuals or work in a spreadsheet, you can download the responses as a visual report, HTML table, or an Excel spreadsheet. You can also choose to set up an RSS feed so you wouldn't be required to check your email every time you will receive a response.
Click here to see our full Jotform review.
What is the best free online form builder?
All these five platforms are great tools for online form creation, but if there's only one platform we believe is best among them, it would have to be Jotform.
With a wide selection of application integrations, JotForm allows you to work with other business platforms for more productive collaboration across your organization.
Customizing form questions has never been easy with these form builders and survey-making apps like JotForm.
Whether you need simple forms or complex surveys, these customization tools can help you create the exact design you want for your business.
The drag-and-drop feature makes building forms easier and more fun for everyone.
So, if you're looking for a reliable and powerful form builder with simple navigation and design process, JotForm could be the perfect option for you.
It's easy to use, and offers a wide range of beautiful themes and templates to match your branding needs.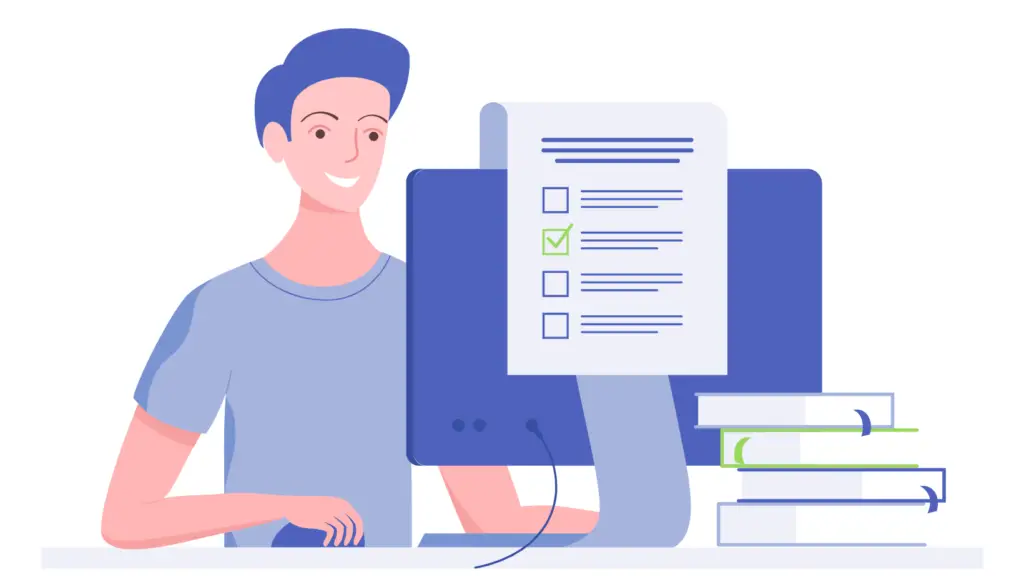 Wrap up
You have to try these form-making platforms to see what will work for you. Aside from being free, make sure that you use the kind with all the features you are looking for and the kind that you will find it easy to use.