A video interview is a type of job interview that takes place remotely and uses video technology.  It is important to ensure your business utilises the right video interviewing software features and take advantage of the benefits.
Over the past three or more years, recruiters and hiring agents undoubtedly had to strikingly transform and adapt to the changes in hiring and recruitment strategies, especially due to the COVID-19 pandemic that has brought everyone to an unprecedented and extraordinary time. 
Our comprehensive guide on video interviewing is available here if you want to start from the basics.
If you want to get straight to the action and check out our top 10 video interviewing software platforms, you can check them out. We also have our statistics page where you can find out everything you need to justify moving towards implementing video interviewing into your hiring process.
The most common video software features include:
Here are some key features that are commonly found in video interviewing software:
Live video and audio streaming

Recording and playback capabilities

One-way or two-way interview modes

Scheduling and calendar integration

Automatic or manual recording uploads

Secure data transfer and storage

Integrated communication tools (chat, annotation, etc.)

Customizable branding and interview templates

Mobile compatibility

Access control and permissions settings

Integrations with applicant tracking systems (ATS) or other HR software

Artificial intelligence-based evaluation tools

Option for real-time collaboration with team members

Live subtitles/closed captions

Automated interview scheduling and reminders.
Video Software is now critical to business operations
Indeed, there was a time, when everyone was clueless on what to do during lockdowns and as the Covid-19 virus ravaged through the entire world, in-person interviews were difficult to schedule and conduct and posed risk to all parties involved.
Consequently, companies utilized online screening and employed the use of video chat tools, video conferencing and video interview software for business continuity.  
According to the site OnRec.com in an article that was published in April 2021, before the pandemic, only 22% of employers are conducting interviews via video. 
From the time the pandemic has hit the globe up to the time the article has been written, 79% of employers have started utilizing video software as an integral part of the recruiting and hiring process. 
This method saves time for both the facilitator and the applicant and streamline an organisation's hiring process.
How is virtual or video interviewing different from the traditional way or in-person method of conducting job interviews?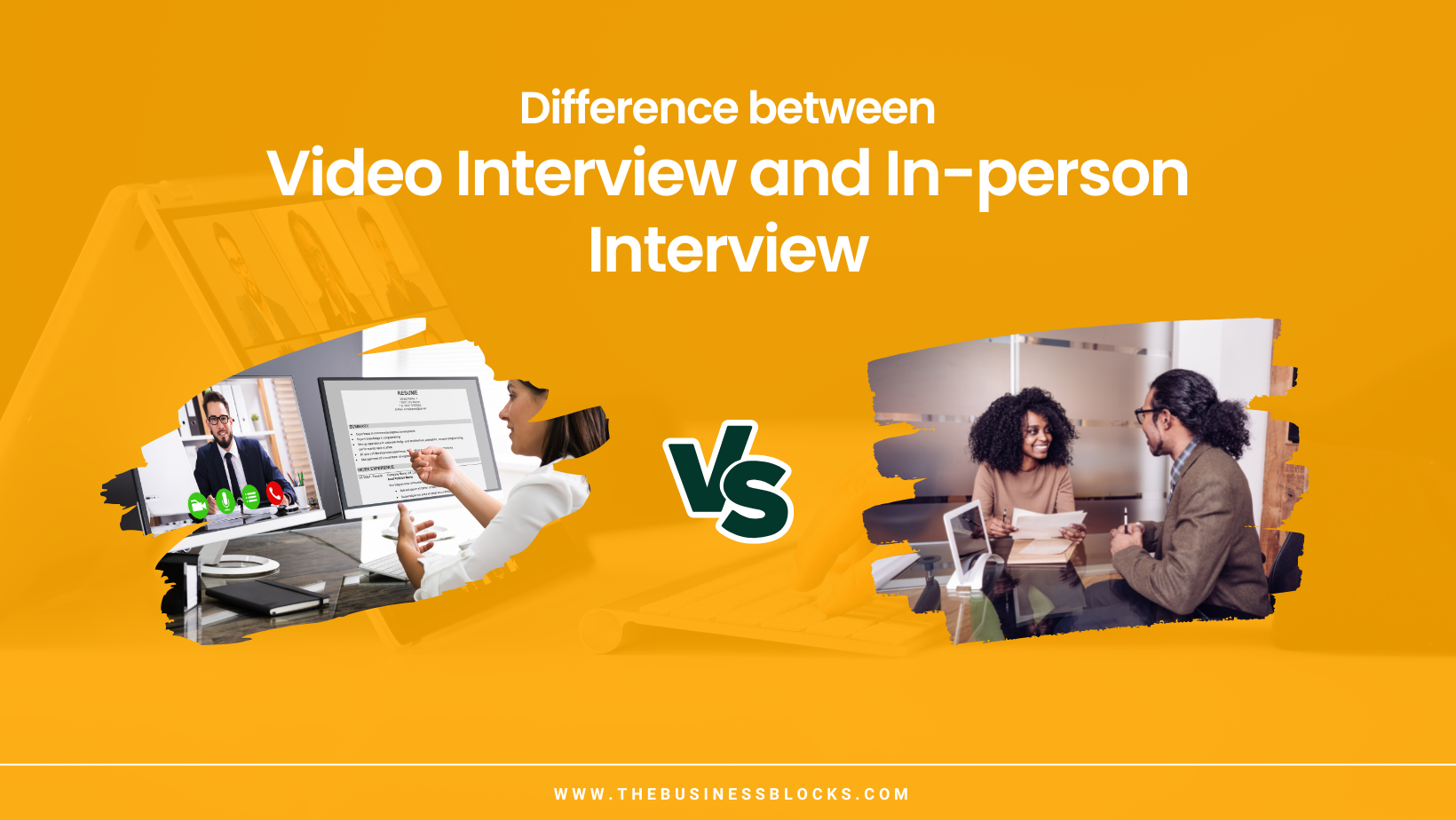 Some key differences are highlighted in the following aspects:
Interview Venue
With a video interview, both the interviewer's or facilitator's and the candidate's location does not matter; they could be anywhere in the world and can be far apart from each other as possible.
What is important is that they both have the proper devices and tools and a stable internet connection to conduct a live video interview.
This allows for a much wider pool of job candidates to be considered for a role because unnecessary factors such as geological location are eliminated. 
It also enables companies to hire top talent from a distance, without the need for the applicant to move nor for the company to provide housing benefits for the new hires.
Video Interview Software
Video interviews can be facilitated with the use of video conferencing, video interviewing platforms or other video interviewing technology to facilitate communication between the interviewer and candidate.
Of course, it would help if both parties would familiarize themselves with the right video interviewing software.  It is also imperative for both to ensure that they have the necessary hardware, best video interview software, video call utility and access to the internet.
Visit our post on the top video interviewing software to learn more about the popular video interview and communication tools.
Communication
Video interviews can pose a more difficult communication challenge than in-person interviews as you're not conducting just one way video interviews.
Reading nonverbal cues or picking up on subtle body language might be challenging with virtual interviews. 
A smooth and conducive interview may also be hampered by issues with audio or video quality or even internet connectivity that can negatively affect the flow of the conversation.
Preparation and logistics
Preparation for a virtual interview may be different from preparation for an in-person interview. 
What can be common for both are the need to prepare oneself for questions about the position, knowledge on the industry as well as research on the company. 
In addition to these, candidates should ensure that they have an appropriate location for a video interview.  All gadgets and video interview software should also be checked in order to guarantee a smooth and technical issue-free interview.
Format
Video interviews can take on a variety of formats.  These include virtual one-on-one interviews, pre-recorded interviews, and panel interviews with multiple interviewers.
Each format may have its own set of challenges and requirements, and candidates should be prepared for the specific format they will be participating in.
The main types of video interviews are asynchronous and live or synchronous video interviews.
With asynchronous interviews, the facilitator and interviewee need not meet virtually during the actual interview.  These could also be referred to as on-demand or one-way interviews. 
Questions are pre-recorded in advance by the team that is responsible for handling hiring and recruitment. 
These may be in the form of text or embedded videos. 
Once the interviewee starts with the interview session, he or she will be guided through the pre-recorded interview and will be given time to record the responses to the interview questions, in the form of a video. 
The employer sets and defines the duration of the whole interview, the number of questions, the amount of time given to the interviewer to prepare for each response, the length for each response, and if re-recording a response will be allowed.
For live or synchronous interviews, these are just like any video call that is done through Zoom, FaceTime, Skype or Google Meets or Hangout. 
Virtual live interviews link employers to job applicants at a convenient time for both parties; everyone will still meet each other, albeit virtually, but because they do it from afar, it eliminates concerns with logistics and meeting planning and the need to travel and commute is completely eliminated. 
This allows organizations to look for and hire top talent without considering location as well as living arrangements, secondment and other staff mobility requirements.
The video interview software that is used for video calls also makes setting up and arranging a panel interview easy and convenient.
What are the important features to look for in video interview software?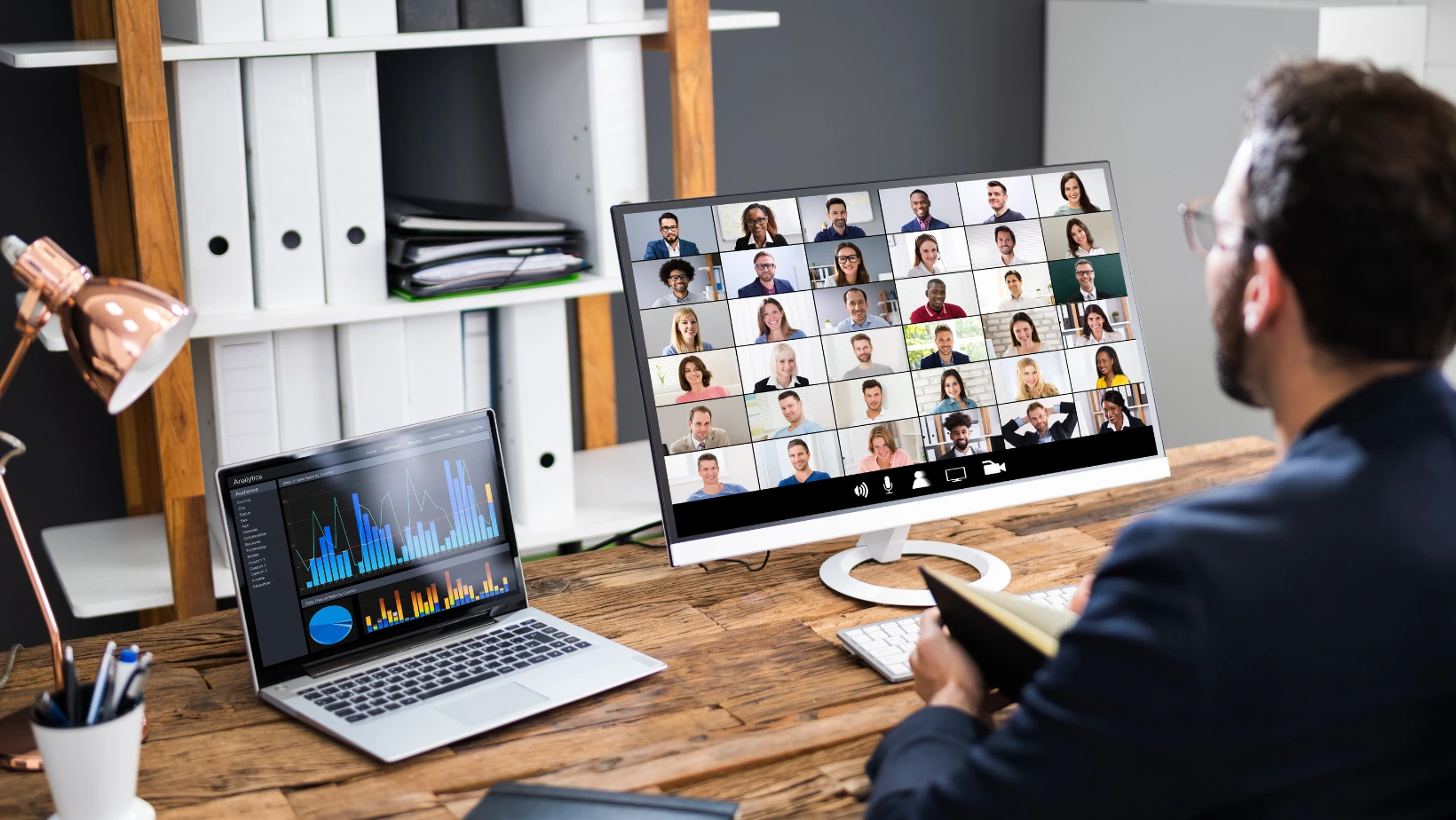 The list below highlights some of the common features of video interview software:
Video teleconferencing:

This is the primary function of video interviewing software.  It is the ability to conduct video interviews over the internet. This typically involves a video call between the interviewer and the candidate. 

Some supplemental features may include screen sharing and chat or real-time messaging.

Integration with scheduling interviews and calendar:

A lot of video interview software platforms allow users to create scheduled interviews, block calendar time and manage calendars directly within the video interview platform.

This can help to streamline the scheduling process and ensure that all parties are aware of the time and date of the interview.

Pre-recorded questions:

Some video interviewing software platforms allow users to record and save a series of pre-recorded questions that can be used during the interview.This is ideal for conducting asynchronous video interviews, or a structured interview wherein pre-recorded videos are part of the interview and hiring process. This can help to ensure that all candidates are asked the same questions and that the interviewer can focus on the candidate's responses rather than having to worry about what to ask next. It also displays the amount of time that is spent in preparing for the interview.

Live transcription:

Some video interview software includes a live transcription feature that automatically converts the audio from the interview into written text done in real-time. This can be useful for creating a transcript of the interview or for providing a transcript to individuals who may have difficulty hearing the audio. This function is very useful as well for persons with hearing disabilities. Some video interview software also includes the ability to translate a video into different languages, making the content more accessible to a wider audience and improving its SEO by targeting non-English speaking users.

Feedback and evaluation system:

Most video interviewing software platforms provide tools for evaluating and providing feedback on candidates after the interview. This can include features like grades, rating, notes.  Some platforms even allow comparison of multiple candidates side-by-side.

Security and privacy:

Video and recording are very hot topics, especially since privacy and identity are involved.  A good video interviewing software must include security and privacy measures to protect the privacy and security of both the interviewer and the candidate.This may include features like end-to-end encryption and the ability to password-protect recorded interviews.
In addition to these points, it could be beneficial for organizations to be able to incorporate video interviews in their hiring process by allowing:
Designing synchronous or asynchronous interviews in the platform.
One-way interviews can be utilized as another option for job interviews.  It may also serve as part of the initial screening process for candidates.
Creating structured interviews.
Organizations may opt for a live virtual interview with pre-recorded material to give the interview structure.  These can ensure that the video interview will be controlled and organized while giving the interviewers time to properly assess the candidates.
Involving the whole hiring team for virtual panel interviews or an efficient review process.
Video interviewing software may allow an efficient means of scheduling a panel interview without the participants needing to be in a single room. 
Even the panel interviews could be located in different rooms, offices or geological locations.  
Post-interview functions like group review and comparison of candidates may also help organizations in screening the applicants.
Integration with an applicant tracking system
Integration with other systems that are needed for the whole hiring and recruitment process could help streamline most of the HR functions.  Having a video interviewing platform that is part of a core system used for hiring could even be better.
When all information pertaining to hiring and applicant data is located in one software ecosystem, and all functions can be recorded and linked in one central repository, it makes it easy for the HR partners and all team members involved with the hiring in identifying and hiring top talent. 
What are the benefits of incorporating video interviewing software into the hiring process?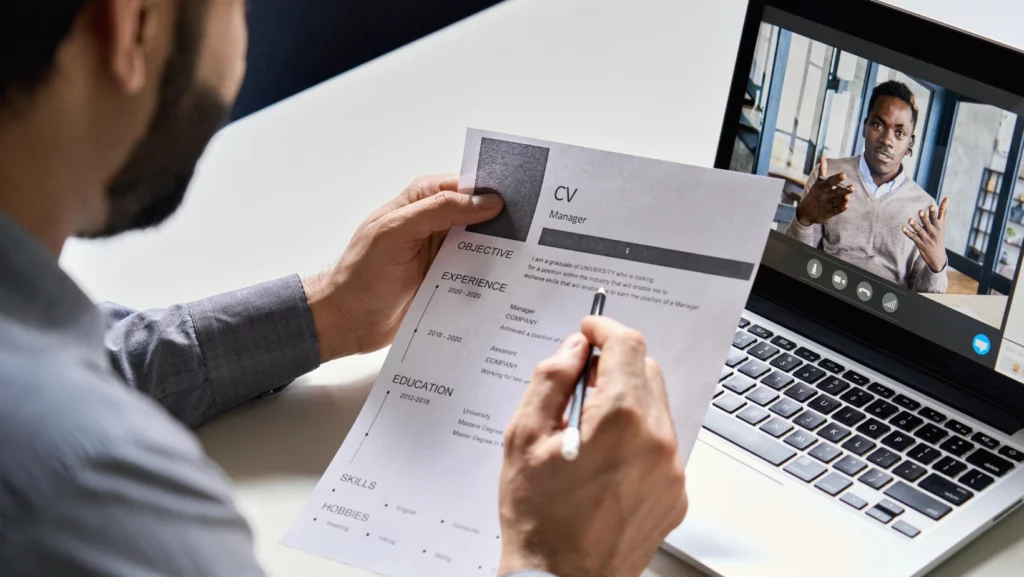 In-person interviews, when compared to virtual interviews, might be considered inefficient and may incur costs, not to mention will require planning, logistics and synching of schedules. 
Consider your hiring managers time and cost when implementing a solution over the entire hiring process. Live video interviews can get you the best candidates over traditional interview processes.
These types of interviews necessitate commuting and travel time – these would lead to other costs and inconveniences.
All the functions that an in-person interview may serve could also be provided by virtual interviews. 
A video interview may provide a candidate with the chance to demonstrate a personal pitch that would display all of their abilities, experience and personality, providing the hiring team with all the right opportunities to scrutinize and screen applicants.  
Virtual or video interviews provide hiring managers with an alternative medium wherein they could obtain information on the applicants faster.
Video interviewing tools have functions that allow collaboration, providing instant feedback and communication.  These features steer the company into better alignment on hiring needs and an elevated recruitment process.
These types of interviews may also improve the applicant's job search and interview experience. Job hunters are given the chance to attend and participate in the online candidate screening process without the need to travel and commute. 
In the case of applicants that are still employed or have other concerns, attending virtual interviews could easily be done without taking time off. 
Finally, if video interviews will be utilized as the initial step in the entire video interview process, having video interviews could help the hiring process in screening individuals that are the right fit for the job and the position.
What are the Pros and Cons of using video interviewing software?
Here are some advantages of using video interviewing software:
Decrease in the time it takes to hire an applicant: video interviewing software makes it easy for organizations to screen and interview applicants through automated processes.

Remove conflicts in scheduling and make it easy to plan interviews: This is true especially for platforms with incorporated scheduling functions. 

With the use of tools to properly schedule interviews and tasks, conflicts can be avoided.

Conduct more interviews and screen more applicants in less time: Due to the ease of conducting interviews plus having a streamlined process, organizations may be able to conduct and screen more interviews, increasing the chance of hiring top talent.

Remove hiring biases: If video interviewing platforms will be utilized to conduct structured interviews, biases may be removed or avoided.

Location and time zones are not needed: With video interviews, there is no need to consider time zones and the location of applicants.
On the flipside, here are the disadvantages of using video interviewing software:
Choice of the appropriate video interviewing software: Choosing the appropriate and apt tool for an organization will depend on the technology stack and needs of the organization.

This will be key in determining the experience that the hiring team of a company will have on the video interview software.

Internet access and connectivity issues: As is true for all online activities, the performance of an online tool or service will only become effective if there is a reliable internet service that is available. 

Distractions, noise and background issues: Using the right room, space and environment for both the facilitators and interviewers are crucial in order for a video interview to run smoothly. 

Even if the interview will be done remotely, care should still be taken in ensuring that the space that will be used for the interview is favorable for the video interview, away from distractions and unnecessary noise. 

Getting an idea of the company culture might be difficult for applicants: The elimination of being physically in the presence of each other is a trade off with this requirement. 

The participants will only be limited to what they will see on their screens via the video interviewing platform. 

For applications, they will miss out on seeing the office and the culture that the company has that may be observed if one will go to the office physically for an in-person interview.
7 Video Interview Tips for Success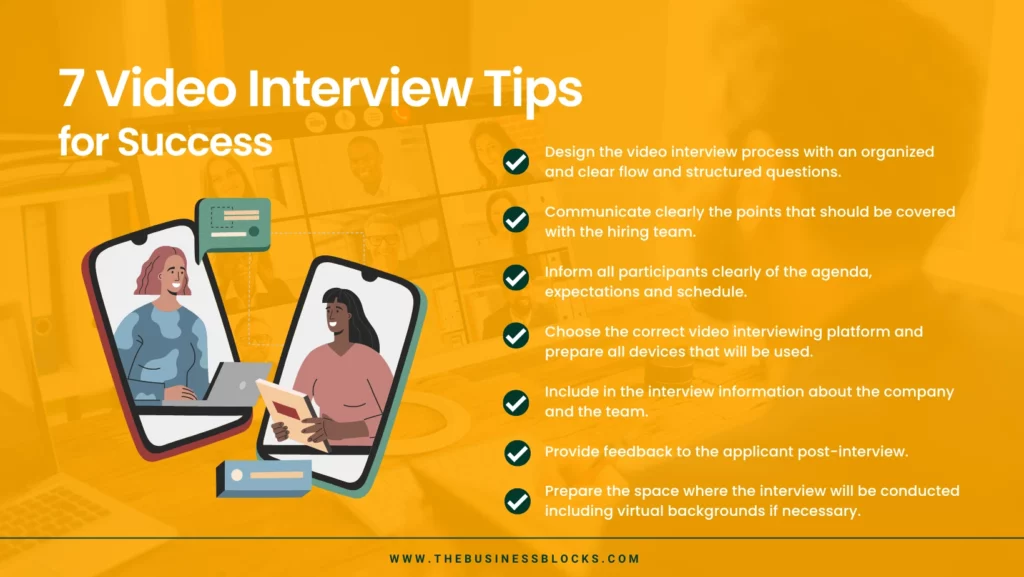 For facilitators, the following guidelines may serve as a guide in preparing for and conducting a virtual interview:
Design the video interview process with an organized and clear flow and structured questions.

Communicate clearly the points that should be covered with the hiring team.

Inform all participants clearly of the agenda, expectations and schedule.

Choose the correct video interviewing platform and prepare all devices that will be used.

Include in the interview information about the company and the team.

Provide feedback to the applicant post-interview.

Prepare the space where the interview will be conducted including virtual backgrounds if necessary.
The Wrap
Video interview platforms offer many benefits to both job seekers and the hiring managers alike. It's a very useful tool that makes the hiring and recruitment process more convenient and efficient for organizations.
Now that these platforms have become prolific and accessible, video interviews have surely gained favor and popularity. 
Video interviewing utilities have become agreeable and affordable even for small companies, giving opportunity to businesses regardless of size to harness their capabilities.
Any business, big or small, can easily scale up and hire talent from any location with the use of this technology. 
Undoubtedly, the way a video interview is done has been forever changed for the better.