E-signature technology is expected to become a fundamental part of modern businesses. Here are the top 5 reasons to move from wet ink to a new digital signature workflow.
Reason 1: Digital signatures are mobile and user-friendly.
Reason 2: High security and audit compliance.
Reason 3: Designed with digital workflows in mind.
Reason 4: Increased data accuracy vs traditional wet ink.
Reason 5: Provide better customer support and faster transactions.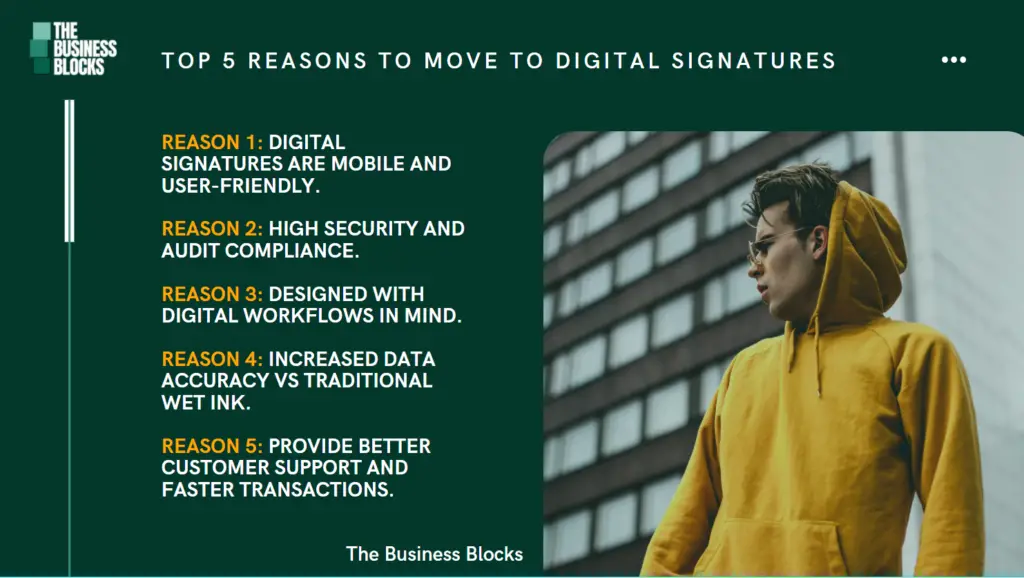 Are you still on the fence?
Printing out documents, securing them in envelopes, sending the envelopes through, and waiting for your documents to be signed, sealed, and delivered is a time-consuming process.
A study from LunarPen calculated that businesses have the opportunity to reduce their processing errors by over 90% by moving to digital signatures and digital workflows (LunarPen, 2020).
For businesses, it's a waste of time to sit and wait for their documents to be signed and dispatched to the designated office. After investment into the right e-signature platform, it is common for 81% of businesses to see payback of less than 12-month (Cuspera, 2020).
A digital signature is a cryptographic procedure that involves the data and electronic signature to certify the signature operation. Below is our top 5 Reasons to Move to Digital Signatures.
Did you know?
You can check out our dedicated article on "what is a digital signature?" here, which will discuss the main differences between a digital and electronic signature and many other detailed facts.
If you want to get straight into it and review our top four digital signature platforms, you can check out our infographic here, which will show you four platform that can help you on your way to digital signature workflows.

Top 5 Reasons to Move to Digital Signatures
With the help of public key infrastructure encryption technology, e-signatures give audit trails while validating the signatures throughout the transactions.
For both the recipient and the sender, electronic signatures provide more efficient document routing as well as a better platform for managing company data.
Why Are Digital Signatures Becoming More Prominent?
When it comes to making business decisions, digital transformation plays a key role.
While e-signatures are not yet widely used in today's business transactions, they offer numerous advantages such as enhanced customer experience, reduced time and costs, and increased productivity.
The only thing that keeps people from using electronic signatures is the uncertainty in terms of its legality.
However, the ruling of the Law Commission in 2018 now made it equally legit as handwritten signatures.
This gives businesses a good reason to use e-signatures in their transaction processes.
If you haven't tried using digital signatures, the following are five of the many reasons why you should digitize your process to maintain your business continuity:
Reason 1: Mobile and User-friendly.
Getting signatures signed on any device, place, or time is the main advantage of e-signatures.
Whether you're going out for lunch or traveling out of town, you can easily get important documents with ultimate security.
With digital signatures, you can conduct business no matter where you are in the world.
It allows you to connect with your colleagues or employees in real-time while sending or receiving documents.
More importantly. You can bulk send any document to be signed through QR codes, embedded URLs, SMS text messaging, and email.
Reason 2: Excellent security and compliance.
It's usually messy to deal with disputes over some transactions when you're using a paper-based system.
E-signatures can help you audit thoroughly in a timely fashion.
In addition, you can see all the steps of your transactions' formation including the owner at every stage, the time it occurred, and the purpose of the transaction.
Meaning, if the transaction was made months ago, you can still go through it all over again when necessary.
Legally binding e-signatures guarantee compliance and security by maintaining specific standards such as the eSign Act, HIPAA, SOC2, and UETA.
In the signature process, it's also possible to set permissions and roles for more efficient transactions.
If you want to review some documents while another co-worker approves, the sensitive details can remain confidential and secure.
Reason 3: Designed with digital workflows in mind.
E-signatures are validated to make sure that senders are the individuals who signed the documents.
Usually, this needs a third party, making it a time-consuming process.
However, electronic signature platforms can allow you to use their e-signatures without any hassle or third-party services needed.
Employees spend less time processing documents, redrafting documents, and correcting errors.
By moving to electronic signatures, you have more time to do more valuable work such as establishing long-term relationships with customers.
For instance, if you normally spend 30 minutes preparing documents, you can reduce this by 50% when you digitize your process.
Reason 4: Increased Data Accuracy
There's strictly no room for mistakes when creating contracts. Paper-based systems often experience errors and typos in the fields.
This could make contract management problematic and a hassle.
On the other hand, using form automation or contract automation with e-signatures can reduce human errors drastically.
All you need is a digital signature platform to check all the steps throughout the validation process.
This will increase convenience and control as you go about your business contracts.
As a result, you save time while making professional-looking forms during client transactions.
Reason 5: Better customer support and faster transactions.
In today's market, retaining customer satisfaction is more challenging as consumers expect to do faster transactions with companies.
To help make your transactions convenient and fast, you can send electronic forms that your customers can easily sign.
Convenient transactions give you a good reputation when it comes to being a good partner.
Moreover, customers think that you respect their time when you provide timely services.
If you empower your customers with fast and easy transactions, it will help you retain your customers and build healthy relationships with them.
Companies switch to electronic signatures for their onboarding and talent recruiting software after discovering the efficient capabilities of a digitized transaction.
This kind of workflow solution also helps you stay ahead of your competitors at a competitive rate.
Wrapping It Up – Get Started with Digital Signatures Today
The unpredictable impact of technology advancements and the global economic climate make it a crucial step to digitize your business processes.
Unlike its paper alternative, digital signature provides a more enhanced experience for customers; not to mention it helps you track paper documents faster than paper documents without presenting any fraud risk.
Document signing and other levels of a transaction call for an electronic solution since your customers may be from different parts of the world.
By allowing them to sign electronically, you are saving time, money, and effort unlike when using paper-based systems.
Plus, you can optimize your digital signatures by using ID document capture, biometric authentication, or video and webcam links.
With more people working from home, it is expected that more businesses will digitize their systems for convenience.
Paper documents can be difficult to handle, especially when you need to send them across the globe. It's become more important to provide online transactions than ever.
So, have you decided on a digital signature platform yet?