When a new employee comes on board, you want to make sure they have a memorable experience that reflects your company. Take 5 minutes to review the below list of new employee welcome kit ideas and you will realise this is one of the most crucial opportunities of new hire onboarding. Letting them know they are now a part of the team enhances their sense of belonging in the culture.
Why Send A Welcome Kit?
T-shirts, pens, notebooks, and water bottles can all be included in a welcome kit. The kit you provide should reflect your company's culture and instil a sense of pride and commitment in new workers.
The pride of your new worker can be attributed to starting something fresh and they will want to talk about it on their socials and what better way to spread the great culture that you are building at your company than to show off some merch as well.
New Employee Welcome Kit Ideas
Today, we're going to show you 7 of the top items new employees would love to receive upon entering the company. Not only is a welcome kit a fun way to keep your employees engaged, it also shows them how much you care for them, and are willing to provide help should they need it.
You can see all the cool ideas below of what to include in your kit but if you want the formal list of What to Include in an Employee Welcome Kit, then you can check out the article here.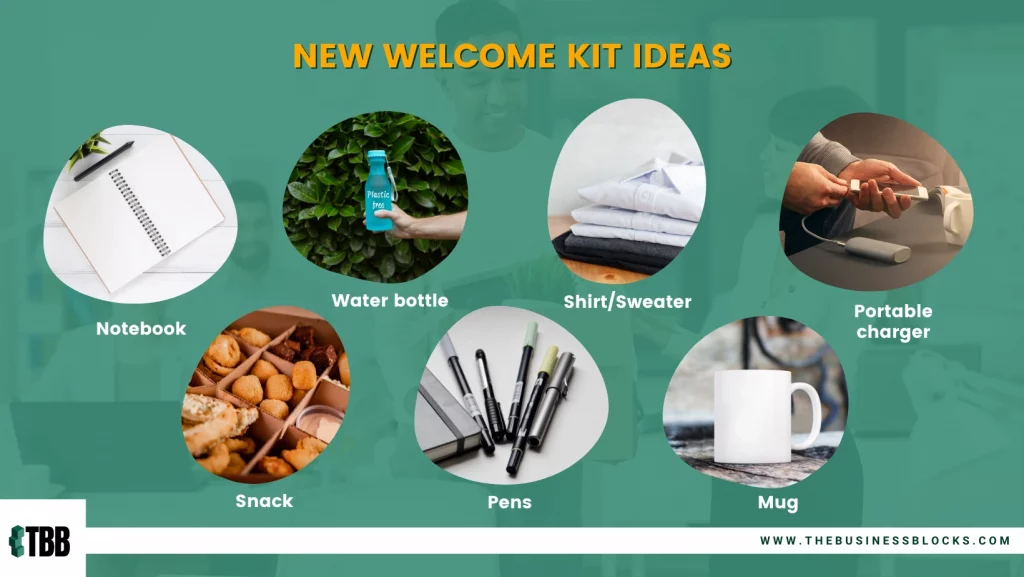 Read on to find out what consists a perfect welcome kit.
1. Notebook
In your onboarding kit, a simple notebook is a must-have item. A good-quality notebook that they can use in their new job is always appreciated by a new hire. Notebooks are a simple and inexpensive present that don't take up a lot of room and are helpful for everybody.
The size and design are all up to you, but make sure to invest in a notebook of high quality and one that will represent your company well. Having a plain notebook with your logo simply slapped on top doesn't really make a good welcoming gift. Be more creative—you can add some fun designs on the cover, you can include stickers, and you can even personalize the front with your employee's name so they know that the notebook is theirs!
It will be exciting to see your employees pull out their matching notebooks during team meetings. It only boosts the confidence and power of your company!
2. Pens
What else matches your notebook best other than a customized pen? In the 21st century, everybody is busy. A workday can be made more stressful if you keep losing your stuff. Pens, generally small items, may be difficult to keep. You find them lying everywhere, but once you need them, they disappear!
Erase your employee's doubts by providing them with a high-quality pen they can bring with them wherever they go. There are tons of pen brands to choose from, so make sure you pick the most efficient yet affordable option.
It would be a huge plus if the design of your pen matches the company's colors to have that united feel. Your company will also gain more exposure when your employees use their pens outside.
3. Snacks
It is a universally known truth that food makes everything better. Your new hire might be nervous or tense upon coming on board, but giving them snacks will certainly make them feel a lot better. You can make a great assortment of high-quality snacks and delicacies, such as nuts, dried fruits, crackers, and other goodies, and place them in your lovely welcome kit. Inside their box, your new staff will be delighted to find a thoughtful bag filled with treats.
Including snacks in your welcome kit is a way to say, "We care!" Snacks are enjoyed by all, and having them in your employee welcome package and throughout your company ensures that everyone has a happy working environment. Snacks are a terrific addition to your welcome kit because they may be enjoyed on the first day of employment.
4. Water bottle
A water bottle is a useful and environmentally-friendly item that businesses should consider giving to all of their employees and include in their welcome kits. These days, a lot of people forget their own water bottles at home and end up purchasing plastic ones that are thrown away at the end of the day. Go green by providing your new employees with high-quality water bottles that will last for their entire stay (or even longer!)
Give your new employees reliable and effective water bottles they can bring with them without having to worry about purchasing bottled water every day. Go the extra mile by investing in insulated bottles that can keep your employee's drink either hot or cold! This way, they can have cold fresh water or hot coffee throughout the entire day.
5. Shirts / sweaters
Giving promotional t-shirts or sweaters to staff is also beneficial to the company. The logo on a t-shirt or sweater can promote the company's philosophy and boost the brand's awareness because it is a garment that anyone can truly wear and is not a tasteless piece of clothing.
Make your shirts or sweaters stylish by incorporating unique designs. Don't feel restricted by just the company's logo! There are lots of independent designers that can create a one-of-a-kind design for your employees' new shirts. If your design is unique, your employees may choose to wear them everywhere! It's always a plus if the material of your shirts or sweaters is comfortable, like cotton.
6. Mug
Despite the fact that a coffee mug isn't a unique item, it is definitely a handy one. New hired workers may be able to save time by avoiding the neighborhood coffee shops and preparing their own coffee at work, assuming the workspace allows for it.
So much plastic cups are being used for coffee shop to-go orders, and we usually see these cups just scattered on the street. Plastic is bad for the environment, and you can do your part as a company to reduce plastic use by providing mugs to your new employees.
Mugs have tons of uses: other than simply holding beverages, mugs can also be pen holders! Keep your office organized by giving out mugs that employees may use however they want: for both their drinks and organization. Seeing your mugs around the workplace can inspire your employees and push them to strive more!
7. Portable charger
In the digital age, we rely mostly on our gadgets to get by. We use our phones, laptops, and earphones on a daily basis. What can be really frustrating if we're not at our comfortable workstation is going through the trouble to find a charging station. We definitely don't want to be standing waiting for a train while our phone is dead.
With modern problems come modern solutions. Keep your employees' gadgets charged by giving them a portable charger they can bring anywhere and everywhere. They certainly won't have to worry about running out of battery whenever they're on the go.