By 2025, it's predicted that almost a quarter of all the world's sales will occur online, with more and more e-commerce businesses jostling for a share of a rapidly-growing market. And while there's potentially a lot of money to be made in online retail, that doesn't mean it's easy: far from it, in fact — illustrated by the fact that 9 in 10 e-commerce startups fail within their first few months.
Getting e-commerce right is a delicate challenge which requires meticulous planning, extensive market research, a killer USP, a solid marketing strategy, and more besides. In short, it's hard.
There are so many plates to spin when running an e-commerce business that you're often unsure where to focus your attention. Between SEO, CRM, and inventory management, it can all get a little overwhelming.
Fortunately, there's a growing multitude of software solutions available that can help streamline your e-commerce operation, taking the strain out of essential yet burdensome tasks and enabling you to focus your attention on what really matters — growing your business.
From customer support to subscription management, here are 6 software tools that can automate time-consuming tasks and make your online business more efficient.
For mobile-first design: CoffeeCup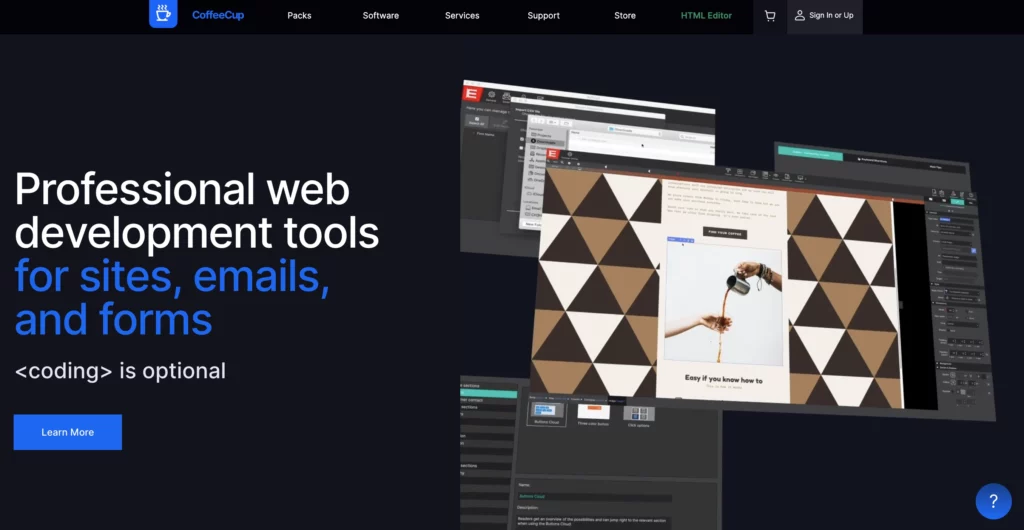 Naturally, design is an essential part of running a successful e-commerce store — from the visual design to the UX/UI (the part concerned with ease of interaction). But were you aware that more than half of online traffic now comes from a mobile device? With 90% of the world's population owning a mobile or smartphone, it's no longer sufficient to simply design with mobile in mind — you should be following the principle of mobile-first design. 
Here are a few tips on designing for mobile:
Prioritize your content: Mobile-first means content-first. Focus on your content and strip away any nonessential elements which clutter the page or distract users' attention.
Keep it simple: Mobile interactions should be as seamless and straightforward as possible. Avoid including too many links in navigation menus, for example, and try to reduce the number of clicks a user needs to make to complete a purchase.
Think about screen size: The average screen size of a smartphone is somewhere around 6 inches. Ensure your typography is readable on a smaller screen, and avoid using large graphics that won't render well on a mobile device.
CoffeeCup's SiteDesigner tool lets you create mobile-first or desktop-down designs (naturally, we're recommending the former). Its features are completely code-free, so you can design a mobile-optimized site with no knowledge of markup: simply drag 'n' drop elements into your page design and customize to your heart's content. You can also preview your designs in any screen size, so you can be sure your site is optimized for the latest smartphones on the market.
For inventory management: Sortly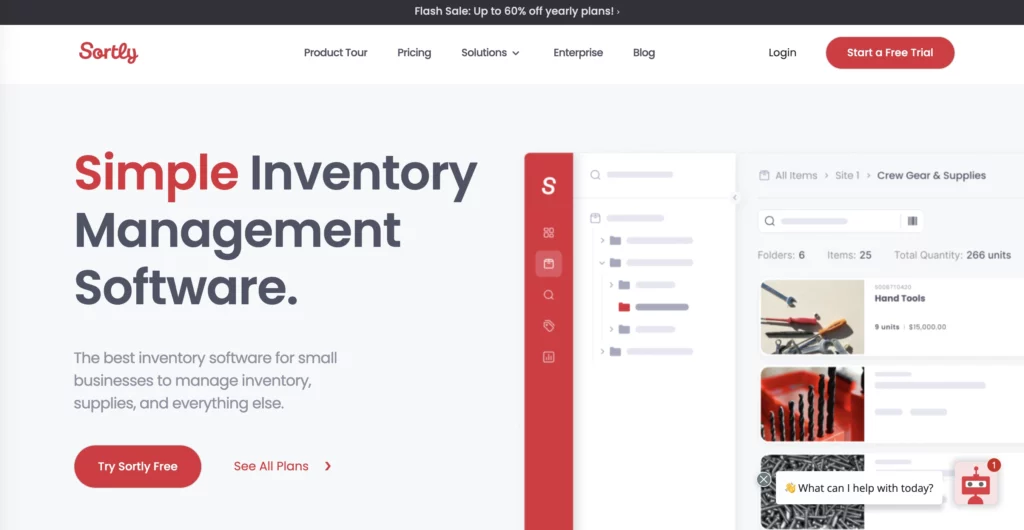 Managing the flow of inventory is one of the most essential elements of running an e-commerce store, but it's often one of the most tortuous and time-consuming: there's navigating the balance between over- and under-stocking, forecasting future demand based on past data, and ensuring you use your storage space efficiently and effectively.
There are a number of options when it comes to logistics management: you could opt for 'drop-shipping', for example, where the product is shipped directly from the manufacturer, or a third-party logistics service (3PL) that stores and ships your inventory for you. You could also fulfill orders directly from your own storage space — budget and resource permitting.
Whichever option you choose, Sortly focuses on simplifying the inventory management process, and is expressly targeted at small-to-medium-sized businesses that require an uncomplex solution to stocking and shipping e-commerce goods. With Sortly, you can manage your entire inventory through an easy-to-use app, and organize and automate your inventory at the touch of a button. To help with forecasting, you can get real-time insights on stock levels and orders.
For subscription management: Chargebee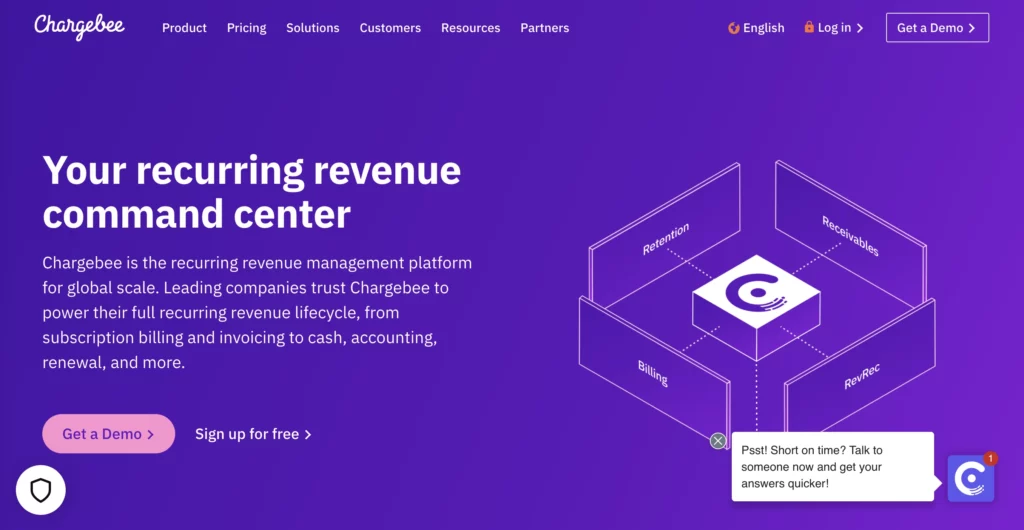 More and more online businesses are recognizing the benefits of offering their products or services on a subscription basis; and it's no wonder, considering that subscription-based businesses typically grow 4.6 times faster than those who operate a traditional one-off purchase model. The benefits of introducing a subscription model might include:
More recurring revenue: A subscription model enables you to generate a more consistent and predictable revenue stream, making it easier to forecast and budget accurately.
Increased customer lifetime value (LTV): LTV refers to the monetary value of a customer to a brand over their lifespan, and a subscription model can help to increase this by generating more revenue over a longer period.
More upsell opportunities: If your customers are happy with the ongoing service you're providing, you can take the opportunity to upsell — for example, by encouraging them to upgrade their subscription or purchase add-ons.
Lower costs: Retention is typically much cheaper than acquisition, so encouraging your customers to commit to your brand on a long-term basis is better for your bottom line.
Chargebee is a powerful subscription platform that supports e-commerce businesses to create and manage subscriptions seamlessly and at scale, removing the manual slog otherwise involved in subscription management. The tool enables you to simplify your recurring billing process and retain more customers through its proactive customer engagement and churn management features. It also includes a number of flexible pricing models and supports several payment gateways in over 150 countries.
For customer relationship management: Freshmarketer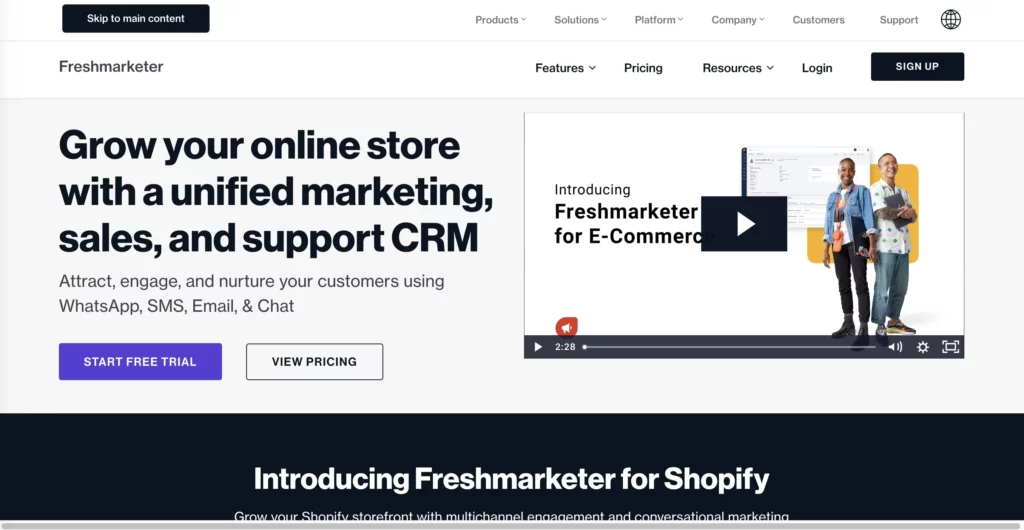 Customer relationship management (CRM) is an essential yet multi-faceted part of a successful e-commerce strategy. It essentially refers to the process of nurturing customer relationships throughout their lifecycle with your brand, using a database to store customer information, manage communication, and anticipate your customers' needs based on their previous interactions and behavior.
An effective CRM strategy should consider all touchpoints within the customer's journey — not just your website but any channel through which you interact with your customers, including email and SMS marketing, social media, and your customer support channels.
Freshmarketer is a unified marketing, sales, and support CRM software package from Freshworks. It enables you to interact with and engage your customers through multiple channels — including WhatsApp and SMS — and create personalized user experiences by segmenting your customers based on past behavior. You can get a complete 360° view of every customer to build more meaningful relationships and deliver contextual experiences at every stage of the online shopping process.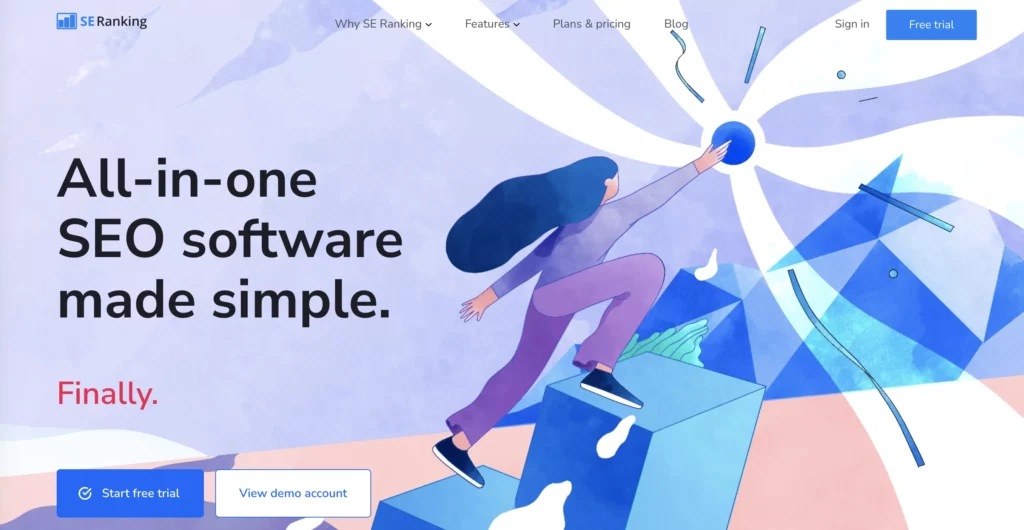 For any e-commerce business, search engine optimization will form an integral part of its growth strategy. SEO includes multiple elements, but it's chiefly about driving the maximum amount of organic traffic to your site by following best practices when it comes to creating content and designing the user experience.
The basic components of a strong SEO strategy include:
Keyword research: Keyword research is about understanding what your target consumers are searching for, and then optimizing your content to ensure you're including relevant keywords within the headings and body copy.
E-A-T: This stands for expertise, authoritativeness, and trustworthiness, and is a key Google ranking factor. Does your content convey expertise? Does it portray your business as an authority in its field? Can users trust your content?
Meta data: While meta descriptions aren't a ranking factor per se, they can help Google — and users — understand what your content is about, making it easier to rank for keywords and improving click-through rates.
Technical SEO: The technical elements of SEO are just as important as the on-page factors. This includes ensuring your content is crawlable, it uses structured data, and important UX metrics such as page loading speed are considered. 
Because it's so wide-ranging in nature, managing an SEO strategy can be a serious time-drain: but that's where a tool such as SE Ranking comes in. An all-in-one suite of SEO tools, SE Ranking offers 100% accurate keyword tracking, real-time backlink monitoring, and an on-page content optimization tool. The platform can also perform an audit of your entire website, identifying on- and off-page issues and suggesting improvements.
For automated customer support: ChatBot
Responding to customer queries can be one of the biggest drains on an e-commerce team's time and resources, and that's why an increasing number are turning to chatbots. Rather than completely replacing a human customer support team, a chatbot can simply streamline the way you offer support. A chatbot can deal with straightforward, frequently-raised queries, for example, while your human agents can step in to support with more complex matters.
Of course, a chatbot can also mean you're able to offer round-the-clock support — even a basic level of automated support is better than none at all — rather than being completely uncontactable once your customer support team has clocked off.
With a does-what-it-says-on-the-tin name, ChatBot enables you to automate your customer service by building and deploying conversational paths — all without a single piece of coding knowledge. You can engage customers and prospects across a number of channels — including Facebook Messenger — and even let your customers place orders directly from the chatbot widget. The tool can also step in to help you generate, qualify, and nurture sales leads automatically.
E-commerce is a fast-moving and challenging industry, and you can quickly get left behind if you don't know how to adapt. While there are multiple elements to consider if you're going to make a success of your e-commerce business, there is help at hand in the shape of software solutions — enabling you to automate manual parts of the process and streamline your overall operation so you can stay agile and focus on growth.
You may be interested to read: Customizing Your Adobe Commerce Cloud Store: Development Best Practices