Companies constantly seek ways to expedite their sales process and maximize their revenue. One of the most prevalent tools to maximize revenue generation is quote-to-cash. Quote-to-cash refers to the process of creating a quote to collect the payment for the goods or services provided. By understanding the quote-to-cash process, companies can automate and streamline operations, enhance client satisfaction, and achieve shorter sales cycles.
This post will help you comprehend the quote-to-cash process and deliver helpful suggestions to help companies improve their quote-to-cash business process and achieve faster sales success.
What Is Quote-To-Cash?
Quote-to-cash (Q2C or QTC) is a crucial business process that promotes revenue growth. It encompasses the entire sales cycle, from product layout and quoting to customer acceptance, order placement, and revenue management. This system assists you in creating a solitary platform for carrying out sales tasks from customer data collection to reports and analysis.
5 Reasons To Improve Your Quote-To-Cash Workflow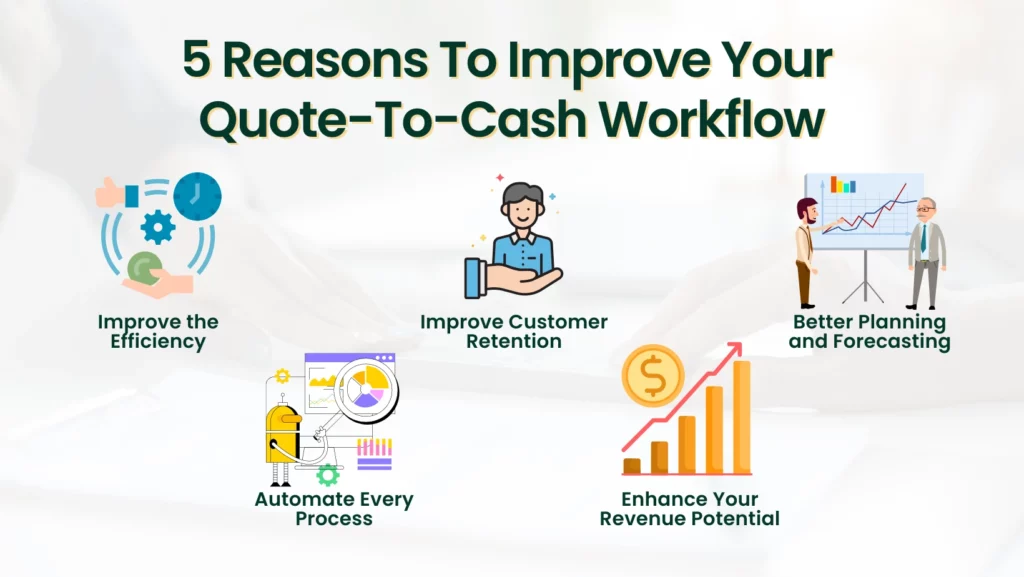 Improving your quote-to-cash workflow can bring an abundance of benefits to your business. Below you can find the five reasons to improve your quote-to-cash workflow:
1. Improve the Efficiency of the Quote-to-Cash Workflow
The main advantage of a faster quote-to-cash procedure is efficiency. Slower quote-to-cash processes consume more resources, raise costs, and reduce your capacity to estimate, manage, and collect the expected income.
2. Improve Customer Retention
A faulty quote-to-cash process can drive clients to competitors who offer a better experience. However, companies with a streamlined quote-to-cash process find increased client retention and loyalty.
3. Better Planning and Forecasting
A better quote-to-cash workflow gives more accurate and real-time data, allowing for more accurate forecasting and planning. You can make well-informed company choices, improve the distribution of resources, and align plans for future growth if you have insights into sales performance, revenue estimates, and customer patterns. Moreove companies using this data together with competitive data collection and analyzing market trends tend to improve the accuracy of their forcatting.
4. Automate Every Process
With quote-to-cash automation, you can relieve your sales team of the strain of repetitive procedures. This method allows you to focus on establishing new revenue streams.
5. Enhance Your Revenue Potential
Unlock new possibilities for growth by implementing a streamlined and optimized quote-to-cash process that maximizes revenue generation.You may generate income faster with speedier quotation generation, effective order management, and prompt invoicing, eventually enhancing your bottom line. To streamline the revenue process, companies can use forms for the operations team.
The 8 Steps Of An Automated Quote-To-Cash Process
The steps listed below equip sales teams with the process to boost their sales efficiency, engage customers more successfully, maximize sales, and enhance customer experiences.
Create the quote: Creating the quote is a fundamental stage to conveying pricing and details to possible purchasers. It shows that they are keen on carrying on with the transaction, which gives sales teams the approval to finish it.
CPQ (Configure, Price, Quote): Conveniently generating sales proposals for high-touch sales, CPQ (Configure, Price, Quote) enables customization, discounts, and package design.
Create a proposal: Detailed deliverables and expenses for service engagements are outlined in proposals, which are extensive documents sent to potential clients.
Sign the contract: Contracting is the process of negotiating the conditions of the sale with the customer until an understanding is achieved and a contract is signed.
Fulfill the order: Its goal is to accurately complete the customer's purchase within the specified timeframe, resulting in a satisfying customer experience.
Invoicing: A key phase in the sales process is invoicing, which may be automated with financial management software. Keeping thorough payment records is crucial. Effective invoicing ensures prompt payments, which enhances cash flow.
Processing the payment: Businesses should be ready to receive payments through various methods, including cheques, bank wires, and credit cards. The payment process can be streamlined through automation.
Revenue recognition: The final and most important phase in the quote-to-cash process is revenue recognition, guaranteeing precise accounting and adherence to rules like ASC 606. Financial integrity and prediction depend on only recognizing revenue once it has been earned and recognized.
How To Improve Your Quote-To-Cash Workflow?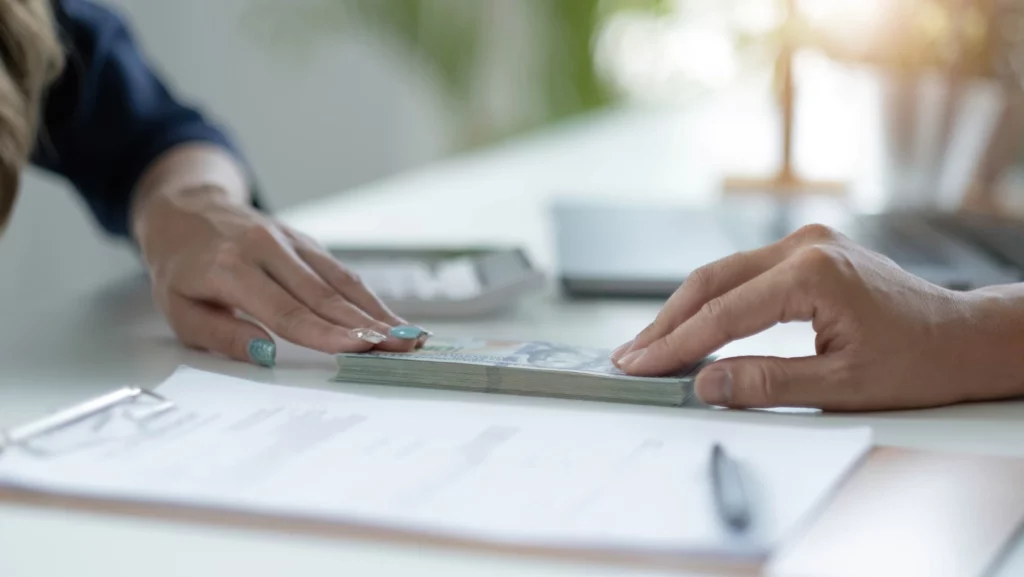 The quote-to-cash process covers the most significant tasks that a business performs. As a result, companies must prioritize the standard of their quote-to-cash process. Listed below are a few pointers or best practices for improving the efficiency of your quote-to-cash process.
Use professional services automation (PSA) technology to maximize, streamline, and expedite the quote-to-cash process.
Use automation to ensure that important activities like quoting and billing are completed correctly and on schedule.
Evaluate your quote-to-cash workflow regularly and collect input from sales teams and customers.
Install an integrated platform or customer relationship management (CRM) system for smooth communication and data collaboration throughout the quote-to-cash process.
Conclusion
An effective quote-to-cash (QTC) process is critical for faster sales cycles and higher revenue. Businesses can boost efficiency, improve customer satisfaction, and achieve accelerated sales success by recognizing and improving each stage of the quote-to-cash cycle. The quote-to-cash process will enable your team to maneuver the selling process with agility, maximize sales, and achieve faster sales cycles, propelling your company forward in today's highly competitive environment.