Are you an avid gamer or a productivity master looking for a more immersive and ergonomic display? A curved monitor might be the answer for you. With increased focus, eye comfort, better motion tracking, and out-of-the-box color accuracy than some traditional flat displays, curved monitors are quickly becoming one of the hottest additions to any workspace or entertainment setup. But can these magnificent pieces of tech be mounted?
The short answer is yes, but certain steps must be taken to ensure your device stays safe and secure while gaining full benefit from its rounded screen; we'll review five mounts below that should be set up easily with almost any size or model of curved monitor.
So fasten your seat belt: the journey into curve monitors is about to begin!
Are you Looking for a Way to Mount your Curved Monitor?
Monitor Arms Guide has the answer! We have developed an in-depth guide to help you find the best way to secure your curved display without damaging it or having it slip. Our comprehensive list includes everything from VESA mounting standards and brackets to wall mounts and portable solutions.
Whether you need something sleek that can be adjusted easily as needed or a more robust setup with multiple monitors, we've got you covered. With our knowledge about mounting curved displays safely and securely, you won't have any problems finding what works best for your needs.
Is it Fine to Mount a Curved Monitor?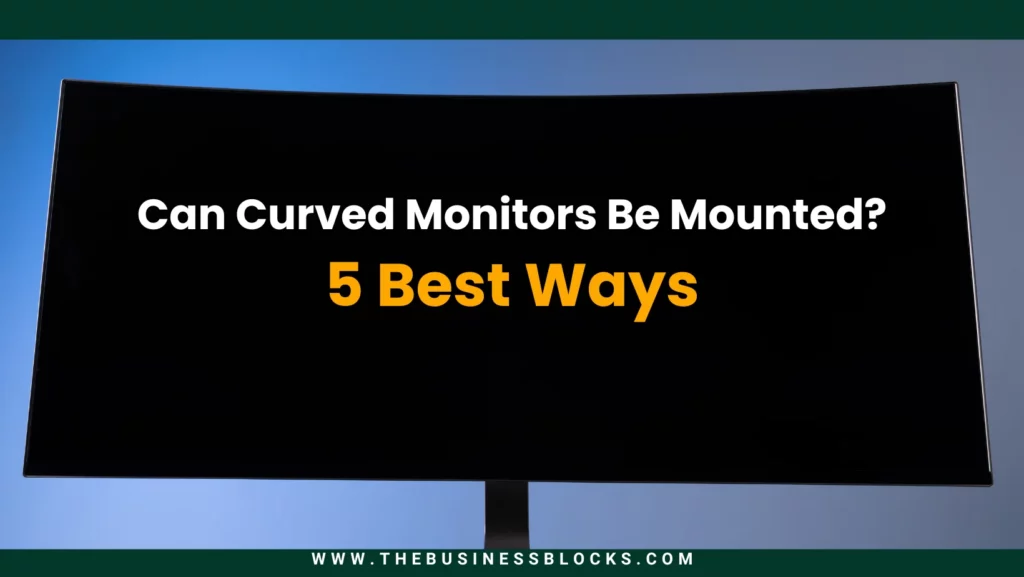 The short answer is yes, as long as you follow the proper mounting procedures for your particular model. Most manufacturers provide detailed instructions on attaching their products securely, allowing you to safely and easily mount your curved monitor without worry.
However, it's important to note that specific types of mounts might not be compatible with all curvature sizes and models. This means you should take some time to research the best mount for your particular monitor before buying and installing it.
Moreover, a curved monitor's installation process differs slightly from a flat panel. For instance, if you opt for a VESA mount, you'll need to take extra care not to over-tighten the screws, as this could cause damage to the display or mounting bracket.
Keep reading this article as we will cover the five best ways to mount your curved monitor.
How can my Curved monitor be mounted?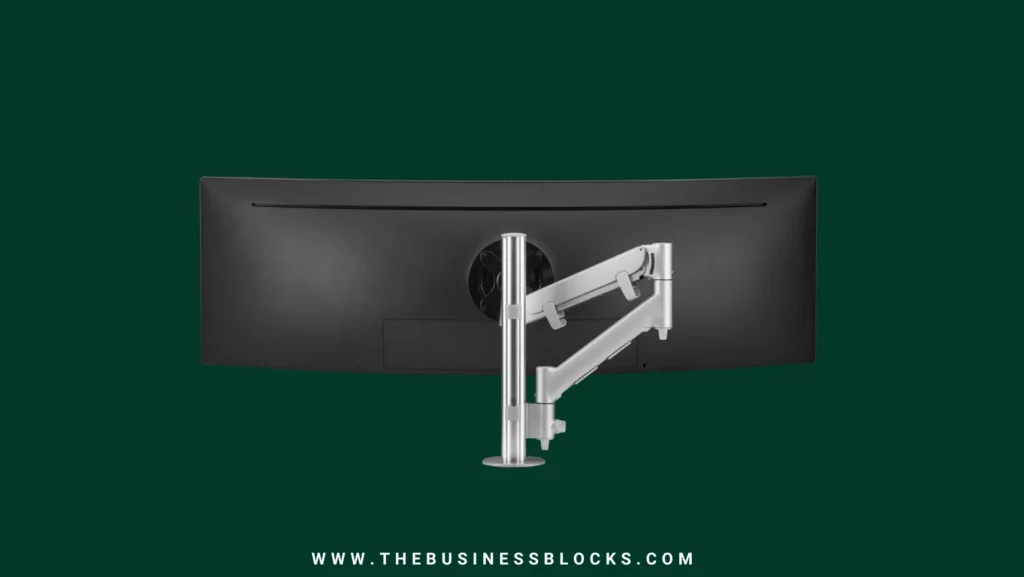 Knowing if your curved monitor can be mounted is simple. The following are some of the most important criteria to consider:
Check your monitor's weight and size according to VESA standards. This will determine what type of mount you can use with it.
Check for VESA compatibility, and examine the rear side of the monitor for four holes built into the back case. It is important to ensure that a curved monitor is mountable before buying a mounting arm.
Make sure that your monitor has a compatible mounting hole pattern. You may need an adapter for those monitors that don't meet the standard compatibility requirements. If no holes are present, mounting the monitor may be complicated.
Angles are built with VESA compatibility.
Can you Mount Any Curved Monitors?
Yes. Most of the time, you can mount any curved monitor with relative ease. However, some brands may require specific components and tools to ensure a secure fit while mounted, such as screws or clamps.
Curved monitors can be mounted if they have VESA holes in the back. You can pick a monitor arm according to the type of VESA standard holes. It can easily mount any curved monitor with a suitable mounting system for the VESA holes. However, it can be complicated if the monitor isn't designed for mounting.
Additionally, it's important to note that some curved monitors may be too large for mounting arms or wall mounts due to their size and weight – in these cases, desktop stands may be a better solution.
Is it Possible to Wall Mount, a Curved Monitor?
In the early years, mounting curved monitors on the walls were difficult due to limited compatible mounts. However, since demand for curved monitors has increased, most brands now adhere to VESA standards.
So, if you do not have a surface to place your curved monitor on, wall mounting is an ideal solution.
How to Properly Mount a Curved Monitor?
Mounting a curved monitor is easy if you have the right amount, to mount curved monitors easily and it can be done without the help of another person.
The installation will depend on the monitor model, preferred mounting position, and VESA standard type. A mounting arm must be selected accordingly to complete installation.
Mounting a Curved Monitor: 5 Best Ways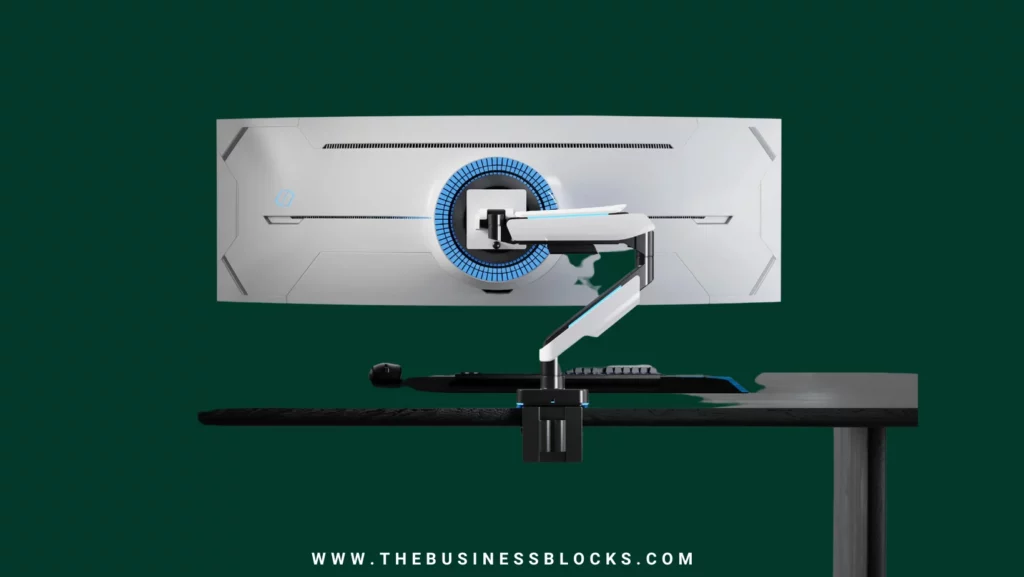 There are 5 different mounting arm types for mounting curved monitors. You can choose the one you find most suitable for your setup needs.
1. Using Desk Monitor Mounts
Desk monitor mounts are designed for quick and easy installation of curved monitors. They come with adjustable arms to ensure a snug fit on different-sized desks, allowing you to place the monitor exactly where you want it.
You can attach the mount to the desk via C-clamp fastening and attach a monitor to the arm by tightening the screws on the VESA holes. This mounting arm provides versatility, allowing easy adjustments to monitor height, angle, orientation, and depth. It is the most popular option for mounting VESA-compatible curved monitors to a desk.
Key Features:
TV Size: 35 Inches
Movement Type: Rotate, Swivel, Tilt, Articulating
Maximum Tilt Angle: 45 Degrees
Minimum Compatible Size: 13 Inches
2. Grommet Base Monitor Mount
The grommet base monitor mount is another great option for mounting curved monitors. It is highly adjustable; however, attaching the mount requires a grommet hole on the desktop.
The monitor can be easily mounted to its VESA point if one is available, and if no grommet is present, a hole must be drilled to the size of the mount base. This stable mounting arm offers a wide range of adjustability, making it perfect for adjustable workstations and desks.
Key Features:
TV Size: 49 Inches
Movement Type: Articulating
Maximum Tilt Angle: 20 Degrees
Minimum Compatible Size: 1 Inches
3. Wall Monitor Mounts
You can also mount your curved monitor to the wall with a wall-mounted arm. Wall mounting offers a great way to save desk space and keep the monitor safe from knocks or spills. The installation is relatively easy; however, you should select a mount based on your monitor's VESA standards and weight, as some arms may be unsuitable for large displays. Create a clutter-free, aesthetic workspace by attaching the curved monitor to the wall.
Remember that wall mounts require studs to be attached to the wall via drilling and tightening of screws. Lastly, connect a curved monitor to the mount through a VESA point for setup completion.
Key Features:
TV Size: 35 Inches
Movement Type: Rotate,Swivel, Tilt, Articulating
Maximum Tilt Angle: 30 Degrees
Minimum Compatible Size: 22 Inches
4. Freestanding Desk Mounts
Another way to mount a curved monitor is a freestanding desk mount. This mount type does not require permanent installation and can be moved around.
It comes with four adjustable arms, making it the perfect choice for easy setup without damaging the wall or desk surface. It also provides full flexibility regarding height, angle, orientation, and depth adjustment for optimum viewing. These mounts use a stand to sit directly on the surface of a desk, attaching the monitor to its top. Its functionality is the same as normal desk mounts, allowing users to mount curved monitors easily angles.
Key Features:
TV Size: 38 Inches
Movement Type: Height adjusting
Maximum Tilt Angle: 15 Degrees
Minimum Compatible Size: 13 Inches
5. VESA Mount Adapter Bracket
You can always use a VESA mount adapter bracket if your curved monitor isn't VESA compatible. This type of mounting arm can be used with most monitors that don't have the necessary built-in mounting holes.
It comes in different sizes and shapes to fit all kinds of curved monitors, allowing easy installation without any tools or screws. It also allows users to adjust monitor positions while providing a secure fit. Just make sure to find the right size and type of bracket for your monitor. This VESA adapter bracket fits in place of the monitor's standard stand and attaches to the mounting system for secure installation.
Key Features:
Material: Alloy Steel
Color: Black
Item Dimensions LxWxH: 2.5 x 3.9 x 10.1 inches
Fit standard VESA mounts: 75x75mm and 100x100mm.
Frequently Asked Questions About Can Curved Monitors Be Mounted: 5 Best Ways
Q: What is the best way to mount a curved monitor?
A: The best way to mount a curved monitor will depend on your needs. Generally, desk mounts are the most popular choice, allowing easy installation and adjustments. However, wall mounts also save desk space and add a sleek look to your workspace.
Q: Can any curved monitor be wall-mounted?
A: Most curved monitors are VESA compatible and can be mounted on the wall. You should select a mount based on your monitor's weight and size to ensure secure installation.
Q: Is it better to have a curved or flat monitor?
A: Curved monitors offer a more immersive viewing experience, while flat monitors have more flexibility. It depends on your preference and what you plan to use the monitor for.
Conclusion
Discovering the best way to mount your curved monitor will depend on your available resources and aesthetic preferences. Consider incorporating more than one mounting technique depending on your unique situation. Remember, VESA-compatible mounting arms are essential for installation. If your monitor is not VESA compatible, mount it securely with an adapter bracket.
Don't forget; that some mounts come with built-in monitor arms – so you won't necessarily need to purchase them separately. However, if you decide to do so, our Monitor Arms guide provides all the information you need to pick the perfect one that suits your needs. Whatever mounting method you choose for your curved monitor, as long as it's mounted safely and securely, the result should be a great visual experience for its user!