What are HR Process Basic Templates?
Knowing the basics of an HR process is important for any organization, as this can help ensure that the right policies and procedures are in place. Depending on the company and the industry, there are some general HR processes that should be followed, including onboarding, employee onboarding, performance management, and employee appreciation and employee offboarding.
Each of these processes is important to ensure the success of the organization and to ensure that the employees are happy and productive. Having the right templates in place for each of these processes can help ensure that the process is followed correctly and efficiently.
Looking for HR Process Basic Templates in a bundle?
The HR Process Basic Documents bundle provides a set of customizable templates for essential HR processes, including onboarding, performance reviews, and offboarding. This bundle includes forms, checklists, and guidelines to help HR professionals streamline their workflow, improve compliance, and enhance the employee experience.
With these templates, businesses can establish clear and efficient HR processes that support their organizational goals and boost employee engagement and retention. Download the HR Process Basics Documents bundle today to enhance your HR practices and simplify your daily operations.
You may quickly modify the template to match your unique demands and specifications because it is fully editable in Canva, Google Docs or Microsoft Word.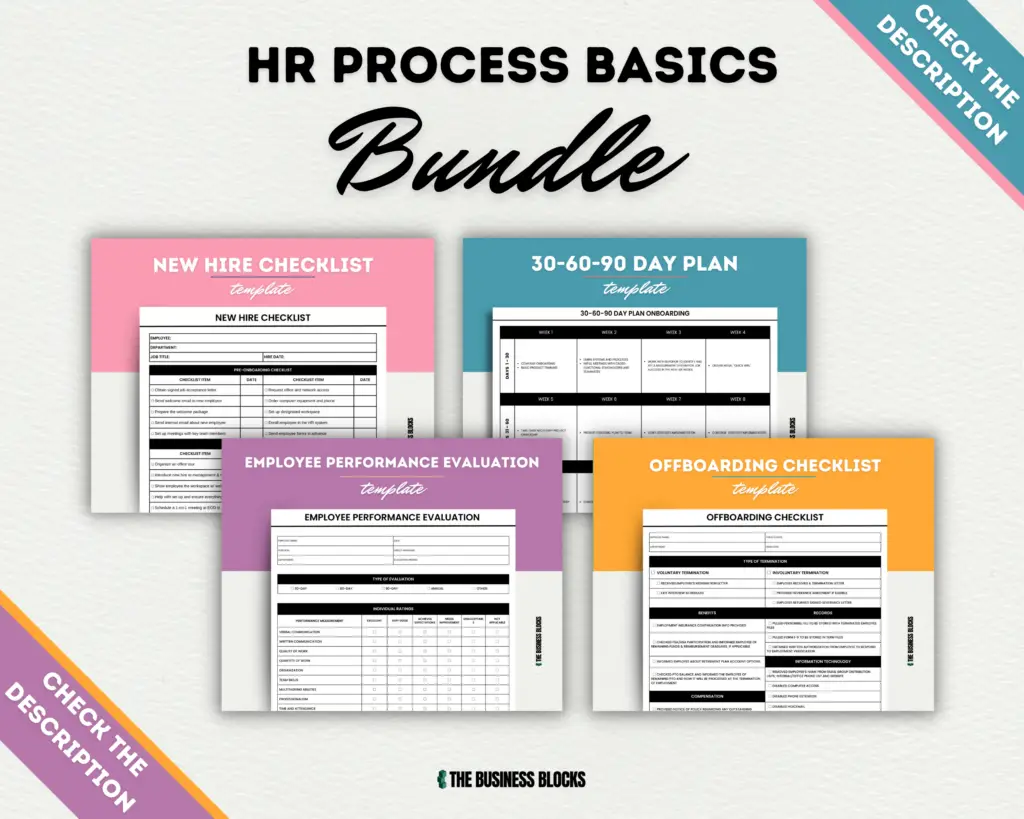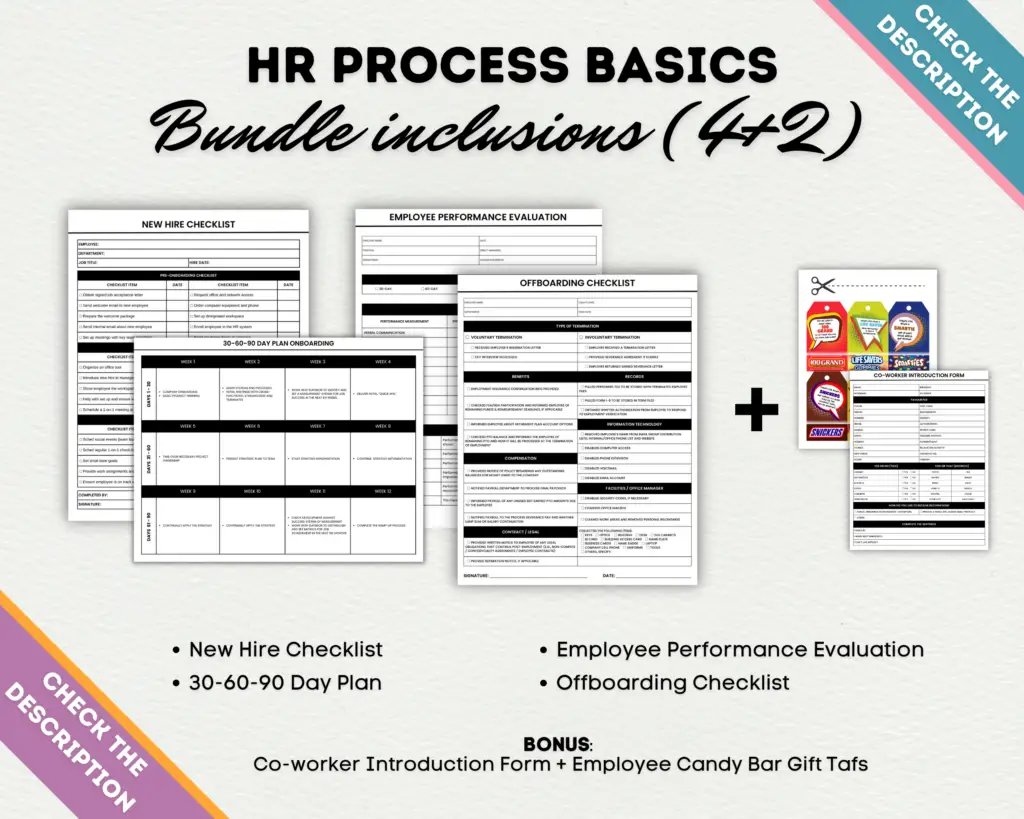 WHAT'S INCLUDED?
Your Live Canva Document for Editing in 2 sizes US Letter (8.5″x11″) and A4 Size (8.27″ x 11.69″)
Two Editable Google Doc Templates (US Letter and A4 Size), convertible to:
Two Editable Microsoft Word Templates (US Letter and A4 Size), convertible to:
Two Printable Adobe PDF Templates (US Letter and A4 Size)
TEMPLATES INCLUDED IN THE BUNDLE:
Employee Interview Questions
Job Interview Follow-up
Job Interview Checklist
Post-Job Interview Lettee
BONUS TEMPLATES:
BonusOffer of Employment
Interview Results Letter
REQUIREMENTS
Google Account (for Google Docs templates)
Microsoft Word (2007 or greater) for Windows or MacOS
Canva Account (for Canva templates)
Adobe Acrobat Reader
OTHER INFORMATION
To alter or modify these templates, some familiarity with Canva, Google Docs, or Microsoft Word is required.
No printed materials or physical products will be provided to you; this is a digital product.
The Business Blocks owns the rights of its designs. You may use the template as often as you like, but you may not share it with anybody outside of your business. Please get in touch if you need assistance with repairing or amending.
There are no returns because of the nature of the product, but we'd be happy to work with you to resolve any problems.
---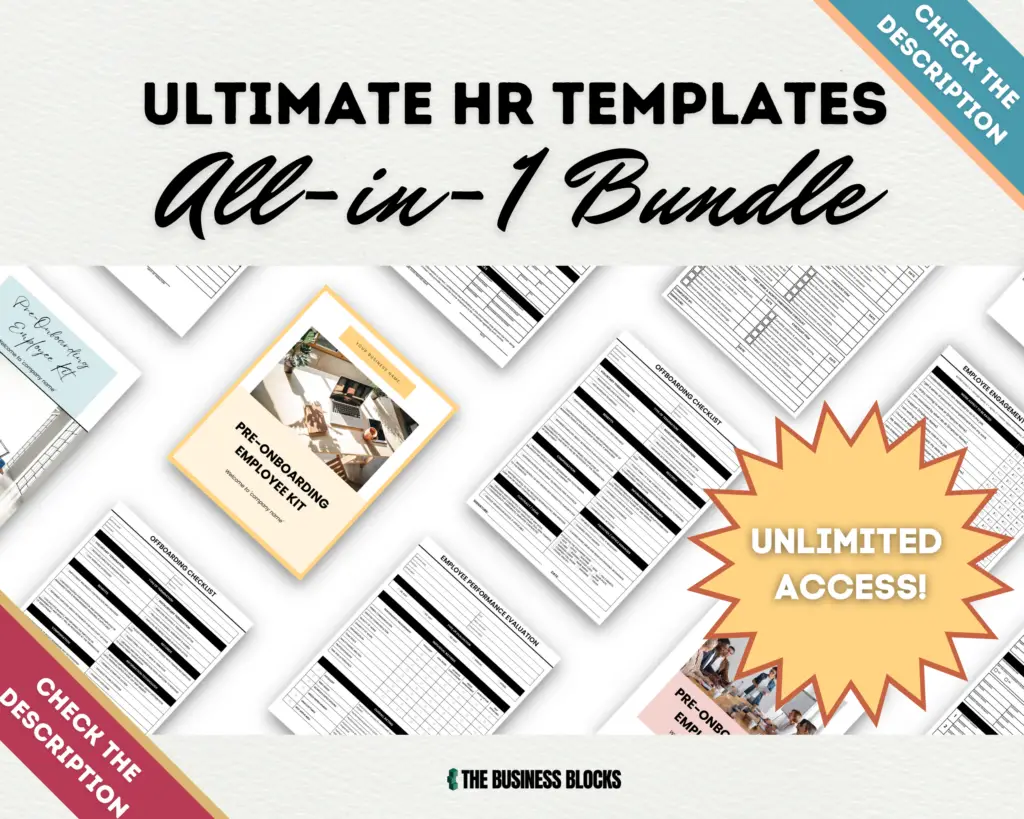 All-in-One HR Templates Bundle
With over 50 templates covering various aspects of HR, including recruitment, performance evaluation, employee benefits, and more, this All-in-One HR templates bundle provides everything needed to streamline HR operations and maintain compliance.
---
Why are HR Process Basic Templates important for your business?
They provide a solid foundation for the successful administration and management of HR-related tasks and activities. Through the use of these templates, organizations are able to ensure consistency in their HR processes and procedures, thereby making it easier and more efficient for them to handle employee-related matters.
Additionally, having the templates readily available serves as a great resource for employees, as they are able to access the necessary forms and documents quickly and easily. Overall, the HR Process Basics Templates provide businesses with the necessary tools and resources to ensure smooth operations.
Wrap Up
In conclusion, HR Process Basic Templates are invaluable for any organization, as they provide employees and employers alike with the necessary resources to ensure the successful administration and management of HR-related tasks. Furthermore, these templates can help organizations to ensure consistency in their HR processes and procedures, which can result in a more efficient and effective workforce. With the HR Process Basics Templates at hand, businesses will have the information they need to make proactive decisions about their HR operations.