A good welcome message for new employees is important for several reasons. First, it sets the tone for their employment with your company. Second, it helps them to feel like they are a part of the team from the very beginning. Third, it can help to ensure that they understand the company culture and values. Finally, it helps to build morale and motivation from the start.
Below is a template you can use for your own welcome message for your new employees:
---
[Name of Employee]
Welcome to the team! My name is [Name] and in behalf of [Company Name], I would like to be the first one to congratulate you for being part of the team. I hold the position of [position] and will be one of the few people you will be meeting with on your first day here with us!
We're so happy to have you on board. We heard great things about you and we look forward to have your creative mindset as part of the team. Of course, we understand that the first few weeks can be challenge – all new environments are. This is why our goal during your first few days is to help you get comfortable in our offices.
Rest assured that we have a few people who are assigned to give you the tour and assist you with any questions and concerns you might have as a new hire. We were all new in [Company Name] once and in order to function as a team – we need to help each other!
Here at [Company], we strive to create a safe and peaceful working environment. This is why we made sure to equip our offices with everything you can possibly need to make your stay here productive. We hope you're happy with your setup because this was built with your comfort in mind!
We're sure you already have a fairly good idea of what we do here at [Company Name]. Just a recap however, we are the leading provider of [service/product] in the [City] area. Included in our products and services are [product name] and our goal is to provide our clients with quality results each time. It is our hope to expand our reach to other territories and build our brand into trusted names in the industry. As part of the team, we hope that you share our mission and vision of this future for the Company!
As [employee position], you will be primarily concerned with the [functions of the employee]. It bears stressing that you play a vital role in how we do things here. Your functions help ensure that [insert necessity of the function here]. It is our hope that the work and dedication you've given your previous positions will extend to your work here at [Company Name].
Our Company Culture
[Company Name] is composed of a diverse number of people – all carrying brilliant and creative minds needed to perform their respective functions. In line with the company's goals, we strongly encourage all employees to treat each other with respect and civility, if not friendliness. Don't be afraid though – everyone in the team is open, friendly, and willing to help you through your first few weeks with us.
It is our hope that you will blend in beautifully within the company framework and see our team as more than just colleagues. It is our belief that a happy and relaxed working environment helps foster creativity and productivity in the office.
To promote camaraderie, we try to engage all members of team [Company Name] to conduct trust building exercises at least once a year. We try our best to accommodate any and all religions and beliefs, and we ask that you respect your officemates' personal beliefs even though it might be different from yours.
Coping with COVID
We realize that the past few years hasn't been good to all of us – but we're hoping that the months ahead will be more productive for everyone here at [Company Name]. The rules for home and office work have invariably changed due to COVID and just like you, we're doing our best to adapt to these changes.
Because of this reason, our company has added new policies to make your work easier even with the changing COVID restrictions. We encourage work from home setups when done alternately and on schedule with other employees here at [Company Name].
Unfortunately, the nature of our work makes it impossible to leave the office completely unmanned during office hours. Therefore, to keep things fair and the office operational – we have developed a scheme that allows everyone to work at home in some days and show up in the office in other days. Rest assured that you will be fairly compensated for the days when you are working from home!
Our Company Rules and Regulations
We strongly encourage that you study guidelines for new employees so that you'll know what to expect during your first few days. The guidelines contain information about working hours, expected arrival in the office, lunch breaks, dress code, and so on. While we do not have uniforms, all employees are encouraged to dress business casual four times a week.
On your first day, you will be welcomed by [Name] from Human Resources who will give you the complete tour. Any questions you might have about the status of your employment may be addressed through Human Resources. Your direct supervisor will be [Name], who will be welcoming you too on your first day! For any questions related to your functions in the office, you can address [Name] directly.
We Look Forward to Seeing You on [Date]!
That's it! Again, we're very excited to have you as part of the team. Your start date is on [Date] and we expect you at the office by [time]. To get you settled in and so you can get to know everyone in the team, we've scheduled a get-to-know-you get together on your first day. This small event will be done during lunch time and will allow you, as well as the new additions to the team, to become familiar with all the people you'll be working with. If you have any question between today and [Date], feel free to send a reply to this email or contact us through [phone number].
We strongly believe that your skills and experience will be an asset to our business. It is always a pleasure to welcome new faces who understand the value of what we do and are willing to lend their expertise in this organization.
All the best,
[Name]
---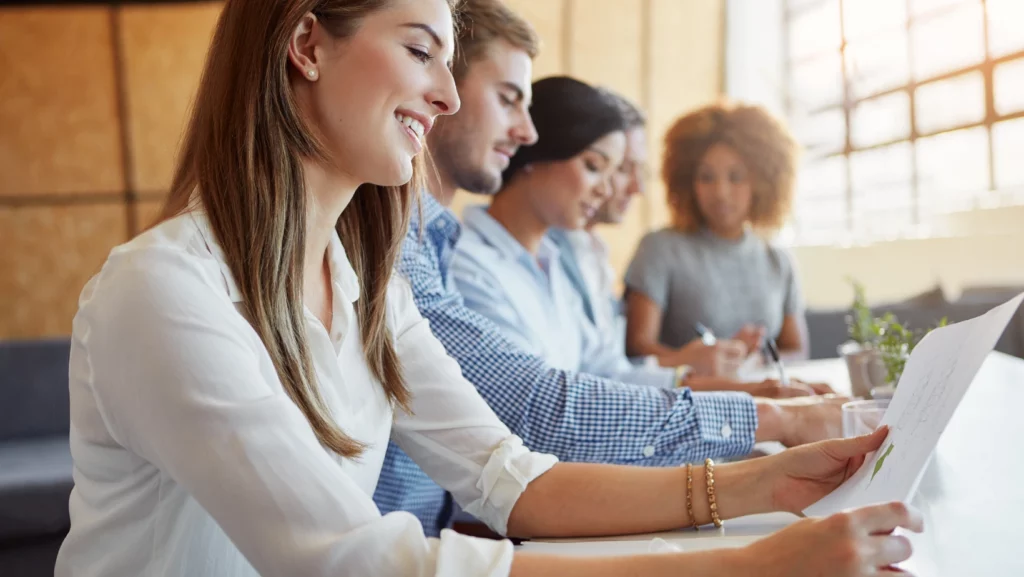 We hope that you found this example welcome message helpful. If you have any questions or concerns, please do not hesitate to contact us.