Do you like to travel? If you do, you know how important your passport is, especially if you want to travel internationally. You may not need a visa to travel to certain countries, but a passport is a must. It is not wrong to say that the passport is perhaps the most important travel document that you will ever need. It is also a very important form of identification.
In this post, we will discuss the background checks that go behind issuing a passport.
Are you looking to Apply for a Passport? 
Knowing your background is important if you're planning to travel. Especially when it comes to international destinations, a background check can help you ensure all your paperwork is up-to-date and complete, so there won't be any problems when applying for a passport or visa.
Our comprehensive background check guidelines make it easy and quick to get verified by the U.S. Department of State so that you can confidently move forward in getting ready for your travels with peace of mind.
What is a Passport?
A passport is essentially a travel document. It is issued by the Government of a country to its citizens. A passport verifies the identity as well as the nationality of the holder, usually for the purpose of international travel. Even children, babies, and pets need a passport to travel internationally. However, a passport also serves as an important identity document for many other purposes.
In appearance, a passport is a small booklet that typically contains the holder's name, date of birth, place of birth, and address. It also contains the passport number, photo, and signature of the holder beside the date of issue and date of expiry.
Depending on their status in their country, people may have different passports. For instance, diplomats traveling abroad are usually given a diplomatic passport. Similarly, Government officials generally travel on an official passport.
Nowadays many countries have started issuing the e-passport which is a regular passport but with an electronic chip embedded in the cover. All the information on the passport is also contained in the chip, providing an additional layer of security against passport fraud.
How to get a Passport?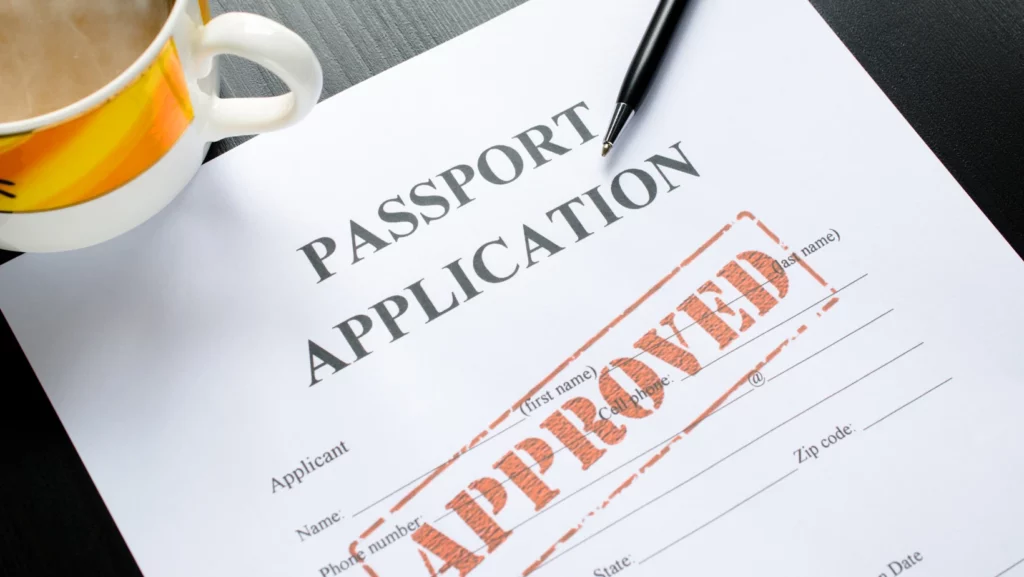 A passport is issued by the Government of a country. Depending on where you live, the process of getting a passport may vary from country to country.
For applying for a passport in the US, you must be a US citizen by birth or by naturalization. If you are over 18 years of age, you may apply for your passport yourself. For minors, the US Government only issues a passport when it has the consent of both parents.
If you want to apply for a passport in the US, you have to go through the US Dept. of State which issues and maintains all passport records.
Here are the steps you need to follow to apply for a passport in the US:
Download and fill out the relevant forms for passport application. You may also get these forms from any US post office.
Keep proof of your US citizenship handy, such as your US birth certificate, naturalization certificate, or certificate of citizenship.
Ensure you have two passport photos to submit with your application.
Pay the application fees and submit the application.
The processing times for passport applications vary throughout the year. Therefore, you may need to keep track of your application status online.
What is the Background Check for Passport like?
A background check is always performed before your passport is approved. When you travel with a passport, it is like representing your country wherever you travel. That is why the Government wants to ensure that you can be trusted with a passport to travel overseas. The Government wants to ensure that you will not engage in activities or behavior that could land you in legal trouble abroad. It would not only be a black mark on your reputation but also on your country's.
The background check for a passport ensures that whatever information you have furnished in your passport application form is true and accurate. It also includes criminal record checks and driving record checks to check if you have any driving offenses or criminal convictions in the country.
If you have ever been convicted of a felony in the US, it may be difficult for you to obtain a passport. Those convicted of treason or similar crimes are considered ineligible for a passport. Another issue that renders you ineligible for a passport is if you have had a felony conviction for drug trafficking. Misdemeanor drug convictions may also disqualify you for a passport.
People who have an outstanding warrant are also considered ineligible for a passport. Also, if you owe more than $5,000 in child support, then also you may be denied a passport.
Running a Background Check for Passport on Yourself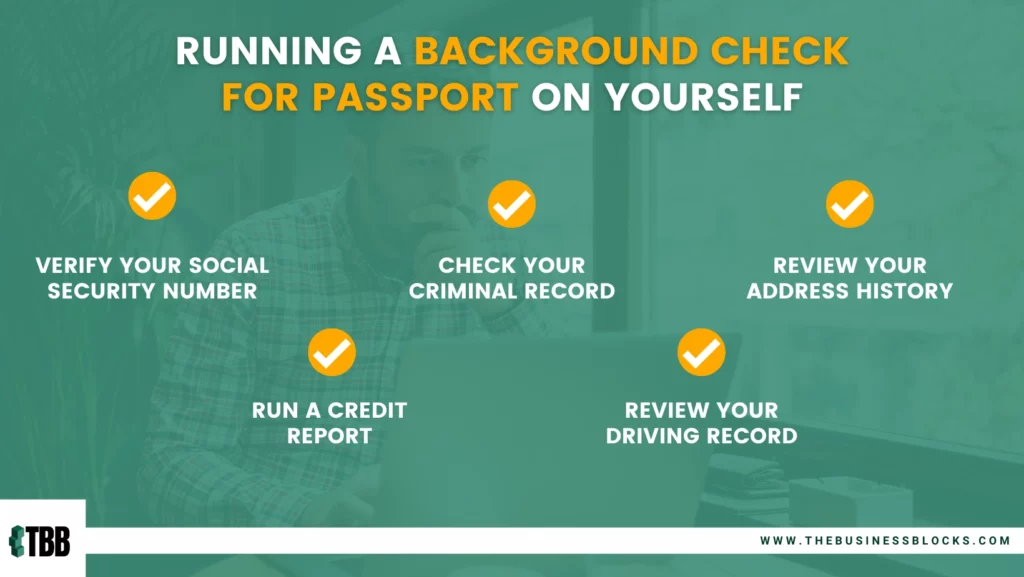 Running a background check on yourself can help you determine your eligibility for a passport. It could help you anticipate and address questions that could arise in the screening process. It may also help you uncover inaccuracies in your financial or legal records, giving you the opportunity to rectify them.
Here's how you can run a background check on yourself effectively.
Verify your Social Security Number
You have to provide your Social Security Number on your passport application. Your SSN is very important for verifying your identity. Consider creating an account on the Social Security Administration website to ensure that the information provided about you is accurate.
Run a credit report
Your credit history may also have an impact on your passport application. Your credit history is often used to assess your sense of responsibility, both financial and otherwise. Request a free credit report from any of the national credit bureaus to ensure there are no discrepancies.
Check your criminal record
If you have ever been arrested or convicted, it could significantly affect your chances of getting a passport. Review your criminal history to ensure that you are eligible for getting a passport in the first place. You cannot afford to overlook criminal records as part of a passport background check.
Review your driving record
You can get your driving record from the DMV (Dept. of Motor Vehicles) for a fee. You may also be able to get this information online or visit one of their offices. If you have had driving offenses, it may impact your chances of getting a passport.
Review your address history
When applying for a passport, you should also review your address history to ensure it is accurate. The more accurate information you provide on your application, the better the chances of getting a passport.
Remember that passport denial can occur if the background check reveals any discrepancies. For example, the Federal Controlled Substances Act criminal offenses in the past may automatically disqualify you from getting a passport. Criminal proceedings currently pending may also result in passport denial. The Federal Government may also deny or revoke the passport of any person convicted or otherwise found to have violated U.S. sanctions laws.
It is important to check in advance if you have any record of any such violations before applying for a passport.
Tips for fastening your Passport Application
If you are looking to speed up the process of getting a passport, there are a few tips you can use.
Start the application process early.
Check the required documents.
Submit accurate information
Pay close attention to deadlines.
Follow up on the status of your application regularly.
Check for any additional requirements.
You can ensure a smooth and timely passport application experience with a little preparation and research.
Frequently Asked Questions About Background Check for Passport
Q: How do the Federal Drug Laws and Criminal Background Check Impact a Passport Application?
A: Under federal law, certain drug convictions may make an applicant ineligible to receive a passport.
Q: For those with an outstanding arrest warrant, will their passport application be denied?
A: Yes, any outstanding arrest warrants and court order can result in the denial of a passport application.
Q: What other records are checked in the background check process?
A: The background check process also includes reviewing the applicant's driving record, address history, and criminal records.
Q: How does the bank secrecy act affect a passport application?
A: The Bank Secrecy Act requires financial institutions to report suspicious or illegal activities, and they may provide information on the applicant's financial history during the background check process.
Q: Why does International Border conduct a Background Check?
A: International borders may conduct background checks as part of their security measures.
Conclusion
A passport is a very important document not just for travel but for several other purposes. It opens the doors to many destinations and also serves as a travel diary. Enhance your chances of obtaining a passport by running a thorough background check yourself.