The constant need to simplify business operations and automate organization processes has boosted the proliferation, widespread use, and support for low code development platforms.
These software development tools employ the use of visual editors, graphic user interfaces and drag and drag-and-drop functions in designing and developing business solutions, thus allowing a company's technical team with minimal technical and coding proficiency to come up with applications that could be applied to a host of business functions and requirements.
In the open source low code software niche, price and flexibility are key and they make it easy to build simple solutions for the authors of these applications, where coding knowledge is optional.
REI3 is a noteworthy addition to the open-source low-code development platform domain. Implemented on modern web technologies, REI3 is a powerful and agile business management software and low-code application builder. 
What is REI3?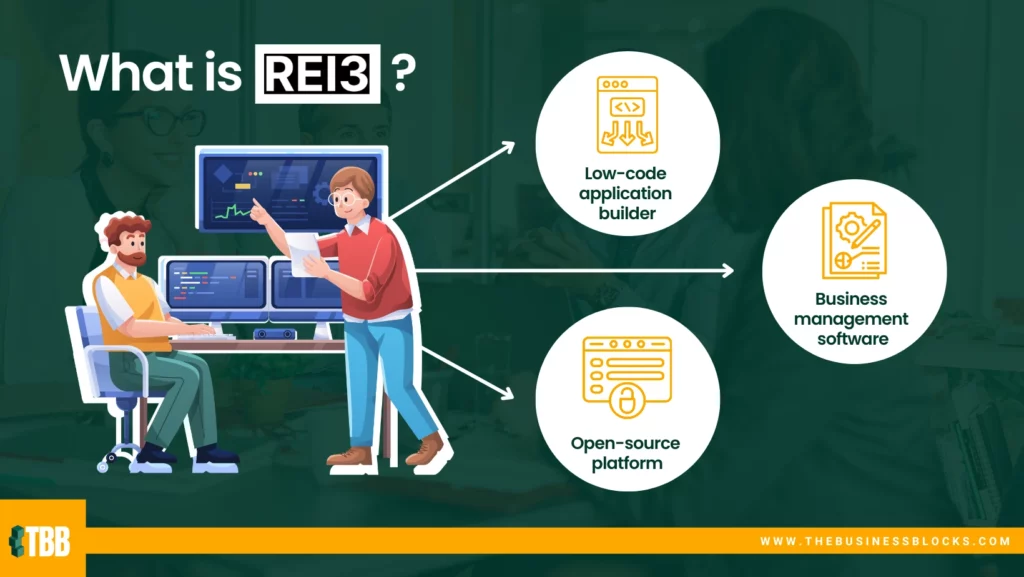 REI3 is a low-code application builder that allows users to use and implement pre-installed applications for out-of-the-box deployment or design and build bespoke utilities.
Application authors have the option of keeping their configured utilities local for private use within their organizations or teams or the developed applications may be published publicly to be used within the REI3 community.
This platform is open-source and fosters sharing, and collaboration through an expandable repository of tools and solutions that can be implemented incrementally and reiteratively. Users may extend the features of existing applications or rehash and reuse existing data structures and shared user interfaces.
As more and more authors build utilities and share their developed tools online, the library of readily available software continues to expand and grow, offering a wide array of business applications for organizations.
How does REI3 work?
REI3 is a fairly new and powerful tool that allows organizations to rapidly build and deploy business solutions through an open-source and free low-code platform. With its low-code framework, developers may easily and swiftly design, develop, and deploy robust solutions. 
This development platform has multi-platform support whereby users can use it as a cloud-based platform or through client-based on-premise installation. When it comes to OS support, both Windows and Linux systems are supported. This platform can be easily installed and deployed on servers, with very few dependencies.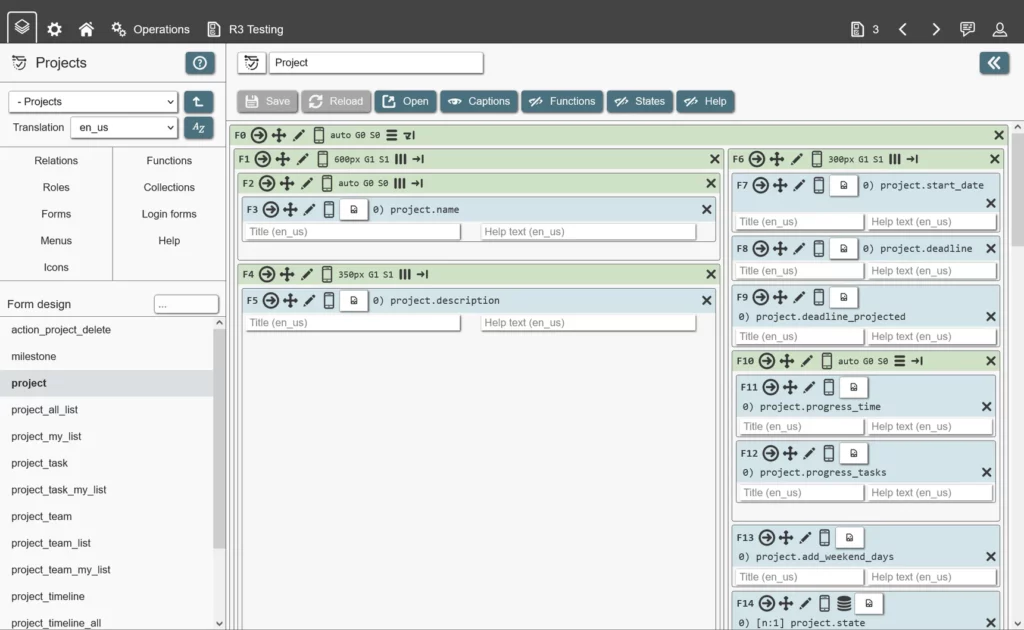 The REI3 builder is included in all the releases of the platform (so no need to download it separately). It is a solutions designer and application builder powered by REI3's proprietary framework and is this platform's graphical application build utility. 
REI3 provides the option of using an installer or a portable version of the business management software. Two deployment models are available: dedicated mode, which requires a pre-existing PostgreSQL database, and stand-alone mode in which an integrated database system is installed automatically.
As mentioned previously, REI3 features a global library of solutions that are ready for deployment. Users of the platform can choose from a myriad of applications like task and project management, asset and device control, employee time tracking, and other basic business management needs. In addition to these, useful and popular tools such as password control/manager, bugs and ticket management, knowledge platform, employee time-off management, shift planner, and an HRIS tool are ready for quick implementation and deployment.
Like most low-code platforms, solutions that can be built with REI3 are data-driven and database connectivity is a prerequisite. Most of the applications are focused on creating and maintaining forms that are meant for the creation, deletion, update, and viewing of data extracted from or saved into a relational database.
Since REI3 is open-source, the existing applications from the repository can also be used as templates and guides in building and creating new applications. Users may build on top of existing and working tools and expand on the features that these provide.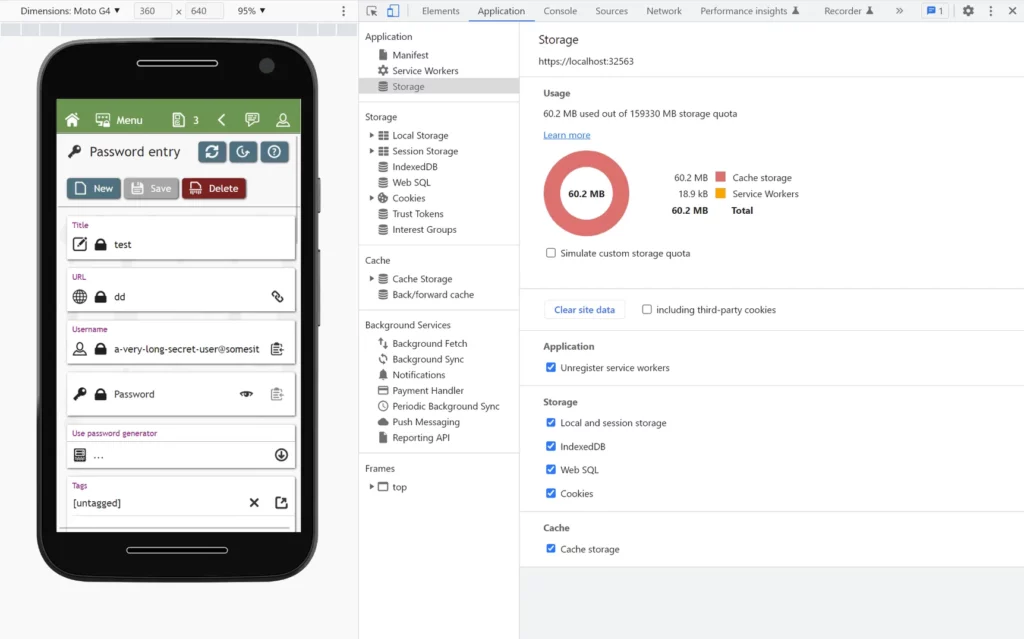 REI3 supports building web-based and mobile applications. Developers have the liberty to design the user interface and experience; the platform provides the tools for web deployment and smart device deployment.
REI3's builder allows application authors to create a full-blown data management system, with different components for data entry to choose from, from top and sidebar components, menu trees, dashboard components, and other input fields such as text boxes, image, and file upload utilities and data grids. 
This tool provides an easy means of implementing data manipulation functions as well as a guided means of controlling navigation in the applications that are being developed. Moreover, it also allows the incorporation of email processing and data encryption.
What makes this tool even more powerful is the option to build and incorporate functions and procedures through PostgreSQL-coded components that extend the capabilities of the applications. With the use of program snippets, conditional processing and business logic may be applied to the business solutions adding another layer of complexity and enhancing the applications' functionality.
How can REI3 be integrated with other platforms?
Although REI3 does not support integrations with other platforms, it comes with APIs that developers can utilize to further extend the tool's capabilities. 
It also supports the linkage of applications to local intranets and LDAP. REI3 supports data import and export through CSV sheets.
Can I use REI3 for free? How much does REI3 cost?
REI3 is free, open-source, and expandable but it does have two pricing schemes: the free or basic version and the professional version. Implementation of the tool almost has no operating cost, aside from database and server costs. For small organizations that would require basic functions and applications, the basic software would suffice.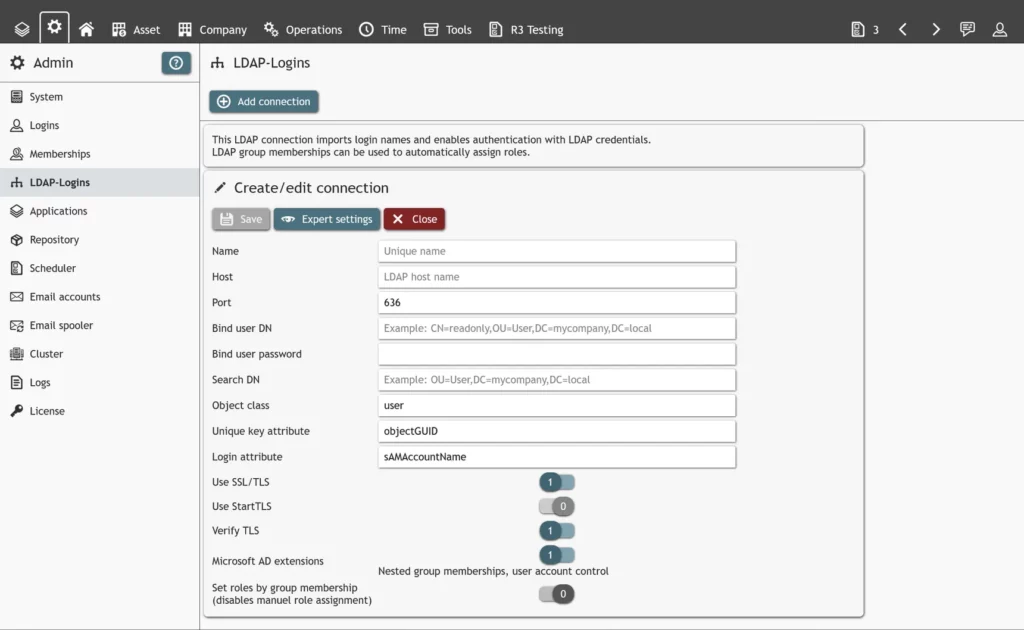 With the professional version, LDAP access is available. The look and feel of the platform can also be customized and immediate customer service support may be guaranteed.
The price range under the professional plan also varies depending on the user count. 
For businesses with 10 or fewer users, the subscription rate is €5,00 per user per month. 
For companies with 26-50 employees, the subscription rate is €4,00 per user per month. 
For organizations with more than 250 employees, the subscription rate is €2,50 per user per month.
You can see their up-to-date pricing here – REI3 Services Pricing
Who is REI3 for?
REI3 is ideal for small- to medium-sized enterprises. For basic functionalities, ready-to-use applications are already available and can be deployed with vanilla implementation. However, for more complex functions, resources with basic coding skills are required.
The Pros and Cons of REI3:
Here are the factors that make REI3 a viable option as a development platform:
The platform is free to use and is open-source with no user limit.
Applications developed through the platform are lean and not resource-heavy; they are automatically compressed and cached.
REI3's builder is easy to set up.
Users can benefit from regular updates and releases that extend the platform's capabilities.
Applications can be exported, transferred into other instances, and shared within the REI3 community.
On the flip side, here are some drawbacks of the platform:
The interface of the builder can sometimes become clunky depending on the server.
For complex logic and business solutions, coding with PostgreSQL is needed.
The platform is relatively new to the low-code sphere.
The Wrap
REI3 is a viable choice when it comes to electing low-code development platforms for small- to medium-sized organizations. With its open source and free implementation scheme, it is an ideal solution for organizations that are trying to come up with in-house solutions without going for expensive software that will require time-consuming implementation timelines. 
Although it is fairly new to the low-code scene, the number of users is growing. The idea of offering a global repository of tools and applications designed and built through this business management software is an inspired touch, and it fosters collaboration, knowledge sharing, and an agile methodology of coming up with solutions for daily business and organizational needs.
Sharing solutions that work helps other users discover this platform, easily and rapidly learn from the knowledge and experience of other users as well as provide the option and opportunity to build on what is already working and expand the application base's capabilities.
Most of the solutions that are already available are excellent solutions for most of the basic requirements for operations and can be utilized by users to help their businesses scale up and grow.
For basic processes and day-to-day requirements, what REI3 has to offer is more than enough, and it is a powerful and well-thought-of business management software that may empower any organization to forego traditional software procurement and delving into the world of low code.
One caveat is that in order to maximize the use of this platform, minimal technical proficiency will still be required, especially when it comes to database administration and implementation of business logic through PL/SQL.
There are cases wherein out-of-the-box implementation of existing applications might not be enough to cover the needs of an organization. The fully graphic user interface of the builder kind of makes up for this limitation, and this could make it easy for users to tinker with the business management software.
After all, there could be organizations that have successfully implemented an application that can be shared and implemented by another organization. This is what sets this platform apart. 
With its use of a collaborative development environment, REI3 empowers and supports businesses in supporting each other by sharing ideas on how to design, develop, use, and maximize applications through a single platform.