Gone are the days when businesses could thrive without having an online presence. Today, even imagining this is not possible. As more and more people start doing everything online, you need to have an online presence to attract your target audience, build long-term brand loyalty, and boost conversions.
This is where Search Engine Optimization or SEO comes into the picture. SEO is one of the most crucial and powerful elements of online marketing. It includes the methods and tricks that can enhance your website's overall visibility and searchability in an organic manner. As a modern-day business owner, you have your SEO game on point, you have already won half of the battle!
In this blog post, we will walk you through five reasons why having a strong SEO strategy is critical for your business's success.
Let's get started!
5 reasons why your business needs a robust and effective SEO strategy
Are you dealing with high bounce rates? Are your conversion rates at an all-time low? Do you struggle to make your website appear on the first page of Google's SERPs?
If yes, then there are flaws in your SEO strategy. It is preventing you from reaching your full potential and making you leave money on the table.
It is crucial to work on your SEO strategy (or create one if you haven't already!) With a robust SEO strategy, you can improve your site's rankings, thereby increasing the number and quality of your website traffic.
Here are the five reasons why your business needs a strong SEO strategy for growth.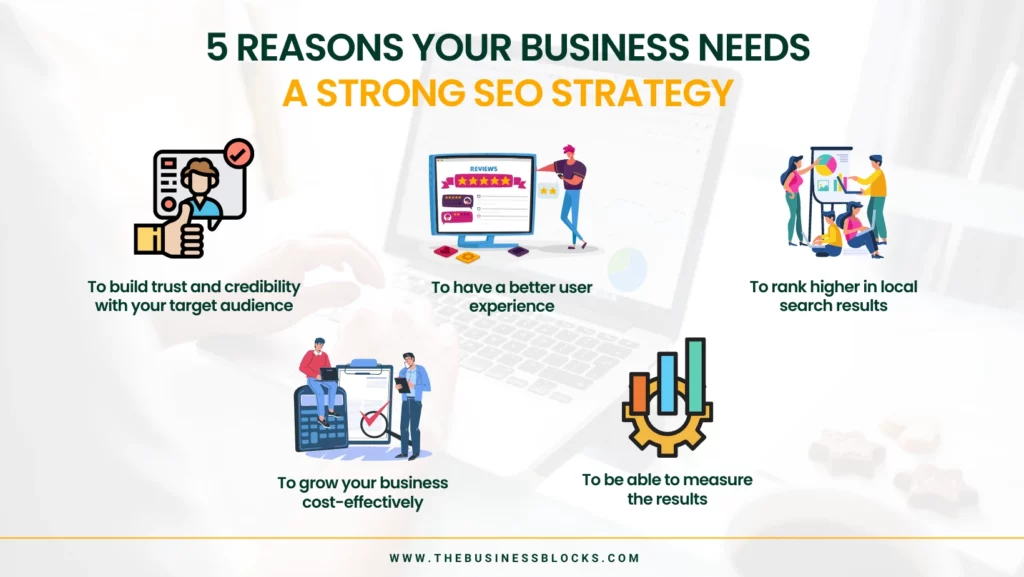 1. It helps you build trust and credibility with your target audience
If you want to have a long-term business relationship with your customers, building brand loyalty, trust, and credibility should be your priority. And SEO is necessary for achieving that.
A website that ranks on the first few spots on a search engine's result page is considered more trustworthy and more credible than the one hidden on the second page. In fact, 75% of online searchers never scroll past the first page of their Google search results.
Viewers are more likely to click on a top-ranking website and believe the information presented there. Thus, business owners need to focus on their website's SEO, do keyword research, create high-quality content, and optimize their pages to rank their website higher.
2. Good SEO is necessary for a better user experience
Most marketers and business owners focus on the searchability and visibility aspect of SEO. However, they often undermine the important role it plays in enhancing the user experience of your website. Google now focuses on the kind of user experience your site delivers before ranking it.
A strong SEO strategy can help you optimize your website for both search engines and users. It includes improving your website's speed, making navigation easy, and providing high-quality and relevant content for your target audience. All these factors contribute to a positive user experience, which is essential for attracting the right customers and retaining them.
3. A strong SEO strategy helps you rank higher in local search results
A strong SEO strategy is necessary for ranking higher on local searches. Today, more and more people are searching for terms like "bakery near me" or "best salons near me." This means a large part of your customers is local people. So, having your local SEO game on point is crucial.
Local SEO strategies can like making a Google My Business account, optimizing your listings, using location-based keywords in your website's content and meta tags, etc., can boost your visibility. On top of this, you can also request your customers to write reviews for your business on Google and Yelp can to improve your local credibility.
In case you are looking for a reliable service that can assist you with local SEO, SEOHero is here to help you. SEOHero is the leading SEO service in Hong Kong and have been helping businesses ace their SEO game for years.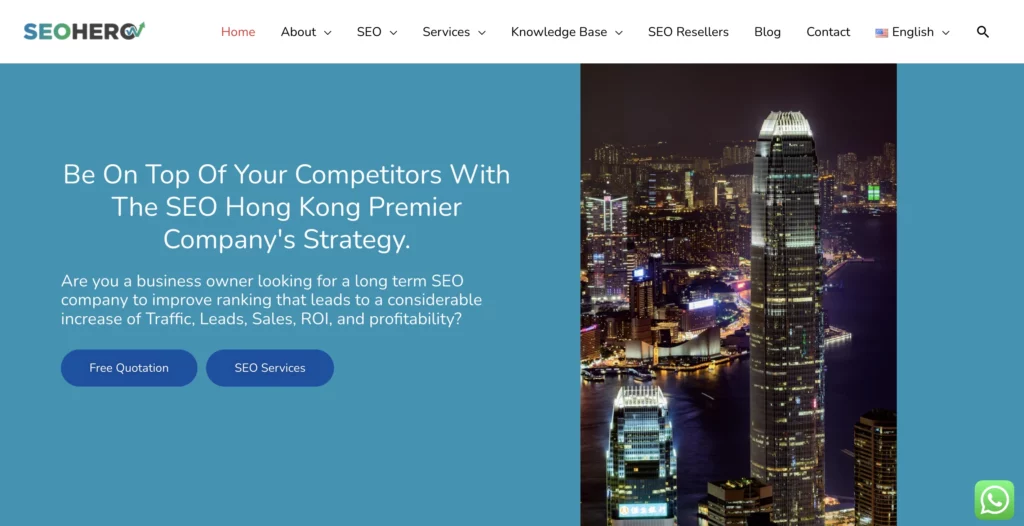 SEOHero's Local SEO experts can help you target any geographic area and generate maximum website traffic organically. From gaining better visibility to staying ahead of your competitors, they can help you with all of your local SEO goals.
4. Having a strong SEO strategy is the most cost-effective way to grow your business
One of the best things about SEO is that it is incredibly cost-effective. Unlike social media ads or paid marketing, SEO doesn't cost a lot of money. It's more about your skills and the way you implement your strategies.
Sure, you will have to spend money on SEO, but it's more of an investment that will give you long-term results and continuous benefits.
5. You will be able to measure the results
Another reason your business needs to invest in SEO and build an SEO strategy is that you can get measurable results. For example, you can check your rankings, your competitor's rankings, your traffic, the keywords your target audience is using to search online, and so much more.
There are a large variety of online tools like Google Analytics that offer you invaluable information about your website and its organic performance. You can drill down every piece of information to a deeper level and understand your audience in a better way.
For example, the tool allows you to analyze the buyer journey of each of your website visitors. You can check the keywords they have used, the pages they have visited, and what actions they took.
Conclusion
Today, having a strong SEO strategy is no longer a choice. It has become a necessity. By implementing a strong strategic approach to SEO, you can attract more organic traffic to your website, gain a competitive advantage, improve user experience, and measure your results.
So, consider the above-mentioned reason and start developing your strong SEO strategy today! After all, being on the second page of Google SERPs is not an option, right?