It's easy to underestimate the importance of choosing the right monitor arm. It may seem like just a minor piece of equipment, but it's essential for achieving optimal workspace ergonomics – ensuring you can work comfortably and productively throughout the day. Whether outfitting an office or a home workspace, selecting the best option from the many available monitor arms isn't always simple.
To help make your decision easier, we've put together this guide discussing 12 things to consider when selecting monitor arms. In it, we'll cover details including affordability, adjustability options, and more so that when it comes time to choose one for yourself – whether it's directly or as part of a multipurpose standing desk – you'll be ready with all the information necessary to make an informed purchase carefully tailored to fit your needs!
Do you spend long hours in Front of a Computer at Work?
The right monitor arm can help reduce your pain while increasing productivity. Monitor Arms Guide provides 12 things to consider when choosing the right monitor arm so that you can make an informed decision. We'll break down each component of a quality product into easy-to-understand explanations – from different types of monitor arms, mount compatibility, adjustability options, and more!
Take your time with all the choices – we've got tips on everything you need to find a perfect match for your office space. With our guide, you can create a comfortable workspace that supports maximum efficiency!
Read our must-know tips before selecting the best monitor arm for your needs today on Monitor Arms Guide!
Choosing The Right Monitor Arm: 12 Things to Consider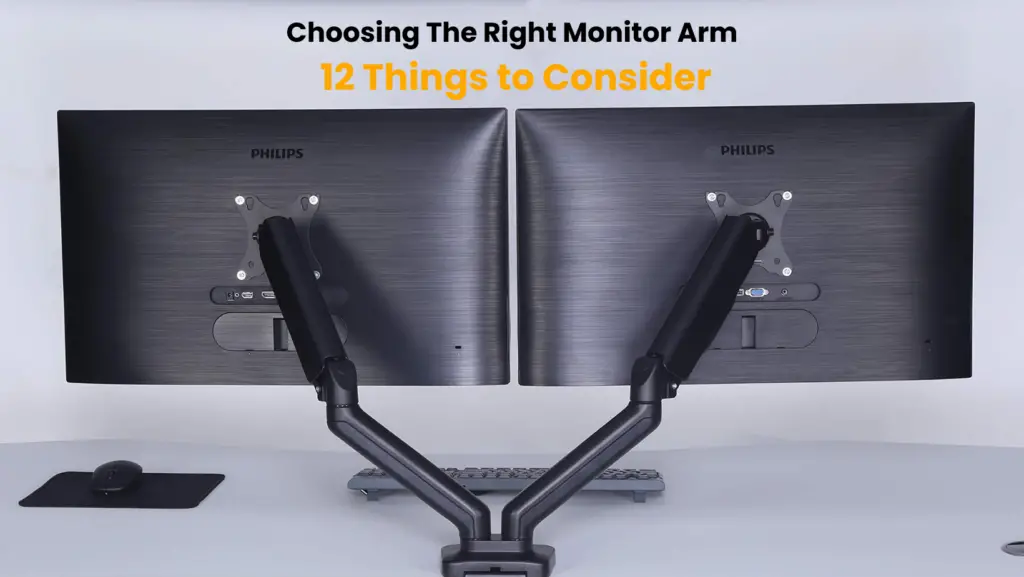 Before choosing the right monitor arm for you, there are certain factors to consider. Consider the following and decide on the right fit for your workspace.
Here are the 12 points that you need to consider when selecting the right monitor arm:
1. Ensure Your Monitor is VESA Compatible
The VESA mount standard ensures compatibility between monitor arms and monitors. If your monitor does not have a VESA-compatible mount, you won't be able to attach it to a monitor arm. To see if your monitor is compatible, simply check the back of it for four holes arranged in either a square or rectangular shape.
If your monitor is not VESA compatible, you can purchase a separate adapter plate to use with it. Different sizes and types of plates are available, so make sure you choose the right one for your monitor and arm combination. Since most monitor arms are designed to support screens up to 27 inches, you may need a different type of mount if your monitor is larger than this.
2. Consider the Size of the Monitor
When buying a monitor arm, it's important to consider the size of your workspace and your monitor. If you have limited space, consider an adjustable single-arm mount; if you need more flexibility and support for a larger monitor, opt for a dual-arm model that can be adjusted to different angles.
Additionally, some arms are designed specifically for monitors up to a certain size. Make sure your choice is compatible with your monitor type and size. Ensuring the supported size range is adequate can help ensure your monitor arm will last for years. You can do this by measuring the depth and width of your monitor to determine whether it falls within the supported range for the arm you're considering.
3. Consider the Weight of the Monitor
Like with size, it's important to make sure your monitor arm can support your monitor's weight. Most single-arm models have a maximum weight capacity between 10 and 20 lbs, while dual-arm mounts typically support heavier monitors up to 30 or 40 lbs.
You may need a specialized mount to support heavy weights if you have a particularly heavy monitor. To be sure, check the specifications of your monitor arm to make sure it is compatible with your monitor's weight and size before making a purchase. For example, your monitor weighs 22 lbs, while the monitor arm you're considering is only rated for under 22 lbs. In this case, you'd need to look for a different option with higher support capacity.
4. The Type of Monitor Mount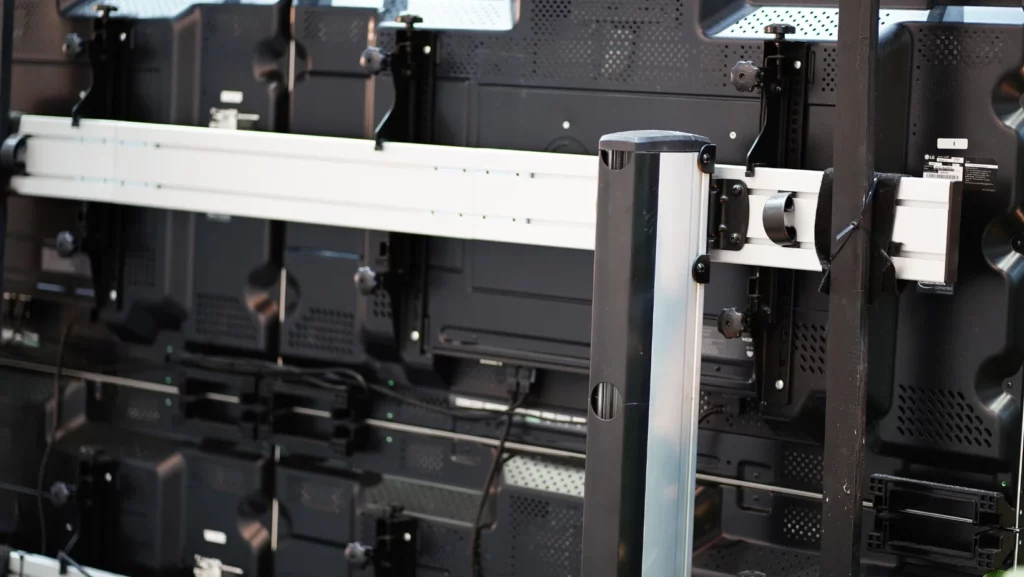 Several types of monitor mounts available in the market differ in adjustment in height, depth, tilt/swivel, and rotation.
Monitor arms generally fall under these categories:
Gas monitor arms are equipped with a pneumatic cylinder mechanism which enables users to move the arms up and down. The cylinder mechanism allows quick and efficient adjustment of the arm's height, depth, and angle. Gas monitor arms provide an ergonomic solution that is fast, efficient, and versatile.
Spring monitor arms have spring mechanisms that allow users to move their arms easily. These mounts are also efficient and cost-effective.
Post-monitor arms support monitors with a bracket allowing users to tilt and swivel. Its bracket is attached to a main pole which needs manual adjustment to raise or lower the monitor's height.
Electric monitor arms allow adjustable monitor height with just a button press and standing desks.
Comparing these different types, Monitor arms come in different types with varying prices; pole arms are the most economical for minimal tilt/swivel function, spring arms offer flexibility on a budget, and gas arms provide reliable stability and adjustment for multiple monitors.
5. Determine the Mounting Position
When choosing a monitor arm, you'll need to consider the mounting position. Monitor arms can be mounted on the wall or desk via a clamp or grommet hole. Wall mounts free up valuable desk space and protects your monitors from dust and spills. At the same time, grommet and clamp mounts are more discreet solutions that provide easy access to adjusting your monitors' position.
Once you've decided on the type of mount and mounting position, it's time to consider the adjustability options the monitor arm offers. Most monitor arms offer 360-degree rotation, a 180-degree tilt range, and pan and swivel adjustments. Depending on your needs and setup, some of these features may be more important than others.
6. Look Out for the Mounting Option
There are three options, C-clamp, a Grommet screw, and a freestanding base. These mountings serve different purposes and ensure how complex fastening a monitor arm to a desk will be. For strong and sturdy table materials, a C-clamp option is the best choice for mounting a monitor arm to the desk. An anchor screw provides the most stabilized way to mount monitors but requires a pre-drilled cable management hole on the desk. Freestanding base options provide no fastening but make the mount less versatile in monitoring motion and less stable.
C-clamp-based monitor arms are best suited for metal or wooden desks. In contrast, Grommet base monitor arms are ideal for desks with pre-drilled cable management holes, and Freestanding base monitor arms are best suited for glass desks due to their lack of grommet and thinner profile.
7. Consider the Desk Tabletop Material
It is best to consider the material of the desk table top when purchasing a monitor arm. The strength and stability of a monitor mount greatly depend on the type and thickness of the surfaces it is attached to. Mounts built for hardwood desks may not be suitable for glass or laminated tables.
To ensure your purchase is compatible with all types of workstations, look for arms designed to work with all tabletop materials. This will ensure your monitor arm is durable and secure and won't damage the desk surface.
8. Number of Monitors You Want to Use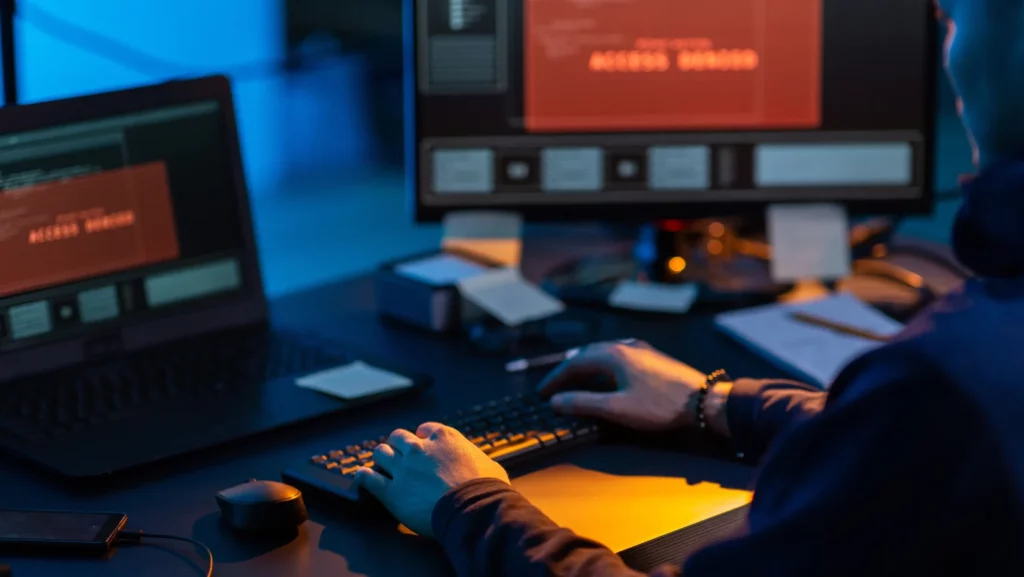 Another important factor is the number of monitors you want to use. Most single-arm monitor arms can only support one monitor, while some dual-arm models allow for two or even three monitors.
If you're looking for a mount that supports multiple monitors, make sure your choice has the capacity and flexibility to accommodate your desired setup. Consider options like adjustable arms, tilt/swivel configurations, and the weight capacity of each arm. These features will ensure your mount can support multiple monitors while also providing flexibility for ergonomic positioning.
9. Consider The Size of Your Desk
Another important factor to consider is the size of your desk. Most monitor mounts are designed for standard-sized surfaces, but some models are also available in larger sizes that accommodate wider desks or multiple monitors.
If you want to mount two or more monitors on a single arm, ensure it has enough reach to support all your displays without compromising ergonomics. Consider the reach and height of the arm as well as the size and weight capacity of your monitors. It's also important to ensure your desk can support the monitor arm, as some mounts require additional mounting hardware that may not be included.
10. Space Behind Your Desk Setup
There should be some free space behind your computer desk. The reason is that monitor arms need space to move up and down. The best way to figure out the necessary space when buying a mount is to measure from the wall behind your desk until you reach the back of your monitor. This is especially important if you're looking for a single arm that supports multiple monitors.
It is also useful to consider how much of a difference the monitor arm will make to your workspace. Will it provide more space on your desk? Will it give you better access to ports and cables? Does the mount fit in with your setup's overall look and feel? The answers to these questions will help ensure your purchase is worth its cost.
11. Look for Additional Features
When shopping for a monitor arm, looking at additional features is important. Some mounts come with built-in cable management systems or quick-release mechanisms that make it easy to switch between monitors. Others may have integrated USB ports, wireless charging capabilities, and other handy features.
Be sure to check out the accessories included with your mount of choice. Many monitor arms come with various accessories, such as mounting hardware, VESA plates, and grommets, to help make setup easier and ensure compatibility with any type of desk. Consider all the features that are included in your purchase before making a decision.
12. Don't Go Beyond Your Budget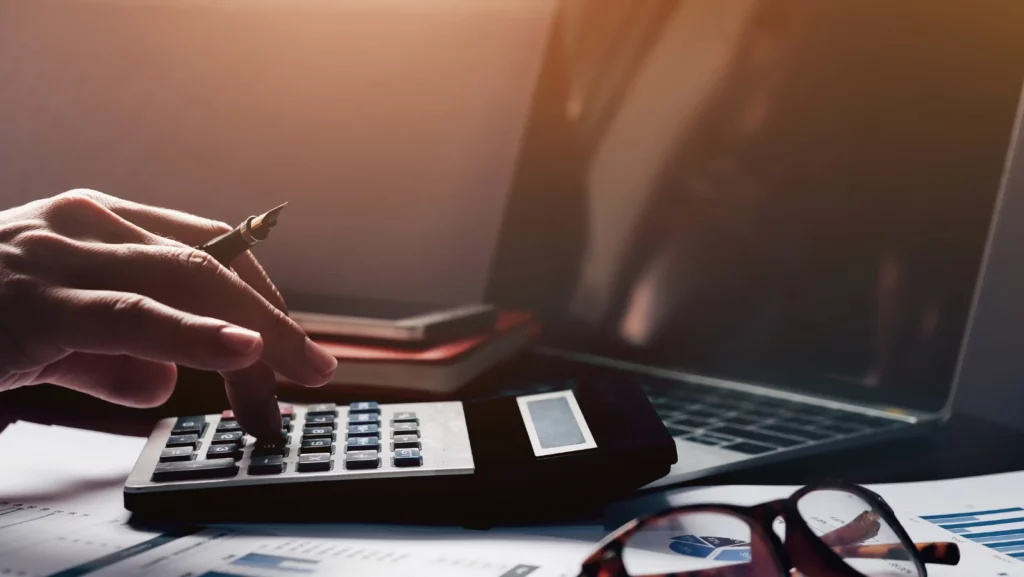 Finally, make sure to consider your budget. Monitor arms range in price from affordable models that can accommodate basic needs to more expensive options that provide a range of adjustable features and capabilities. Consider what features you need and the type of mount best suited for your desk before purchasing.
Sticking with an entry-level monitor arm is more than adequate for most people. However, if you're looking to invest in a high-end mount with all the bells and whistles, it pays to research your options and compare prices. This will help ensure you don't exceed your budget while still getting the features and performance you need from your monitor arm.
Frequently Asked Questions About 12 Things to Consider When Choosing The Right Monitor Arm
Q: What is the difference between a C-clamp and a Grommet base monitor arm?
A: C-clamp mounts attach to the edge of a desk, while Grommet base mountings use an anchor screw to fasten directly into a desk's pre-drilled cable management hole.
Q: How important is the desk tabletop material when choosing a monitor arm?
A: The strength and stability of a monitor mount greatly depend on the type and thickness of the surfaces it is attached to. Make sure to pick an arm that is designed for your specific desk material to ensure proper mounting.
Q: Does my desk need pre-drilled holes for a Grommet base monitor arm?
A: Most Grommet base mountings require a pre-drilled hole to attach to the desk's surface. Freestanding mountings are best suited for glass and laminated tables as they don't require drilling.
Conclusion
Choosing the right monitor arm can be difficult, but following these 12 steps will help you make an informed and effective choice. Consider your workspace aesthetic and needs, the size of your desk and monitor, how adjustable you need the arm, what kind of fixings or mounts it should have, and how much weight your arm needs to support before buying.
Additionally, consider any specific ergonomic requirements, how much assembly is involved in the installation, and whether there are options for multi-monitor setups.
Finally, look for a monitor arm with effortless useability that can fit into a tight space without making too many adjustments. Whatever you decide for your setup, take some time out of your day to explore all the options available and determine which monitor arm could work best in providing you with convenience and portability for optimal workspace efficiency. Hope you find the perfect monitor arm for you!