Regarding office organization, the right wall or desk mount can make all the difference. Whether you're looking to declutter your desk of cables and wires, ergonomically adjust your working height, or give yourself more storage options for everyday items – choosing the right wall mount or desk mount is essential. But with so many different types available today, how do you know which is best?
Here we'll explore the Pros and Cons of wall and desk mounts and their benefits to help you find the perfect fit for your needs!
Are you Looking for The Perfect Monitor Arm?
At Monitor Arms Guide, we have researched wall and desk mounts to help you find what works best for your space. Maximizing ergonomic comfort is essential when purchasing a monitor arm, so our reviews cover everything from construction material to mounting options.
Our comprehensive guide will enable you to make a confident purchase decision that suits your budget and lifestyle needs. From basic setups to multi-monitor systems, our experts highlight product specifications and customer ratings in each review — saving you time in finding exactly what fits your workspace's requirements.
Choosing between a Wall Mount or Desk Mount: What's Best for Your Setup?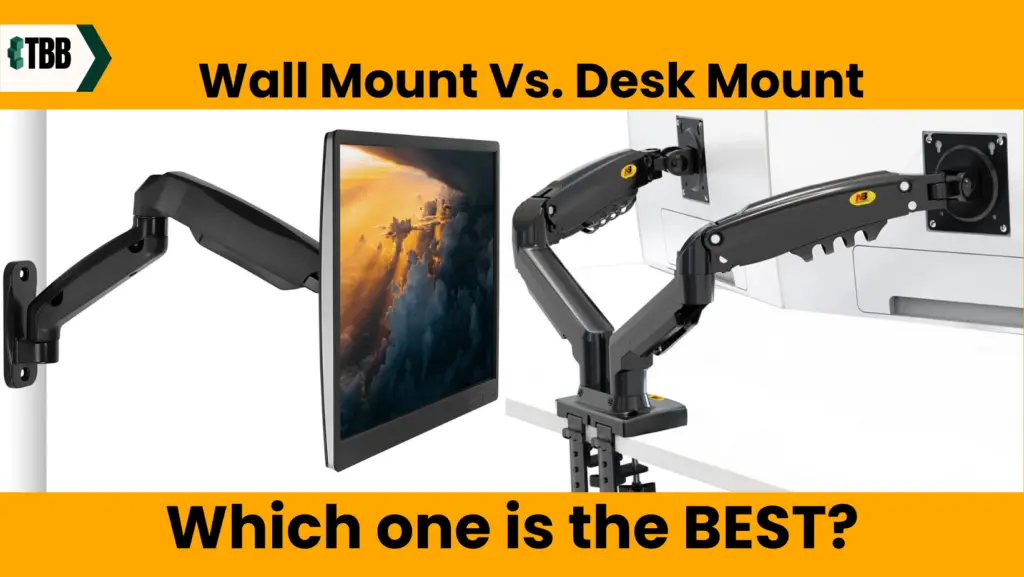 As mentioned above, the right wall or desk mount depends entirely on your setup. Wall mounts are a great option for those who want to declutter their workspace and save space – especially if you have a small office or home workspace. They also provide greater flexibility when it comes to adjusting the height and angle of your monitors.
On the other hand, desk mounts are ideal if you need to move your monitors around frequently or don't have the space for a wall mount. They're also easier to install and take up less room on your desk. However, they aren't as adjustable as wall mounts and may not be able to support larger monitors.
Ultimately, it comes down to personal preference — so consider all factors when deciding which is best for your setup.
Pros & Cons of Wall Mount vs. Desk Mount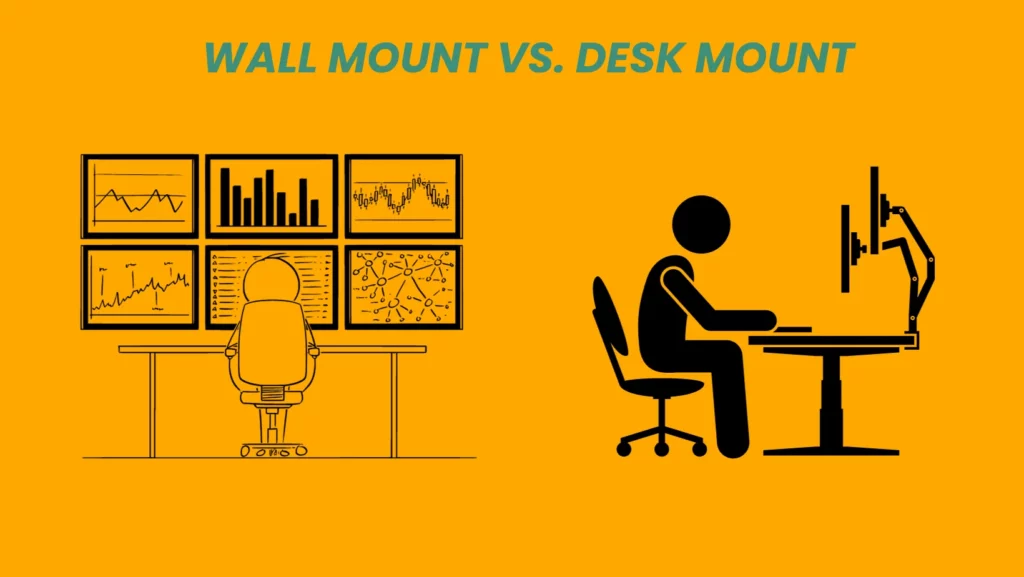 Desk Monitor Mounts Pros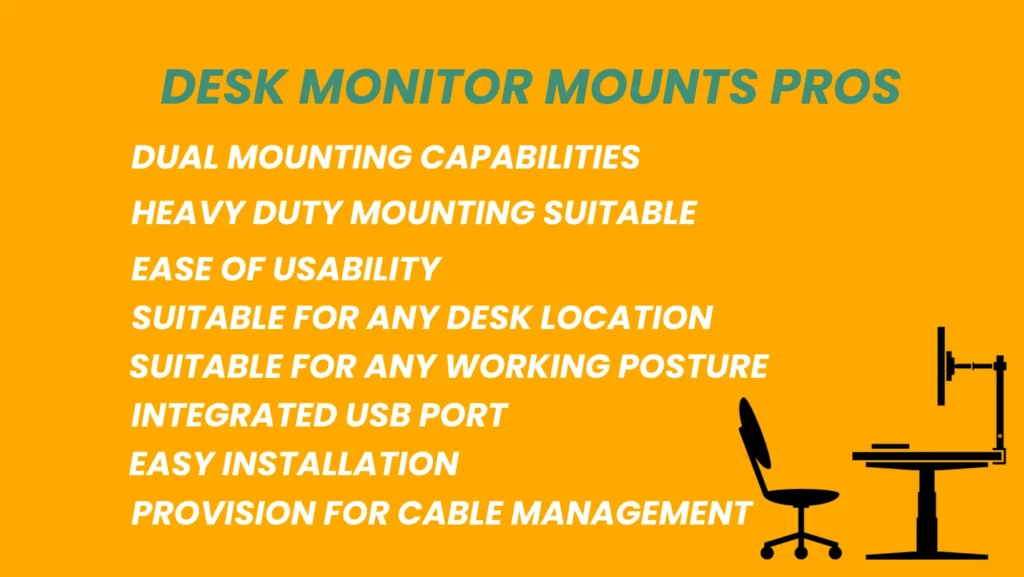 1. Dual Mounting Capabilities
With a desk mount, you can easily attach two or more monitors to the same pole and adjust the height and angle for optimal viewing. This is perfect if you use multiple displays for work or entertainment purposes.
The C-clamp allows you to mount the pole to existing desks, making it easy to set up without making any permanent changes.
2. Heavy Duty Mounting Suitable
Weight capacity defines how many monitors a monitor arm can hold, and for desk mounts, this capacity is too high, making it ideal for heavy setups. Desk monitor arms are fairly robust and can easily support heavy setups with dual, triple, quad, or even six monitors.
These monitor arms are designed such that their base can easily support the heavyweight while its clamp ensures robust fastening.
3. Ease of Usability
Usability is one of the key features of a desk monitor mount. Desk monitor arms come with various adjustment options like height, tilt, swivel, and pan that allow you to change the position of your monitors at your convenience easily. This makes it easy to move and adjust the screen whenever required.
Unlike wall mounts, desk mounts are easier to install and require minimal setup.
4. Suitable for any Desk Location
Since desk mounts are always attached to computer desks, and you can easily move your desk anywhere, this mounting hardware is not limited to any location.
You can easily use desk mounts in any corner or side of your workspace. You can use the same monitor arm if you change your desk's location.
5. Suitable for Any Working Posture
For sit-stand desks, desk mounts are the best option, enabling you to work or play PC games in both postures. You can switch between sitting and standing without moving your monitors around with just a few adjustments.
Those with mobility issues also prefer desk mounts as they can easily move their monitors up and down without needing to stand.
6. Easy Installation
The best thing about the desk monitor arm is that the installation process of this mount is very easy, with almost no extra effort.
You only have to attach the clamp of the mount on your desk and then tighten it using a screw. After that, you must attach the monitor with its stand and adjust it accordingly.
7. Provision for Cable Management
Desk monitor arms usually come with dedicated cable management features, which help keep clutter off the desk. This lets you arrange all your cables neatly behind the pole or underneath the desk to avoid mess.
The special thing about the desk monitor mount is that many have built-in options to make cable management easy and convenient.
8. Integrated USB Port
Many desk monitor arms come with an integrated USB port, making connecting the peripherals easy without reaching behind your desk or monitor. This makes accessing all your accessories easier and keeps them neat and organized on the desktop.
Desk Monitor Mounts Cons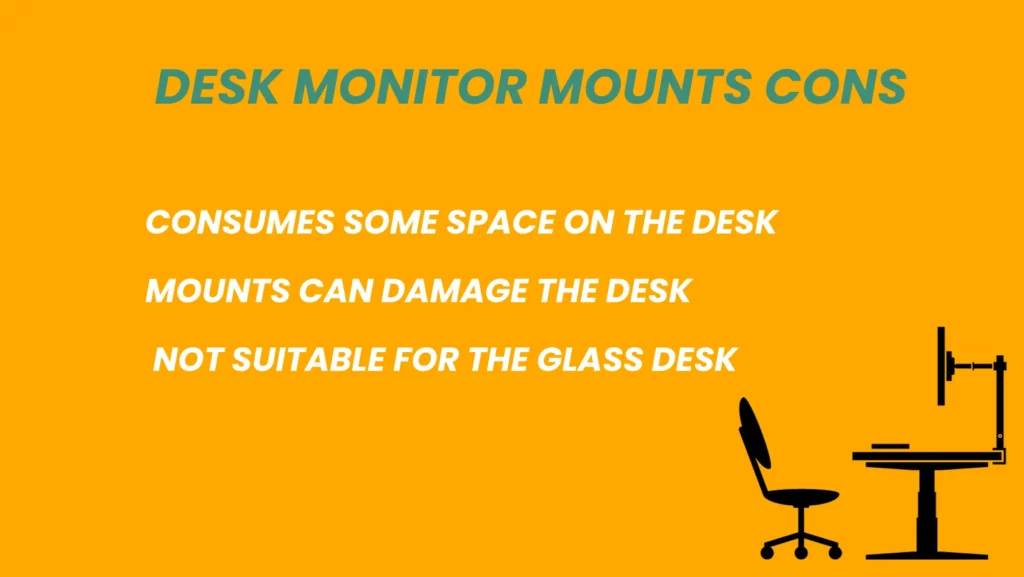 1. Consumes Some Space on the Desk
The first disadvantage of the desk mount is that they use up some space on the desk that a wall mount would not. Wall mounts take up zero space and are much more customizable for multiple monitor setups, while desk mounts require that the monitors be placed side by side.
2. Mounts Can Damage the Desk
Another problem with desk mounts is that the mounting hardware can damage the surface of the desk it attaches to. Depending on the mount type, this could be a minor cosmetic issue or something more serious, like cracking around the mounting area.
3. Not Suitable for the Glass Desk
Desk monitor arms are not suitable for a glass desk. The weight of the monitors can easily exceed the maximum load capacity of a glass desk and break it without much warning.
Wall Mounts Pros
1. Great Way to Increase Workspace
A wall mount could be the perfect solution for anyone who wants to increase their workspace. Wall mounts create more space on your desk, allowing you to use it for other purposes, such as storage or a larger monitor. They also make it easier to keep your desktop organized and clutter-free.
Unlike the desk mounts that attach to the edge of the desk and consume some workspace, the wall mount leaves the entire work area completely blank.
2. Best Option for Aesthetic Desk Setup
Where ergonomics is the first reason to choose the wall mount, aesthetic beauty is another.
Wall mounts allow you to use thin and light monitors that do not take up a lot of space on your desk. This helps create an elegant and stylish look for your workspace. It also makes it easier to arrange multiple monitors in a way that looks neat and organized.
3. No Concern about Desk Damagesdamage
Another advantage of wall mounts is that there's no need to worry about any potential damage to the desk. This mounting hardware attaches only to the wall, leaving your work area untouched.
It is also easy to remove the mount without damaging the wall surface. That means you won't have to worry about having any marks or scratches on your wall when it's time to move.
4. The Entire Setup is Stable
Unlike desk mounts, wall mounts are more stable because they are mounted directly into a wall. This makes moving and adjusting your monitors much easier without wobbling or shaking.
It also gives you peace of mind knowing that your monitors are secure and safe from accidental falls or knocks.
Wall Mounts Cons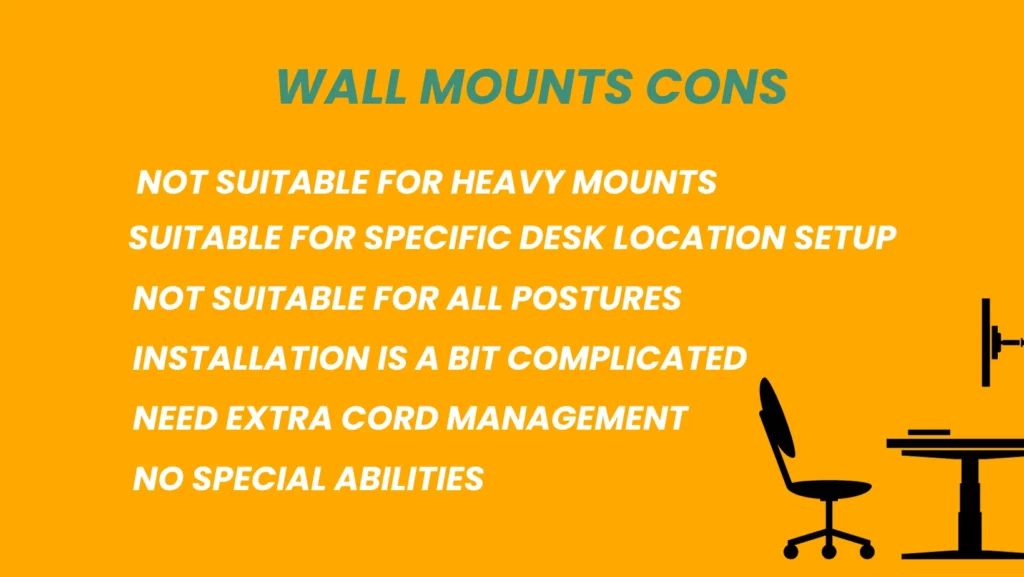 1. Not Suitable for Heavy Mounts
Wall monitor arms are unsuitable for heavy mounts; they work well with single or dual-monitor setups.
You'll need to install extra supports and wall mount studs for heavyweight mounts to ensure they securely stay on the wall. Otherwise, it can cause damage to your monitors or walls.
2. Suitable for Specific Desk Location
Wall mounts must be installed in specific locations, which can be challenging for some people.
You need to ensure the wall surface is strong enough and wide enough to accommodate your monitors and their weight without any issues. That means you'll have to do some measurements to install your monitor arms in a different location.
3. Not Suitable for All Postures
Unlike desk mounts, wall mounts are not suitable for all postures. They can be difficult to adjust, which could be an issue if you switch between sitting and standing while working or playing PC games.
You'll need extra space in your room and a flexible arm to move the monitors up and down without any effort easily.
4. Installation is a Bit Complicated
The installation process for wall mounts is complicated compared to desk mounts, as you must use anchors and other extra hardware. This might not be ideal for someone who doesn't have much experience with mounting hardware.
Therefore, hiring a professional is best if you don't feel comfortable doing it yourself. Remember, it's better to be safe than sorry when dealing with monitor arms.
5. Need Extra Cord Management
Unlike desk mounts, most wall monitor arms don't come with integrated cable management features. This means you'll need to invest in extra accessories, such as cord organizers and clips, so your cables can be arranged neatly behind the mount or on the wall. This is important to make sure all cords are hidden from view and not just lying on the floor or desk.
If this is not done, it can cause a lot of clutter and mess in the work area. Therefore, make sure to consider cord management when selecting your monitor arm.
6. No Special Abilities
Finally, wall mounts do not have special abilities, such as an integrated USB port or a built-in speaker system. If you want to enjoy those features, you'll have to look for desk mount models that come with them.
If you want all these features, choose the right mount for your desk to set up an ergonomic, aesthetically pleasing, and efficient workspace.
So, as you can see, both monitor mounts have their benefits and drawbacks. It's important to consider each type's pros and cons before deciding. Whether you choose a desk mount or a wall mount, always read the instructions and follow them closely for proper installation.
Frequently Asked Questions About Which is The Best Wall Mount or Desk Mount? Find Out Here!
Q: What is the difference between a wall mount and a desk mount?
A: The main difference is that a wall mount attaches to the wall, while a desk mount attaches to the desk. Wall mounts can be used for heavier monitors, but they require more installation time and may not be suitable for all postures. Desk mounts are convenient and easier to install but won't work with heavier monitors.
Q: Which one should I choose – a wall or desk mount?
A: It depends on your specific needs and space requirements. If you need to save more workspace, a wall mount is best. However, if you don't have enough room on the wall or prefer to be able to adjust your monitors easily, then a desk mount is the best option.
A: Yes, wall mounts are generally very secure and stable. They are mounted directly into the wall and can hold heavier monitors without issue. However, it would be best to double-check that the mounting hardware is securely installed and follow all instructions for a safe and successful installation.
Q: Do I need a professional to install a wall mount?

A: It depends on your comfort level with mounting hardware. It should be relatively easy if you're familiar with installing monitor arms. Otherwise, hiring a professional is the best course of action for a safe and successful installation.
Conclusion
As we have explored the best options for both a wall mount and desk mount, it is up to you as the consumer to decide which is most beneficial for you and your workspace. Therefore, consider all the factors discussed in this blog post, such as ease of installation, space restrictions, and adjustable features.
Additionally, weigh all these mounts' benefits for better workflow tracking and ergonomic health. In conclusion, be mindful of your budget and individual needs when deciding between a wall or desk mount to find the perfect fit.
No matter what option you choose, by investing in either style, you are taking an important step towards creating a healthier environment while still being practical!