Pre-employment background checks have become an essential part of the hiring process today. They are conducted to verify the information provided by job applicants and to ensure that the employer is not putting their company at risk by hiring an individual with a questionable history. However, conducting a background check requires the signed consent of the candidate, which must be obtained through a Background Check Authorization Form.
Are you an employer in search of a background check authorization form?
With our template, you can quickly and easily create a personalized background check authorization form. We also provide detailed instructions on how to use the form correctly so that it meets legal requirements and protects your business from any risks associated with hiring individuals with a questionable past. 
With this comprehensive background check authorization form, you can have peace of mind knowing that all of your personal information will remain secure while still gaining access to important information such as criminal history, employment records, and educational background. Plus, using our easy-to-use template helps make the process quick and painless!
Try out the Free Background Check Authorization Form Template today – download now!
What does a Background Check Authorization Form for HR mean in terms of importance?
An essential HR document called a background check authorization form enables an employer to run a background check on a candidate for employment or a current employee. The goal of the background investigation is to confirm the accuracy of the applicant's information, including job history, educational background, criminal history, and credit history.
When a background check is necessary for a candidate's existing position or during the hiring process, the form is often given to the applicant or employee. The form requests permission from the applicant or employee for the employer to run the background check.
It's crucial to have a Background Check Authorization Form in place for a number of reasons.
It meets legal requirements – Federal laws, state laws, or local ordinances might require employers to obtain a signed background check authorization form from the applicant or employee before conducting any type of background investigation.
It helps protect the employer – Background checks can reveal information about an individual's past that may be considered sensitive and private. The form allows the employer to protect itself from any potential legal issues that may arise if the information is not handled properly.
It shows respect and fairness – Having a background check authorization form in place ensures that all applicants are treated fairly, as it allows them to give their consent before the background check is conducted.
It eliminates any surprises – With the form in place, employers can be sure that they are not missing any important information about a candidate that could potentially impact their decision to hire them.
Having a background check authorization form is an essential tool for any employer who wishes to protect themselves and follow all legal requirements when conducting background checks on potential hires or existing employees.
Download your Free Background Check Authorization Form Template today and keep your business safe!
What makes a good template for a background check authorization form?
Businesses that demand background checks as part of their recruiting process must have a reliable background check authorization form template. The authorization form guarantees that the applicant is informed of and agrees to the background check. This document shields companies from potential legal problems by proving that they had the appropriate authorization before conducting the background check.
The authorization form template should be detailed and contain details regarding the precise background check procedures being employed, their justification, and their intended usage. It should also contain information on the candidate's rights, such as the right to obtain a copy of the report and contest untrue material.
You may quickly modify the template to match your unique demands and specifications because it is fully editable in Canva, Google Docs or Microsoft Word.
WHAT'S INCLUDED?
Your Live Canva Document for Editing in 2 sizes US Letter (8.5″x11″) and A4 Size (8.27″ x 11.69″)
Two Editable Google Doc Templates (US Letter and A4 Size), convertible to:
Two Editable Microsoft Word Templates (US Letter and A4 Size), convertible to:
Two Printable Adobe PDF Templates (US Letter and A4 Size)
REQUIREMENTS
Google Account (for Google Docs)
Microsoft Word (2007 or greater) for Windows or MacOS
Adobe Acrobat Reader
OTHER INFORMATION
The Business Blocks owns the rights to its designs. You may use the template as often as you like, but you may not share it with anybody outside of your business. Please get in touch if you need assistance with repairing or amending.
There are no returns because of the nature of the product, but we'd be happy to work with you to resolve any problems.
To alter or modify these templates, some familiarity with Canva, Google Docs, or Microsoft Word is required.
No printed materials or physical products will be provided to you; this is a digital product.
---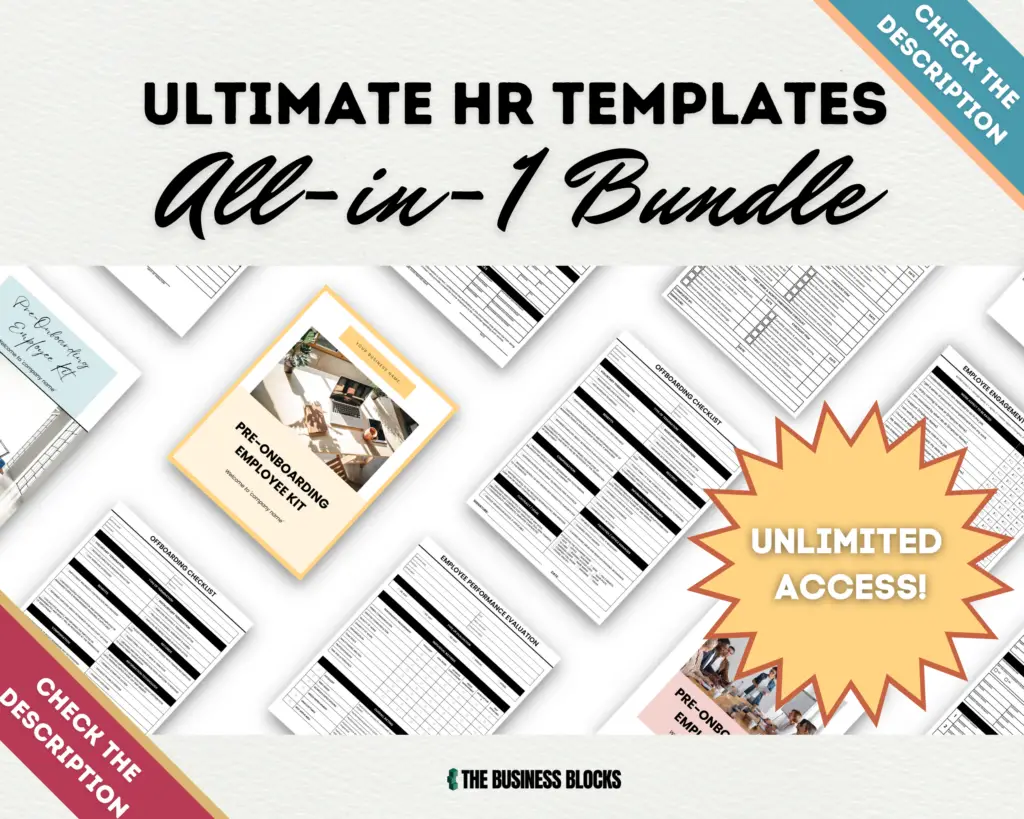 All-in-One HR Templates Bundle
With over 50 templates covering various aspects of HR, including recruitment, performance evaluation, employee benefits, and more, this All-in-One HR templates bundle provides everything needed to streamline HR operations and maintain compliance.
---
Why is a Background Check Authorization Form necessary for your company?
Background Check Authorization Forms are essential HR documents for firms since they safeguard both the employer and the employee. The firm complies with legal obligations by seeking agreement from the applicant or employee before conducting a background check, lowering the possibility of legal action against the employer.
Furthermore, the background check can help safeguard the company from potential dangers or harm that may follow from hiring an applicant with a bad track record. This can include previous criminal activity, fraudulent behavior, or other wrongdoing that could endanger the company or its consumers.
Having a uniform Background Check Authorization Form also assures consistency in the recruiting process, which can assist prevent discrimination claims. Using the same form for all candidates or workers decreases the potential for prejudice in the hiring process, resulting in a more fair and transparent process.
Employers can show that they made reasonable steps to ensure that the applicant or employee is qualified and poses no risk to the organization. Overall, the Background Check Authorization Form is an important HR document that companies should employ to ensure legal compliance, protect themselves and their clients, and preserve consistency and fairness in the recruiting process.
Conclusion
In conclusion, the use of Background Check Authorization Forms is an essential step in conducting background checks on individuals applying for jobs. They are critical for ensuring fairness and consistency in the hiring process, mitigating legal risks, and enhancing the company's reputation. Employers must follow specific procedures to comply with local, state, and federal laws when obtaining consent for background checks.
Failure to follow these procedures can result in severe consequences, including civil and criminal penalties. It is critical that employers apply best practices when obtaining consent for background checks to protect the rights of job applicants and maintain the trust of their employees and customers.
Thanks for using The Business Blocks Template! We hope you find it useful and we wish you success in your business endeavors. If you have any questions or need help with setting up your business, please reach out to us. We are here to help! Thank you again and have a great day.