What is a HR Department?
The human resources (HR) team have a strategic role in any large business to help support the human capital within the company. We will show in this article, how to create digital forms for your HR team!
Quite simply, the HR department is a group who is responsible for managing the employee life cycle (i.e., recruiting, hiring, onboarding, training, and firing employees) and administering employee benefits.
What does human resources do?
Recruit candidates
Hire the right employees
Process payroll
Conduct disciplinary actions
Update policies
Maintain employee records
Conduct benefit analysis
They also support the workers as well:
Providing career growth
Offering continuing education
Training and supporting managers
Supporting health and wellness
What is an example HR Process: Recruitment Process
Most of these processes will require a workflow to manage information take the recruitment process. The standard flow is go out to market and advertise for roles, receive submissions and review the candidates, undertake interviews and shortlist candidates. Then finalise and review the candidate backgrounds with checks, generate contracts and offer letters and then file storage and handover to onboarding the new employee.
What digital forms can help your HR team?
Traditionally, the processes within the HR were manual in nature and all of the forms used in the process were physical and paper based. The team within the HR department would be requesting all of the government forms, backgrounds checks, internal documents, identification and personal information as well.
Now that software platforms are common place, the question is where to start for the team?
Digital Form Platform Reviews
To simplify data gathering, companies invest in IT to make the collection process efficient and accurate. Below are some of the software that businesses have adopted to survive in the digital ecosystem:
Microsoft Forms
Microsoft has been with us for a very long time now and they have developed this software to streamline data collection through surveys, polls, and quizzes.
Click here to view our full Microsft Forms review.
Airtable
Traditionally, we use a spreadsheet to collect and organize data. Airtable enhances the custom form process by using databases. 
Click here to view our full Airtable review.
Jotform
With more than 10 million users worldwide, Jotform specializes in creating online and digital forms through simple drag-and-drop techniques or choosing from pre-defined templates. Even with its free account, you can already do a lot of customization.
Click here to view our full Jotform review.
Formstack Forms
Used in over 112 countries, Consider FormStack as a one-stop-shop in seamlessly creating surveys and custom forms, data gathering, and eSignature collection. Why manually send information to people when you can automate that for greater efficiency?
Click here to view our full Formstack Forms review.
Survey Monkey
It's impossible to use survey tools and not hear about this brand. Founded in 1999, SurveyMonkey is considered one of the world's most popular survey tools.
Click here to view our full Survey Monkey review.
Typeform
Typeform is known for its flexibility in creating surveys and forms. What makes this software unique is that it seeks to make the collection process a comfortable and relational experience. 
Click here to view our full Typeform review.
Real Life Examples Using www.123formbuilder.com
Here are some samples of the digital forms that can boost the efficiency and productivity of your company's HR team:
1. Employment offer letter
2. Employee satisfaction survey
3. Candidate interview evaluation form
4. Benefits enrollment form
5. Job application form
How to Make a Job Application Form
The process of making a digital form is similar in many ways. It only varies depending on the app, software, or platform you are using and what kind of digital form you are making.
To make it easier for you to understand, here are the steps to follow in creating a digital job application form in the 123 Form Builder platform. First, make sure that you have an account on 123 Form Builder. You can also try it for free to test if it has all you need in creating forms.
1. Add the information in the required fields of the form layout, including name, phone, and email.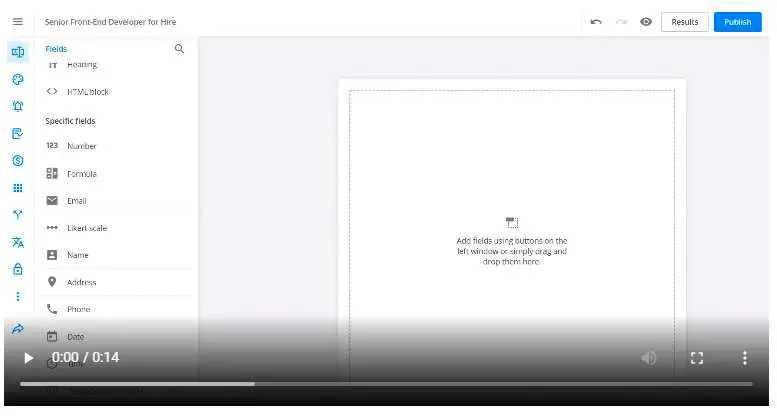 2. Make sure to create the "Applying to" text box. The applicants will use this to specify the position they are interested in applying to. They can also select among the job openings included in a drop-down menu.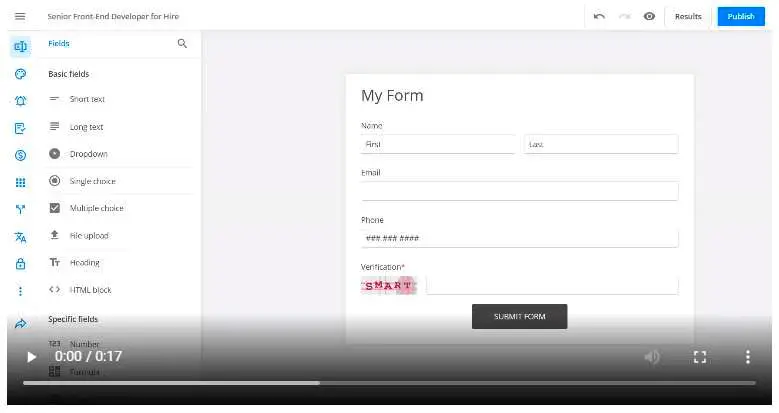 3. Include a file upload field in the form. The applicants will use this to include important files, such as work samples, recommendation letters, and resumes, in their application.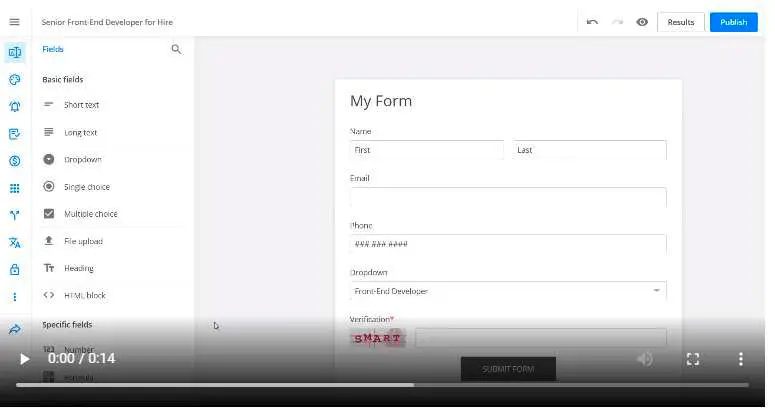 4. Create a message that the applicant will see once they are done submitting the form. It can be quick good luck or thank you message. You can set the message as a pop-up or be sent as an email notification. This message is important because it will also serve as a confirmation that you have gotten the application.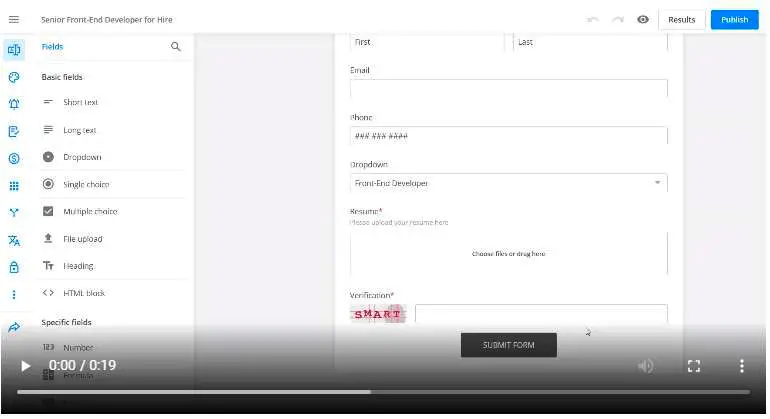 5. Make sure that you make different email templates to be sent to your applicants depending on the position they are applying to. For example, there are positions that you will require to send links to their portfolio, such as graphic designers or video editors.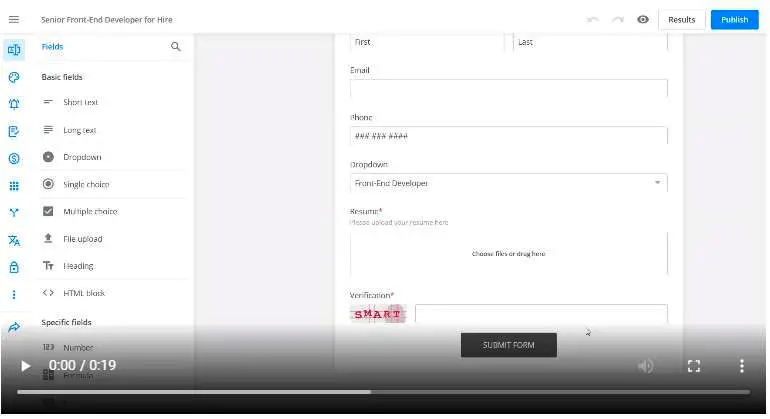 6. Make your digital form a good representation of your brand. Include your logo and use colors associated with your business. You can also add other elements in the form as you deem necessary.
Essential Pointers in Making a Job Application Form
When it comes to digital forms, you have to put all the important details needed, depending on the kind of form you are creating. This guide aims to help you develop the best application form representative of your company that will make it easier for you to sort through your applicants' qualifications.
A job application form allows you to collect information from interested applicants. It contains all necessary details of these job seekers, including education, work experience, references, and personal information.
When do you need this kind of digital form for your HR team?
The form is helpful in screening applicants for a wide range of positions, but it doesn't mean that you will need one in all jobs. For example, if you are looking for qualified applicants for a position requiring long years of experience, you can't expect a huge number of applicants to turn in their forms.
You will often get recommendations for these highly skilled workers with several years of experience. It is also possible that they will apply but not in hoards. This makes it easier to track and manage their application, so a digital form would no longer be necessary.
However, it's the opposite case when you have job openings for entry-level positions. It is typically to get flooded with people interested in the posts. This is where digital job application forms will be most helpful.
The form will make the application process and sorting of applicants shorter. After the job seekers have filled out the forms, you can search through the essential details to choose which ones will proceed with the next steps of the hiring process. Since the forms have only one template, it will be easier to find the details you need.
How to create digital forms for your HR team and job application digital forms:
1. Keep it short.
No matter how badly these applicants want to get the job, applications that are too long easily turn them off. According to studies, most of these applicants stop finishing the application process when the form is lengthy.
Ask only the important questions. Besides, you will have an opportunity to ask more questions once you have chosen the applicants who will process with the interview phase.
2. Make it clear.
You have to make it clear in the form what position they are applying for and what qualities you are seeking. Everything has to be easy to understand. This way, you will avoid having people apply for positions they are not qualified for.
3. Ask the right questions and request only for the essential details.
Here are some of the details necessary in a job application form:
Basic information. It includes the applicant's name, phone, and email address.
Position. Give the applicants options of the job titles they can apply for.
Work experience
Education history
Availability
Date of submission and e-signature
Uploadable forms. Some positions would require a work portfolio. The candidates can upload their files or send links to their portfolios. You can also request them to upload their resume, cover letter, and references.
---
More about Digital Forms:
*Top 5 Reasons to Go Paperless and Gather Data Digitally*
*How Custom Forms Can Help You*
---
Got a question? Ask us here.