Looking for a video messaging tool that helps you get your message across through instantly shareable videos? Check out this Loom review.
There are several reasons why video is better than any other format. There has been an 800% increase in online video consumption according to YouTube Internal Data. Moreover, based on data from Marketing Land, video ad spending has reached by this year and internet users spend more time on websites with videos.
Visual aids are better than text, and videos are superior than just images. Video lets creators expand on details and topics. One proof of this is the popularity of how-to videos ranging from cooking, home repair, gadgets troubleshooting, and software walkthroughs. Using photos can be cumbersome both for the author, the one who is preparing the visual aids, and for the consumer, the one scrolling through all the photos or clicking from one image to the next.
Videos can convey more information and the recall factor for info and data presented in them is higher and stays longer with consumers, something that can't be pulled off with just photos. In essence, video format allows the presentation of ideas in a more creative and personal way.
The goal of presenting concepts with videos is to make things easier for the consumer of the content. One tool that is very successful in serving this purpose is Loom.
What is Loom?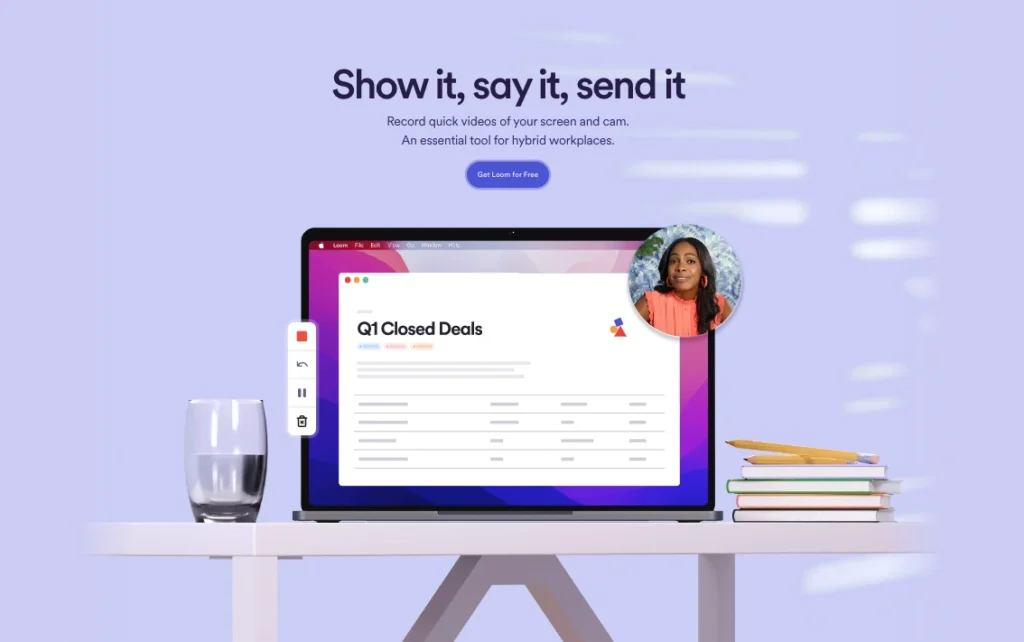 Loom is a software solution that allows the recording of quick or full-length videos meant for sharing and collaboration; it can also function as a messaging tool by allowing the sharing of concepts and ideas and facilitating asynchronous discussions via snippets.
Loom allows video recording using a mobile device, a tablet, or a desktop with a camera or desktop view. It also features a Chrome extension so that capturing pages and sites can be done easily and instantly. 
Do you need to demonstrate how to use a new product that is scheduled to be launched soon? You can record a short video showcasing the product's features and capabilities. 
Do you need to explain how to use a particular software? You can use Loom to create an application walkthrough. 
Are you a part of the coding team performing code review or debugging exercises? You can use Loom to do this exercise asynchronously.
In addition to this, Loom has the following capabilities:
Sharing links to Loom videos with team members and collaborators who may or may not have a Loom account;
Posting of reactions, commentaries, and annotations on videos; and
Generation of video transcriptions.
Organization of working areas into workspaces for personalization or for engaging in sharing with a team library
Sorting of videos into folders
Maintenance of a repository for screenshots from videos for highlights
Creation of videos using built-in templates, backgrounds, and text layout for a more creative and innovative demonstration of concepts
Recording of videos with quality ranging from 720p to 4K HD depending on the subscription plan
How Does It Work?
Loom, as a recording tool, allows users and creators to film videos with the following options:
For the desktop application, the options are screen camera, screen only, or camera only depending on the purpose of the video and the intended consumers. For the mobile app, users can create videos using either a device's camera or screen view.
Creators can opt to use built-in templates that come up Loom and customize video templates using the provided text layouts or video backgrounds for more hip and informal video snippets.
Recorded videos can then be collated into a team or personal folder and can be shared with the intended target audience. Videos can be shared view Loom, email, or through other means by allowing the creator to share links to the Loom videos. Content can also be shared through various social media platforms such as LinkedIn, Twitter, and Facebook or as in-line content in Gmail. Finally, videos can be embedded in websites. Loom employs impressive security measures in protecting content and user data; sharing options provide the content makers with options on who can view the shared videos, workspace content access, search engine indexing, and password production for high-tiered plans.
The author and consumers of the video can engage in discussions and commentaries on the videos using emoji reactions, comments, and video reactions. Consumers can also download Loom videos for offline viewing, and personal perusal depending on the access that will be given by the author.
For high-tier plans, a calls-to-action feature is available to further enhance the knowledge-sharing and collaboration capabilities of Loom.
Loom also provides tracking customer engagement and basic customization in terms of appearance and branding by allowing the changing of the color of display and video play and timeline control panel as well as removing the 'Made with Loom' badge.
Target Market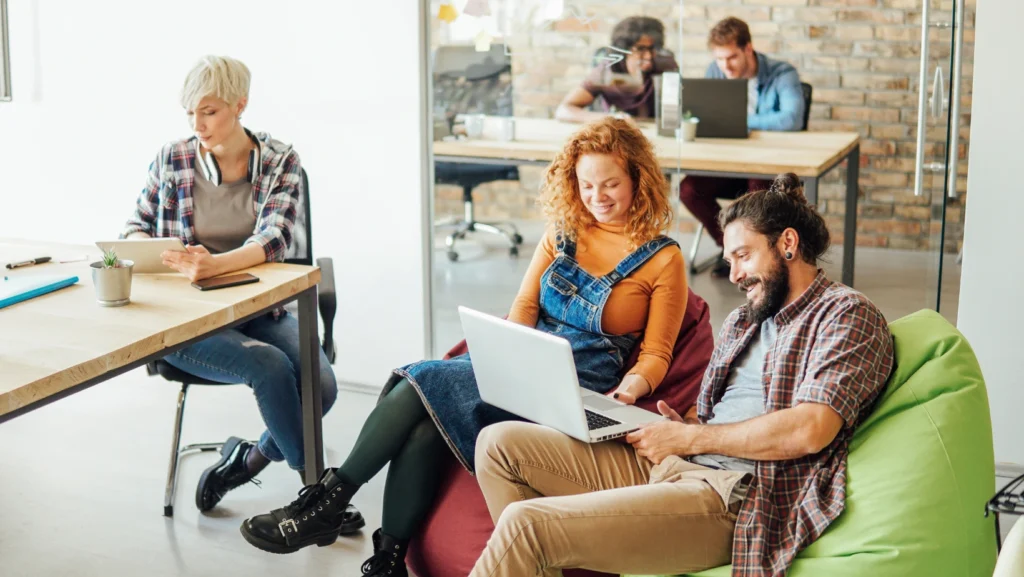 Loom can be very useful for domains such as software engineering for code reviews, code debugging, collaborative development, and team knowledge sharing. Video marketing has been proven to improve customer engagement; videos offer better options for explaining products to consumers. In the field of design, video composition and sharing fosters better sharing of ideas and provision of feedback.
Loom can also be used for product management by allowing support for planning, coordination among distributed teams, and communication between stakeholders. For helpdesks and support management, videos can be utilized for providing visual support, visual guides and troubleshooting, and self-service content so that customers can follow a step-by-step process instead of reading troubleshooting steps in text form.
In addition to these use cases, videos are vital in speeding up sales cycles by facilitating enhanced customer onboarding, engaging prospects, and enabling consumers to properly understand and appreciate the goods and services that a company is offering. Well-produced videos and presentations can offer crystal-clear information on services or products that can attract potential customers.
On a more generic note, Loom could be very useful in cascading updates and announcements and in conducting training and knowledge-sharing. For an enhanced collaborative experience, members of the team can engage in a continuous discussion of the flow of ideas by exchanging references to files and resources, by posting and responding to queries.
Finally, the COVID-19 pandemic has forced us to evaluate, change, and adapt to the disruptions to education. Videos created in Loom can be utilized to provide supplementary learning materials, tackle complex concepts, and provide clear demonstrations of lessons that are hard to convey in a group call setting or text format.
Integrations with Other Platforms
Loom allows integration with the following applications:
Salesforce – Connecting Loom with Salesforce will allow the latter access to video engagement insights.
Slack – Collaboration will be enhanced by allowing sharing of videos with teammates in Slack.
Google Workspace – Similar to the Slack integration, contacts in Google Workspace can be recipients of shared links from Loom
JIRA and Confluence
GitHub – GitHub-Loom integration takes advantage of the Chrome extension by allowing videos in Loom to be incorporated into bug reports.
UpWork – Embedding Loom videos in UpWork can easily eliminate the need for video chats and allow easier and more effective communication.
Notion – Notion supports embedding videos from Loom for an enhanced experience on collaborative work.
Pricing
Before we discuss the pricing, let us first define the two types of users that are available in Loom.
Creator Lite – These users do not pay any premium but with limited recording options and capabilities.
Creator – These are the premium-paying members with an unlimited number of videos and unlimited video recording playtime. Pricing for paid membership is by the number of creator accounts.
The pricing structure for Loom is as simple and straightforward as the application. There are three pricing schemes: starter, business, and enterprise.
For starters, everything is free. With this scheme, quick video messages of up to 5 minutes per video can be recorded. Up to 50 Creator Lite accounts can be created under the starter option, with a limit of up to 25 videos per person in the workspace; each video can only be up to 5 minutes long.
With the business option, advanced recording and analytics are available. The membership fee is $ 8.00 per creator per month, which can be billed monthly or annually. There is no limit on the number of creator accounts that can be created; there is no limit on the video recording length as well. Just like in the starter scheme, up to 50 creator lite accounts can be created as a supplement to the creator accounts. The business scheme also offers company branding, engagement insights, and links embedded in the video option.
Finally, there is an enterprise option with advanced administrative and security options. Just like the business option, there are no limits to the creator accounts, number of videos, and recording length. Additional features under this option are advanced content privacy settings and Salesforce integration. Pricing for this is customized per contract or per arrangement.
Pros and Cons
Here's what makes Loom an excellent tool:
The purpose of Loom is very simple and it does this simple task really well.
Video sharing is done really well and in an efficient manner with a host of other applications to integrate with.
Having desktop, mobile, and Chrome extensions offerss flexible means of supporting the capture and sharing of videos.
The pricing options are very affordable.
On the flip side, here are some issues that might need to be addressed or improved upon:
There are very few options for customization of the look and feel of embedded videos from Loom.
Built-in templates and layouts are very limited.
There are missing features on self-recording such as background blurring or green screen capabilities.
Limited recording time for starter users and education option users.
Intermittent or poor internet connection would greatly affect the user experience for this application.
Loom offers limited options for video editing.
Conclusion
Loom is a very efficient and useful app, especially in the kind of times and social and economic climate that we are in. Now that everything is changing and everyone is adapting to a new kind of normal, Loom offers efficient and smart ways to do sharing of information and team collaboration. Nothing beats a solution that is simple, straightforward, and done exceptionally well.

Click here to try Loom: https://loom.grsm.io/xa8yyqg2b65v