Today, it is possible to generate amazing things with AI tools – some of which have produced results indistinguishable from human-made creativity! While this may seem like a distant reality, we are closer than ever before to unlocking the full potential of AI in 2024.
To help take advantage of these groundbreaking new technologies, we've compiled a list of the top 10 best AI tools available this year. Find out what you need to get started on your journey to unlocking creative potential through the power of AI!
Are you looking to unlock the creative potential of AI?
Artificial intelligence (AI) is quickly becoming a powerful tool for creativity in business. It's being used to develop incredible new products, services, and experiences that are reshaping our world. But with so many awesome AI tools out there, it can be hard to know where to start. That's why we have compiled a list of the top 10 best AI tools available in 2024!
With this list, you'll discover the most innovative AI technologies and what they can do for you and your business – from natural language processing (NLP) systems that understand conversations better than ever before, to facial recognition software that will revolutionize the customer experience.
Did you know?
OpenAI has made waves with its GPT-powered chatbot ChatGPT, which launched in November 2022 and had gained 100 million users by January.
Forbes Advisor reports that 64% of business owners believe AI has the potential to improve customer relationships, indicating a positive outlook on the role of AI in enhancing client interactions
Read on and explore all of these amazing top 10 AI Tools!
Introducing AI and Its Creative Potential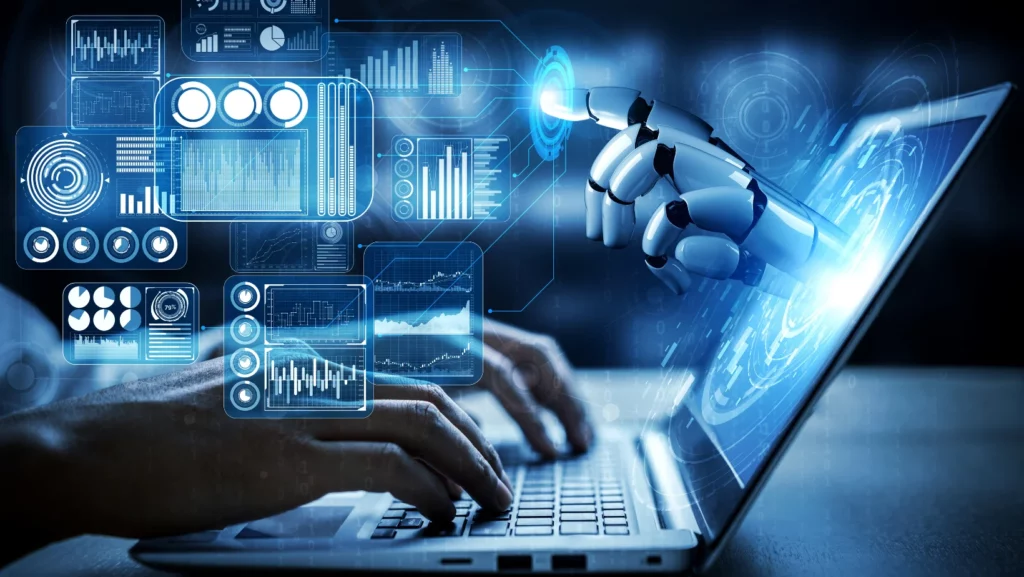 The Artificial intelligence software of today is incredibly advanced, with a wide range of capabilities that make it an invaluable tool for businesses. AI can be used for everything from predicting customer behavior to improving efficiency and accuracy. But what many people don't realize is that AI also has the potential to unlock creative possibilities in business.
With AI-powered tools, businesses are now able to create amazing products, services, and experiences that were once thought impossible. AI can be used for creating custom music and visual art, automated design tools to help create unique websites and logos, as well as virtual reality (VR) experiences that bring a whole new level of immersion into the customer experience to customer relationship management.
From machine learning to natural language processing, AI Software has the potential to revolutionize how businesses approach creative projects.
Overview of the Top 10 Best AI Tools in 2024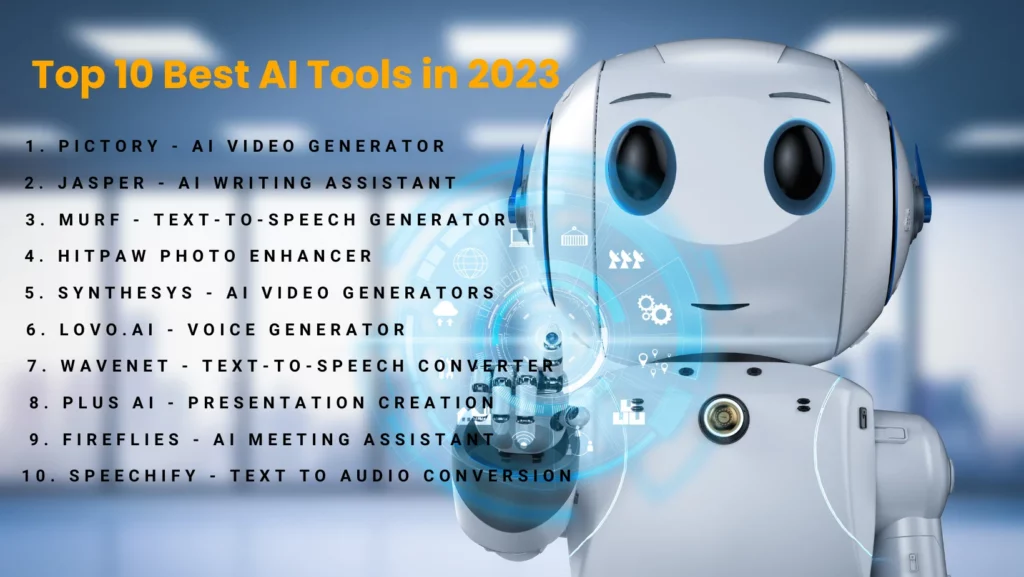 The AI software platform offers a variety of innovative tools that are revolutionizing how businesses approach creative projects. Whether you're looking for automated design tools, AI writing tool, natural language processing technologies, or facial recognition software, there is an AI tool out there to suit your needs.
Here are the top 10 best AI tools available in 2024:
1. Pictory – AI Video Generator
Ever felt overwhelmed by the sheer amount of video content out there? Are you wondering how you could create your own without breaking the bank or spending hours learning complex software?
Enter Pictory, the AI video generator that's making waves in the industry. Let's dive in!
Features of Pictory
Pictory isn't just another video tool; it's a game-changer. Here's why:
AI-Powered Video Generation: At the heart of Pictory is its powerful AI that can transform text, images, and other media into engaging videos. No more fumbling around with complicated software; Pictory's AI does the heavy lifting for you.
Extensive Media Library: Need the perfect image or video clip? Pictory's got you covered with its vast library of stock images, videos, and music tracks. No more scouring the internet for hours; everything you need is right at your fingertips.
Customizable Templates: Whether you're going for a professional look or something more fun and casual, Pictory's range of pre-designed templates has something for everyone. And if you're feeling particularly creative, you can even design your own!
Advanced Editing Tools: Fine-tune your videos to perfection with Pictory's suite of editing tools. Adjust text, add animations, transitions, and more to make your video truly stand out.
Ease of Use
Pictory is designed with users in mind. Its interface is intuitive, making it easy for even complete beginners to create professional-quality videos. And if you ever get stuck, there's a wealth of resources and tutorials available to help you out. Plus, with its AI-powered capabilities, much of the hard work is done for you, meaning you can focus on the fun parts of video creation!
Applications of Pictory
But where can you use these awesome videos you create with Pictory? The possibilities are endless!
Marketing: In today's digital age, video content is king. Use Pictory to create engaging promotional videos, product demos, and more to captivate your audience and drive sales.
Education: Teachers and educators can leverage Pictory to create informative and engaging videos for their students. Whether it's a lesson recap, a deep dive into a complex topic, or a fun educational game, Pictory makes it easy.
Pricing and Plans
Pictory offers a range of pricing options to suit every budget. They even offer a free trial plan with basic features, perfect for those just starting. For those looking for more advanced features, paid plans start at just $19/month, allowing you to create up to 30 videos. Need more? The Premium plan at $39/month gives you a whopping 60 videos. And the best part? Compared to other AI video generators on the market, Pictory offers fantastic value for money.
2. Jasper – AI Writing Assistant
In today's fast-paced digital world, content is king. However creating high-quality, engaging content can be time-consuming and challenging. Enter Jasper, the AI writing assistant that's revolutionizing the content creation process. Whether you're a seasoned writer or just starting, Jasper is here to help. Let's dive deeper into what makes Jasper a game-changer in the world of content creation.
Features of Jasper
Jasper is not just another writing tool; it's a powerhouse. Here's what sets it apart:
AI-Powered Content Creation: Jasper's core strength lies in its advanced AI that can generate text, ensuring your content is top-notch every time.
Extensive Media Library: Looking for the perfect image to complement your content? Jasper provides a vast library of stock images, ensuring your content is both informative and visually appealing.
Customizable Templates: Whether you're crafting a blog post, an email, or a social media update, Jasper's range of templates ensures your content fits the bill perfectly.
Advanced Editing Tools: With Jasper, you're in control. Fine-tune your content with a suite of editing tools that ensure your writing is polished and professional.
Writing Styles and Formats
Jasper's versatility is truly impressive. It supports a wide range of writing styles and formats, including:
Blog Posts: Craft engaging and informative blog posts that resonate with your audience.
Emails: From newsletters to promotional emails, Jasper ensures your message is clear and compelling.
Social Media Updates: Keep your social media game strong with catchy and relevant updates.
Reports: Generate detailed and accurate reports without the usual hassle.
And that's just the tip of the iceberg. With Jasper, the possibilities are endless.
User Experience
Using Jasper is a breeze. Its user-friendly interface ensures that even those new to content creation can navigate with ease. If you ever find yourself facing a challenge, Jasper's extensive resource library and tutorials are there to guide you. The learning curve? Minimal. Before you know it, you'll be crafting content like a pro.
Pricing and Plans
Jasper offers a variety of pricing plans to cater to different needs. For those wanting to test the waters, there's a free trial that provides access to basic features. If you're looking for more advanced capabilities, Jasper's paid plans start at an affordable rate, offering a plethora of features that ensure you get value for your money. And for businesses with specific needs, there are enterprise plans tailored just for you.
3. Murf – Text-to-Speech Generator
Murf is a revolutionary text-to-speech generator that offers a wide range of natural-sounding AI voices in over 20 languages. Its primary aim is to provide professional voiceovers for videos and presentations, ensuring that the output is devoid of the robotic tone often associated with traditional text-to-speech tools.
Features of Murf
Natural Sounding Voices: Murf boasts a selection of 100% natural-sounding AI voices in 20 languages, ensuring that the voiceovers sound professional and human-like.
Quality Assurance: The voices provided by Murf undergo rigorous quality checks, ensuring that they sound human and are devoid of any robotic undertones.
Multiple Languages and Accents: Murf offers voices in 20 languages, with some languages supporting multiple accents, such as English, Spanish, and Portuguese.
Simple Conversion Process: Murf simplifies the voiceover creation process, allowing users to get studio-quality voiceovers instantly and at a fraction of the traditional cost.
Customization Options
Emphasis: Users can emphasize specific words or phrases, adding life and dynamism to the voiceover.
Pitch Control: Murf offers pitch customization, allowing users to draw listeners' attention to specific words or phrases that express emotions.
Pause Feature: Users can add pauses of varying lengths to their narration, providing listeners with a momentary break and enhancing the overall flow of the voiceover.
Applications of Murf
Murf's text-to-speech technology can be applied across various sectors:
Audiobooks: Convert written content into engaging and immersive audio experiences.
Customer Service: Use AI-generated voices for automated customer support and helplines.
Content Creation: Enhance videos, podcasts, and other multimedia content with natural-sounding voiceovers.
E-Learning: Provide voiceovers for educational materials, making them more accessible and engaging.
Pricing and Plans
While the exact pricing models and plans were not explicitly mentioned in the provided content, it's clear that Murf offers both free trials and paid subscription plans. The free trial gives users access to a limited amount of voice generation time, while the paid plans offer more extensive features and benefits.
For detailed pricing and subscription options, it would be best to visit Murf's official website or contact their sales team.
4. HitPaw Photo Enhancer
In the realm of photo editing, the quest for the perfect image is never-ending. Whether it's a cherished memory or a professional project, the quality of the image can make all the difference. HitPaw Photo Enhancer steps into this space, offering a suite of tools designed to take your photos to the next level. Let's explore what this software brings to the table.
Features of HitPaw
HitPaw Photo Enhancer isn't just another AI image generation editing tool; it's a comprehensive solution for all your photo enhancement needs:
AI-Powered Enhancement: At its core, HitPaw uses advanced AI algorithms to improve image quality, ensuring that your photos always look their best.
Denoise Model: Say goodbye to grainy photos. HitPaw's denoise model automatically removes noise from high-ISO and low-lighting images, giving you a clearer and more detailed picture.
Landscape and Building Sharpening: HitPaw intelligently identifies landscapes and structures in photos, sharpening them to bring out the details and add depth to the image.
Animated Image Enlargement: Enlarging images often leads to a loss in quality. However, with HitPaw, you can enlarge images, including animated ones, without compromising on sharpness or contrast.
AI Models Used
HitPaw's strength lies in its AI models, which are tailored for specific tasks:
Denoising: Using AI, HitPaw can detect and remove unwanted noise from images, especially those taken in low-light conditions.
Upscaling: HitPaw's AI can upscale images, enhancing their resolution without losing detail or introducing artifacts.
Sharpening: Whether it's a landscape or a building, HitPaw's AI models can intelligently sharpen the elements in a photo, making them pop.
User Experience
Navigating HitPaw is a breeze. The software boasts an intuitive user interface, ensuring that even those new to photo editing can use it with ease. Importing photos, selecting enhancement options, and exporting the final product are all straightforward processes. Plus, with features like drag-and-drop, the entire editing process becomes even more seamless.
Pricing and Plans
HitPaw Photo Enhancer offers a range of pricing options to cater to different needs. While it's not entirely free, HitPaw does run giveaways, allowing users to access premium features at no cost. On the pricing front, the One-Month Plan is priced at $8.99, the One-Year Plan at $29.99, and the Lifetime Plan starts at $59.99. Each plan comes with its own set of features, and users can cancel their subscriptions at any time. Frequent discounts are also available, making HitPaw an affordable option for many.
5. Synthesys – AI Video Generators
In the digital age, creating dynamic media presentations is crucial for capturing the audience's attention. Synthesys emerges as a front-runner in this space, leveraging advanced AI to transform scripts into lifelike video content. With its cutting-edge lip-syncing technology, Synthesys ensures that the generated videos aren't just visually appealing but also audibly convincing.
Features of Synthesys
Synthesys isn't your average video generator. Here's what sets it apart:
AI-Driven Video Creation: Synthesys uses advanced AI algorithms to generate videos, ensuring that the output is both visually and audibly engaging.
Diverse Avatar Selection: With over 60 avatars to choose from, Synthesys ensures that your video content resonates with your target demographic.
Multilingual Capabilities: Synthesys supports voiceovers in more than 140 languages, making it a versatile tool for global content creators.
High-Quality Voices: The platform boasts an extensive library of ultra-lifelike voices, ensuring that your video sounds as good as it looks.
Lip-Syncing Technology
One of the standout features of Synthesys is its lip-syncing technology. This ensures that the AI avatars used in the videos perfectly match their speech with their lip movements, creating a more realistic and engaging viewer experience. This technology is especially crucial when creating content in multiple languages, as it ensures that the lip movements are consistent with the spoken language.
Applications of Synthesys
The potential applications of Synthesys are vast:
Online Courses: Quickly produce a large volume of educational videos, ensuring consistency and quality.
Customer Success Videos: Personalize the onboarding experience, provide enriched support, and optimize resources.
SaaS Product Demos: Engagingly showcases your product's features, driving conversions with ease.
Explainer Videos: Simplify complex concepts and present them in an easily digestible video format.
Corporate Communications: Enhance internal communications with engaging videos, ensuring that messages are memorable and impactful.
Pricing and Plans
While the exact pricing details were not explicitly mentioned in the provided content, Synthesys does offer a free trial, allowing users to experience its features without any financial commitment. For more detailed pricing and subscription options, it's recommended to visit Synthesys's official website or get in touch with their sales team.
6. Lovo.ai – Voice Generator
In the realm of voice synthesis, Lovo.ai stands out as a premier platform, offering a plethora of voices and languages. Its advanced AI-driven capabilities ensure that voiceovers sound natural, making it a go-to solution for various industries.
Features of Lovo.ai
Lovo.ai is more than just a voice generator; it's a comprehensive solution for all voiceover needs:
AI-Driven Voice Creation: Lovo.ai uses state-of-the-art AI algorithms to produce voiceovers that are incredibly lifelike.
Diverse Voice Selection: With over 500 AI voices available, users can find the perfect voice for any project.
Multilingual Capabilities: Lovo.ai supports more than 150 languages, ensuring global reach and versatility.
Background Music Integration: A standout feature of Lovo.ai is its ability to incorporate background music into voiceovers, enhancing the overall audio experience.
Range of Voices and Languages
Lovo.ai's extensive voice library is one of its strongest assets:
Variety of Voices: From premium voices like Austin Hopkins, known for its high-quality, natural sound, to soothing tones like Sharon, there's a voice for every need.
International Reach: Lovo.ai isn't limited to English. It offers voices in languages like Spanish, German, and many others. The premium voices in these languages maintain the same high-quality standard as their English counterparts.
User Experience
Navigating Lovo.ai is intuitive and user-friendly:
Simple Interface: Creating a new project is straightforward. Users can easily input their script, select a voice, and generate a voiceover in seconds.
Voice Customization: Lovo.ai offers a range of emotions that can be assigned to voices, enhancing the overall output. However, the conveyance of emotions is an area with room for improvement.
Quick Conversion: The voice conversion process is efficient, typically taking around 30 seconds, with a preview option available for immediate assessment.
Pricing and Plans
Lovo.ai offers a variety of pricing options:
Two-Week Free Trial: This trial offers 20 minutes of voice generation credits, 1 gigabyte of storage, and allows for 5 audio file downloads.
Free Plan: After the trial, users can opt for a free plan with limited features and monthly downloads.
Premium Plans: Lovo.ai offers three premium plans: Basic, Pro, and Pro+. These are priced at $19, $36, and $99 per month when billed annually. Monthly billing options are also available but come at a higher cost.
Lovo.ai is a powerful tool in the voice synthesis industry. Its vast range of voices, multilingual capabilities, and user-friendly interface make it a top choice for professionals and casual users alike. Whether you're creating content for a global audience or need a specific voice tone, Lovo.ai has got you covered.
7. WaveNet – Text-to-Speech Converter
WaveNet is an AI-driven text-to-speech (TTS) converter developed by Google. It's used for a variety of purposes from creating natural and engaging audio content, such as podcasts, to providing accessibility solutions for the visually impaired.
Features of WaveNet
Natural Sounding Voices: WaveNet's AI algorithms make it possible to generate natural-sounding voices that can be used in a variety of contexts. The AI also has the ability to learn from data, enabling it to produce even more lifelike voices over time.
Accessibility Solutions: WaveNet helps many people with disabilities by providing accessible audio content. It can convert text into speech that can be used by individuals who are visually impaired or blind.
Versatile Applications: The voice generated by WaveNet is suitable for a wide range of applications, including podcasting, voice assistants, and more.
Range of Voices and Languages
WaveNet has a diverse range of voices in multiple languages:
Variety of Voices: WaveNet offers both male and female voices in many languages, including English, Spanish, German, French, and more. The voices are natural sounding and can easily be used for various applications.
International Reach: WaveNet's extensive library of voices is not limited to just one language; it covers an impressive number of languages from around the world.
User Experience
Using WaveNet is incredibly user-friendly:
Intuitive Interface: WaveNet's interface makes it easy to convert text into speech, with a simple drag-and-drop feature for importing text files.
Customization Options: The AI also allows users to customize their voices by selecting different accents, pitch, and speed. This allows users to create voices that match their preferences and the context of their audio project.
Pricing and Plans
WaveNet offers several pricing options for users:
Free Plan: The free plan allows for up to 300 minutes of usage per month, with an additional charge for any extra time used.
Premium Plan: WaveNet's premium plan offers unlimited usage for a flat monthly fee, with the option to pay annually for additional savings.
Enterprise Plan: Companies can also opt for an enterprise plan, which provides access to WaveNet's full range of features and services. This plan is tailored towards businesses with high volume needs.
WaveNet is a powerful tool that makes creating audio content easier and more accessible. It features a range of voices in many languages, making it suitable for global audiences. The intuitive design makes it perfect for both beginners and experienced users alike. WaveNet is sure to become an industry standard in the near future.
8. Plus AI – Presentation Creation
In the vast landscape of presentation tools, Plus AI emerges as a beacon of innovation. Harnessing the power of Generative AI, it seamlessly integrates with Google Slides, revolutionizing the way presentations are created and edited. The tool's primary objective is to make the presentation creation process more efficient, eliminating the tedious manual tasks and letting AI handle the heavy lifting.
Features of Plus AI
Plus AI is not just another presentation tool; it's a paradigm shift in how presentations are crafted:
AI-Powered Slide Creation: With Plus AI, gone are the days of manually creating slides. The tool uses advanced AI to generate slides, ensuring that they are not only visually appealing but also content-rich.
Custom Themes: Users can design custom themes tailored to their needs. Plus AI's AI ensures that the selected fonts and colors align perfectly with the theme's name.
Co-Creation with AI: The tool offers suggestions on improving presentations, ensuring that the final output is nothing short of perfection.
Consistency Across Presentations: Plus AI ensures that all presentations, irrespective of who creates them, have a consistent design, style, and tone.
Generative AI in Action
Generative AI is the backbone of Plus AI. Here's how it works:
Presentation Description: Users provide a brief description of the presentation they want.
AI-Generated Outline: Based on the description, Plus AI generates a presentation outline. Users can review and tweak this outline as needed.
Slide Creation: Once the outline is finalized, Plus AI crafts the slides. All users need to do is review, and make the necessary edits, and they're all set to present!
User Experience
Navigating through Plus AI is a breeze. The tool seamlessly integrates with Google Slides, ensuring that users don't have to juggle between multiple platforms. The interface is intuitive, making it easy even for those who aren't tech-savvy. Creating a new presentation is straightforward – provide a prompt or select a preset, and AI takes care of the rest. The tool also offers a snapshot feature, allowing users to capture snapshots of websites, apps, or dashboards and embed them in their presentations.
Pricing and Plans
Here's a quick overview of its pricing:
Start for Free: Users can begin their journey with Plus AI without spending a dime. This free version, while limited, provides a glimpse into the tool's capabilities.
Upgrade for More: For those who want to unlock the full potential of Plus AI, there are upgrade options available. These offer unlimited AI, advanced layouts, custom themes, and much more.
9. Fireflies – AI Meeting Assistant
In today's fast-paced business world, meetings are a constant. But with Fireflies, the AI Meeting Assistant, the way we approach meetings is transforming. This tool is designed to record and transcribe meetings, ensuring that no detail is missed. The days of frantic note-taking are over, and in its place, we have a system that not only captures every word but also aids in improving team collaboration.
Features of Fireflies
Fireflies isn't just another transcription tool; it's a comprehensive AI meeting assistant:
Comprehensive Recording: Fireflies ensures that every word spoken in a meeting is captured, leaving no room for misinterpretation or missed details.
Integration with Popular Platforms: Whether it's Zoom, GMeet, or MS Teams, Fireflies seamlessly integrates, ensuring that no matter where your meeting is held, it's got you covered.
Automated Meeting Summaries: Beyond just transcription, Fireflies provides automated summaries, ensuring that the key points of a meeting are immediately accessible.
Search Within Meetings: Ever wanted to recall a specific point from a meeting? With Fireflies, you can search within your meetings, ensuring that information is always at your fingertips.
Transcription Capabilities
The transcription capabilities of Fireflies are a cut above the rest:
High Accuracy: Leveraging advanced AI algorithms, Fireflies ensures that transcriptions are accurate, capturing the nuances of human speech.
Support for 30+ Languages: Catering to a global audience, Fireflies supports transcription in over 30 languages, ensuring that language is never a barrier.
Automated Meeting Summaries: Beyond transcription, the tool provides concise summaries, ensuring that users can quickly grasp the crux of a meeting.
User Experience
Using Fireflies is a seamless experience. The platform is designed with user-friendliness at its core. Integrating with popular meeting platforms ensures that users don't have to switch between multiple tools. The interface is intuitive, making it easy for users to access transcriptions, search within meetings, and even get automated summaries. The tool also offers features like playback at varying speeds and the ability to comment and react to specific parts of a meeting.
Pricing and Plans
Fireflies offer a range of pricing options tailored to meet diverse needs:
The Free plan is perfect for individuals starting, offering limited transcription credits and 800 minutes of storage per seat. It supports recording for platforms like Zoom, GMeet, MS Teams, and more.
For those looking for more, the Pro plan, priced at $10 per seat/month (billed annually), offers unlimited transcription credits, 8,000 minutes of storage per seat, and additional features like AI Super Summaries and CRM integrations.
Businesses can opt for the Business plan at $19 per seat/month (billed annually), which offers unlimited transcription credits and storage, along with features like video screen capture and team insights.
Large enterprises can get in touch for a custom Enterprise plan, which offers bespoke features tailored to their needs.
10. Speechify – Text to Audio Conversion
In today's fast-paced world, multitasking has become a necessity. Whether you're a student trying to grasp a complex topic or a professional on the go, sometimes reading isn't the most convenient option. Enter Speechify, a revolutionary tool that converts text into natural-sounding audio. With its advanced AI algorithms and a plethora of voice and language options, Speechify ensures that you can listen to any text, anytime, anywhere.
Features of Speechify
Speechify is not just another text-to-audio converter; it's a comprehensive solution designed with the user in mind:
Versatile Input Options: Whether it's a PDF, a webpage, or even a photo of a text, Speechify can convert it into audio. This means you can listen to your favorite articles, emails, or even textbooks on the go.
Natural Sounding Voices: Thanks to its advanced AI, Speechify's audio output sounds incredibly natural, making for a pleasant listening experience.
Offline Listening: By converting text into downloadable audio files, Speechify ensures that you can listen to your content even without an internet connection.
Integration with Popular Platforms: Whether you're using a desktop, an iOS, or an Android device, Speechify has got you covered. Plus, with extensions for popular browsers like Google Chrome and Safari, converting web content into audio is just a click away.
Language and Voice Options
One of Speechify's standout features is its extensive language and voice options:
Multiple Languages: From English and German to Chinese and Arabic, Speechify supports over 30 languages, ensuring that users from all over the world can benefit from its features.
Variety of Voices: Speechify offers a range of voices, including some premium ones like celebrities Gwyneth Paltrow and Snoop Dogg. Whether you prefer a male or female voice, a particular accent, or even a celebrity voice, Speechify has got you covered.
User Experience
Using Speechify is a breeze. Its intuitive interface ensures that even those who aren't tech-savvy can easily convert text into audio. Everything is neatly organized, and the tool offers a seamless experience across devices. Whether you're uploading a document, choosing a voice, or adjusting the reading speed, every feature is just a few clicks away.
Pricing and Plans
Speechify believes in offering value to its users. While it provides a free plan that comes with 10 standard voices and basic text-to-speech quality, its premium offerings are where the magic truly happens. With the premium plan, users get access to over 30 human-like voices, instant translation in more than 60 languages, and advanced features like OCR technology for scanning printed text. The premium plan is available on both a monthly and yearly basis, ensuring flexibility for users. Plus, with priority support for premium users, any issues or queries are addressed promptly.
Best practices for leveraging AI to unleash creative potential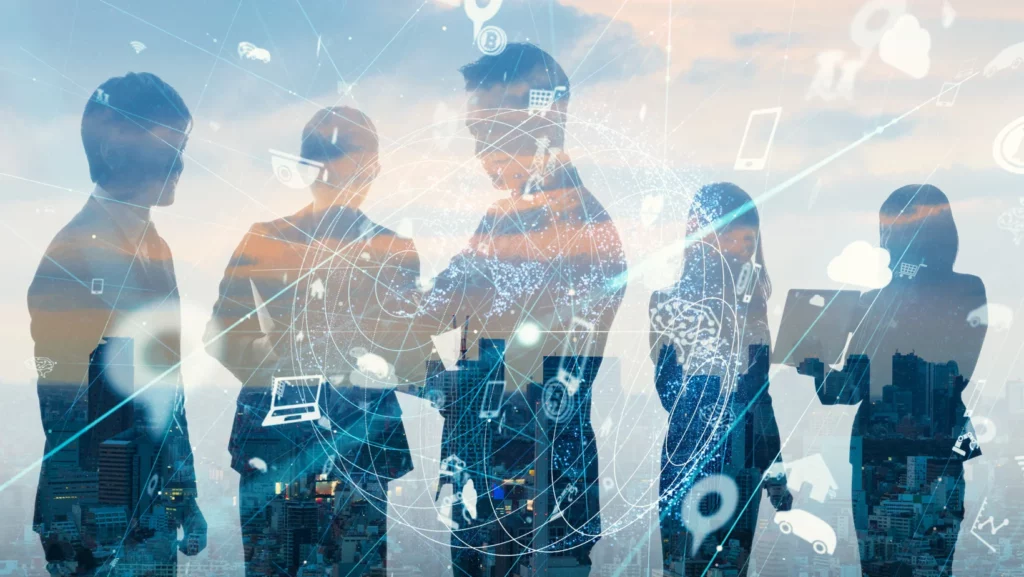 Artificial intelligence tools are advancing rapidly, making it easier for creative professionals to unleash their full potential. AI can help creatives discover new ideas and optimize existing ones, allowing them to produce high-quality work quickly and efficiently.
Here are some best practices for leveraging AI in a creative setting:
Make use of generative algorithms: Generative algorithms enable you to create original works based on your input. These algorithms can be used to create images, videos, music, and more.
Focus on analytics: AI-based tools allow you to analyze data quickly and accurately to streamline the creative process. For instance, you can use AI to identify customer trends or assess user engagement with your content.
Automate repetitive tasks: AI can help automate mundane tasks, such as formatting images or transcribing audio files. This can save you time and energy so that you can focus on the creative aspects of your work.
Leverage natural language processing: Natural language processing (NLP) is a form of AI that enables machines to understand human language. It enables computers to automatically generate content based on user input, saving you the time and effort of manually crafting each piece.
Utilize AI-powered search: AI-powered search algorithms can help creative professionals quickly find relevant content. For example, they can be used to search through a database of images or videos to pinpoint exactly what you're looking for.
By using AI-powered tools creatively, creatives can take their work to the next level. AI can help them discover new ideas, optimize existing ones, and automate mundane tasks – all of which can free up more time for creative pursuits.
Tips on What to look for when selecting an AI tool for Creativity
Like a Google cloud learning machine, AI tools come in all shapes and sizes, so it's important to choose one that fits your specific needs. When selecting an AI tool for creativity, here are some things to consider:
Cost
AI tools can be expensive, so make sure you know what you're getting for the money. Be sure to compare pricing between different providers and get a clear understanding of what features are covered in the cost.
Accuracy
AI tools will only be effective if they can accurately capture and interpret data. Make sure to read customer reviews and ask for a demo of the tool before committing to it.
Platform Compatibility
AI tools should be compatible with your current platforms and systems. If not, make sure you have a plan in place for how you will integrate the new tool into your existing setup.
Scalability
AI tools should be able to adapt and scale as your needs evolve. Make sure to research if the tool can grow with you or if it's limited in its capabilities.
Security
The security of your data is paramount, so make sure that any AI tool you choose has the necessary safeguards in place to protect it.
By carefully considering these factors, you can ensure that you choose an AI tool for creativity that is tailored to your specific needs and fits within your budget. From machine learning models, and Azure machine learning studio to deep learning, AI tools can provide creative professionals with unprecedented opportunities to explore their craft and unlock new possibilities. Moreover, most of this AI software has a maintenance and cloud infrastructure for automation.
Frequently Asked Questions About Unlocking the Creative Potential of AI: Top 10 Best AI Tools in 2024
Q: How does Pictory's AI video generation differ from traditional video editing software?
A: Pictory leverages advanced AI algorithms to automate video generation, making it faster and more efficient than traditional methods. It can transform scripts and content into dynamic videos, reducing the manual effort required in conventional video editing.
Q: Can Jasper's AI writing assistant create content in multiple languages and formats?
A: Yes, Jasper is versatile and supports various writing styles and formats, from blog posts to emails. Its AI algorithms can adapt to different languages, ensuring global usability and diverse content creation.
Q: What makes Murf's text-to-speech technology stand out from other voice generators?
A: Murf offers extensive customization options, allowing users to choose from a variety of voice types and accents. Its AI ensures the generated speech sounds natural, making it suitable for applications like audiobooks and customer service.
Q: How does HitPaw enhance photo quality using AI?
A: HitPaw uses AI models to perform tasks like denoising and upscaling images. It can analyze a photo's imperfections and automatically enhance its quality, making images clearer and more vibrant.
Q: Is Synthesys suitable for creating marketing or educational videos with its lip-syncing technology?
A: Absolutely! Synthesys's lip-syncing technology ensures that videos are engaging and realistic. Its AI-driven video generation is ideal for creating impactful marketing campaigns or educational content that resonates with viewers.
Conclusion
As we have seen, AI offers immense creative potential. From healthcare to enterprise applications and beyond, machines are quickly becoming more capable of mimicking the services and capabilities that used to be exclusively human-only intelligence. We need to embrace this technology and recognize its role in the future of creative tasks.
With all our combined efforts, we can unlock the full potential of intelligent machine-learning software and witness a truly revolutionary shift in technology. What is there for us to gain from utilizing such programs? It's up to us to find out!