What is a Job Offer Letter?
A job offer letter is a document used by employers to offer a job position to an applicant. It outlines the terms of employment, including job title, salary, benefits, and work hours. The purpose of a job offer letter is to provide the applicant with an official document that outlines the details of the job offer.
It also serves as an agreement between the applicant and the employer, as both parties should sign the job offer letter to make it official. Additionally, the job offer letter should include clear expectations of the applicant's role within the company.
A job offer letter is a formal document sent to a job applicant after they have been selected for an open role. It outlines the details of the job, including the position being offered, the salary, the company's expectations, any benefits and an overview of the work environment. It also serves as an agreement that the job offer is accepted and that the applicant will begin work on a certain date.
Looking for a Professional Job Offer Letter Template?
A professionally written Professional Job Offer is essential for organizations looking to attract and retain top talent. The job offer letter outlines the terms and conditions of the employment relationship, including job responsibilities, compensation, benefits, and start date.
By providing a clear and comprehensive job offer letter, organizations can convey a positive impression of the organization and demonstrate their commitment to the candidate.
Moreover, a well-written job offer can help organizations secure top talent by making a compelling case for why the candidate should accept the position. This can improve the organization's ability to attract and retain the best employees, ultimately benefiting its bottom line.
This onboarding template is a terrific tool for any business because it's not only simple to use but also polished.
You may quickly modify the template to match your unique demands and specifications because it is fully editable in Canva, Google Docs or Microsoft Word.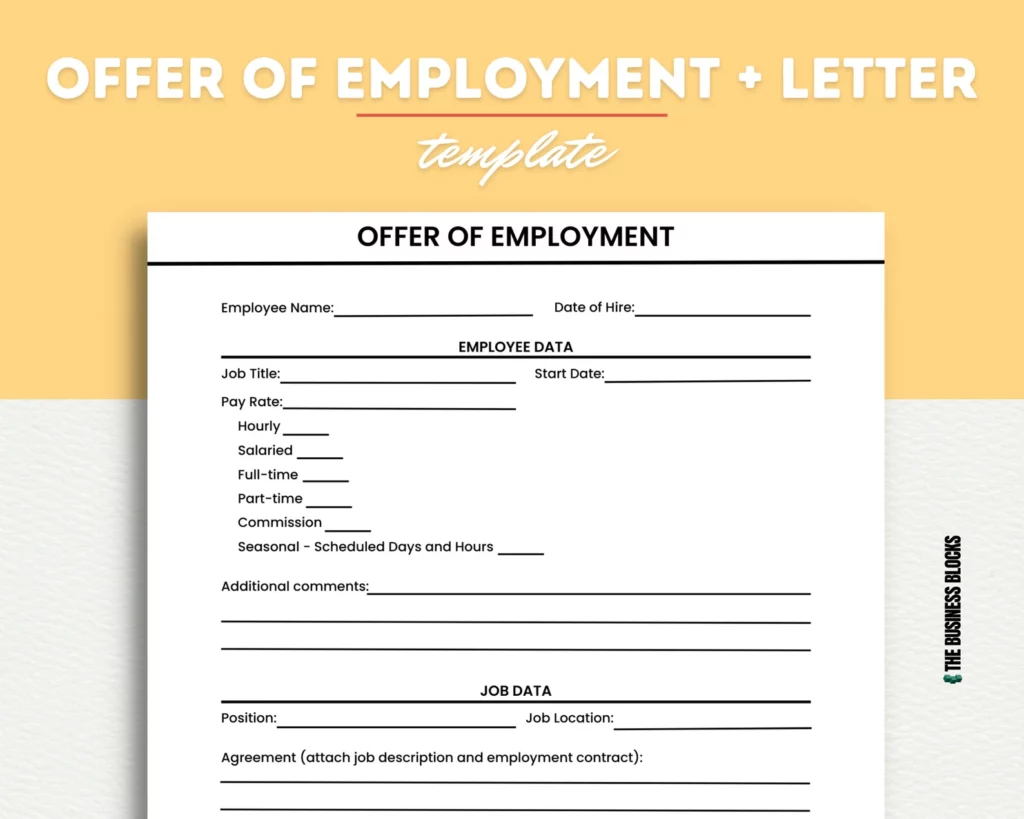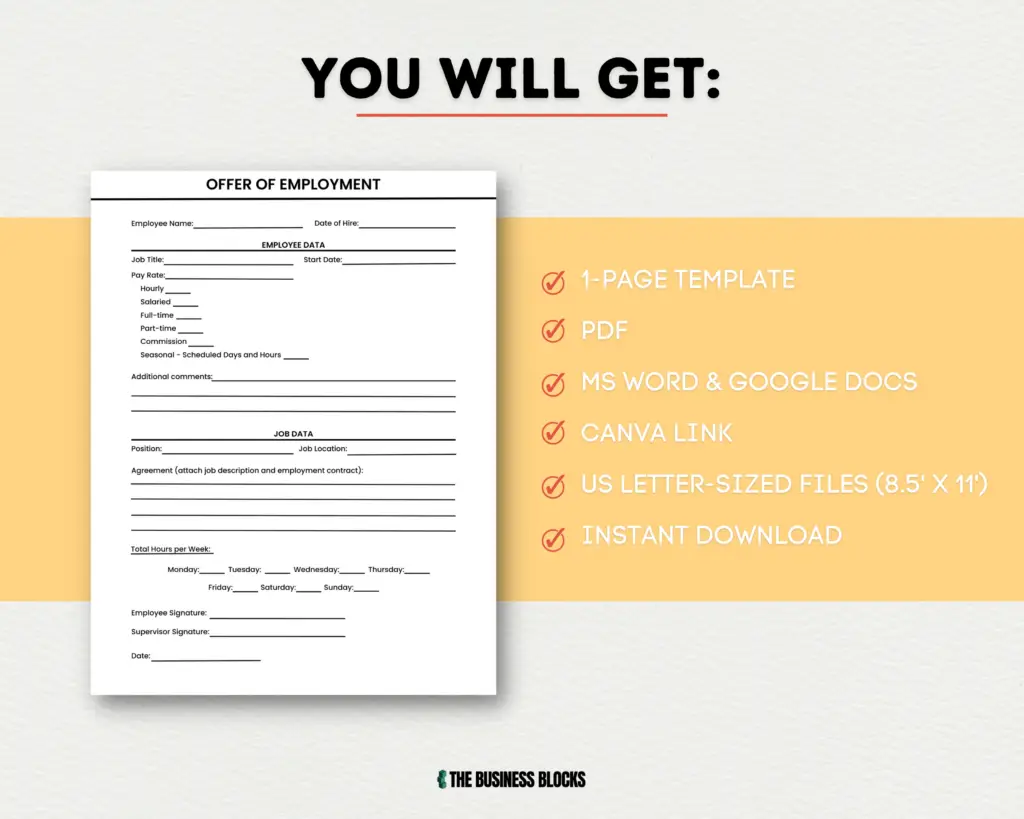 This checklist is included in the bundle pack, so if you decide to purchase (just choose the bundle)
WHAT'S INCLUDED?
Your Live Canva Document for Editing in 2 sizes US Letter (8.5″x11″) and A4 Size (8.27″ x 11.69″)
Two Editable Google Doc Templates (US Letter and A4 Size), convertible to:
Two Editable Microsoft Word Templates (US Letter and A4 Size), convertible to:
Two Printable Adobe PDF Templates (US Letter and A4 Size)
REQUIREMENTS
Google Account (for Google Docs templates)
Microsoft Word (2007 or greater) for Windows or MacOS
Canva Account (for Canva templates)
Adobe Acrobat Reader
OTHER INFORMATION
To alter or modify these templates, some familiarity with Canva, Google Docs, or Microsoft Word is required.
No printed materials or physical products will be provided to you; this is a digital product.
The Business Blocks owns the rights of its designs. You may use the template as often as you like, but you may not share it with anybody outside of your business. Please get in touch if you need assistance with repairing or amending.
There are no returns because of the nature of the product, but we'd be happy to work with you to resolve any problems.
---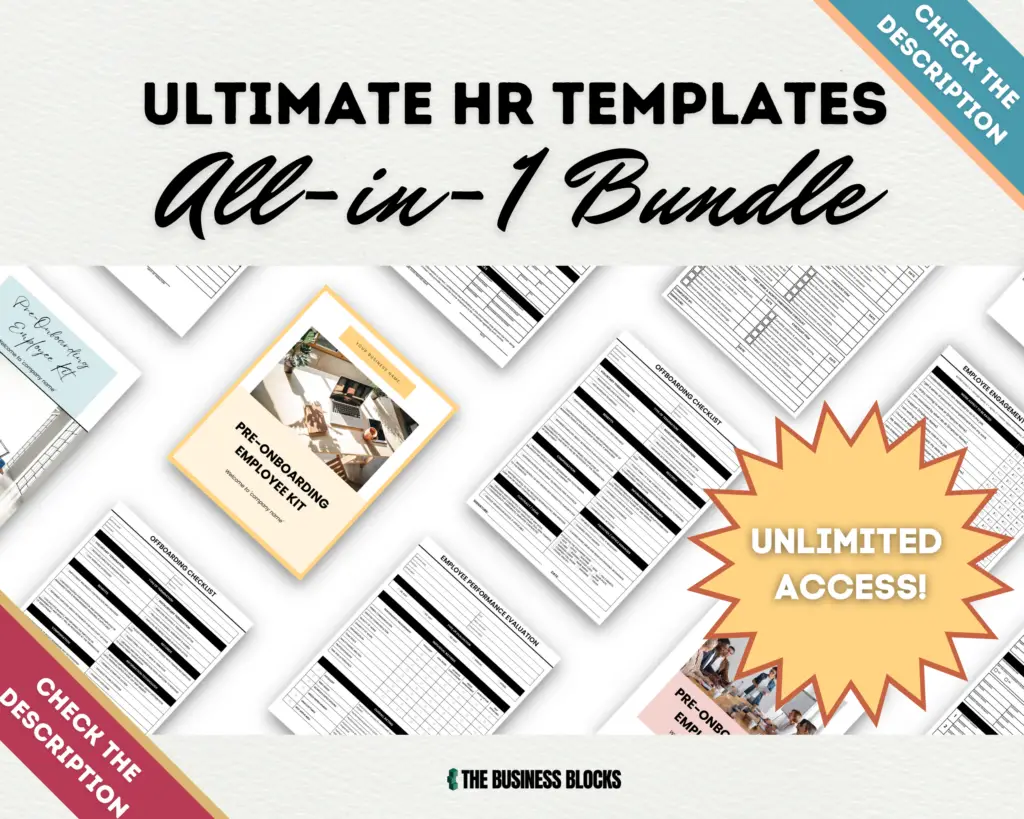 All-in-One HR Templates Bundle
With over 50 templates covering various aspects of HR, including recruitment, performance evaluation, employee benefits, and more, this All-in-One HR templates bundle provides everything needed to streamline HR operations and maintain compliance.
---
Why is a Professional Job Offer Letter Important for Your Business?
A Professional Job Offer Letter is important for your business because it is the first document that sets the record straight with the new employee. It's a formal document that states the job title, salary, benefits, and other conditions of employment that the employee has agreed to. I
t also serves as a reference point for both the employer and the employee so they can refer to it if there is a dispute or misunderstanding. It's also a great way to build trust and strengthen the relationship between the employer and the employee. It shows the employee that the employer is serious about the job and values their commitment.
Professional job offer letters make sure job descriptions are clear and accurate.
They help build a positive image of your business.
They help ensure that the prospective employee understands the employment terms and conditions.
They can be used to create a sense of commitment between the employer and employee.
They provide a legal record of the job offer and the employee's acceptance of the offer.
They can be used to legally protect your business against claims of discrimination.
Wrap Up
In conclusion, professional job offer letters can be a win-win situation for both employers and potential employees. Not only do they provide a detailed agreement of expectations, but they also show respect and appreciation to an applicant that is likely to become an asset to your business.
They can demonstrate transparency, help maintain legal compliance and strengthen employer branding, making them an essential piece of any business' hiring process. Crafting a job offer letter that is both professional and compelling should no longer be overlooked.