What is a New Hire Training Plan?
A New-Hire Training Plan is a comprehensive plan that outlines the steps and procedures for training new hires. It is developed to ensure that new employees have the tools and resources they need to get up to speed quickly.
The plan should define the roles, responsibilities, and expectations of the HR team and the new hires. It should provide clear expectations, including what the new hire can expect from their manager and colleagues.
Additionally, it should provide guidance on how to use the company's technology and resources. The New-Hire Training Plan is an essential tool for HR professionals and company leaders as it provides a foundation for successful onboarding and helps employees transition successfully into the company's culture.
Looking for a New Hire Training Plan template?
A new hire training plan template is crucial for effective employee onboarding. The template ensures consistent and thorough training, helping new hires quickly integrate into the workplace and become productive.
Additionally, the use of a standardized training plan saves time and resources by streamlining the onboarding process. The template also helps organizations comply with legal requirements and industry standards by ensuring that all necessary topics are covered. This helps keep employees and businesses protected and can improve an organization's reputation and competitiveness.
Overall, a new hire training plan template is an essential tool for any organization that wants to onboard new employees effectively, efficiently, and legally.
This template is a terrific tool for any business because it's not only simple to use but also polished.
You may quickly modify the template to match your unique demands and specifications because it is fully editable in Canva, Google Docs or Microsoft Word.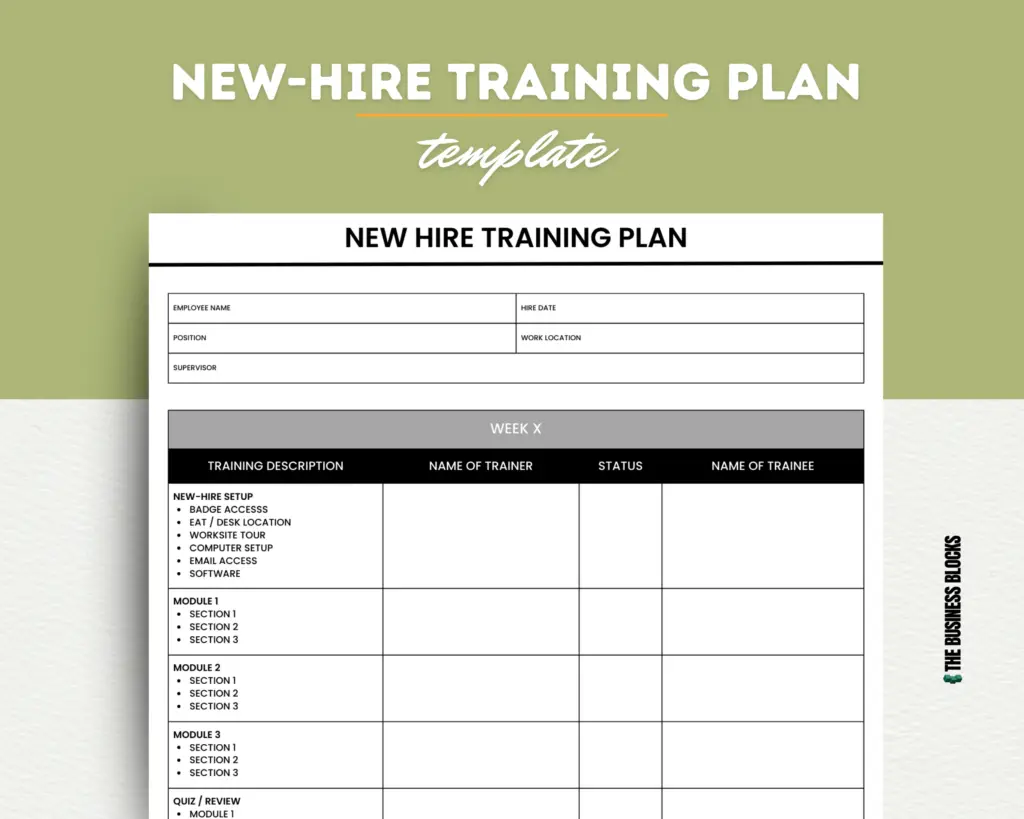 This checklist is included in the bundle pack, so if you decide to purchase (just choose the bundle)
WHAT'S INCLUDED?
Your Live Canva Document for Editing in 2 sizes US Letter (8.5″x11″) and A4 Size (8.27″ x 11.69″)
Two Editable Google Doc Templates (US Letter and A4 Size), convertible to:
Two Editable Microsoft Word Templates (US Letter and A4 Size), convertible to:
Two Printable Adobe PDF Templates (US Letter and A4 Size)
REQUIREMENTS
Google Account (for Google Docs)
Microsoft Word (2007 or greater) for Windows or MacOS
Adobe Acrobat Reader
OTHER INFORMATION
To alter or modify these templates, some familiarity with Canva, Google Docs, or Microsoft Word is required.
No printed materials or physical products will be provided to you; this is a digital product.
The Business Blocks owns the rights of its designs. You may use the template as often as you like, but you may not share it with anybody outside of your business. Please get in touch if you need assistance with repairing or amending.
There are no returns because of the nature of the product, but we'd be happy to work with you to resolve any problems.
---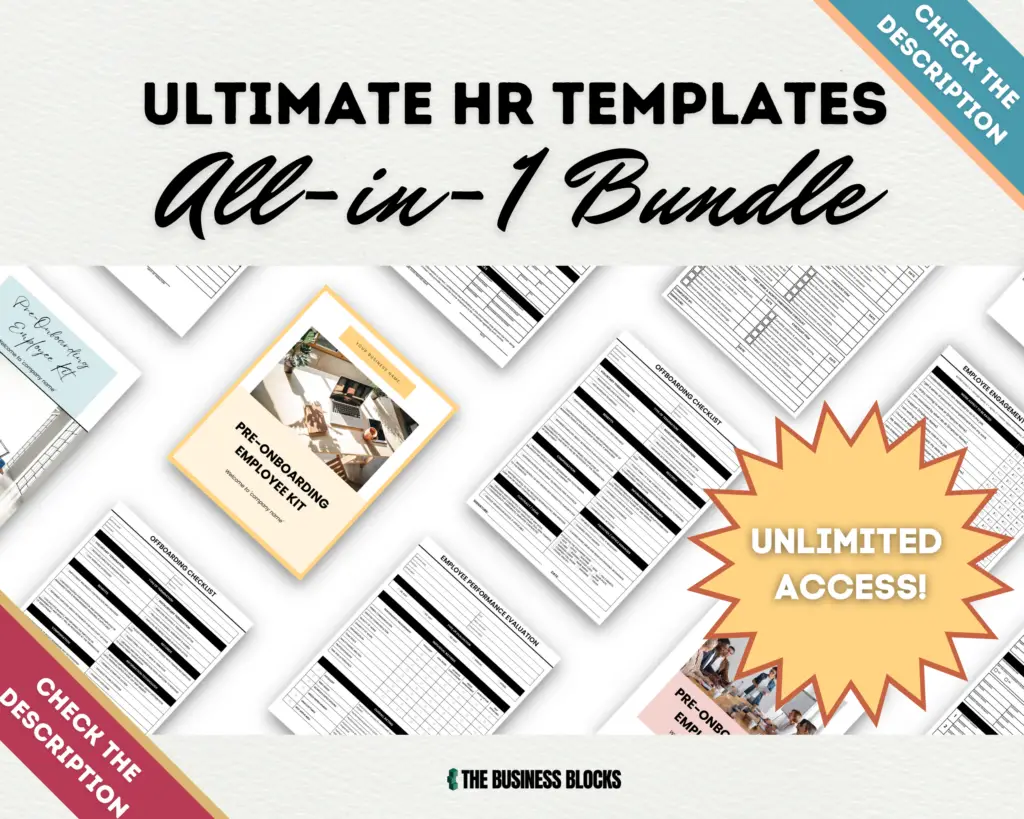 All-in-One HR Templates Bundle
With over 50 templates covering various aspects of HR, including recruitment, performance evaluation, employee benefits, and more, this All-in-One HR templates bundle provides everything needed to streamline HR operations and maintain compliance.
---
Why is New-Hire Training Plan Important for Your Business?
A well-planned New-Hire Training Plan is essential for any business that wants to ensure their staff are equipped with the knowledge and skills needed to succeed. A New-Hire Training Plan helps to ensure that the onboarding process is smooth, efficient, and effective by providing a structured approach to educating new staff.
By introducing new staff to the company culture, objectives, processes, and systems, organizations can ensure that employees begin working efficiently from day one. It also provides a clear path for growth and development, allowing employees to increase their competency and skills for the benefit of the business. A well-crafted New-Hire Training Plan helps to maximize employee engagement and productivity and create a stronger workforce overall.
Wrap Up
In conclusion, it is essential for organizations to have a well-crafted New-Hire Training Plan for onboarding new employees. It facilitates smoother transitions in the onboarding process and ensures new staff members become productive more quickly.
It also provides a structure for growth and development that helps new employees increase their skills while strengthening the workforce overall. A New-Hire Training Plan is a beneficial tool that can help businesses retain quality staff and maximize productivity.