What is Employee Performance Evaluation?
An employee performance evaluation is an important HR document that assesses an employee's job performance, achievements, and areas for improvement over a specific period. This document is typically completed annually, although it can also be conducted more frequently, such as quarterly or bi-annually.
The employee performance evaluation serves several important purposes, including:
Identifying Strengths and Weaknesses: The evaluation helps to identify areas where the employee excels and areas where improvement is needed. This information can be used to provide targeted training and development opportunities for the employee.
Setting Goals and Objectives: The evaluation provides an opportunity to set new goals and objectives for the employee based on their performance and development needs.
Making Employment Decisions: The evaluation can be used to make employment decisions, such as promotions, pay increases, or disciplinary action, based on the employee's performance and contributions to the company.
Providing Feedback: The evaluation provides an opportunity for managers and supervisors to provide feedback to the employee on their job performance and to recognize their achievements.
Overall, the employee performance evaluation is an important HR document that helps to assess an employee's job performance, identify areas for improvement, and make employment decisions. By providing feedback and setting goals, the evaluation can also help to improve employee engagement and job satisfaction, which can lead to increased productivity and overall success for the company.
Looking for an Employee Performance Evaluation template?
A good Employee Performance Evaluation is critical for organizations looking to manage and improve employee performance. The evaluation provides a structured process for measuring an employee's performance against specific goals, expectations, and competencies.
By providing feedback on strengths and areas for improvement, the evaluation can help employees understand their performance and develop a plan for growth and development.
Moreover, a well-designed performance evaluation can help organizations identify high-performing employees and provide recognition and rewards, while also addressing performance issues and taking corrective action as needed.
This can improve overall employee engagement, motivation, and productivity, ultimately benefiting the organization's bottom line.
This template is a terrific tool for any business because it's not only simple to use but also polished.
You may quickly modify the template to match your unique demands and specifications because it is fully editable in Canva, Google Docs or Microsoft Word.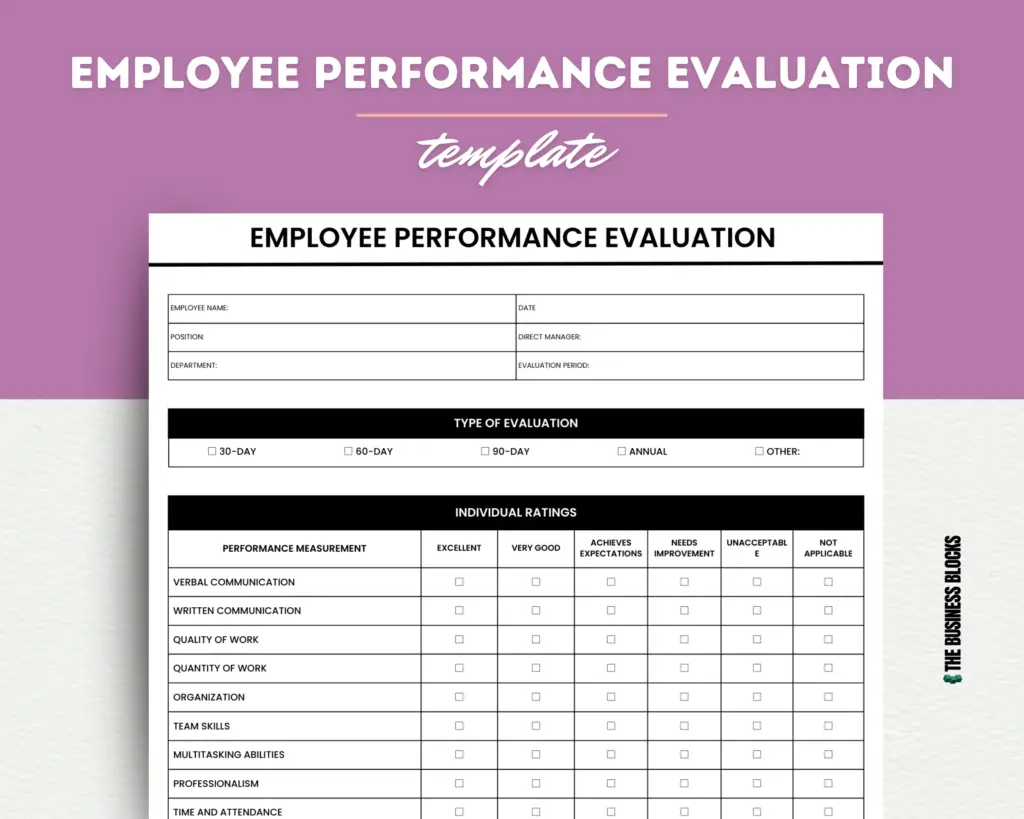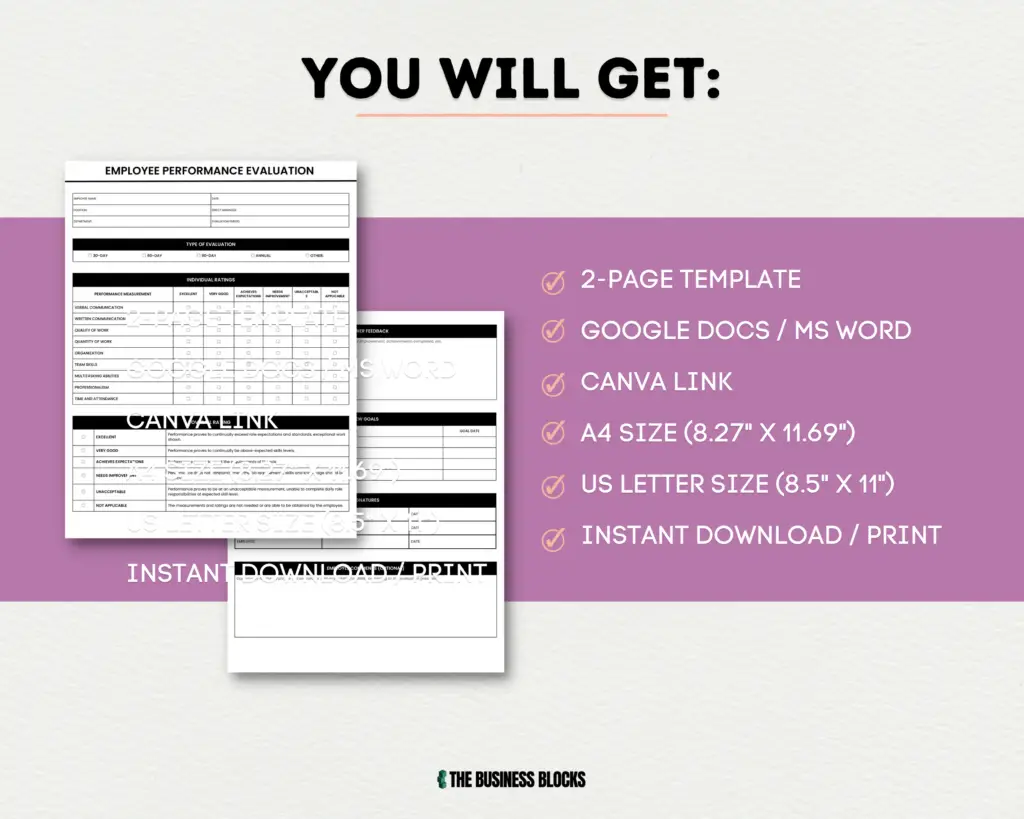 This checklist is included in the bundle pack, so if you decide to purchase (just choose the bundle)
WHAT'S INCLUDED?
Your Live Canva Document for Editing in 2 sizes US Letter (8.5″x11″) and A4 Size (8.27″ x 11.69″)
Two Editable Google Doc Templates (US Letter and A4 Size), convertible to:
Two Editable Microsoft Word Templates (US Letter and A4 Size), convertible to:
Two Printable Adobe PDF Templates (US Letter and A4 Size)
REQUIREMENTS
Google Account (for Google Docs templates)
Microsoft Word (2007 or greater) for Windows or MacOS
Canva Account (for Canva templates)
Adobe Acrobat Reader
OTHER INFORMATION
To alter or modify these templates, some familiarity with Canva, Google Docs, or Microsoft Word is required.
No printed materials or physical products will be provided to you; this is a digital product.
The Business Blocks owns the rights of its designs. You may use the template as often as you like, but you may not share it with anybody outside of your business. Please get in touch if you need assistance with repairing or amending.
There are no returns because of the nature of the product, but we'd be happy to work with you to resolve any problems.
---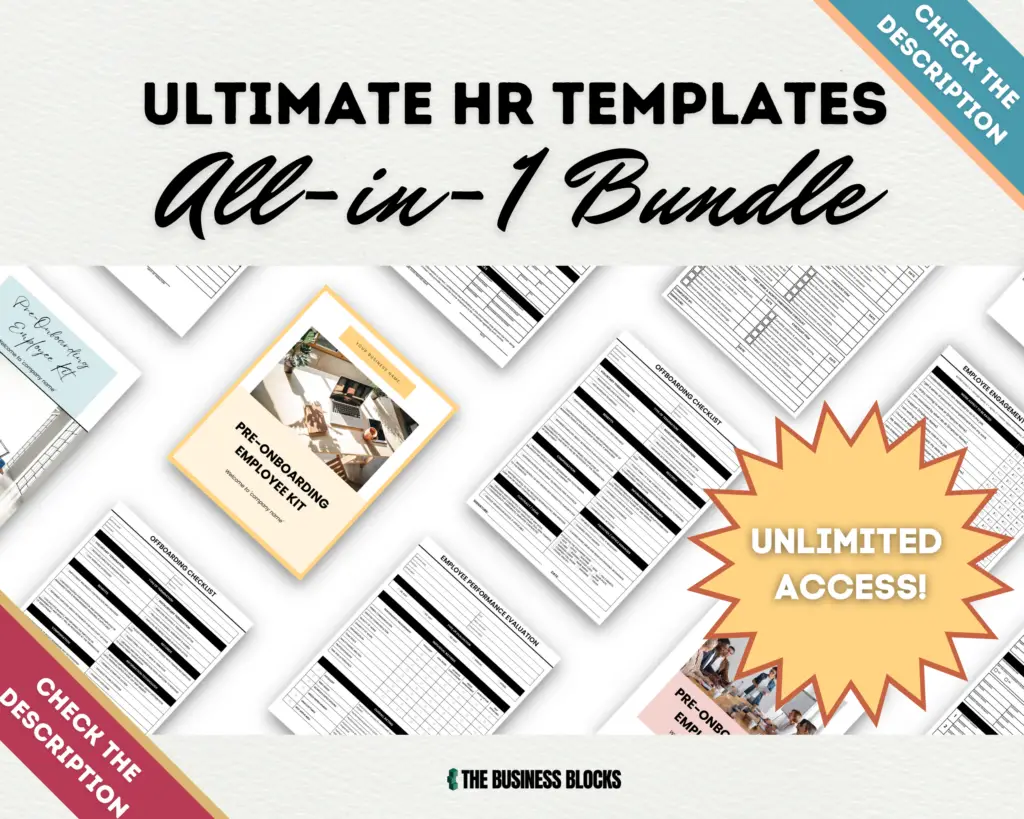 All-in-One HR Templates Bundle
With over 50 templates covering various aspects of HR, including recruitment, performance evaluation, employee benefits, and more, this All-in-One HR templates bundle provides everything needed to streamline HR operations and maintain compliance.
---
Why is Employee Performance Evaluation important for your business?
Many employers consider employee performance evaluations as a necessary evil or a burdensome administrative task. However, it can be a powerful tool in the hands of a capable professional to help a company achieve its goals.
The feedback provided during evaluation sessions can be crucial in assisting an employee to realize their strengths and areas for improvement so that they can excel in their current job and be prepared for any future promotions or career moves.
It also serves as a reminder to the employee on the expectation of the job and establishes clear goals and objectives to help them develop their skills and knowledge. On the other hand, ongoing feedback helps smooth over interpersonal issues before they can become major distractions.
An effective evaluation should:
Improve Employee Accountability: Employee performance evaluations help employees understand the expectations of their position and can help to motivate them to meet or exceed those expectations.
Enhance Job Satisfaction: Employees who understand the expectations of their position and receive feedback on their performance on an ongoing basis feel valued and appreciated, increasing job satisfaction.
Identify Training Needs: By tracking employee performance over time, employee performance evaluations can help identify any potential training needs and make sure your employees have the right tools to succeed. This also helps growth of the employee and the organization.
Wrap Up
In conclusion, employee performance evaluations can be an invaluable tool for any organization, regardless of its size. By consistently assessing and evaluating employee performance, organizations can ensure that employees understand the expectations of their position and are provided with the feedback, support and training needed to enhance job satisfaction, identify training needs and ensure success for both the employee and the organization.