What is an Employee Information Form?
An Employee Information Form is a document used by employers to collect and store important personal and professional details of their employees. This form can include details such as name, address, contact information, job title, emergency contact information, and more. T
he form is an important part of the onboarding process, as it ensures that all employees have provided accurate information and that the employer is aware of important details such as emergency contact information.
Looking for an Employee Information Form template?
An Employee Information Form is essential for organizations to collect and maintain accurate information about their employees. The form includes important details such as contact information, emergency contacts, employment history, and tax and payroll information.
By maintaining up-to-date and accurate employee information, organizations can ensure compliance with legal requirements and manage their workforce effectively.
Moreover, a well-designed employee information form can help streamline HR processes such as payroll, benefits administration, and performance management, leading to increased efficiency and productivity.
You may quickly modify the template to match your unique demands and specifications because it is fully editable in Canva, Google Docs or Microsoft Word.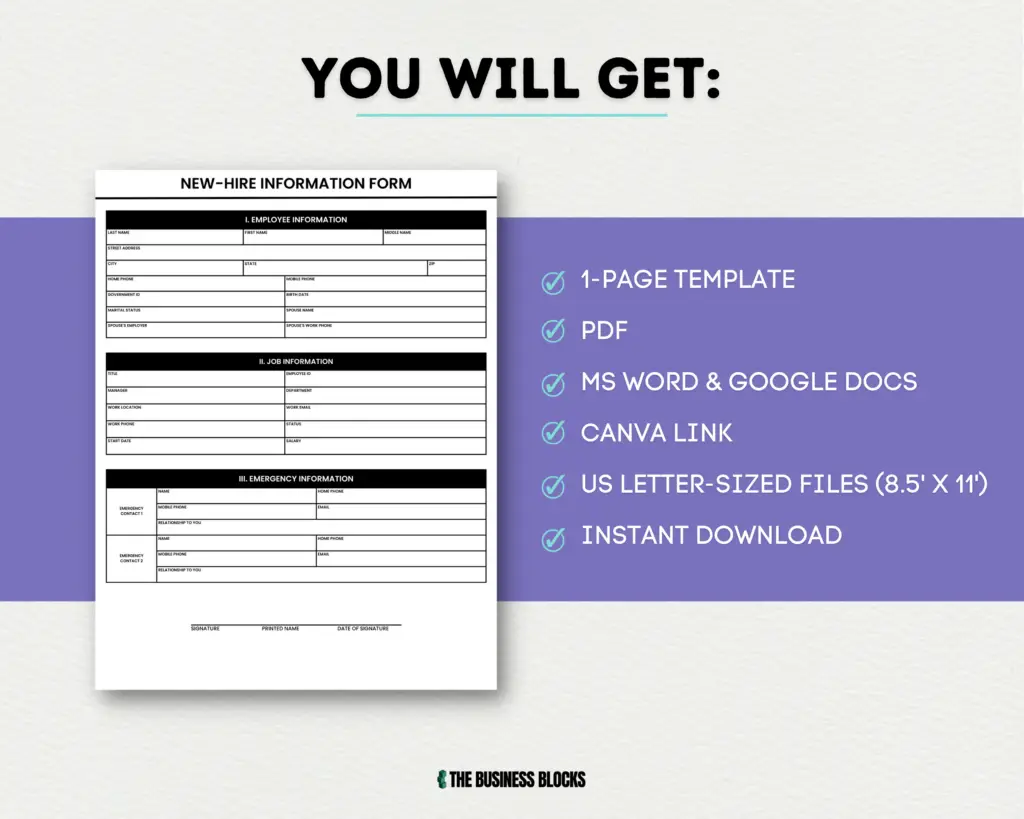 This checklist is included in the bundle pack, so if you decide to purchase (just choose the bundle)
WHAT'S INCLUDED?
Your Live Canva Document for Editing in 2 sizes US Letter (8.5″x11″) and A4 Size (8.27″ x 11.69″)
Two Editable Google Doc Templates (US Letter and A4 Size), convertible to:
Two Editable Microsoft Word Templates (US Letter and A4 Size), convertible to:
Two Printable Adobe PDF Templates (US Letter and A4 Size)
REQUIREMENTS
Google Account (for Google Docs templates)
Microsoft Word (2007 or greater) for Windows or MacOS
Canva Account (for Canva templates)
Adobe Acrobat Reader
OTHER INFORMATION
To alter or modify these templates, some familiarity with Canva, Google Docs, or Microsoft Word is required.
No printed materials or physical products will be provided to you; this is a digital product.
The Business Blocks owns the rights of its designs. You may use the template as often as you like, but you may not share it with anybody outside of your business. Please get in touch if you need assistance with repairing or amending.
There are no returns because of the nature of the product, but we'd be happy to work with you to resolve any problems.
---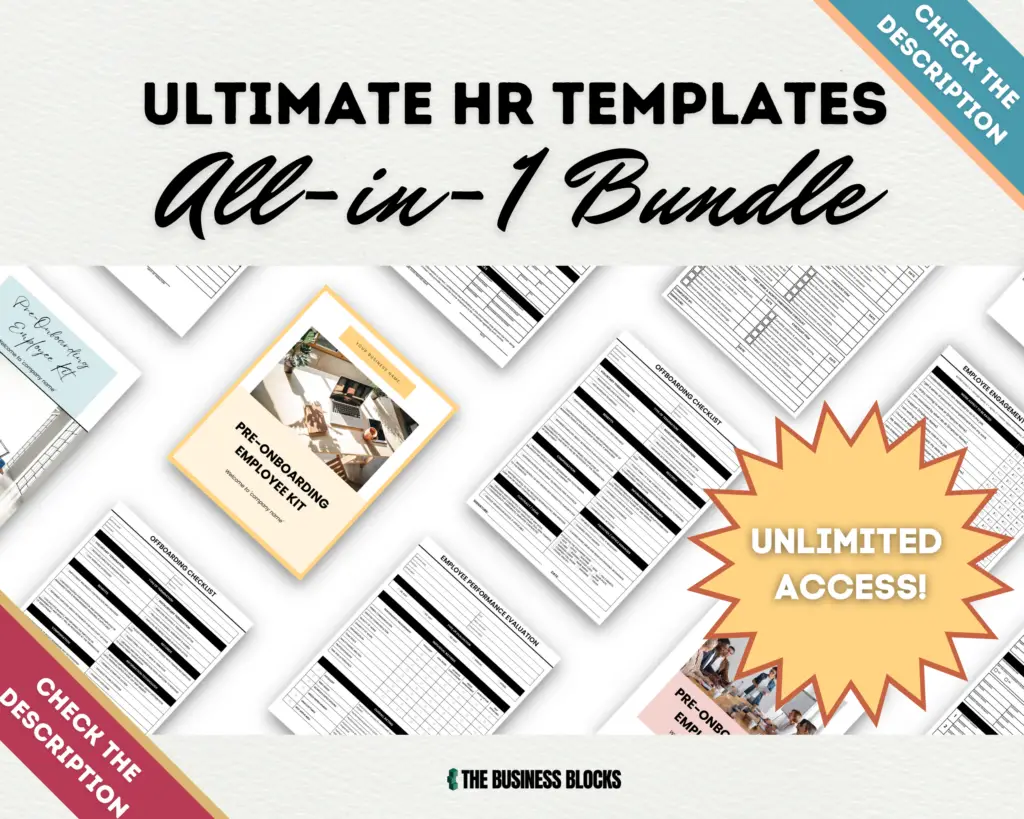 All-in-One HR Templates Bundle
With over 50 templates covering various aspects of HR, including recruitment, performance evaluation, employee benefits, and more, this All-in-One HR templates bundle provides everything needed to streamline HR operations and maintain compliance.
---
Why is Employee Information Form Important for Your Business?
An Employee Information Form serves as an organized document that outlines an employee's contact information, job position, and salary information. This information is vital for businesses to track and update as needed, as it serves as the backbone of their employee records.
Furthermore, Employee Information Forms are a great way to ensure the safety of all employees by collecting the necessary information needed in order to adequately monitor and protect the business.
Finally, this form is also useful to ensure accuracy when an employee is applying for benefits and other forms of compensation. Overall, Employee Information Forms are an important tool for businesses in order to stay organized and ensure the safety and well-being of their employees.
It allows you to create a standard form of information to be collected from each employee
It helps protect your business interests by giving you a legal record of the agreement between you and your employees
It helps ensure accuracy when it comes to recording information such as absences and other data
It helps you organize and keep track of employee information in an efficient and secure manner
It allows you to comply with legal and regulatory requirements related to employee data and information.
Wrap Up
In conclusion, a human resources policy manual can provide many benefits for businesses of all sizes. It helps to ensure accuracy, compliance, and organization of employee data, as well as providing a legal record of the agreement between the business and its employees. With the advantages it brings, it's no surprise that having a human resources policy manual is becoming increasingly popular in the business world today.