Today, more and more organizations are working towards building an employee-centric culture where all of their employees feel valued and cared for. Gone are the days when bosses believed that employees are just there to get the job done, receive their paycheck, and nothing else. Employee recognition has become a vital part of company success.
Modern-day employers view employees as their biggest assets and brand ambassadors to their company. The happier and more satisfied their employees feel, the better will be their performance at work. This is where employee recognition becomes important.
By recognizing and appreciating the efforts of your workforce, managers can make them feel valued and "seen." Appreciating your employees' hard work and rewarding them for a job done well can go a long way in boosting company culture, enhancing employee performance, and reducing employee turnover.
And that is exactly what employee recognition software can help you do. They help you recognize and appreciate the efforts and success of each employee.
In this article, we will talk more about employee recognition software, their importance, uses, and more.
Let's get started!
What is Employee Recognition Software?
Employee recognition software is an application or tool used for recognizing employees' good performance, workplace success, and personal milestones like birthdays and workplace anniversaries. By using these software, managers can keep track of the projects each employee is working on, anaylse their performance, recognize their success, and reward them accordingly.
An employee recognition software comes power-packed with a host of incredible services that makes the process of employee appreciation and recognition effortless. It offers several analytical tools, automating features, and personalized reward options to help HR managers and team leaders in appreciating their employees in the best way possible.
How is Employee Recognition Software Useful for HR?
With the growing importance of employee recognition, having a good quality employee recognition software has become a must for every HR manager. Here are some of the common uses of an employee recognition software for HR managers:
An employee recognition software is used for tracking employee performance and their success
HR managers can also use these software to automate a large number of processes like recurring rewards, thank-you notes, and personal milestones of employees like birthdays and work anniversaries
These software are also used to increase employee engagement through personalized rewards and incentives
HR managers also use these software to boost the morale, productivity, and engagement of employees at their workplace.
Another major use of employee recognition software is delivering virtual gifts, shoutouts, gift vouchers, and so on.
The Top 10 Employee Recognition Software in Details
Are you looking for the best employee recognition software for your company but are confused with the hundreds of options available out there? If yes, then this section is for you.
Here, we will list down our top 10 employee recognition software of 2022 that offer fantastic features and value for money. Read on!
1. Bonusly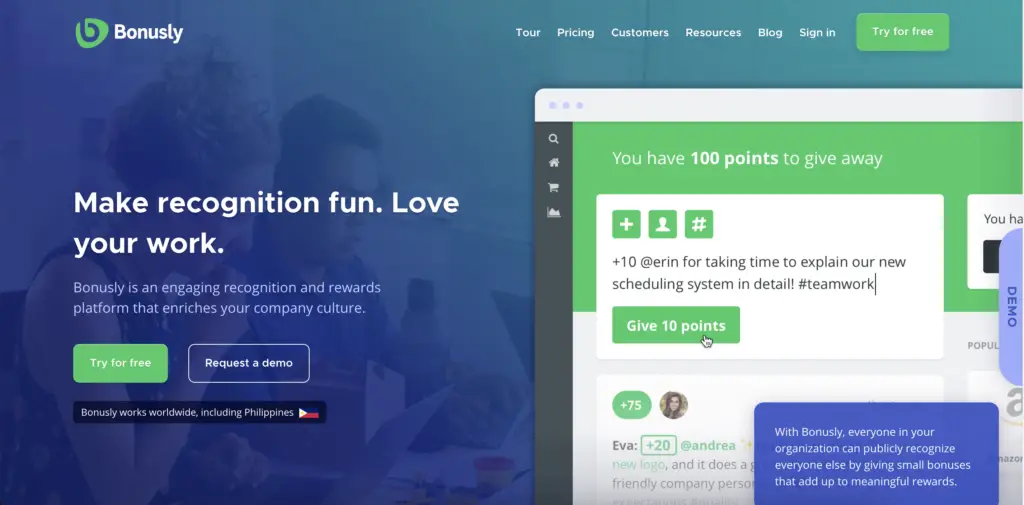 Bonusly is a fun and easy-to-use employee recognition platform that is used to recognize, reward, and celebrate the achievements of talented employees. The best thing about Bonusly is that the platform allows everyone to recognize the efforts of all the employees in the organization. Not only managers and superiors, but even peers and juniors can appreciate each other.
Bonsualy makes recognition and employee reviews visually appealing and interesting. Managers can read reports and give reviews to each employee directly. The platform also offers the feature to automate employee birthday and anniversaries to that they are not missed. The platform also lets employee select their own rewards.
2. Mo Work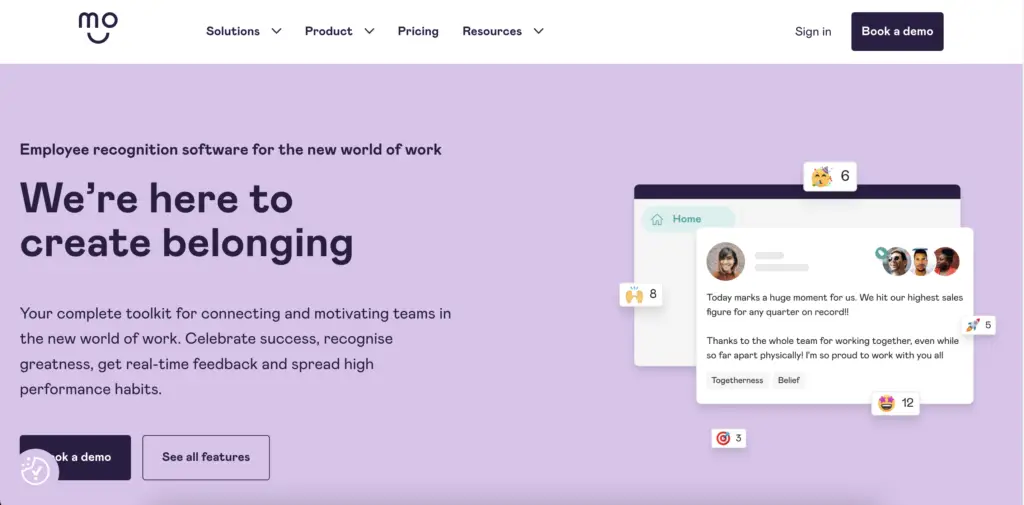 Mo Work is another amazing employee recognition software that offers a host of excellent features. The platform aims to develop a recognition-rich company culture with help of positive team habits, encouraging people to celebrate others' success and appreciate their coworkers.
The most unique thing about Mo Work is that instead of rewarding employees through vouchers or gift cards, the software uses unique appreciation methods. It encourages team leaders and managers to appreciate employees with the help of customized gifts, unique experiences, and more. It also offers the features of real-time reports and "Win of the week" awards to encourage employees to try to bring their A-game forward.
3. Nectar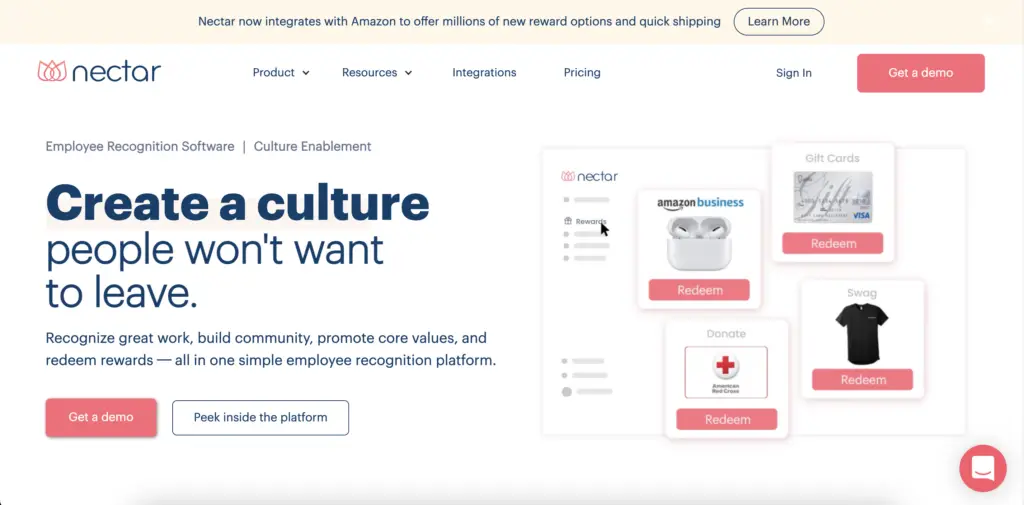 Nectar needs no introduction! The software is used by several popular compies to manage their employee compensation, engagement, and recognition needs. It is one of the top-rated employee recognition software globally. The software enables team managers and peers to send recognition messages to one another.
The best thing about Nectar is that it allows HR managers to streamline their employee recognition efforts whether their employees work from the office or remotely. Nectar can be easily integrated with company software like Slack, Microsoft Teams, and more. You can also connect your company's HRIS or HCM software with it to ensure that everything remains in one place.
4. Awardco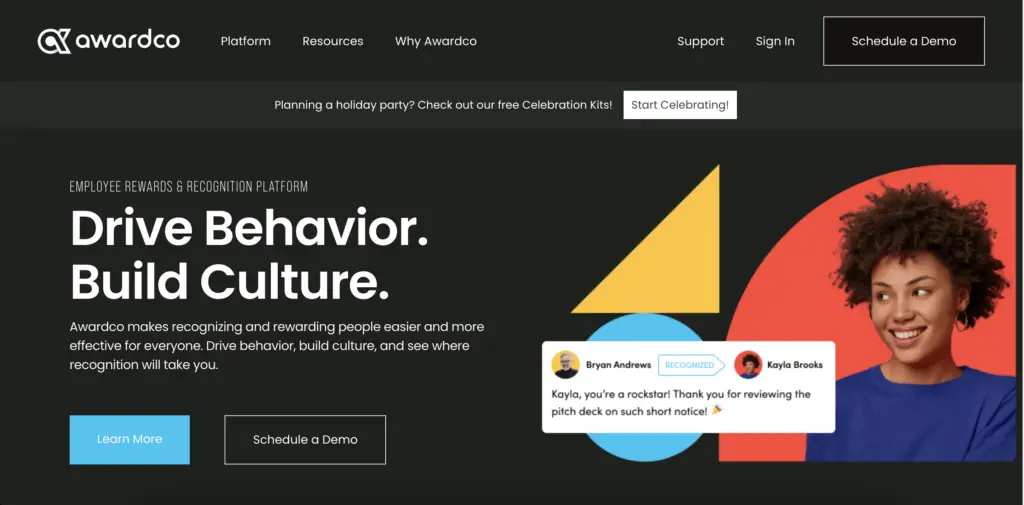 Awardco is an employee recognition software that is specifically designed for companies with over 100 employees. The software makes recognition and appreciation simpler for HR managers.
You can customize your employee reward program according to your budget and company culture. It has a vast variety of incentive choices that help managers inc hoping the rewards according to the liking of their employees. Another excellent thing about Awardco is that it can easily be integrated with Amazon Business. Thus, managers will have a large loss of employee reward options.
Employees also have the freedom to choose their own incentives and wards according to their wishes and liking. The software is so useful and popular that it is used by Pinterest, JP Morgan Chase, and other big names in the industry.
5. WeGift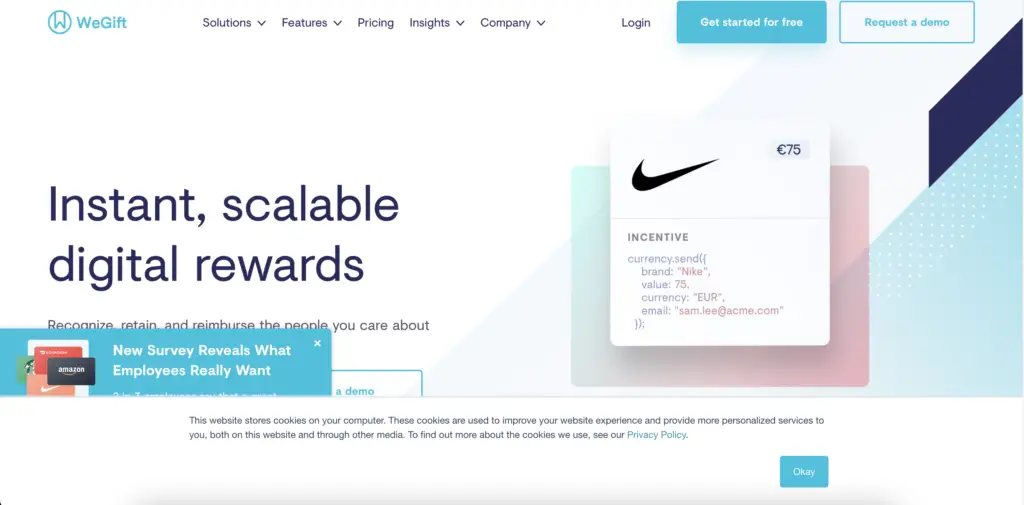 WeGift is the perfect employee recognition tool for small companies having 25 to 100 employees. It is basically a virtual giving service that enables the gift receivers to choose their gift from a large list of exciting gift options. This goes a long way in saving the time of the gift giver and minimizing confusion. Further, recipients are able to choose the gift that they actually like and want.
The software facilities peer-to-peer gift giving, bulk gift giving, and more. It also offers the feature of real-time thank-you notes. Further, managers can also automate recurring rewards to make the process simpler and save time.
6. Blueboard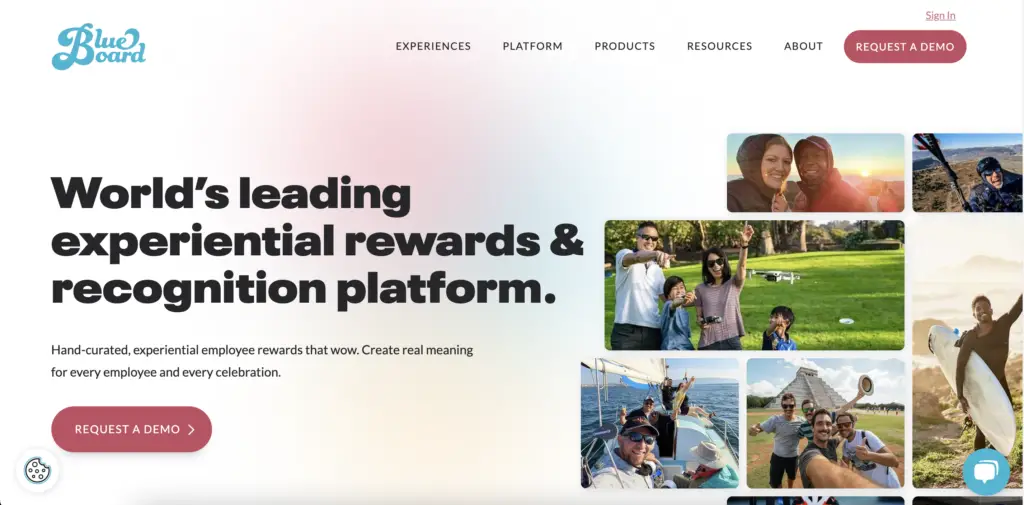 Blueboard is a globally renowned recognition and reward platform that is designed to fulfill the employee recognition needs of large organizations with over 200 employees. They help managers and employers quickly send customized gifts, out-in-the-world experiences, referrals, sales incentives, and so much more.
Being a reputed software, Blueborad's reward program is handled by its advanced Blueboard Concierge team that takes care of all the logistics and ensures everything goes on smoothly.
7. Bucketlist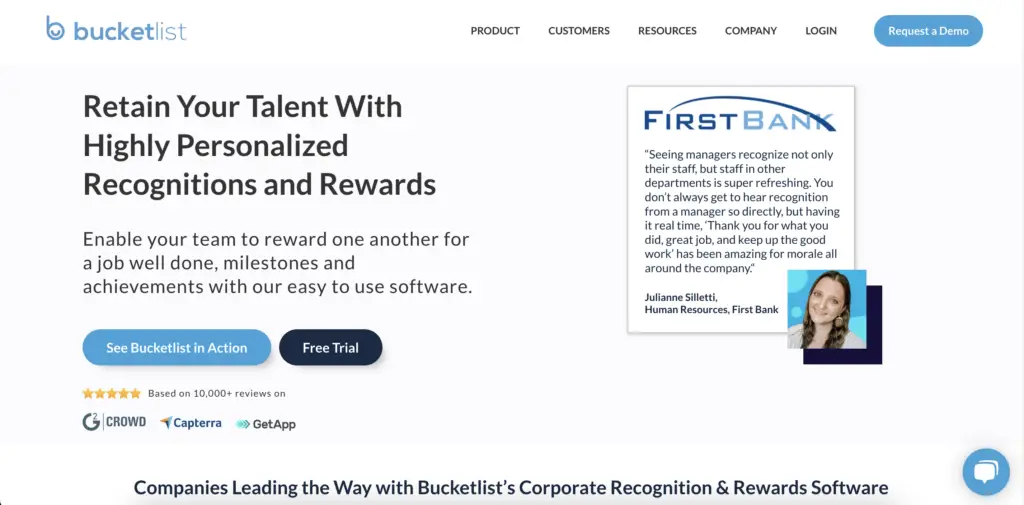 This is one of the most unique employee recognition software out there. As an HR manager, if you have ever struggled with selecting the right reward or incentive for your employees, Bucketlist will be a lifesaver for you.
The software enables HR managers and team leaders to come up with reward ideas that their team members love and will be able to connect with. The software achieves this by offering customizable wards that employees can choose from. There are a large number of reward ideas that employees can choose from. For example, there is customizable company swag, "Friday off," "free lunch on the company," and other types of exciting rewards.
The software also offers features like setting company goals, productivity tools for boosting motivation, and more.
8. Giftogram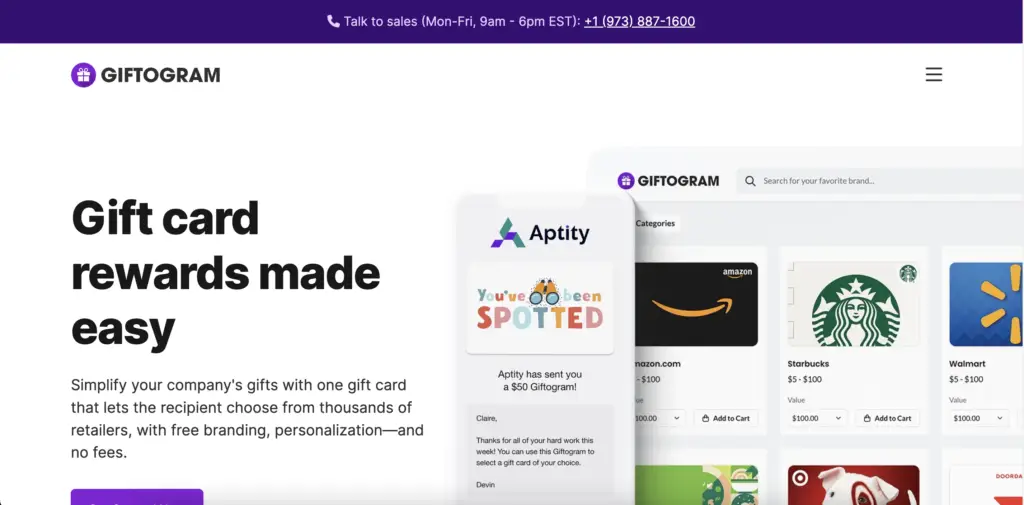 Appreciate your employees for their good performances by gifting them gifts and treats from their favorite brands after adding a personal touch to them through Giftogram. This is superb employee recognition software that enables managers to send personalized physical and virtual gifts to their team members.
Some of the top features offered by Giftogram include uploading the company's logo to brand the gifts, classic gift cards, and so much more!
9. Bravo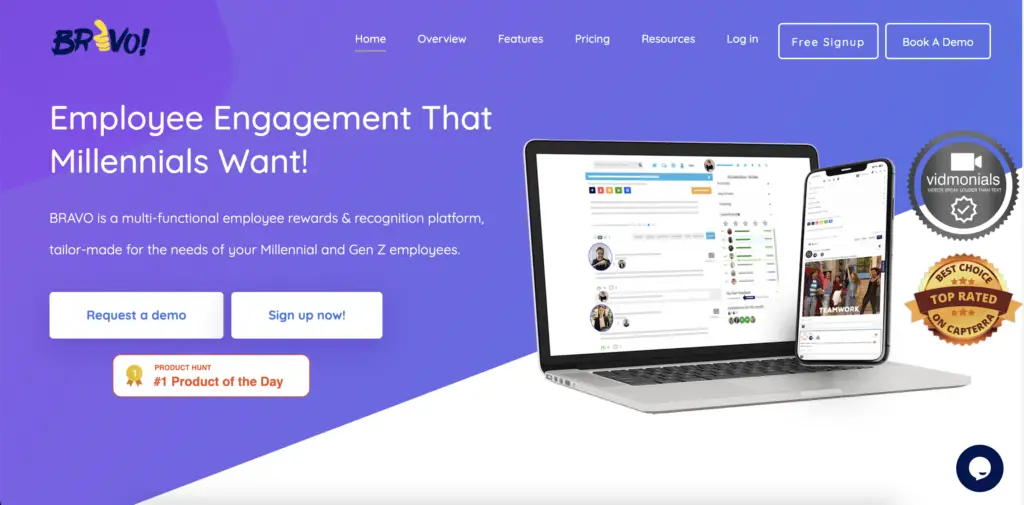 Bravo is another excellent employee recognition program designed for small teams consisting of 3 to 25 people. The software aims to establish a culture of warmth and recognition in the organization. The software suggests people who should be recognized in an organization along with offering valuable tips for making your appreciation and reward more impactful.
Some of the top features of Bravo include augmented writing for crafting the best recognition message, Machine Learning based algorithm for offering the best recognition suggestions, and more.
10. Fond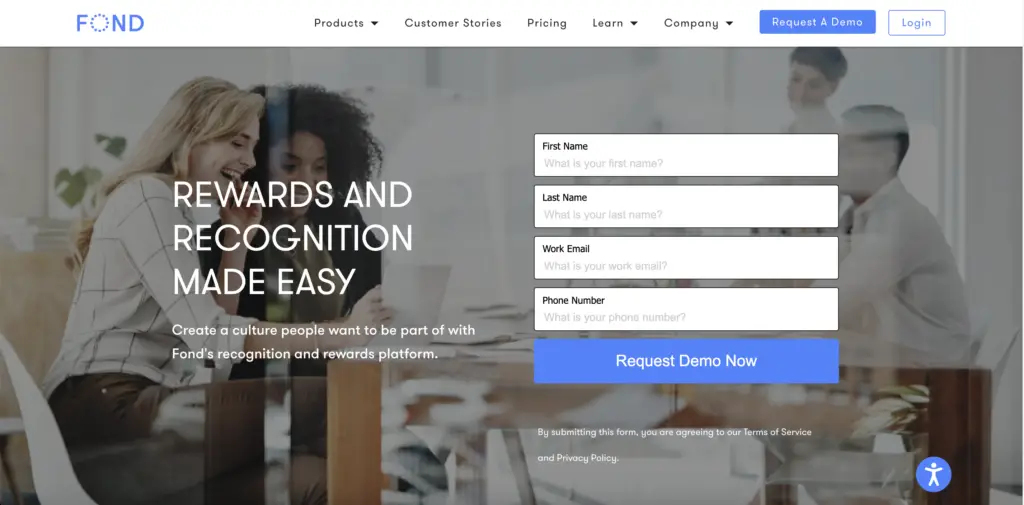 If accessibility is your priority, check out Fond! An incredibly user-friendly employee recognition software that can be accessed from any device, anytime, and anywhere!
The software has a lively social feed that supports the recognition and appreciation of employees across the company globally. Employees can recognize and appreciate their peers working from another country, communicate with them, and build meaningful relationships. It also has a large suite of exclusive rewards and discounts that can be used all across the world.
Who are the Employee Recognition Software?
The target users of employee recognition software include the following:
Small and medium-sized organizations
Large, multinational companies
Employers and HR managers of a company
Team leaders
Employees
Notable Features of Employee Recognition Software
Employee recognition software offers a suite of fantastic features to fulfill the needs of all kinds of businesses. Whether you have a small company with just 15 to 20 employees or a multinational organization, high-quality employee recognition software has something for everyone.
Let's have a look at some of the top features of employee recognition software that make buying these software worth it!
1. Ease of use: Since an employee recognition software is used by all the employees of an organization, it is designed in such a way that everyone can use it easily. Most top-notch employee recognition software are incredibly user-friendly so that everyone can participate in the process wholeheartedly.
2. Security: Another excellent feature of modern-day employee recognition software is enhanced security. These software are developed with the latest technology and are thus, super secure. So, company owners and managers don't have to worry about issues like unauthorized access or data loss.
3. Integrations: Most employee recognition software can be easily integrated with other third-party software, thereby making the reward and recognition programs easily accessible.
Other Software and Services Related to Employee Recognition
A top-notch employee recognition software offers a variety of services to both HR managers and employees. Let's have a look at some of the common ones:
Goal and performance tracking of employees
Peer-to-peer recognition and appreciation
Personalized rewards, gift cards, and exclusive discounts
Physical and virtual rewards and incentives
What are the Benefits of Using Employee Recognition Software for an Organization?
Now that we have discussed everything else, let's have a quick look at some of the major benefits offered by employee recognition software:
By offering an effective way of employee recognition and rewards, these software helps in boosting the morale and productivity of employees.
They help in the automation of the recognition process and save a lot of time and effort for the HR managers.
By helping team leaders and peers in recognizing and appreciating the good performance of employees, these software help in fostering a friendly and positive workplace environment
Increased productivity and employee retention
Employee recognition software also help in boosting the loyalty of the workforce
Another excellent benefit of these software is that they enable the employees in choosing the rewards and gifts of their choice. Thus, they are able to get the things they actually want and like. It also reduces the confusion of the HR manager and makes the gift selection process simpler.
The Wrap
So there you have it – everything that you should know about employee recognition software, their features, and benefits. If used in the right manner, employee recognition software can deliver incredible value to both companies and the people working there.
By automating birthdays, anniversaries, etc. these software help in ensuring that managers do not miss any milestone of their team members. This goes a long way in making the employees feel cared for and valued. Similarly, by helping managers in quickly send rewards and recognition to the employees, an employee recognition software saves time and effort.
So, if you have not purchased an employee recognition software for your business yet, it is high time that you do so! Make sure to go through the list of our top 10 employee recognition software once more and take your pick!